Lucky Mobile is a Telecommunications Company in Canada that provides mobile phones at super affordable prices. It comes with cheap phone plans that allow you to talk, text, and use data for as low as $25 a month.
You can also switch anytime you want by bringing your phone to a nearby store and buying a new one. The best part about this is that there are no credit checks, no data overage charges, and no need to make long-term commitments.
It provides coverage almost everywhere in Canada. You can check if Lucky Mobile offers their service in your area by entering your location in the coverage maps on their website. You can also get in touch with people all over the world through international calling.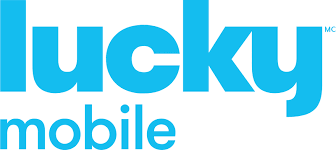 With Lucky Mobile My Account App, you'll have the facility to manage all your services, check your usage, and handle add-ons and other features anytime you want.
Calling Customer Support
You can contact Lucky Mobile if you have any questions or complaints regarding their services or plans.
If you have a Lucky Mobile phone, simply dial *58259 (*LUCKY)
Or you can call them at 1-833-885-8259 (or 1 833-88-LUCKY)
They're available anytime between 8am to 9pm on Monday through Friday and from 9am to 6pm on the weekends.
You can always ask for a supervisor to assist you if the customer service team fails to understand your complaint or provide you with a satisfactory answer. If your complaint still isn't resolved after speaking to the supervisor, then the website suggests you should contact the CCTS.
Contacting the CCTS
CCTS, short for Commission for Complaints for Telecom-television Services, is an independent agency that seeks to handle any complaints consumers have regarding telecommunication and TV services. Complaints brought forward by small business owners are also resolved by CCTS without any charges.
If your service provider wasn't able to resolve your problem, then you should immediately get in touch with the CCTS. Their offices are open from 9am to 8pm Monday through Friday.
CCTS Contact Information
You can email them at: response@ccts-cprst.ca
Or simply call:
Toll-free: 1-888-221-1687
TTY: 1-877-782-2384
Their mailing address is also provided below:
P.O. Box 56067
Minto Place RO,
Ottawa, ON K1R 7Z1
For additional information, head over to the CCTS website.
Lucky Mobile Online Support
Under 'Support' on the navigation bar, you'll find several options that you can select to get all kinds of information regarding your queries.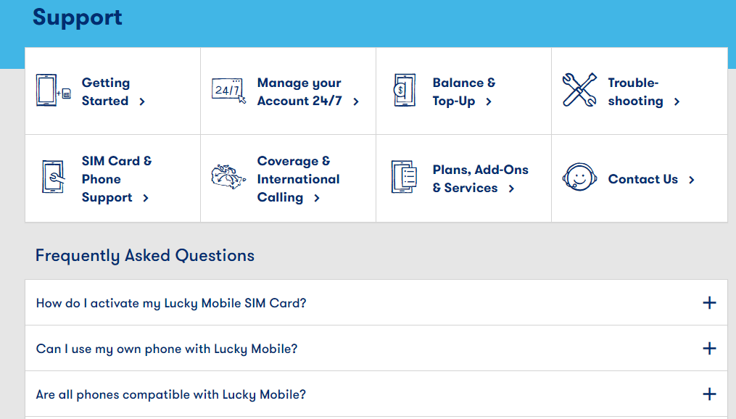 FAQs
Lucky Mobile is all about making sure their customers are satisfied. You can find answers to most of your questions on their website under Frequently Asked Questions. Before calling customer support, make sure to browse their website to see if your query has already been responded to.
There are answers to questions like:
How do I make international calls?
How can I manage my service 24/7?
Why am I having trouble using data?
How do I add or remove add-ons?
Some subsections have their own set of FAQs that target a specific category of questions. They are listed below for your convenience.
Store Locator
You can go to their website and enter your location on the store locator to check if any of their stores are open around your area.
What to Do If Your Phone Is Lost or Stolen?
If you lose your Lucky Mobile phone or it gets stolen, you need to act quickly.
If it's been stolen, you need to report the case to the local police, and contact Lucky Mobile on their provided number.
The lost or stolen phone will then be added to a national 'blacklist' (a list of stolen phones) to prevent anyone from taking advantage of it.
The team at Lucky Mobile will not only blacklist your phone, but they will also suspend your service. If you find your phone, don't forget to notify them so that it's not permanently disabled.
All recurring charges and any automatic Top-Up programs you've subscribed to will also be put on hold to make sure that your future prepaid funds aren't affected in any way.
Read terms of services to find more information on this subject.
Replacing a Lost Phone or SIM Card
When you replace your lost phone or SIM Card with another phone or SIM Card, you're allowed to keep the same mobile number as before. You can purchase them at any Lucky Mobile retailer in your area. You can also use another mobile phone that you own as your replacement phone.
Contact Lucky Mobile to restore your account and update it with your new SIM and phone if you had previously reported it as lost or stolen and got your account suspended.
How to Return Your Phone or Get It Repaired?
Return
Lucky Mobile has a policy that allows you to return your phone within 15 days of purchasing it. You need to have the original receipt on you to exchange it for a new one or return it for a complete refund.
The same goes for any accessories you may have bought and didn't end up liking.
Repair
Lucky Mobile phones and accessories come with a 1-year manufacturer's warranty which means if your phone stops working due to a manufacturer's issue, then you can get it repaired right away. But if you wish to replace it instead of getting repaired, then you'll have to do it within the first 15 days of your purchase.
Any SIM Card with defects can be replaced free of cost within 12 months of your purchase. If a year has passed, then you won't be able to get a new one for free.
Social Media Channels
If you need additional information, you can always check them out on social media to stay updated with any special offers and announcements.
Their profiles have been linked below: