Fido is a Canadian mobile service provider and was the first one to offer a GSM network in Canada. Over the years the company expanded their services and now offers voice plans, mobile internet, and home cable internet packages.
Fido offers its customers a variety of ways to reach tech support. They make good use of social media and have several dedicated phone lines so that customers can reach them from anywhere in the world, not just Canada. With support in four languages, Fido shows how much they care about providing quality assistance to a wide range of customers.
Fido self-help support features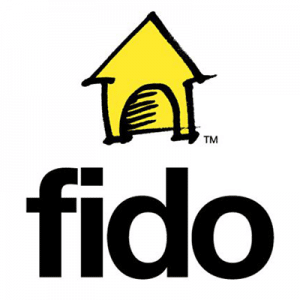 Fido is one of the many companies that provide customers with the opportunity to learn from past experiences. Their support page has a wide range of topics covering the most commonly reported issues. You can choose any of the three main topics to get started:
Mobile
The mobile section can offer assistance for voice messaging, device configuration, monthly plan changes, Spotify accounts, information regarding orders, and much more
Internet
If you want to learn how to set up a Fido modem, optimize and test your internet connection, create a guest network, or if you simply forgot your network name and password, these topics are among the first you can view without doing a search
Billing & account management
This section offers assistance regarding monthly bills for both mobile and internet services, payment methods, how to change a payment method, refilling prepaid accounts and all other account-related issues.
Once selected, each service will list associated topics that have been solved. These topics are also sorted by categories such as the most popular, beginner guides, coverage, add-ons, etc. After browsing through all the highlighted topics, you can either click the "see all" button and display the rest of them or try searching.
A search box is available and it is the first thing you will notice on Fido's support page. You can use it to type a query or a string of keywords to narrow down your results. It is usually best to stick to meaningful keywords instead of complicated and long questions.
Fido Community
Fido Community is a forum available for all customers 24/7. At Fido Community, you can browse through threads, participate in discussions and ask for help from other members. It is part of Fido's attempt to offer customers enough tools to help themselves quicker, especially outside of the tech support business hours.
This feature is accessible through Fido's "Contact us" page under the "My Fido Services" tab. The same tab can redirect you to the Facebook Messenger app and the Fido Twitter page.
Many of the topics you can browse on the Fido Support Page are revisited in the forums. More detailed information is provided when it is needed and further explanations are offered by experienced community members.
The forums are also a good way of pointing out issues that aren't already covered in the support section. If you encounter a new problem, this is one of the best ways to draw attention to it. Although Fido's support representatives don't actually contribute to all threads, they do keep a close eye on them.
Contact Fido support via phone
If you're already on the "My Fido Services" tab, you are also given phone numbers which you can use to call and express your issues.
For Fido Mobile related issues, call 1-888-481-FIDO (3436) or dial 611 from your Fido phone. This line is available from 8:00 a.m. until 9:00 p.m. EST from Monday to Friday. The weekends schedule is 9:00 a.m. to 5:00 p.m. Calling 611 from a Fido phone is free of charge, and so is the toll-free 888 number for all domestic calls.
If you're not in Canada, these are the international numbers you can use:
US: +1-514-933-3436
Abroad: +1-514-925-4590
Fido also offers a special line with support in Mandarin and Cantonese. You can call this line at 1-866-888-FIDO (3436) or by dialing *88 from your Fido Phone. The line is open between 10:00 a.m. to 11:00 p.m. EST from Monday to Friday.
If you are not yet a customer and just want to shop for deals or information, you can call 1-800-945-FIDO (3436) from 9:00 a.m. to 9:00 p.m. EST on weekdays and from 9:00 a.m. to 6:00 p.m. on weekends. The Mandarin and Cantonese dedicated line is available for this also. These numbers are also displayed on the "Signing up with Fido" section of their contact page.

Contact a support representative via Fido social media pages
Facebook
To access the official Fido Facebook page, you can click on the logo located at the bottom of the Fido homepage. If you wish to bypass this you can search directly on Facebook for @fidomobile. Once you're there, Fido offers you two types of support.
Initiating a private message conversation on the Fido Facebook page will display a set of instructions at first. You have a choice between dealing with the Fido assistant or a human representative. The assistant can only provide general information regarding mobile data or billing and payment.
A menu is provided with the available topics. Depending on the time of the year, the assistant can also offer you information on special deals offered by Fido.
If you want to talk to a human, you have to type the phrase "Chat with a Rep" in the chat box. This will put you on hold until a rep is available to assist you. The virtual assistant is there at any time but live reps are only available from 9:00 a.m. to 1:00 a.m. EST. Even during work hours, you might have to wait a while.
Twitter
The same 9:00 a.m. to 1:00 a.m. applies to Fido's Twitter page. 7 days a week you can send private messages on their Twitter page and wait for a human rep to assist you. There is no virtual assistant or a pre-selected menu to go through on Twitter.
Language Selection
Fido lets you view the page in English or French. Although they offer phone support via Mandarin and Cantonese, the page cannot be translated into Chinese at the moment.