Disney+ is making a name for itself even though it's new in the market of video-streaming subscription services. Disney+ has ensured that its customer services are a match to the service it provides – which is important if it wants to attract more customers.
If you're already using Disney+ or are considering getting a subscription, this article will provide you with an overview of the customer support services Disney+ provides its customers.
About Disney+
Before delving into the customer service of Disney+, here are a few details about the service itself. Disney+ is a new video streaming subscription service owned by The Walt Disney Company. You'll find all Disney films and TV shows on this platform. This includes content from Marvel, Star Wars, National Geographic, Pixar, and much more.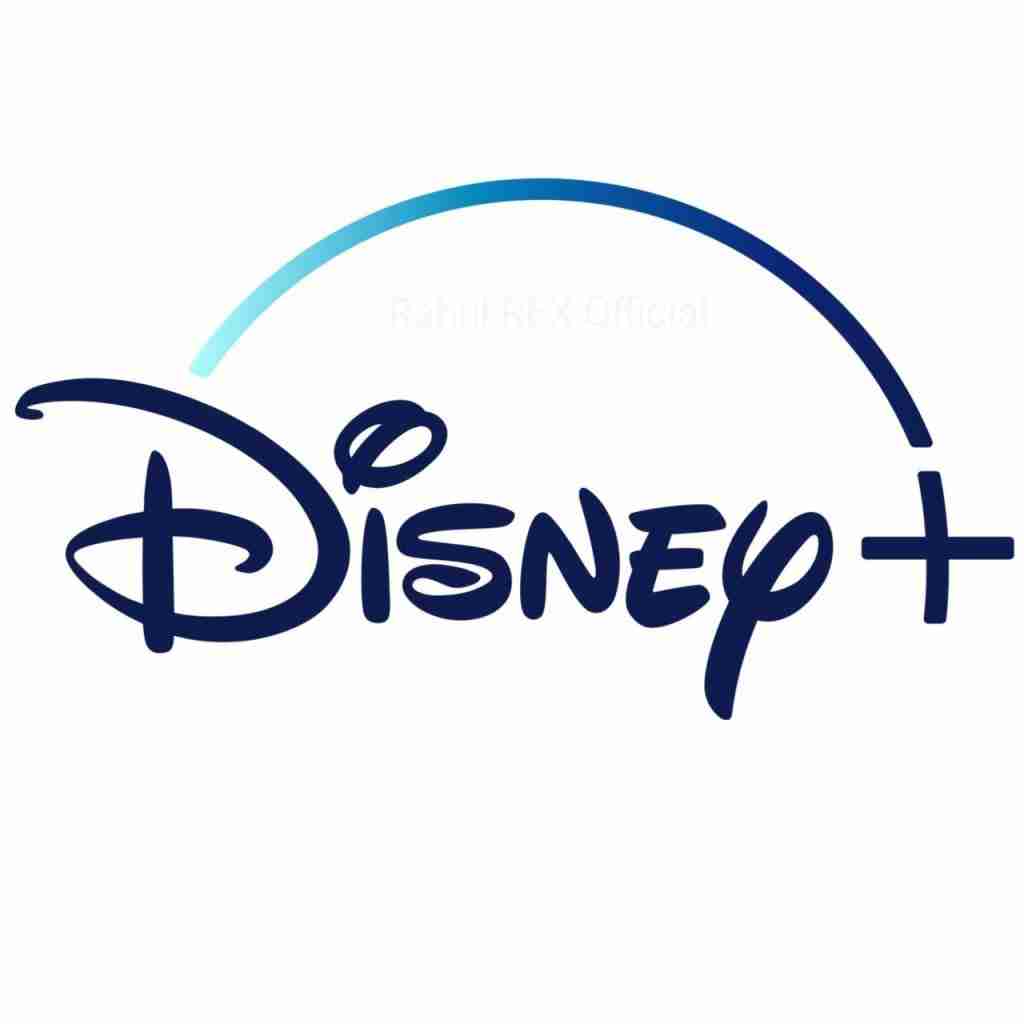 The monthly subscription package will cost you $8.99 CAD per month (or $89.99 CAD a year). This is significantly cheaper than a Netflix subscription – which may make people opt for Disney+ for their TV needs once it takes off. Disney+ is an ad-free service, which means you don't need to worry about being bombarded by ads every time you select something to watch.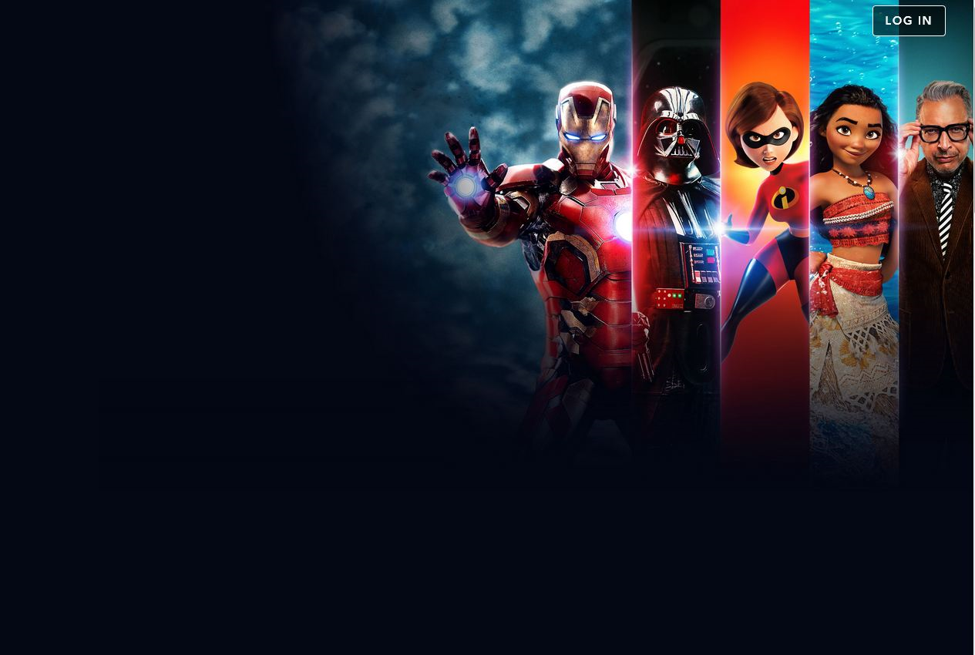 Disney has created some of the oldest films and TV shows. With a Disney+ subscription, you can watch the classics that shaped how stories were told over the years. What's more, you can revisit your childhood memories by watching some of the animated films from back in the day.
Disney+ Website Customer Support Services
Disney+ has just one support page (Help Centre), and it includes different support services and topics. You won't have to visit different pages to look for FAQ articles, contact details, or provide feedback on Disney+.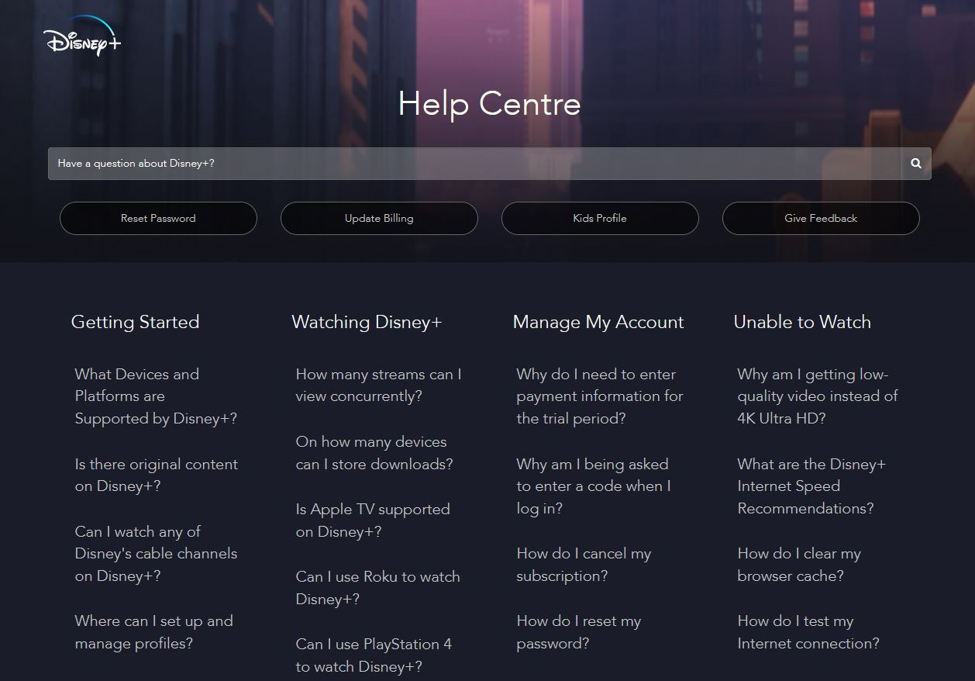 Disney+ Help Centre
On the Disney+ Help Centre you can find various articles on popular questions consumers may have about Disney+. It includes a search bar where you can insert keywords to look for what you want to know.
If your keywords aren't working, you can sift through the extensive lists of articles written on different topics related to its service. The articles are neatly organized into 4 categories which are named as follows:
Getting Started
This category has articles that help consumers understand what Disney+ provides. Therefore, you'll find articles on the originality and selection of content included on the platform.
Watching Disney+
Here you'll find articles that discuss what platforms and devices Disney+ supports. Thus, there are articles that discuss if platforms like the PlayStation 4, Roku, Xbox One, or Apple TV support Disney+. You'll also find articles on technical details such as the format and quality of the audio and video.
There are also articles that explain how to download content, how to create a watch list, how to change playback settings, and subtitles options. Here, you can find a vast array of articles on nearly every feature on Disney+.
Manage My Account
This category includes articles on account support. If you've got some burning questions about making an account on Disney+, educate yourself here to put your mind at ease. It addresses how you cancel a subscription, change your password, and much more.
Unable to Watch
This category addresses issues that you may experience as a Disney+ consumer. It covers a range of topics, so you are likely to find your issue in the list of articles within this category.
By clicking one of these category's titles you'll be taken to a page that has a complete list of articles that fall under that category.
Give Feedback
If you can't find a solution to your problem in the list of articles available, you can complain about your issue to Disney+ via the Give Feedback option. The icon is placed between the search bar and the Unable to Watch category on the Help Centre page. Here, you can either give a suggestion, request a film or show to be added in the selection, or inform them about an issue you're experiencing.
If you click the last option, there are separate boxes in which you can tell them what the issue is and when and where it occurs. This will give them all of the details at once – which can possibly help your problem quicker than it would if you wrote them an email.
Contact Us Section
There is no dedicated contact page for Disney+; however, there are contact options on the Help Centre page. At the bottom of the page, you'll find 3 icons: Live Chat, Call Us, and Social. Clicking on either
Live Chat or Call Us will open up a dialogue box that will ask you what your issue or question is. It will recommend articles according to what you search for. If you can't find what you're looking for in those recommended articles, you can choose the Live Chat option or get access to its contact number. The contact number on its website is 888-282-0520.
The hours for chatting live with a Disney+ representative is 8:00am to 12:00am every day of the week. To use the Live Chat feature, you'll have to give your email address and select the subject of your inquiry. Your name and phone number are optional.
The chat is quite responsive as the average wait time claimed on the dialogue box is 1 minute. It also tells you how many other customers are on the waiting list at any given time.
Disney+ also has a live chat feature in French. The timings for live chat in French are 9:00am to 01:00am any day of the week.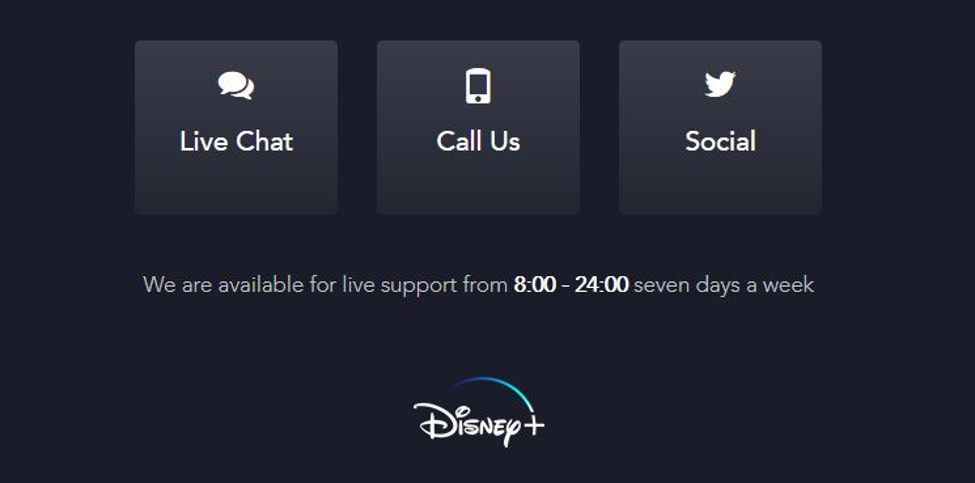 Social Media
Disney+ has a Twitter account that is dedicated to customer support called Disney+ Help. Here, it has posted about updating its app and the launch of the service. The account isn't very active, so it isn't the best source for receiving updates on the service. That said, you can still learn about major updates from this social media page.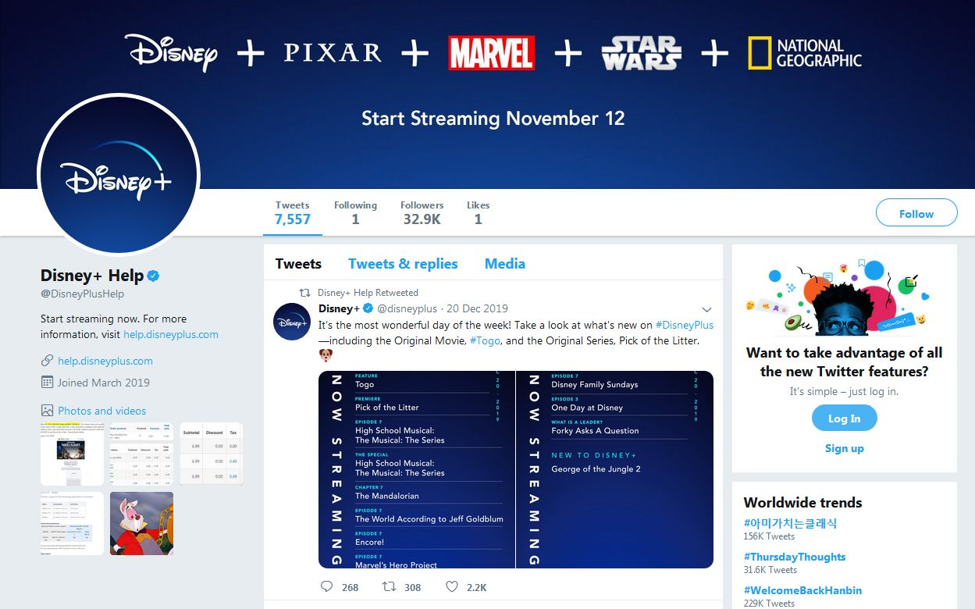 Stay In Touch with Disney+
Disney+ is a very new service, and it will take it some time to gain the number of subscriptions that its competitors have. That said, with excellent content and responsive customer service, you can be sure that Disney+ will be one of the leading video-streaming subscription services in the near future.