Roku is the go-to TV streaming service in Canada that provides streaming devices and facilities to thousands to Canadian homes. Their streaming platform truly delivers a world-class streaming experience to its users. Roku's products include their smart TVs that have a simplified and modern interface to enhance your viewing pleasure and ease of use.
Roku also sells millions of streaming media sticks across Canada, North America, and Europe. With its immense reach, Roku provides professional and punctual customer care and support to its consumers. Roku offers a variety of customer support services via its website, all of which are designed to cater to its consumers' needs.

So, without further ado, let's review what Roku's customer support and care offers to its consumers.
Roku's Customer Support Services
Roku is quite thorough when it comes to its customer support services. Here are various ways through which you can reach out to them.
How It Works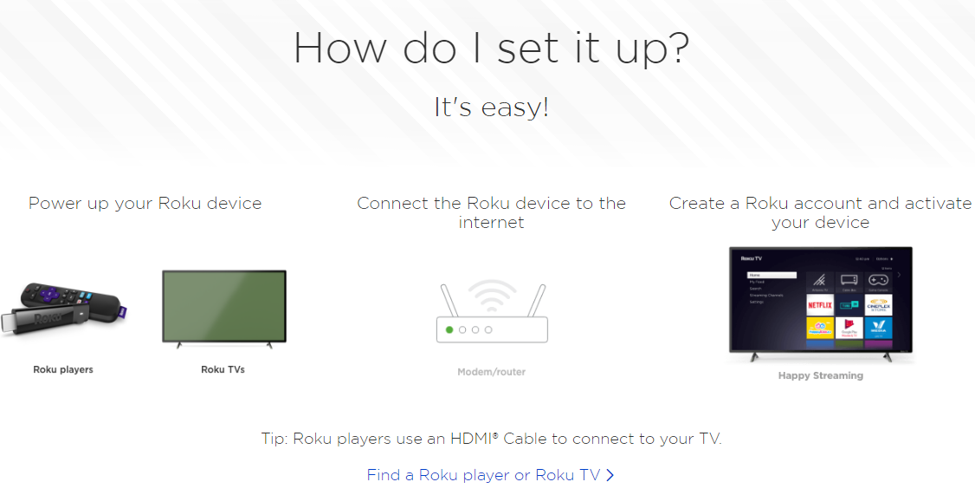 Roku has a helpful "How it works" page that you can access on their website. It has pertinent information regarding how to connect and operate their streaming devices as well as information and answers to queries regarding their various products. You simply have to browse through this page to have all your questions answered comprehensively.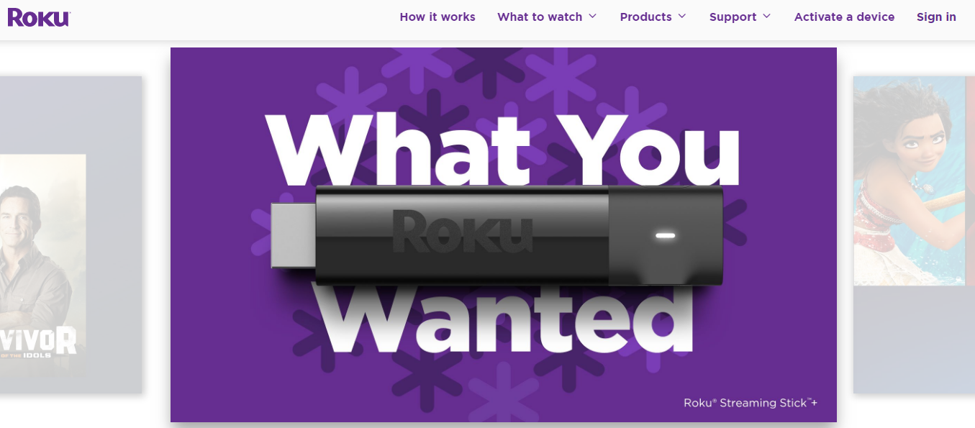 If you still have any queries left unanswered, then Roku has that covered for you as well – you can access the link to their FAQs page, which is at the bottom of the webpage.
Help and FAQs

Roku Canada provides you with a painstakingly detailed FAQs webpage. You can access this helpful webpage, tagged as "Before you buy" via the support option on their tag bar. It has clear and succinct answers to all of your queries and concerns divided into various FAQ categories.
It also has videos that explain all the new features or products that Roku adds to its existing line of streaming products. You can also search for any query that you might have about Roku and its services and products in the given search bar on this page. The help page of Roku's website also guides you to their "contact customer care" and "ask the community" pages.
Contact Customer Support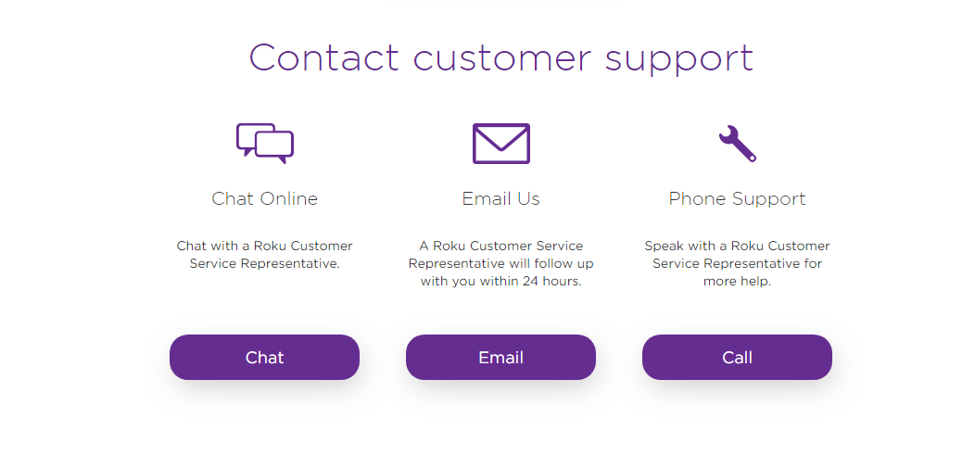 Roku offers you the chance to send in your questions, suggestions, and comments about their services and products via their wonderful contact customer support page. They first try to provide you comprehensive answers by redirecting you to various helpful answers on their webpages, and in case you need further assistance, Roku provides you with three options to reach out to them – you can chat online, e-mail, or call them. Roku's professional service representatives will get back to you as promptly as possible!
Call and E-mail Support
Roku is highly committed to helping its customers out as promptly and efficiently as possible. So, if you have an urgent comment or query regarding its service or streaming devices and would like to speak to a customer service team member, then you can reach out to Roku Canada on this number: +1 888 621 0891.
If you want to report a security or privacy breach issue, then you can directly contact the security team of Roku at their e-mail address: security@roku.com. If you are interested in reselling a Roku product, then you can e-mail them at security@roku.com.
As for any queries you might have regarding your Roku account or their services and products, then you can e-mail them directly by simply submitting a form on their customer support page.
Community Support

Roku also gives you the amazing opportunity to reach out to other Roku users. You can become a part of its budding online community and get answers to all for your Roku products and services related queries. This helpful page has links to recently asked questions as well as other helpful guidelines and community discussions.
"How to" Page

Roku Canada also has a super helpful "How to: Using your Roku" page that has videos detailing how you can use their streaming device. It also has detailed answers to any queries that you might have about using their device – including queries about the device features, how to personalize it, the channels it offers, etc. You can also find detailed answers on how to use the Roku mobile app here.
Social Media Platforms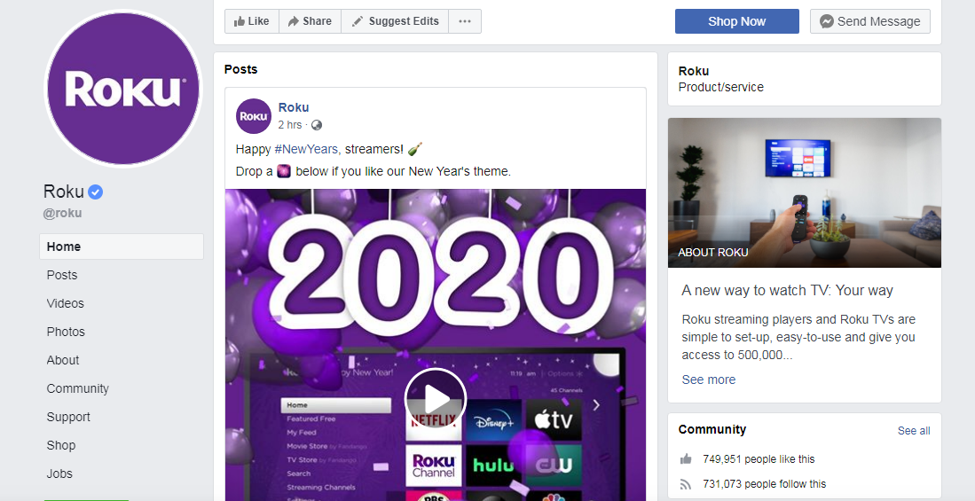 Roku Canada has made use of social media to cater to a large community of its customers on various social media platforms. You can connect with them on Facebook, Twitter, and Instagram. You can reach out to Roku representatives and voice your concerns on all these platforms, and they will swiftly answer your queries and cater to your needs.
Roku's Facebook page stands out as it has a budding community of almost 750,000 people! You can become a part of this budding community and interact with other Roku users. You can also follow Roku to get to know about all of their latest events, watch all of their videos, and stay up to date about their new products. You can also head to their website by clicking on the link provided on their Facebook posts.
YouTube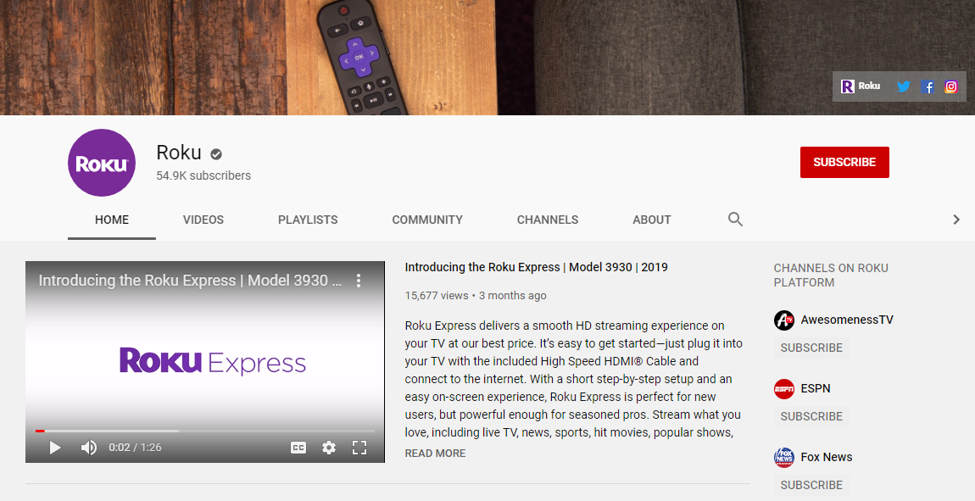 You can subscribe to Roku's YouTube channel and become a part of its budding YouTube community. There, you can access various videos posted by Roku that introduce their line of products and reviews on said products. You can also interact with the Roku users as well as comment on their official videos to reach out to them.
Roku Blog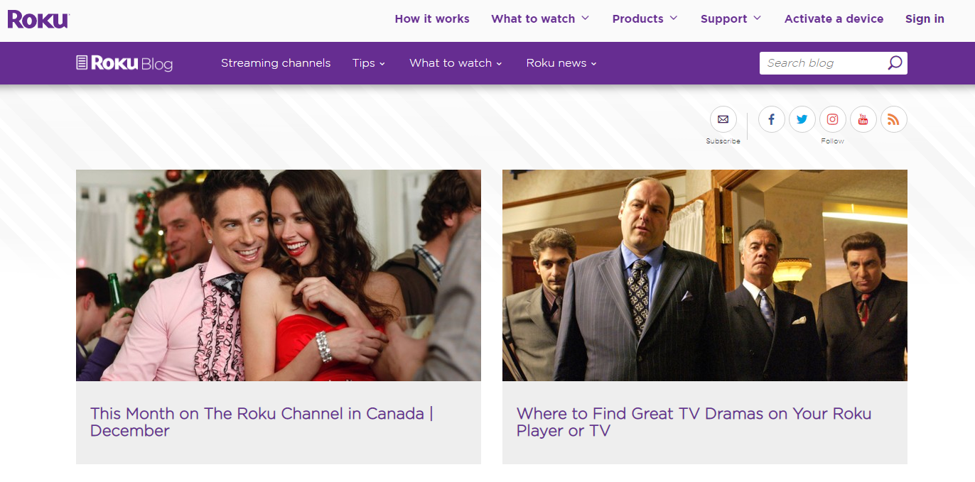 You can also subscribe to Roku's active and interactive blog. This way, you will have access to all of their latest blog posts that focus on enhancing your streaming experience. The blog has posts on useful tips to make full use of their streaming device as well as helpful suggestions on channels, movies, and dramas that you could watch via Roku's service.  
Roku Mobile App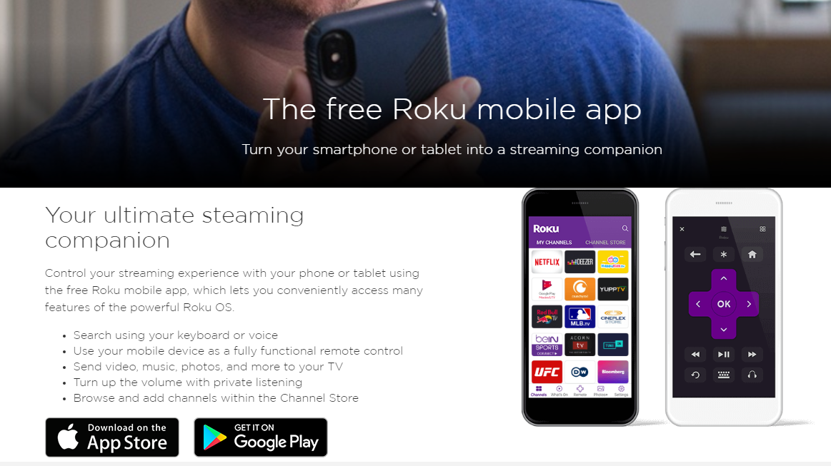 Roku Canada also has an amazing mobile app that you can download on your Smartphone. Download the app now to use your mobile phone as a remote control for your TV. You can also send videos, photos, and music from your phone to your TV via this app.
Plus, this app allows you to watch your shows on TV while the audio plays privately on your phone. Also, you can let up to three friends join in on the fun on their own phones. With this app, you can also access the Roku channel on the go.
Stay in Touch with Roku
Roku is definitely a popular and trusted digital media player in Canada. Roku is slowly, but steadily, moving toward becoming an all-encompassing streaming giant by introducing more and more media players and gadgets to its list of available products.
With professional service staff advisors and representatives that are devoted to offering outstanding customer support, Roku aims to give its customers the best experience. You can always expect a swift reply from Roku, whether you are calling them, e-mailing them, or contacting them through social media pages.