Today, finding the perfect TV screen has become quite difficult. Everyone wants the latest features and those come at a price. Amongst big brands like Samsung, Panasonic, LG, etc., there's another contender in the market that is not far behind — Vizio.
What sets this brand apart from other electronics brands? Along with TV sets and video and audio players, Vizio also offers its customers SmartCast™ 3.0 — a TV that allows people to connect with streaming applications or devices like Google Assistant, Air Play, etc., and watch their favourite shows and movies with a voice command. All of Vizio's products are either available through retailers or online.
About Vizio
Founded in 2002, Vizio was previously known as V Inc. The company was owned by three entrepreneurs — Ken Lowe, William Wang, and Laynie Newsome. In 2007, the company changed its name due to the high revenue it made.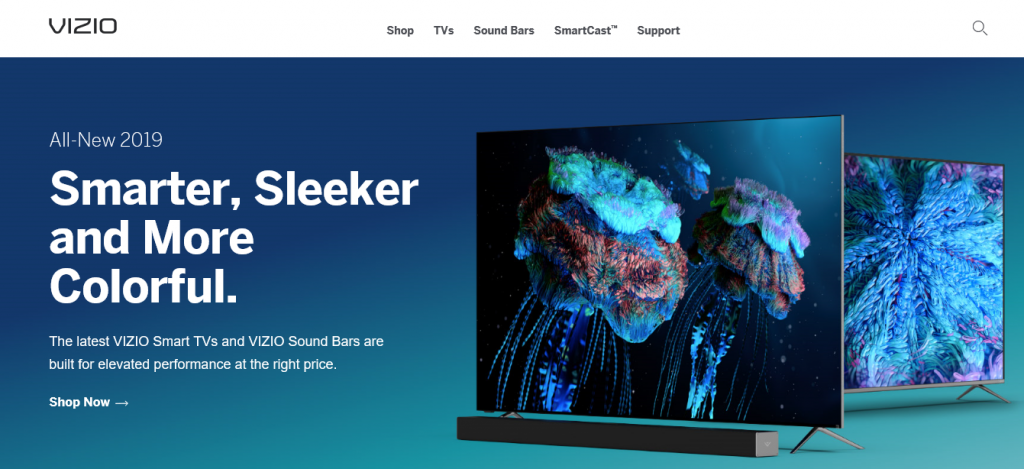 This new brand became so popular because it developed a reputation for pricing its products in a better way as compared to its major competitors. The brand works on 3 principles: redefining the word "Smart" for better technology, elevating entertainment, and putting their customers first.
The company has also outdone itself when it comes to its customer care services. To know more about Vizio's customer support services, read ahead.
Vizio's Customer Support Services
Vizio's customer support services are pretty amazing. Here's a quick glance at what Vizio's support center offers.
Self-Serve Help

Self-Serve Service Request

Check the Status of Your Order

Check the Status of Your Service

Register Your VIZIO Product

Find Your Manual/Quick Start Guide

Product Registration
User Manuals
Order Status
Service Status
Shop
Contact Us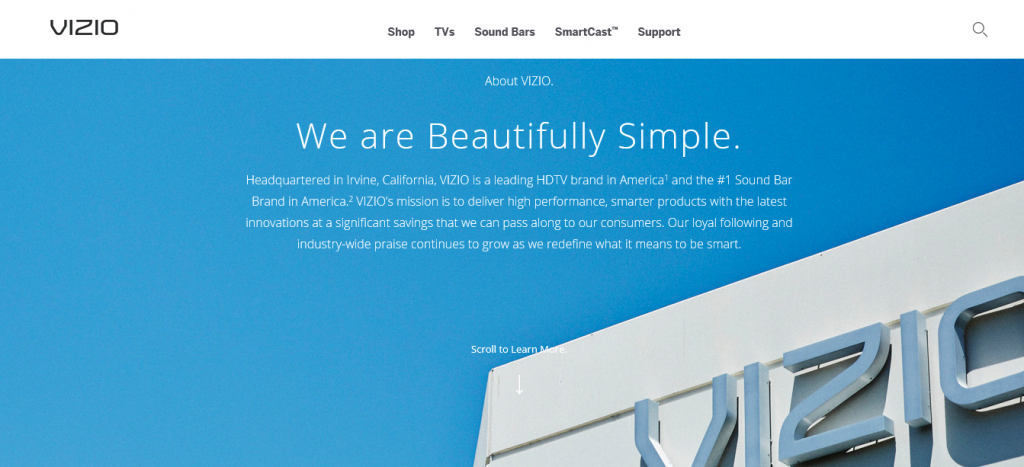 On its search page, there is a search bar at the top, which you can use to ask a question or what you need help with. The answers to some of the most commonly asked questions can be seen on the website at first glance and once you choose a certain question, you will be redirected to another page that will give you the answer to your problem/question. This way, Vizio immediately solves your problem, with just one click, and you don't have to browse through the entire website.
Find Vizio – Store Locator
Vizio offers its customers two options for buying its products: they can visit their country's online store or find a brick and mortar store in the city they are living in.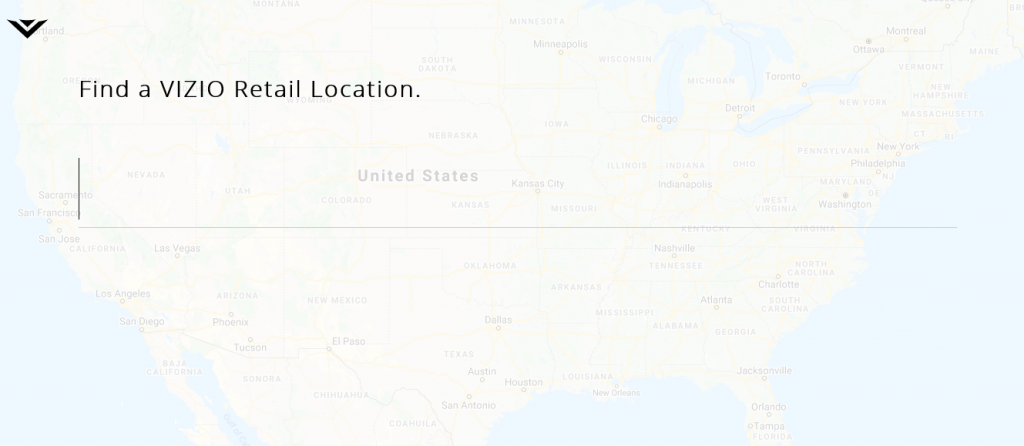 The store locator option can be found at the bottom of the support service page. All a customer has to do is type their country or city's name and the map will show them the location of the store.
Product Registration
In order to avail discounts, Vizio customers need to make an account by visiting the product registration page. Apart from sending emails about new products, Vizio provides its loyal customers with VIP access to select offers and deals.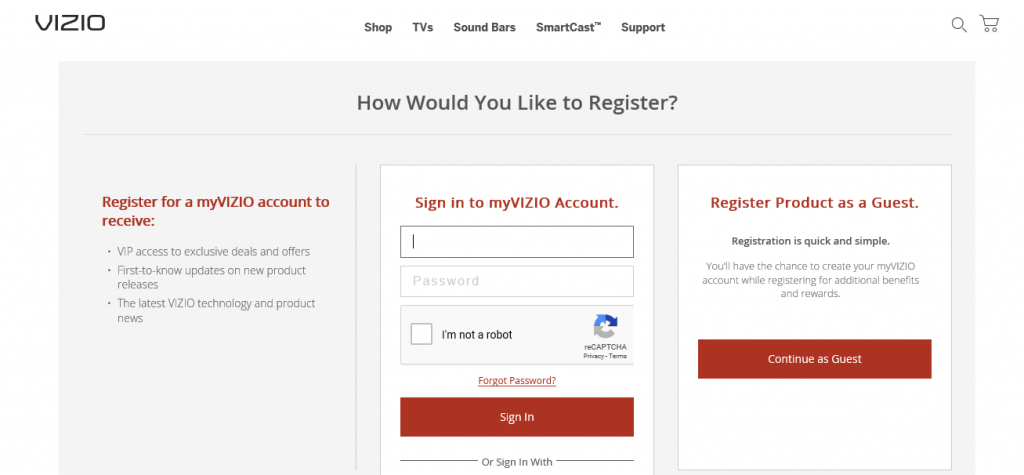 Customers can create an account by entering their personal information or table it for later by browsing the perks offered as a guest.
Get in touch with Vizio support
Vizio primarily operates in the US and Canada. Contact information for both countries is listed on the website.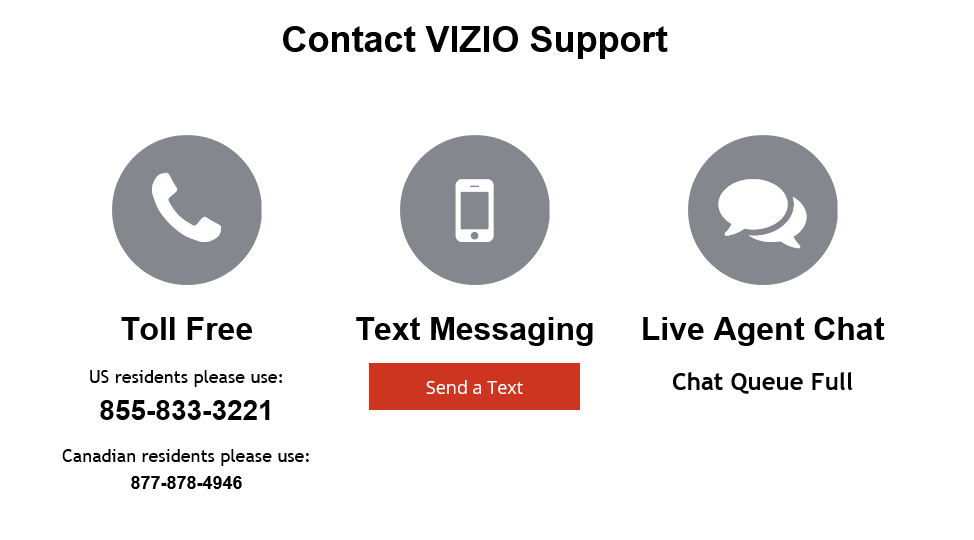 The website offers three contact options: direct call to talk with a customer service representative, messaging or live chat with an agent.
Toll Free Numbers
For the US Residents: 855-833-3221
For Canadian Residents:877-878-4946
Vizio strives to solve their customers' problems immediately, which is why the phone lines are open 24/7. So, customers can call whenever they like.
Messaging
If all call lines are busy and you cannot get through to a customer service representative, then you can send Vizio an SMS.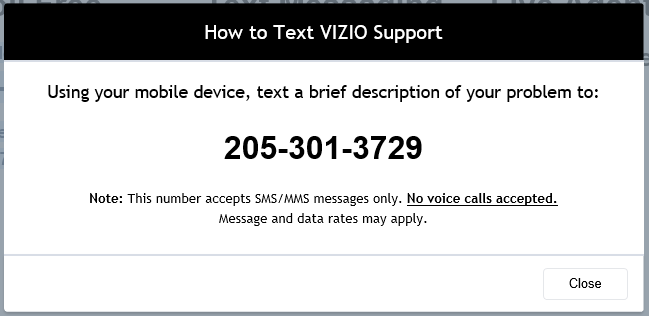 The message can be sent from any mobile phone and data rates may apply depending on where you are. Voice calls are not accepted, so refrain from sending them through Whatsapp.
Text Support Number: 205-301-3729.
Live Chat
To chat with an agent, you will have to wait for a slot to be available. It can take quite a while, which is why if there's an urgency, you can send them a text instead.
Newsletter
If you do not want to create an account with Vizio, then you can simply sign up for their newsletter. You will be immediately notified when Vizio introduces a new product or when there's a sale.
Social Media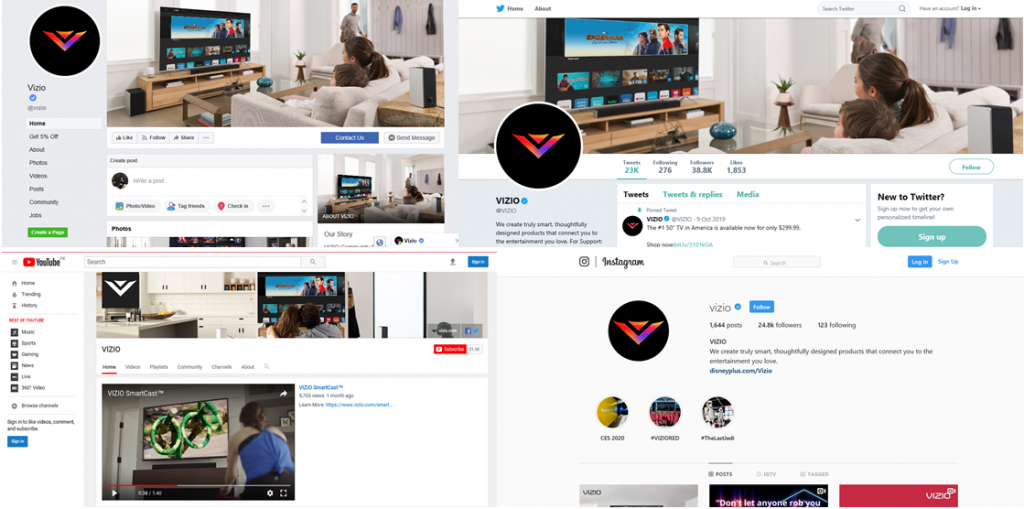 Vizio is spread over four major social media platforms, which include Facebook, Twitter, Instagram and YouTube. The YouTube channel mostly posts Vizio's campaign ads, but there are a couple of videos on entrepreneurship and other such important matters by the brand's CEO.
Vizio's fan following is pretty large and they are primarily active on Facebook. If you are not able to chat with an agent on their website through the live chat option, then you can visit its Facebook page and ask your query there.
Blog
For information about Vizio's latest technology and how the brand is fairing in the market, you can check out the newsroom section. This page also offers a blog section where you can read about how SmartCast pairs with other devices, which Vizio's product you should buy for the ultimate entertainment, customer stories about buying Vizio products, etc.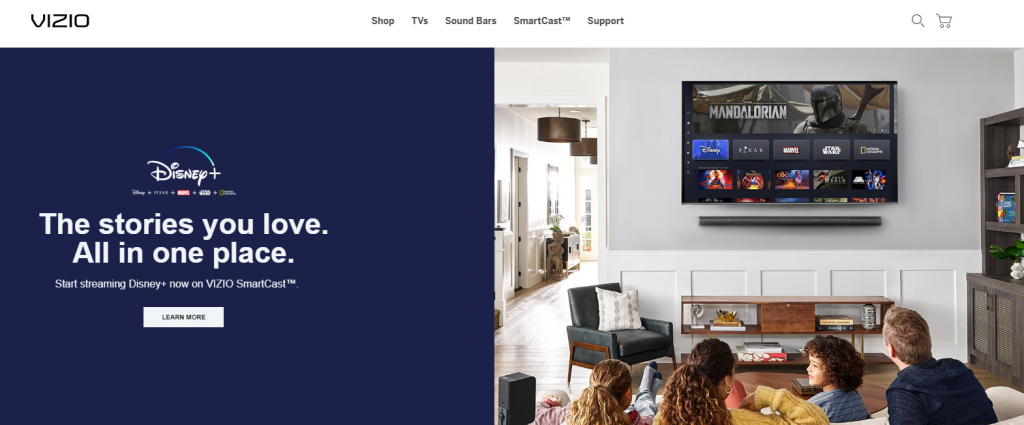 The blog provides not only informative articles but also fun reads for customers to find out how owning a Vizio TV feels like.
Final Words
Vizio takes its customers safety seriously. With the compromising nature of the entertainment media, Vizio offers a safety agreement, through which customers can find out how their provided information is being used. Vizio believes in transparency and therefore, has stated all its privacy and policy terms clearly on its website. They regularly update their safety notice page to warn customers about fake products and how to verify that the product they are buying is an actual Vizio product.
In short, the company takes extreme measures to not just protect its customers but also satisfy them and answer all their concerns and questions.