Alibaba is a leading name in global wholesale trade that every online-shopping enthusiast is familiar with. Launched in 1999, the platform supplies to millions of buyers and sellers from all corners of the world. With a determined mission to "make business easy to do anywhere", Alibaba Group provides C2C, B2C, and B2B services through web portals, cloud computing services, electronic payment services, and shopping search engines.
The Chinese multi-national conglomerate, Alibaba Group Holding Limited, was founded by Jack Ma in Hangzhou, Zhejiang. Offering millions of wholesale products in 40 different major categories, Alibaba truly is a one-stop solution for apparel, machinery, and electronics. The company caters to over 190 countries and regions and has outstanding customer service for suppliers and buyers alike.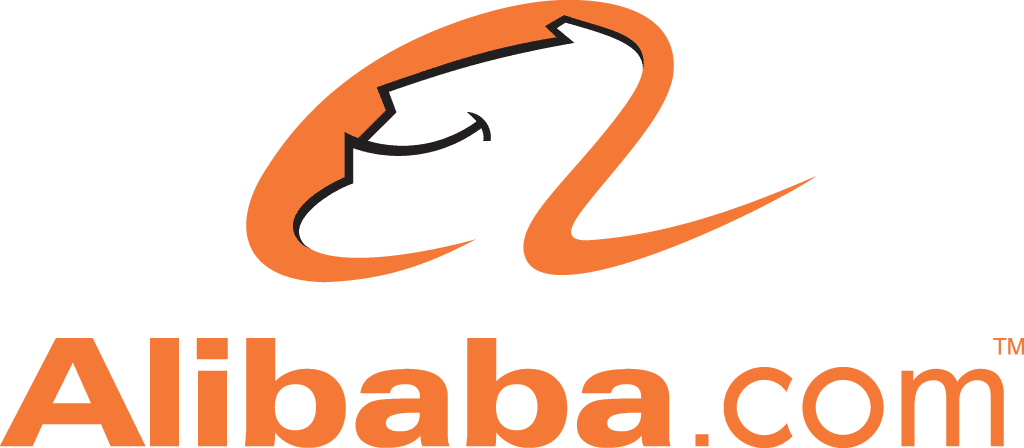 There are many business groups under the holdings – the most popular ones are Alibaba, AliExpress, and the related company Alipay. There's no question that Alibaba is the world's largest e-commerce retail and also a chief Internet and Al company. As a wholesale trade service, Alibaba welcomes millions of investors, buyers, manufacturers, resellers, and trading companies with bulk trade.
The company has experienced exponential growth with its online sales, surpassing US retail giants like Amazon, Walmart, and eBay. It is also expanding into the media industry with profits that have trebled year on year. Hosting China's record-breaking "Singles' Day" – the world's largest online and offline shopping day— Alibaba offers retail experience par excellence.
Alibaba Customer Care Support
As a company that generates most of its sales from online shoppers, there's no question that Alibaba offers exceptional customer service. Whether you're an investor looking for leads, an enthusiastic customer, or a supplier in the making, Alibaba offers a huge database for your help.
Search Help
The website opens to a Search bar for investors, buyers, and suppliers. Whether you have a query regarding a product/service, want to find out the latest financial news, or learn how to secure payments, simply enter the keyword. The website will then guide you accordingly.

Browse Help Topics
The customer service page also provides an info-graphic of commonly searched "help topics". Whether you want a brief website introduction, want to contact suppliers, learn about trade assurance, or find products/services, this is where you'll find what you're looking for.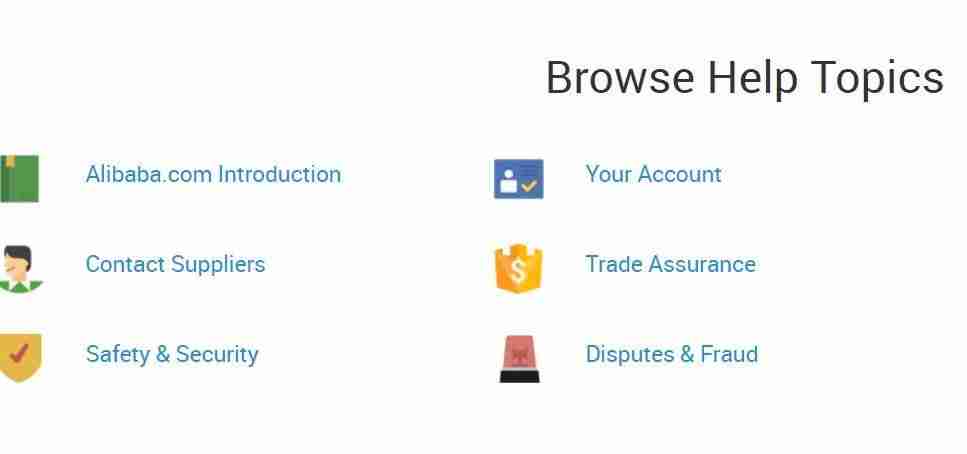 New User Guide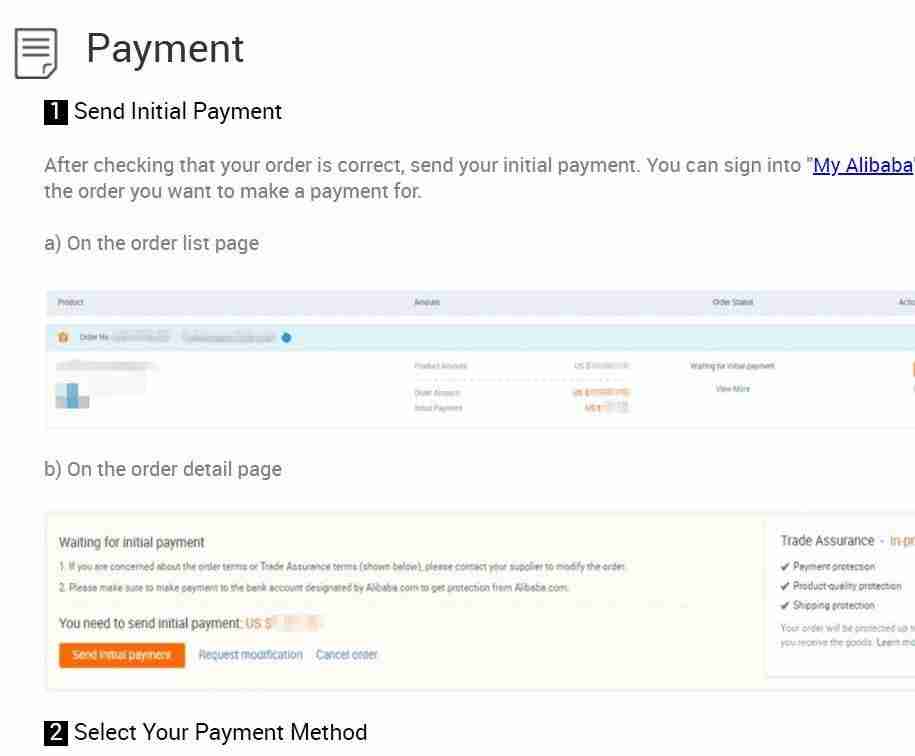 If you're new to the website, Alibaba shares an interesting introduction of its platform and briefs you over its free services of Trade Assurance. The guide then takes the visitor through the 'Ordering Process', Product Inspection Services, and Payment methods. Each section has detailed steps with images to help the user place an order, track it, and receive it on time.
Finding Products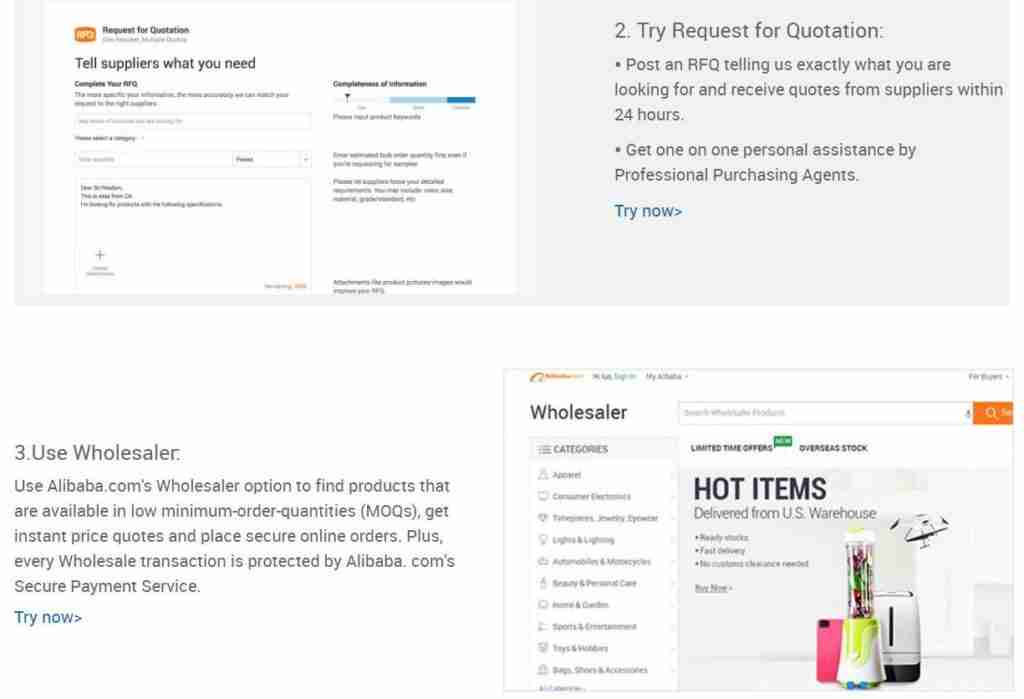 The next section takes you through on how to find products and suppliers. You have to type the keyword in the intuitive search bar and the website will produce suppliers, quotes, and products for your ease.
You can also request for quotations and receive them within 24 hours. There is also a "Wholesaler" option that lets you locate products in low minimum-order-quantities (MOQs).
Ordering and Payments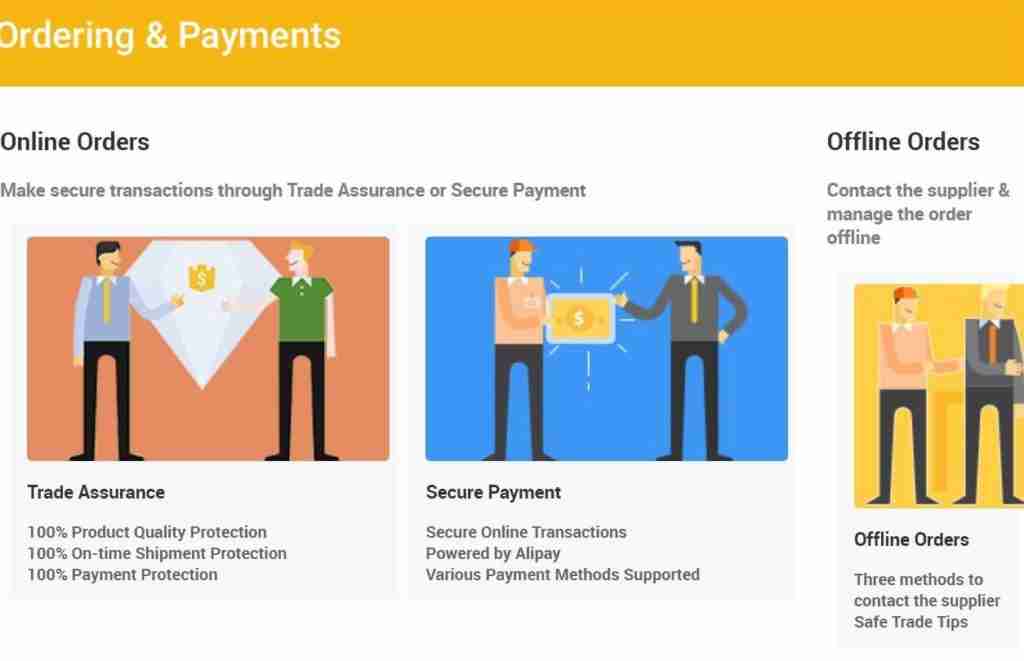 Alibaba offers a guide on Ordering and Payments that provides Trade Assurance and Secure Payment to help customers make safe transactions. This section also offers how to contact your supplier while managing and tracking offline orders.
Self-Service Links

For frequent visitors, there are self-service links that manage your personal account, help you submit a dispute, cancel memberships, and report any legal infringements.
Place a Call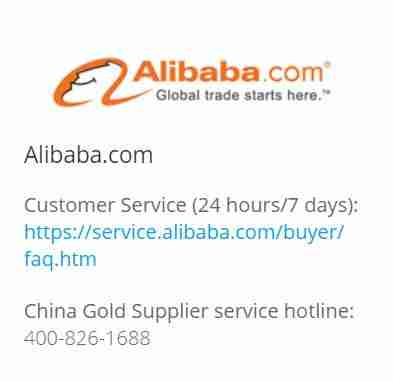 Their hotline is open 24/7 with a representative always ready to help you out with payments and order queries. You can contact them on their China Gold Supplier Service Hotline 400-826-1688. Guiding you on the Trade Assurance process, how to manage your account and liaising between you and the supplier, Alibaba's hotline is a very helpful tool for online shopping.
Live Chat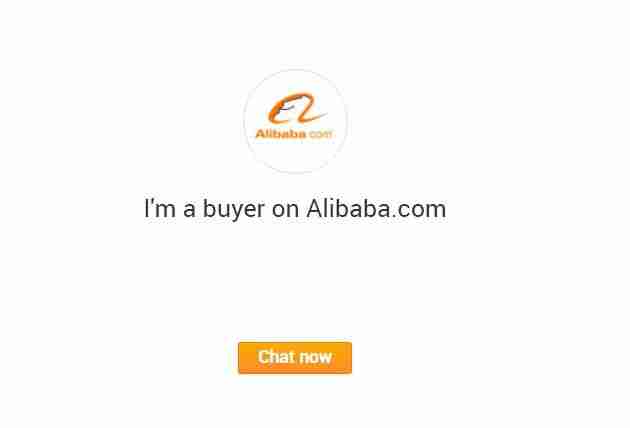 Alibaba also offers a quick and easy Live chat feature where an assistant will instantly get in touch for any queries or concerns. Once you've logged in with your account, you can talk to the assistant who will also provide you with "ready-made" question templates to make the job easy for you.
Drop an E-mail
Another quick way to get in touch with an assistant is by e-mailing them on alibaba@service.alibaba.com. Representatives will get back to you with quotes, supplier' contacts, and all your answers within 24 hours.
Social Media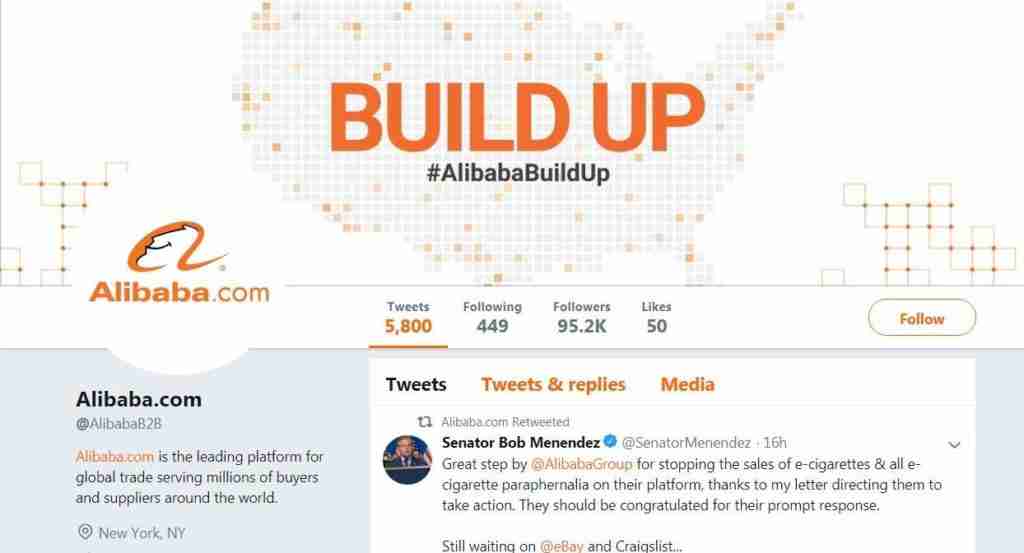 Alibaba also has a strong social media presence. You can get in touch with them on Facebook, Twitter, LinkedIn, and YouTube. Each social media handle has a huge following and entertains visitors with daily business updates, hottest consumer products, and buying and selling tips.
Feedback Form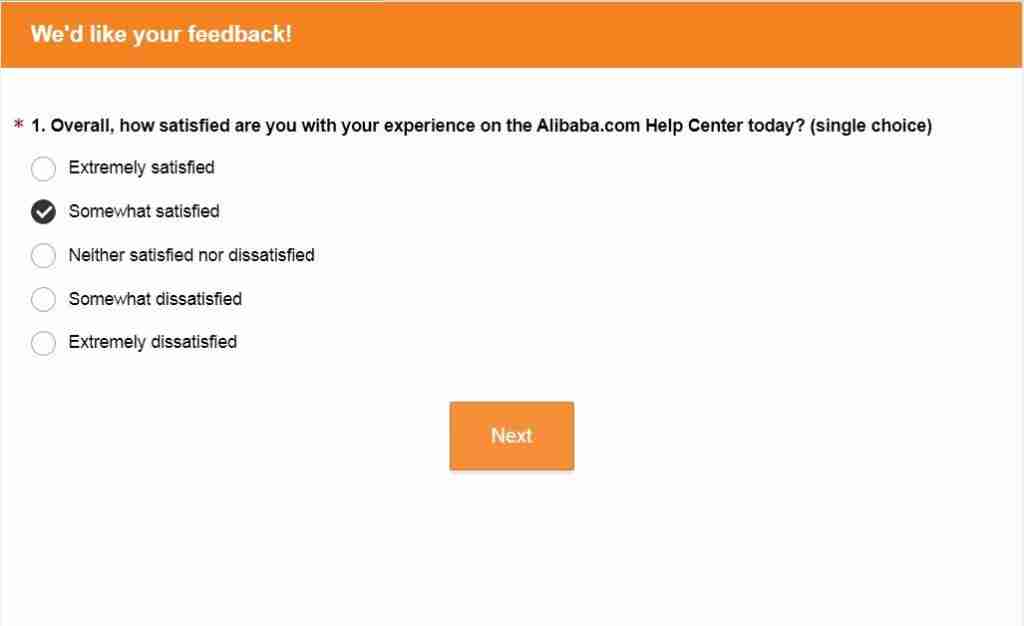 In order to encourage customer participation, Alibaba's website also provides its visitors with a short feedback form. You may rate your satisfaction, depending on how pleased you've been with their online services.
Anything less than satisfactory will lead you to another feedback portal where you're invited to list down your issue in detail. The team takes customer feedback very seriously, which only goes to show how committed they are to their service.
Ways to Contact Alibaba's Business Groups
For customers who are looking for guides or have queries regarding a product or service can visit the "Customer Service" at the Alibaba Group's website. They can reach Alibaba's major business groups like Tabao marketplace, Tmall, Juhuasan, Ali Express, and Alibaba by calling them on their designated hotlines or e-mail. This is what it looks like.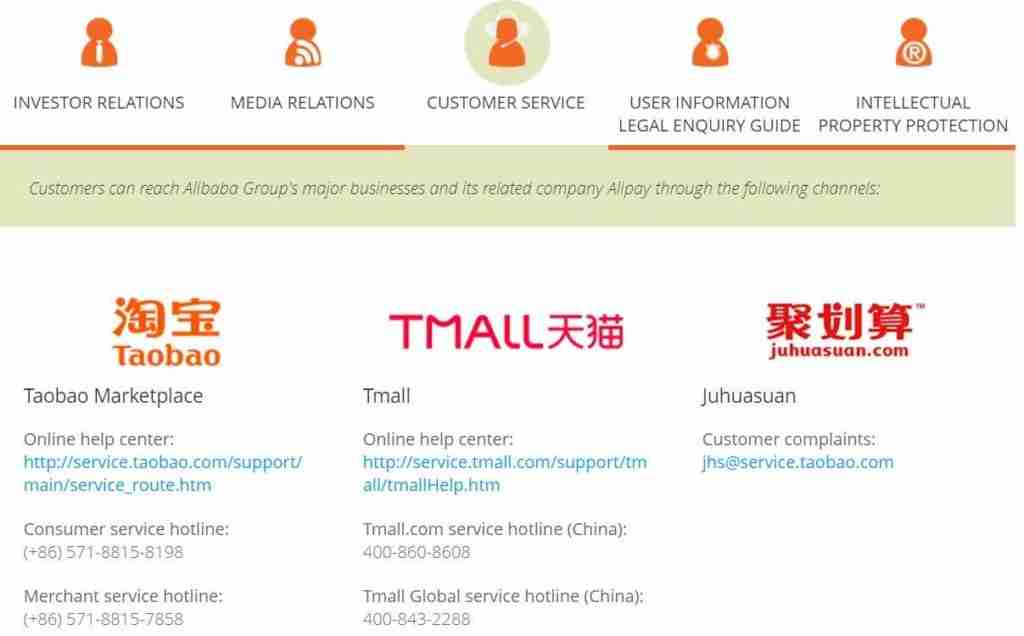 Alibaba is a wonderful avenue for online shopping. The number of suppliers and trading companies it facilitates has not compromised its quality of products and services. Whether you're looking for the latest electronics or clothing, and other consumer products, Alibaba is the place to visit!