Videotron is a telecommunications company in Canada that was founded by André Chagnon in 1964. They started with only 66 subscribers and now they have become a leader of telecom as they serve both consumers and enterprises.
They offer a wide range of products and services like cable TV, cable telephone service, mobile telephone service, and internet access. Their network has reached more than 90% of households in Québec because of their reliable service.

The mission at Videotron is to provide state-of-the-art products and services, and excellent customer experience to all their clients. They make sure their services are at an all-time high to maintain their distinguished position in the industry.
Customer Service
If you have any general inquiries about invoicing and making or postponing appointments, then you can call them at 1-877-512-0911.
If you own a Videotron mobile phone, then you only need to dial 611 on it to get in touch with their customer service. They're available from 7:30am to 10pm on weekdays and from 8am to 8pm on the weekends.
Dial 1-866-380-2967 for their automated service which is available 24 hours a day, 7 days a week. You can also use the option of online chat on their website, write to them or contact them through email.
For those with hearing impairment:
If you live in Montreal, call (514) 380-7143
For other places in Quebec, call 1-866-468-6763
Timings: 7:30am to 10pm Monday-Friday. 8am to 8pm Saturday and Sunday.
Before calling, make sure you have your Vidéotron account number at hand.
Technical Support
If you have any questions regarding the configuration and installation of your equipment or you've run into some technical problems, then feel free to call 1-877-380-2611 or dial 611 on your Videotron mobile phone. This service is available 24/7.
For hearing impaired:
Call 514-380-2966 if you live in Montreal
Call 1-866-380-2966 if you live anywhere else in Quebec.
They're available from 7am to midnight on weekdays and 8am to midnight on the weekends.
You must have your Videotron account number and VL number with you when you're making the call.
Online Support
Since Videotron has two divisions, for residents and businesses, there's separate online support for both of them.
Residential Support
There are five different categories in this section and each contains comprehensive information on the subject that leaves no room for confusion.
Invoice & Account
Television
Internet
Telephony
Mobile
Home Business Support
In Home Business Support, there are 7 categories that provide all kinds of support to home businesses.
Mobile
Telephony
Internet
Webhosting
Television
Network Solutions
Invoice
Both sections have their own set of FAQs, tools, and resources to assist the clients regarding any queries they may have or problems they may encounter.
File a Complaint
In case of any complaints or issues, you should contact Videotron right away. They take your complaints seriously, that's why they have provided a three-step procedure for you to get in touch with them. They will review your complaint at their earliest and propose solutions to resolve it.
Step 1: Call Customer Service
Call 514 281-1711 or 1 88-VIDEOTRON
When the Videotron agent asks you how they can assist you, you need to report your problem to them so they can help you find a solution. If the agent doesn't provide a satisfactory response, then you can ask to get in touch with a supervisor and explain your situation to them.
If speaking with the supervisor doesn't leave you satisfied, then you can move on to step 2.
Step 2: File a Complaint Online
Go to the website and fill out the online form. This is where you can get in detail about the problem you're experiencing and why you need a more effective solution to help take care of it.
After you've submitted the complaint, a specialized agent will contact you within the next 24 hours and provide assistance to you. If you're still not happy with the response, you can continue to step 3.
Step 3: Write a Complaint to the Customer Service Management Department
Get in touch with Videotron's Customer Service Management Department by writing to them at the address mentioned below:
Vidéotron Ltd, Head Office
Customer Relations Management
612 St-Jacques Street, 8th Floor, H3C 4M8
Montréal, Québec
Make sure your message has all the details about your problem and explains how the proposed solutions weren't effective. You can expect to receive a call from a specialized agent within 48 hours after your letter is received by the department.
You can also file your complaint via email at Satisfaction@videotron.com.
FAQS
The website also has a section where you can look through Frequently Asked Questions to find answers for general questions. If you can't find an answer to your query, then you can ask members of the community to enlighten you by posting your question here.
Make an Appointment with an Advisor
You can make an appointment with an advisor if you wish to meet them in person to gain knowledge about their products and services. What's so great about meeting up with an advisor is that you'll get to choose the location according to your convenience, you'll have a chance to avail exclusive deals, and the service will be customized according to your needs.
Call 1-855-600-8474 or bto make an appointment.
Customer Centre
By logging in to the Customer Centre, you can manage your account and services online with just a few clicks in a safe, quick and easy way. You'll need your Videotron account number to register.
This is where you can record a program, check your internet and mobile usage, handle your Internet data add-ons, make changes to your account, and much more.
Click here to find more information on how you can get started.
Store Locator
They also provide the facility to find Videotron stores in your area. You can search by address, city or postal code on their store locator.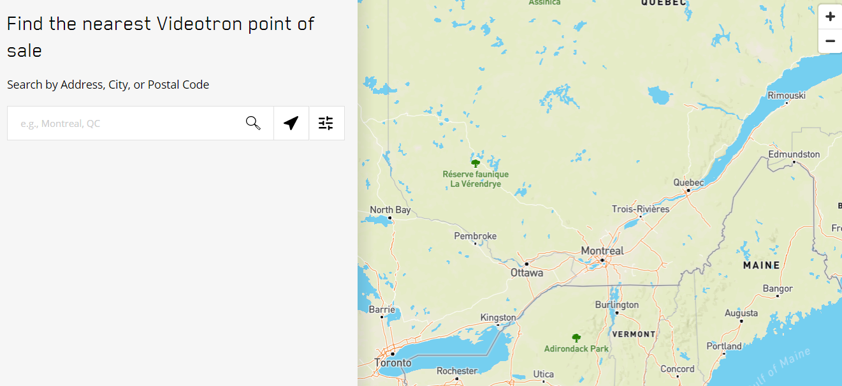 Get in Touch With Videotron on Social Media