Officially launched in 2011 in San Francisco, US, Uber is an American App-based transportation network company, popularly known for its ride-hailing service. In a short time period, the company became synonymous with disruptive technology, with its taxi app redefining transportation for the world.
From May 2011, it began to expand to a new US city each month. As part of its global take-over strategy, the firm embarked on its international expansion from Paris, followed by establishments in Toronto, Sydney, Johannesburg, and London. Quite remarkably, Uber is now operating in more than 60 countries and 400 cities around the globe.
As a high-tech company, Uber has broader ambitions than running as a ride-hailing app. In fact, it's already simultaneously running an online food ordering and delivery platform known as Uber Eats.
It also visions to develop and operate a fleet of autonomous trucks that will ship items anywhere, anytime. To become the king of high-tech trucks and cars, however, Uber will need to confront corporate tech giants such as General Motors, Ford, Google, and others that are already way ahead in their autonomous vehicle initiatives.
After going through this overview, you might be curious to learn about the quality of customer service offered by Uber Canada. Here is everything you need to know about Uber Customer Care Services.
How to get in touch with Uber Customer Care Services
Help Center
The tech-savvy modern customer wants to feel and act independently. Realizing this fact, Uber has a developed an incredibly valuable and comprehensive help center that allows you to consider self-help. From the signing up process to every subsequent step, the platform provides answers on every topic.
The main topics, which are further bifurcated into sub-topics, include Riders, Uber Eats, Merchants & Restaurants, Bikes and Scooters, Business, and Freight.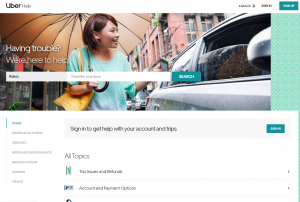 Taking an example should clarify things. For instance, if you recently used a ride and wish to file a complaint about the rider, you can easily navigate to the topic called 'Riders' < Trip Issues and Refunds < My driver was unprofessional < My driver drove dangerously.
While you should normally be able to find a topic related to your issue, if you don't find a relevant topic for an issue that requires attention, you can book an appointment with Uber's customer service agent.
All you need to do is 'Sign in' and choose a time between 10 am and 5 pm, Monday to Friday. A member of the support team will call you on your selected date and time.
Becoming an Uber Driver
Driving for a platform with the largest network of active riders is an exciting pursuit. It's entirely upon you to decide when and how often you want to drive.
You also have a complete choice over how and when you want to cash out your earnings. On top of that, you can also get an affordable car from Uber by the week or hour. Its vehicle partners offer unlimited mileage, insurance, and a lot more.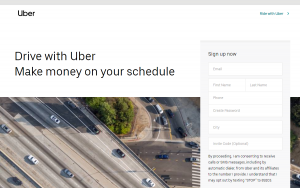 But how do you get in the driver's seat at Uber? All you need to do is sign up as a driver, and the rest of the process easy. You'll soon gain access to the app, and once your account activation is complete, you can begin to drive and earn.
Requesting a Ride
If you've used the Uber app, requesting a ride requires no explanation to you. If you haven't, download the Uber app, sign up with your email or phone number, and start booking your rides.
If, for some reason, you don't have a smartphone (forgot at home), you can book your ride from the desktop by visiting the 'Request a ride now' page.
From there, you can request a ride immediately of schedule for later by entering a pickup location and destination.
Ordering Food
As mentioned earlier, Uber Eats allows you to discover delicious eats and place orders online. Simply visit 'Uber Eats' webpage, find a restaurant of your choice near you, and get meals delivered right at your doorstep.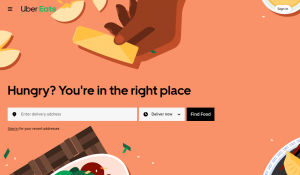 If you're a restaurant owner looking to enlist your eatery at Uber Eats, visit Uber Eats for Restaurants. To get started, you need to share details about your restaurant and upload your menu. You should then be able to access your restaurant dashboard and choose to go live. A world of customers should then be within your reach.
Shipping Goods
Uber Freight also offers smart shipping with advanced features. It helps you streamline your supply chain by providing 24/7 access to trusted carriers, real-time tracking, and instant quotes.
Plus, whether you're a carrier or shipper, you get extraordinary help from Uber Freight Support, a dedicated platform for carriers and shippers. Not only does the platform offer insightful resources on several topics, but it also provides access to personalized support.
Social Media Channels
Not surprisingly, Uber has a presence on all the popular social media channels, including:
To stay informed about the newest offerings and latest trends in the tech market, follow Uber on each of these platforms. If it's more comfortable for you, you may each reach out to the customer service team via Facebook Messenger, Twitter DM, and other direct messaging options on Uber's other social media pages.
Conclusion
This was our take on the Uber Customer Care Services. By now, you should have no confusion about where to go to seek specific Uber services, seek self-help, or book an appointment with a customer service agent.