Twitch is a platform for live video streaming and uploading. It is a subsidiary of Amazon, which started in 2011. It allows people of the same interests to come together and share live streaming of their video games, entertainment content, music broadcasts, and more.
Twitch gained immense popularity in 2013, when the website had 45 million active viewers. By 2014, it was considered as the fourth largest source of peak internet traffic in the US. In 2015, Twitch had more than 100 million active viewers, with 1.5 million broadcasters. Today, it is the leading live streaming video platform, topping YouTube Gaming. In 2018, it had 15 million active users per day.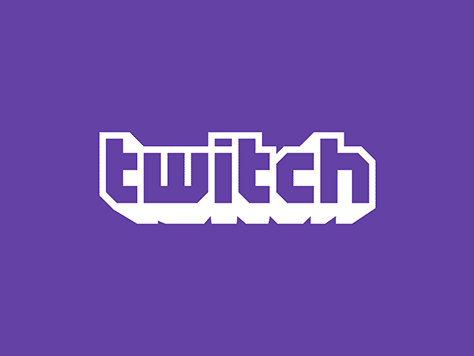 For its growing community, Twitch has designed a website with a variety of self-support tools where users can find quick answers. Users can also reach out to them in other ways.
Customer Support
The Twitch webpage opens up to the Twitch community page, with a 'join now' option. Twitch highly prefers its users to join their community for the best experience through interaction and sharing. By joining the community, you can also broadcast your live videos and create channels for live videos. Twitch gives you a chance to explore and share your experiences with a community with people of the same likes. But how can you reach out to them?
Twitch Help
The Twitch help page includes a wide range of support options that users can use to reach out to them. It has an active 'Knowledge Base' where you can search for topics that might cover your problem or query. Or, you can check out specific topics, if you have questions related to the affiliate program, partner program, how to get started, etc.
Twitch's webpage brings together several self-support topics so that users can save their time and go through the guidelines given on their page.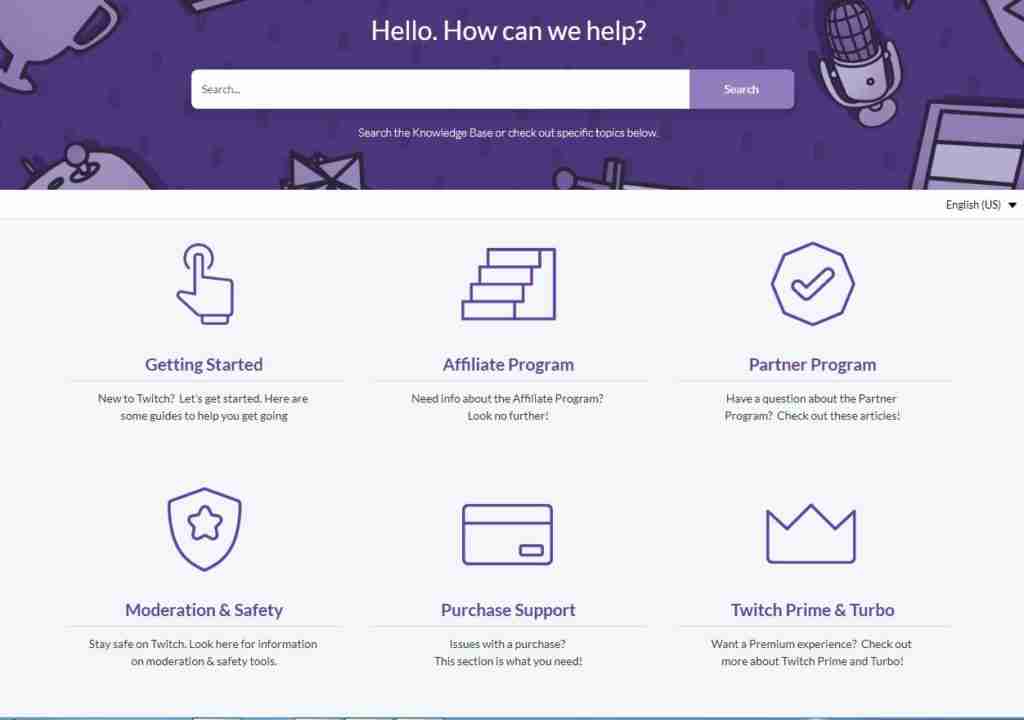 Getting Started
For basic support, head over to the 'Getting Started' page and find a number of helpful articles with relevant guidelines. These self-support articles cover everything important you may need to know as soon as you join Twitch. You can find simple guidelines on how to set up your account and how to start streaming.
Affiliate Program
The Twitch affiliate program helps hundreds and millions of its users to start their own channel and earn revenue on it. The articles from the knowledge base answer all questions and queries of those who are looking to affiliate with Twitch for their content.
Partner Program
The partner program support is a part of the affiliate program. It is for those content creators who have already partnered with Twitch. These self-support tools help the creators find their way through their channel and the program policies.
Moderation & Safety
Twitch moderation and safety support is easily accessible for information on harassment, hacking, and others. Twitch ensures that the users feel safe in the community.
Purchase Support
For all subscriptions and billing issues, visit purchase support. This is where you can find all information and support tools related to purchases.
Twitch Prime and Turbo
Twitch Prime and Turbo is for all the premium users. The section contains all you need to know about how to become a premium user and upgrade Twitch services.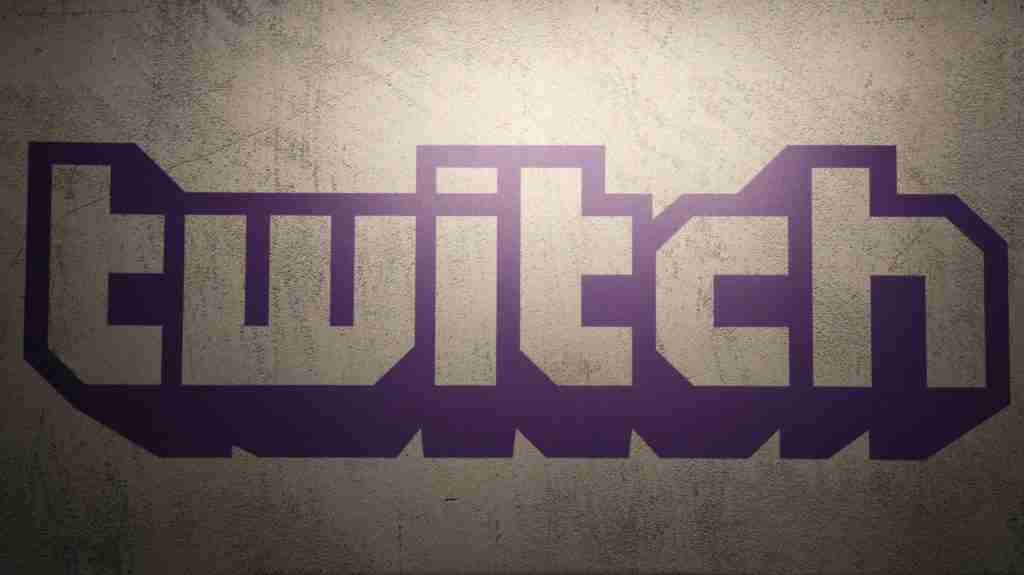 Twitch Apps
Subscribers use the Twitch app to access their channels and videos. Hence, the Twitch apps section contains all relevant information and articles on how to go around the app. It has the frequently asked questions and troubleshooting solutions on different technical issues users may face.
Twitch Signs
Twitch signs are confusing, which is why this section covers all you need to know about the signs that you find on the website and app. The simple set of guidelines will help you understand how to start using your channel. You can find details on all the tools Twitch offers, so you don't miss out.
Special & Twitch Events
Twitch wants their community to stay together and connected with one another. This is why it has a section for special events that users can participate in or attend. There are food fight events, community meet ups, and other events several times in a year. Users can also reach out to the support team through these events.
Contact Support
In addition to the self support tools and knowledge base available, Twitch has a direct contact option as well. Users can contact them using direct email.
Twitch has an email option on their website under the contact section through which users can reach out to them. The email can be sent directly from their website. The users have to type in their account details and user name, and the Twitch database will allow them to customize their email accordingly.
The email section also allows you to upload pictures or files for any queries.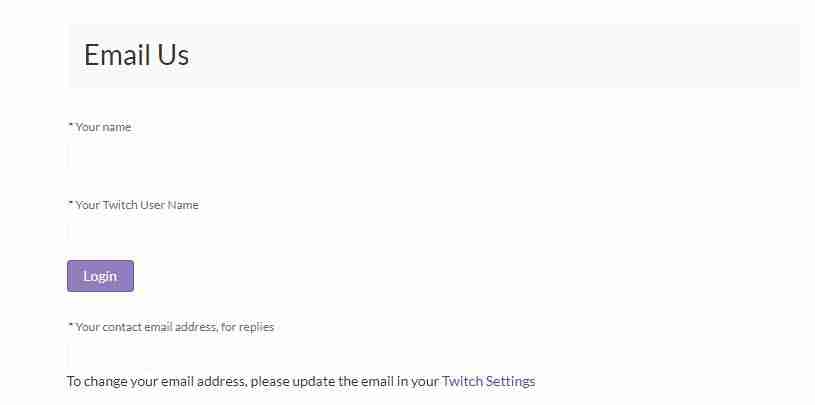 Social Media
Since Twitch is all about community building and sharing, it has an active social media presence. The support team members are ready to connect with the users and reply to their comments. Users can follow them and reach out to them with their reviews, comments, or feedback. Twitch considers all users' comments and tries to respond to them.
Facebook
Twitch Facebook page is highly active and responsive. Users can send their messages as well as interact through the entertainment content shared there. Users can like, share, and comment on these posts and post new content as well. You can also shop for Twitch goodies through the Facebook page.
Twitter
TwitchSupport is the name of the Twitter handle. Users who have complaints or problems can visit Twitch's support page. Twitch's support team is available on Twitter Monday to Friday from 10 am to 6 pm (Pacific Time).
Twitch cares about its community. To contact Twitch, you can use any of the methods mentioned above.