The Royal Bank of Canada (RBC) is the largest in Canada by market capitalization and serves more than 16 million clients across 51 countries.
They currently have three distinct branches in the financial service sector: Personal/Commercial banking, Investment/Corporate banking, and Investment Brokerage.
Knowing how to get in contact with a bank's customer care service is very important due to the delicate nature of the business.
Thankfully, RBC has an excellent customer service team to cater to all their new and old clients.
This article is your go-to guide for finding out how to get in touch with RBC customer support using methods like call, email, etc.
About RBC
Though it was founded in 1864 in Halifax, Nova Scotia, the Royal Bank of Canada is headquartered in Place Ville Marie in Montreal, Quebec, today RBC Canada's personal banking unit has more than 1,209 branches across the country, serving over 10 million clients.
Their services include everything, from managing bank accounts, savings and investments to servicing loans, mortgages, and providing credit cards.
RBC Customer Support Services
The Royal Bank of Canada has a lot of avenues available for customers to contact them.
The RBC Website has a dedicated Customer Service page, which you can find by looking for the "Contact Us" option at either the top or bottom of the webpage.
There is a whole host of other information you can access too, like their history, investor relations, careers, and so on.
Call RBC Canada For Your Questions
The Royal Bank of Canada has more than just one contact number.
They do this to avoid long wait times. You have different contact numbers for everyday banking, investments, and insurance. Even within these subsidiaries, you will find different phone numbers for each function.
The "We're Here To Help" section on the "Contact Us" page will give you access to all these phone numbers, along with other information.
Confused? Don't worry, we've broken all the phone numbers for each category and details about them below. All lines are open 24/7.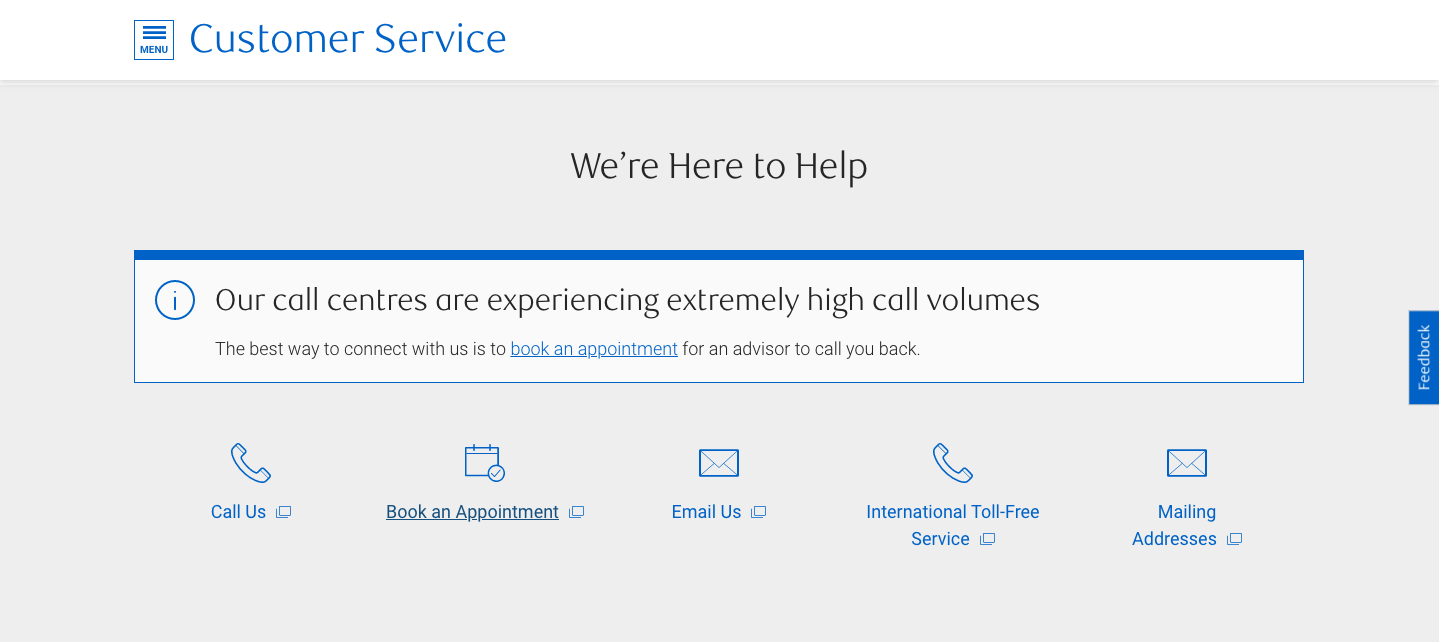 Everyday Banking
In the normal banking subsidiary, the first contact number you can find is that for queries regarding client cards, bank accounts, lines of credit & loans, and mortgages. Consumers can call at on the following number:
Consumers who have speech issues or are hard of hearing can call on the TTY number:
If you want to specifically talk about credit cards or managing your existing business bank account, you can dial:
Consumers of this service who have speech issues or are hard of hearing can dial the TTY number:
For business owners looking to open a new business account or learn about all the business banking services available at RBC, the phone number is:
To facilitate any issues or queries related to online banking and for mobile banking services, you can contact RBC support at:
Investments
RBC provides a lot of support for individuals and organizations looking to make investments. This is a sensitive topic that requires a lot of attention, so the call center is divided into various services.
For customers looking to know more about RESPs, RRSPs, GICs, and TFSAs Mutual Funds, the phone number is:
Clients looking to exclusively learn about or manage their Direct Investing ™ account can dial:
RBC's wealth management service Dominion Securities has a separate helpline to ensure speedy response times and easy access. Customers of this service or people looking for information can dial:
Insurance
RBC's insurance branch is newer compared to the other two, but it's certainly popular. If you're looking for information on RBC's Home Protector® or LoanProtector® insurance services, dial:
Customers or individuals looking for information on BalanceProtector® Insurance should dial:
The helpline number for corporate clients looking to insure their loans and discuss Business Loan Insurance Plans is:
RBC provides Travel HealthProtector® insurance for customers traveling outside Canada. If you want to know more about this, you can call on this number:
Book an Appointment with RBC Support
With over 16 million clients worldwide and 10 million in Canada alone, the RBC support centers face a lot of traffic.
Even though the calling centers are separate for each service, you can face long waiting times if it's a busy day. Plus, many services like mobile banking and bank account management get more calls than others.
If you're an existing client, RBC gives you the option to book a call with their support agent without waiting on a call for long periods.
All you have to do is navigate to the "Book an Appointment" page via the "We're Here to Help Section," sign-in with your account, and choose your preferred timing and service for the call. The support agent will give you a call at the required time.

Email RBC Customer Service
The process of contacting RBC through email is not as simple as contacting other businesses. The dealings are more sensitive, so the emailing process is a bit different.
The first thing you need to do is navigate to the Email Us section through the "We're Here to Help" section. Here, you'll find two options: one for existing Online Banking users and one for non-users. Let's check out each of them.
For existing Online Banking users:
You can log-in using your existing Username and Password. This will take you to a secure portal that you can use to send secure messages to RBC support.
For non-users:
You can fill in a simple form with your inquiry, personal information and email. RBC support will email you back on the address you entered within a few days.
Find an Answer to Your Question Yourself
If you don't want to wait around for an answer, you can just search for your question via the FAQ section at the top of the Customer Service page.
You can type in your question and search for it using the "Ask Your Question" search bar at the top of the page or browse through Top Questions and Helpful Links of topics like bank accounts, credit cards, loans, mortgages, investments, businesses, etc.
Stay In Touch with RBC
The RBC Customer Service section is very comprehensive. Whether you're an existing personal banking customer, corporate client, insurance buyer, or someone looking for information, you should be able to find all the answers to your questions here.
If you don't find what you need on the website, you can always give RBC a call or send an email through the official website.