No Frills is a chain of supermarkets that specialize in offering the lowest prices available. To boost the impression of low prices, the corporate name, nofrills is written in all small letters. Nofrills is a Canadian company owned by Loblaw Companies Limited, which expands its operations as independently owned franchises.
There are now more than 200 franchises spread across the nine provinces of the country – none in the territories, yet. The first nofrills store was a converted Loblaws outlet slated for closure. It opened on July 5, 1978 in East York, Toronto. At the time the range of goods was very limited (only 500 products) and the customer service was minimum, however the store was determined to survive on the basis of deep discount prices. Inflation rates and the cost of food was at an all time high, so the timing was perfect. Nofrills was exactly what the public needed.
No Frills Customer Service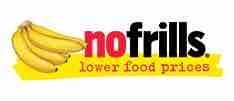 Each outlet is an independently owned franchise, so you will get the best customer service from your local store. However, you can contact the corporate headquarters at any time, especially if you have a problem with the franchise owner or wish to open a franchise of your own.
Customer Relations Centre is open Monday to Friday from 8:30 AM to 5:30 PM :
Call toll-free in Ontario 1-800-296-2332
Call toll-free in Quebec 1-800-567-8683
You can write to the company at:
Loblaw Companies Limited,
1 President's Choice Circle,
Brampton, Ontario,
L6Y 5S5
Attention: LCL Customer Relations Centre
Or send a fax to 905-861-2387. Many of your questions or concerns will answered in the extensive FAQ section or you can complete the online form for more specific questions.
To find a store near you, select your province and then use the handy store locator tool. For example, Brent's NOFRILLS is located at 700 Strasburg Road, Kitchener, ON N2E 2M2. You can call Brent toll-free at 866-987-6453. Products offered include baked goods, dairy, deli, cheese, produce and seafood. Nofrills is a participant of the 5 cent bag program, so don't forget your reusable bag.
Find out what's new at your local nofrills by adding them as a friend on Facebook. You will get all sorts of great meal ideas and bargains. Follow the deals of the week on Twitter. See what's new, what's hot and be the first to grab your special, members only, coupons. Grocery shopping can be fun when you have a friend like nofrills on your side.