Zoom Video Communications Inc. was established in 2011 and is one of the biggest video chat services in the world today. The company was founded by Eric Yuan who used to be the vice president of Cisco.
Initially, Zoom was launched under the name of Saasbee Inc. and struggled to find proper investors due to the belief that the video-telephone market was already saturated.
Luckily, it was only when Zoom renamed itself and changed their target market that they started to make progress. Stanford University was their first huge client. It also allowed Zoom to expand their service offerings too.
They moved from being just video telephone meetings to hosting group chats that created a more collaborative environment.

While initially, Zoom was not as popularly utilized, since the early 2020, Zoom has experienced a lot of growth, particularly on a larger scale. Its practical uses have been applied by people in different industries with users ranging from business professionals to students.
Zoom's daily users have more than quadrupled today going from 10 million in March 2019 to 200 million in 2020. It has also experienced the most number of downloads per day, coming up to 2.13 million times.
Additionally, Zoom has been able to increase their value in the stock market, despite the fact that the stock market is generally in a slump right now.
Today, Zoom has launched an online platform along with an app that is accessible for Android and iOS. They have also offered free services for various K-12 classes on a global level to make education accessible for all, particularly in these challenging times.
In the past, Zoom has come under fire for their services, including design choices and security concerns. However, the scrutiny that was placed on Zoom has only allowed them to work on improving their services more. This has led to not only improvement in the services but also the customer support services that Zoom has to offer.
If you're wondering how to get in touch with Zoom's customer support services, the following is what you need to know.
Zoom's Support Services
Due to the global nature of Zoom's services, they have developed a detailed customer support option that allows users the ability to learn more about Zoom. If you're in need of assistance, you can rely on the following different methods to get in touch with a representative from the Zoom customer team:
Support Center
Zoom has a dedicated support center that is targeted to help newbies, troubleshooting options and also helping one learn how to use the software for the very first time. The support center offers access to the following resources that one can use:

Guides
There are quick-start guides that are aimed at helping one learn more about Zoom and its functions. These guides are brief, to-the-point and simplified enough to help one understand the various ways that Zoom and its features can be used. Based on the categories, you can pick and choose the option that meets your needs.

Tutorials
To help new users and those who are not technically savvy, Zoom also has a dedicated section full of simple, easy tutorial videos. These How-to videos break down the functions of Zoom and cover a range of topics, including how to share your screen, schedule your meeting, join a meeting, record one and more. The dedicated section gives access to more how-to-videos.

Support Topics
If you need Zoom's customer support services for a particular topic, you can also take a look at the Support Topics section here. These cover different issues, including getting started, integration, account and admin rights and more. You can click on each area and find different solutions to various questions or issues that you might have.
FAQ Section
If you need help with a particular question, Zoom gives you access to an FAQ section as well. Users can find the answers to almost any issue here.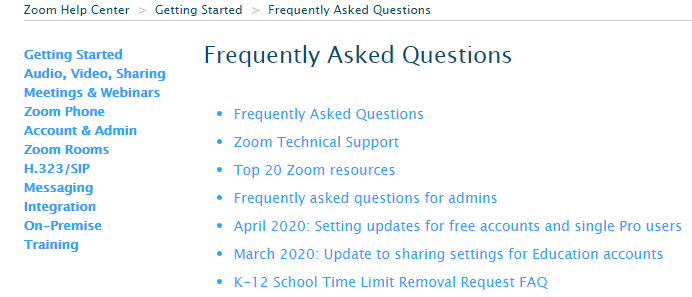 The FAQ section is dedicated to not only answering important questions but also give updates regarding any latest additions to the software and the platform that Zoom offers.
The Help Search Bar
If you can't find the answer to your question in the FAQ section, you should consider using the search bar. The search bar gives you the freedom to type in the issue at hand. It will then try to match you with the right resources on the site ranging from articles to how-to-videos that can address the issue at hand.
Customer Support Helpline
If you're unable to get a solution to the problem, you can also reach out to Zoom by calling on their helpline. Given the fact that Zoom offers services on a global level, it makes use of different helplines, based on the location:
US: +1.888.799.9666 ext 2
AU: +61.1800.768.027 ext 2
FR: +33.800.94.64.64 ext 2
IN: 000.800.050.2040 ext 2
JP: +81.053.132.0070 ext 2
NZ: +64.800.475.039 ext 2
SG: +65.800.321.1249 ext 2
UK: +44.800.368.7314 ext 2 or +44.20.7039.8961 ext 2
It should be noted that these dedicated helplines are only available for users who have Zoom accounts in the category of Owners and Administrators of Enterprise,Business, Education, or API. Additionally, you have to use your personal meeting ID and your host key to do so.
Customer Support Hours
Customer support services are offered on a 24/7 basis, regardless of the locality of the person. Additionally, regardless of the day of the week, holiday or other occasion, you can always get in touch with Zoom's customer support and technical support team through phone, web or chat.
Live Chat
Zoom has a dedicated live chat feature that is accessible to users when they visit the website. It not only offers help by connecting with the FAQ section but also gives flexibility in usage. Users can select the language of their choice and also get a transcript of their chat emailed directly to them.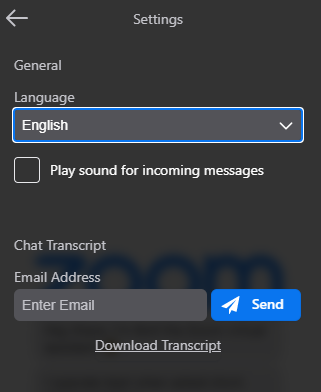 Given all these aspects, you can easily get in touch with a professional and make use of Zoom's customer support services with ease.