Want to design the best website ever? Wix has got everything that you could ever dream of!
Wix is an exceptional leader in website creation. Whether you're a designer, entrepreneur, developer, photographer, musician, or restaurant owner, Wix can help you create a professional website.
The company promises to offer you unparalleled design capabilities and an open SDK to create your customized, stunning website.

Moreover, you can also market your website via the Wix platform. Whether you're a first-time web developer or a seasoned professional, you will find features that are tailor-made for your level of expertise at Wix.
Wix provides an outstanding website-building platform to more than 180 million users across 190 countries!
With such a massive reach, it's no surprise that the company does everything in its power to provide exceptional customer support to its users.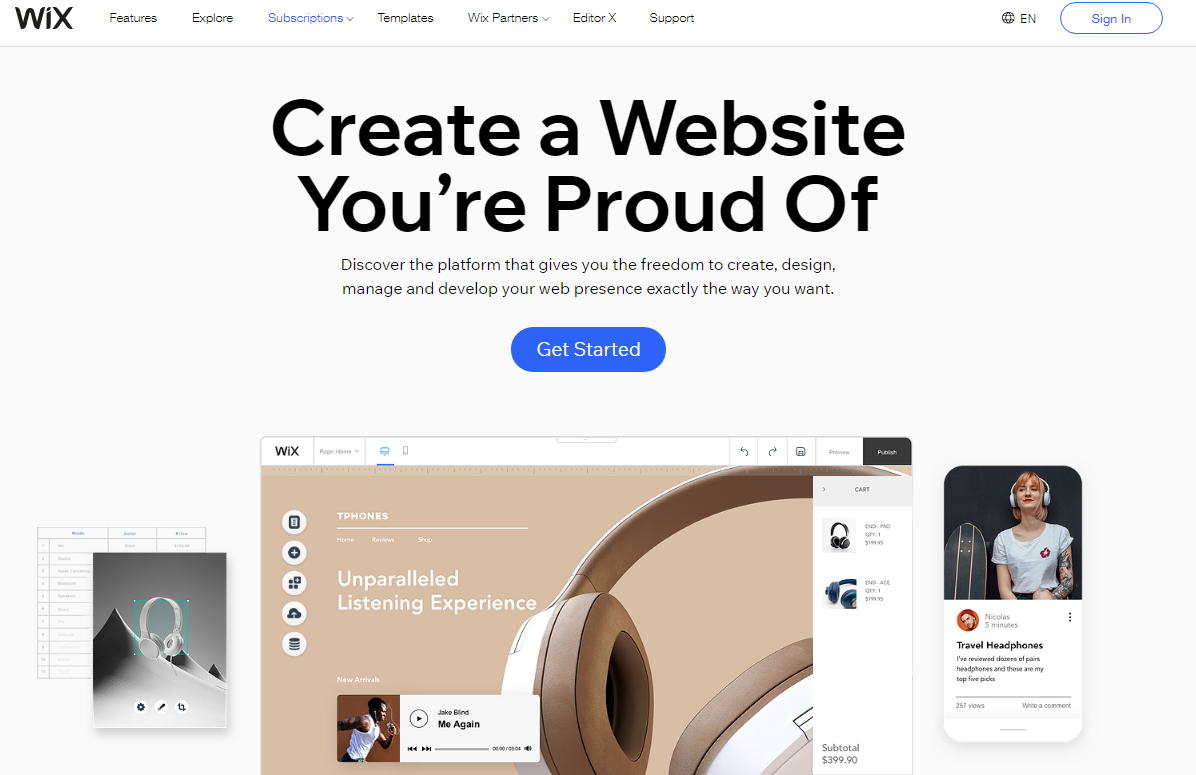 It does so with the help of its official website.
So, without further ado, let's review what Wix has to offer to its customers.
How to Get in Touch with Wix Customer Care Services
Wix Customer Support Services
When it comes to offering the best support to its customers, Wix never drops the ball! Here are some ways in which Wix delivers excellent customer support services.
FAQs
Wix provides you with the answers to some basic FAQs on its official website.
All you have to do is open the home page of the website and scroll down to the bottom of the page for website creation related FAQs.
Wix Support
Wix has an incredibly comprehensive help center on its website.
You can simply enter your query into the search bar given at the top of the page. The website will generate relevant results for your query.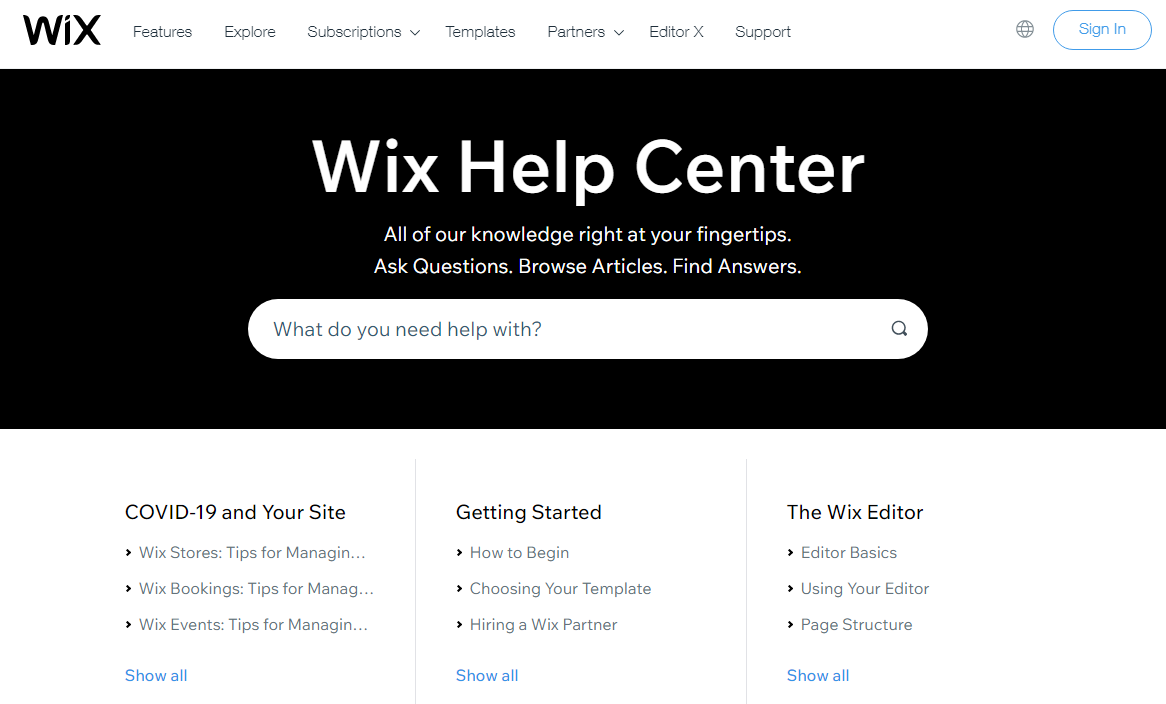 Alternatively, you can browse through the numerous help categories including COVID-19 and your site, getting started, billing, premium plans, mailbox, managing your account, and more.
Each category has varied options that you can click on to get access to the information on each one.
This information could be in the form of helpful articles, videos, tutorials, etc. You can also scroll down to the end of the page to take a look at the trending topics and articles on them all.
How to Contact Wix
Wix has a 'Contact Us' webpage as well. Here you can learn how to contact the company.
If you want to get into business with Wix and have an exciting partnership idea, then you can contact the company via its business e-mail address:
If you want professional resources to grow your agency with Wix, then you can do so by becoming a Wix partner.
Similarly, if you want to learn more about becoming an affiliate for Wix and earning a handsome commission in the process, then join the company's affiliate program.
If you're interested in discovering enterprise solutions that are tailor-made for your business, then get in touch with the company's enterprise team at:
For accessibility issues, queries, and feedback on the accessibility of the site, you can reach out to Neil Osman, the Accessibility Engineer at Wix at:
Wix Blog
Want to learn everything there is to know about website development and designing? Subscribe to the Wix Blog.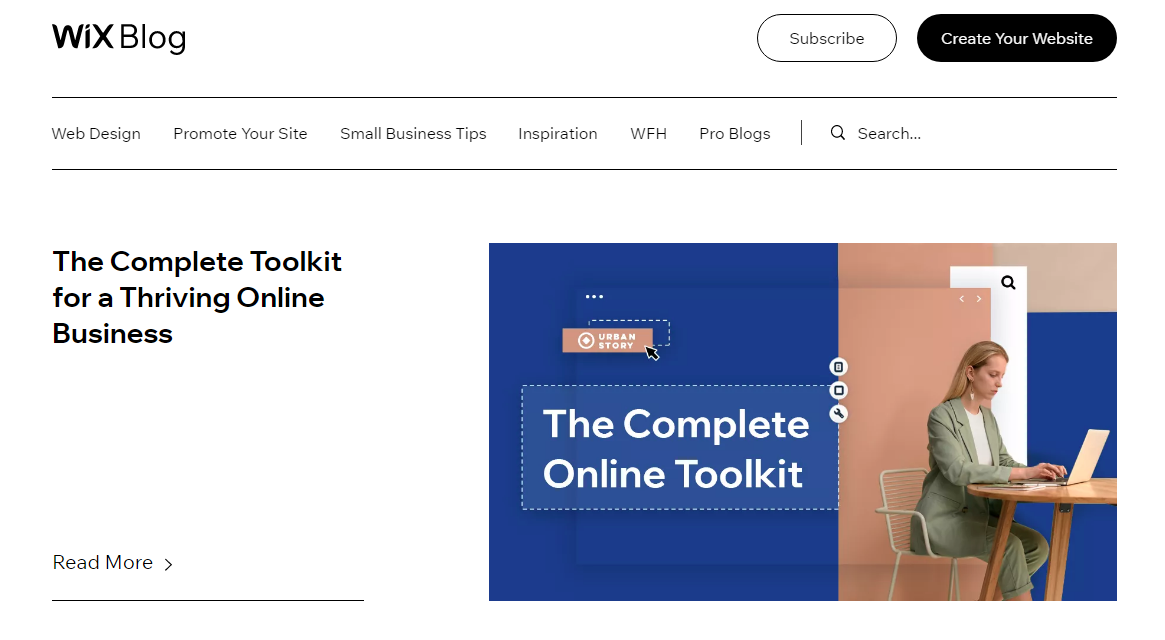 The company makes sure to post new content as regularly as possible.
All of these posts are quick and easy to read and can help you develop and build your website.
You can check out the different blog categories including web design, small business tips, WFH, and more.
Wix Press Room
If you want to keep up to date with the news about Wix, then simply check out the Press Room on its website.
On this webpage, you can access the press releases by the company as well as the news articles on it.
If you're a member of the media and want to get in touch with Wix, then you can do so by filling out a form toward the bottom of the Press Room webpage.
All you have to do is enter your name, phone, e-mail address, and your message. The company will reach out to you shortly.
Site Map
Wix has a pretty complex website with lots and lots of webpages that cover all the various services provided by the company.
To ease the user's journey, the company has provided a comprehensive site map that you can use to access the webpage that you want.
The map has all the webpages divided into neat categories which you can browse through to find what you're looking for.
Social Media
Wix has a pretty active Facebook page, which enjoys a massive following. You can like and follow the company on Facebook to stay up to date about everything that it's doing.
It regularly updates the page with plenty of interactive posts. You can also interact with the company via Facebook Messenger.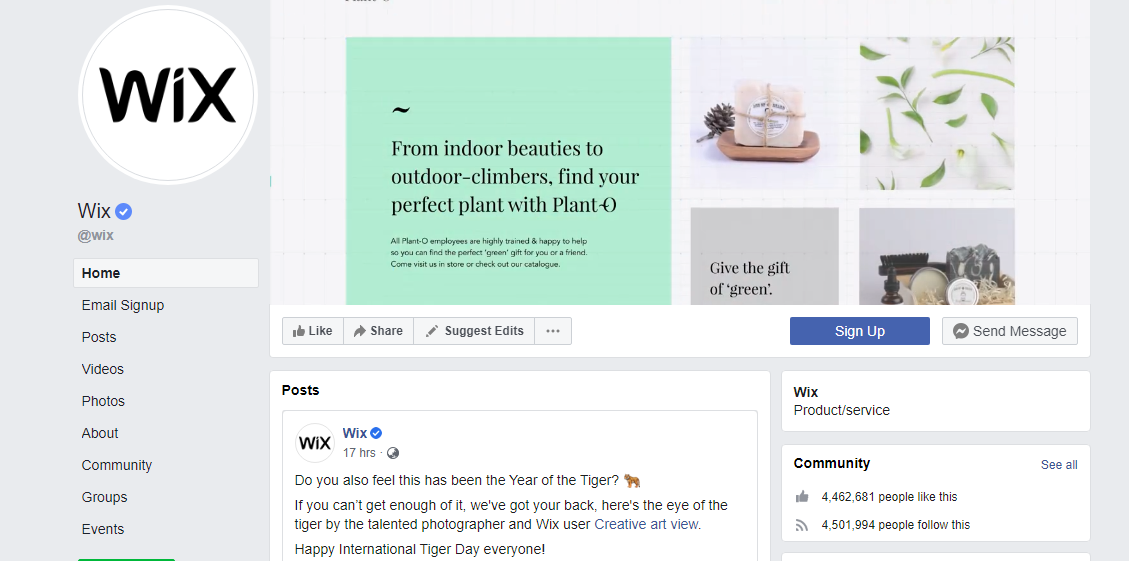 You can also follow Wix on Instagram, where the company quite regularly posts aesthetically pleasing and helpful posts.
You can reach out to Wix via DM to share any ideas, concerns, or queries that you might have.
Wix also has a helpful Twitter account, where the company regularly updates new tweets that link back to helpful blog posts on its site.
You can follow Wix on Twitter to make sure that you don't miss out on any of these posts! You can also reach out to Wix via DM.
You can also subscribe to Wix's YouTube channel. The company makes sure to post videos quite regularly.
All of these videos are related to topics such as web designing, managing a website, tutorials, e-commerce, content management, SEO, and more!
The Bottom Line
When it comes to providing exceptional support to its customers, Wix will always be there for you!
Whether you reach out to the company via e-mail, its website, or social media pages, it will always respond to you as swiftly and professionally as possible.