If you're an internet user, you can't be oblivious of the online free-content encyclopedia known as Wikipedia.
Backed by the Wikimedia Foundation, the platform is based on the model of openly editable content, where anyone can freely share their knowledge. Writers are largely anonymous who add or edit content without pay.
All you need is an internet connection to share insights or make changes to existing articles. To prevent vandalism or disruption, however, Wikipedia may choose to ban certain users.
The platform does have certain guidelines and policies to improve contributions such as the requirement that the content must be free of provoking ideas about living people or copyright restrictions.
Plus, numerous experienced editors are constantly reviewing the content and the platform allows for easy, real-time rectification of mistakes.
Thus, contributions cannot spoil Wikipedia's image.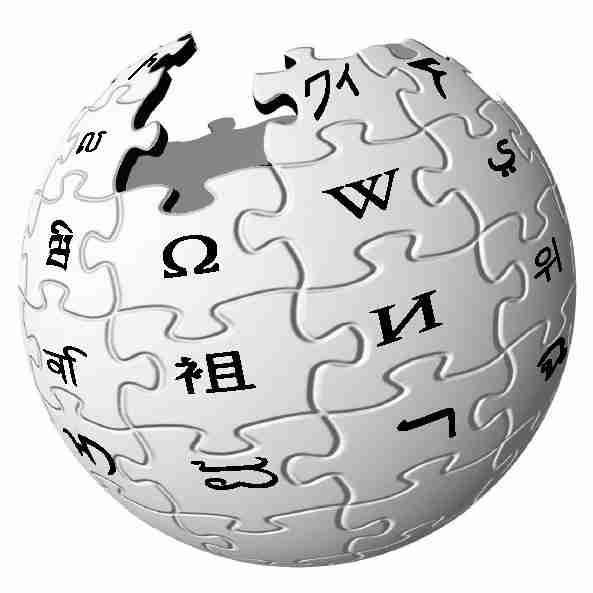 Since its launch in 2001, Wikipedia has developed into the most referred content website. As of March 2020, the platform attracts 1.5 billion unique monthly visitors, carries 54 million articles published in 300+ languages.
Let's now take a look into how Wikipedia performs on the customer service front.
Wikipedia, how to get in touch with the customer service
Wikipedia Reference Desk
Since the major use of the Wikipedia platform is to access information and insights, let's start with where you need to go if you find yourself struggling with research.
While the simplest way to look for information is to enter relevant keywords in the search bar at the top right of any Wikipedia page, if you're looking for specific facts that you couldn't find there, the platform's Reference Desk should prove a valuable resource that serves as a library.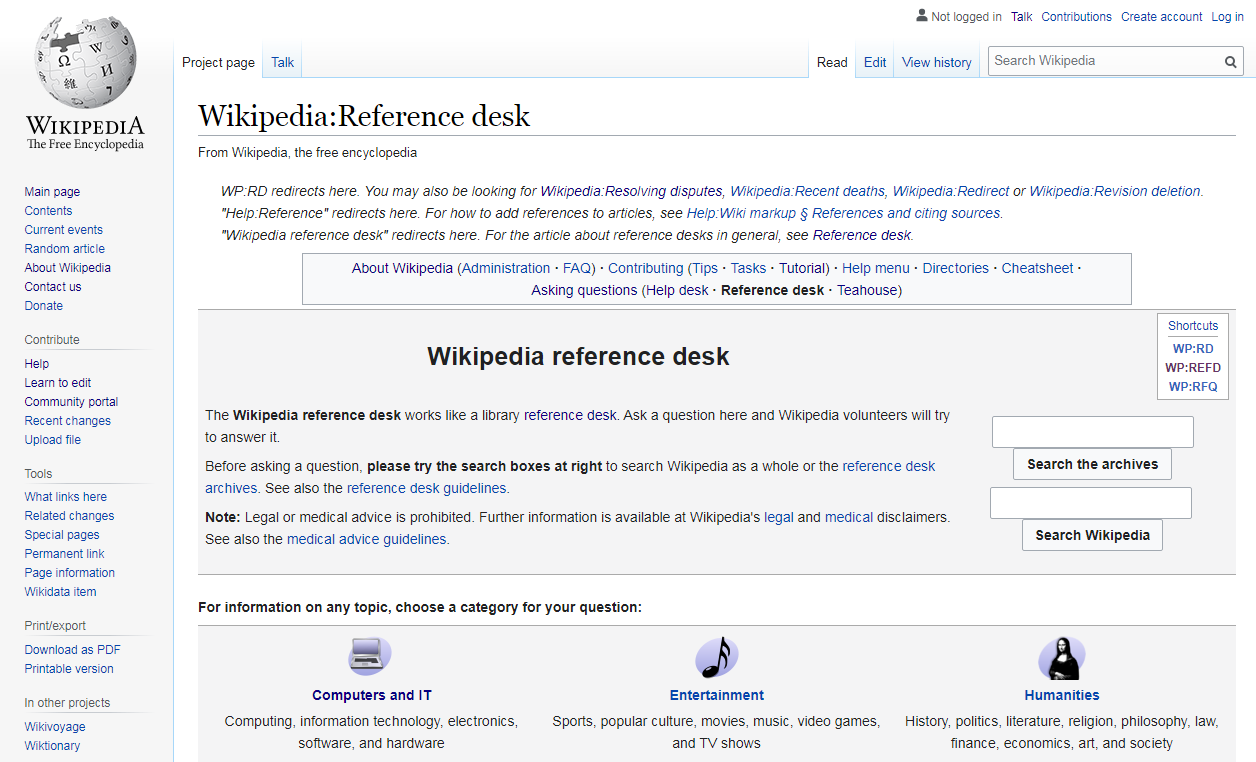 Visit the Reference desk page, and try finding your desired information through the 'search the archives' box.
If you Wikipedia archives fail to answer your query, choose a category from the groups listed based on the topic your question pertains to.
If you select the 'Computing' category and choose to ask a new question, you should be able to enter your specific query and Wikipedia's volunteers specializing in computing will try to answer it.
Wikipedia Help Desk
Finding information is one use but if you want to ask questions about platform usage and editing content, Wikipedia's Help Desk should prove more useful.
For instance, if you're facing problems resetting the password, image placement, or editing, you can add a new query here.
But again, you should try finding an answer by searching the Help Desk Archives and Frequently Asked Questions before adding a new query.
Wikipedia Editor Assistance/Requests
The editor assistance/requests page is where you can seek help when faced with content issues and disputes.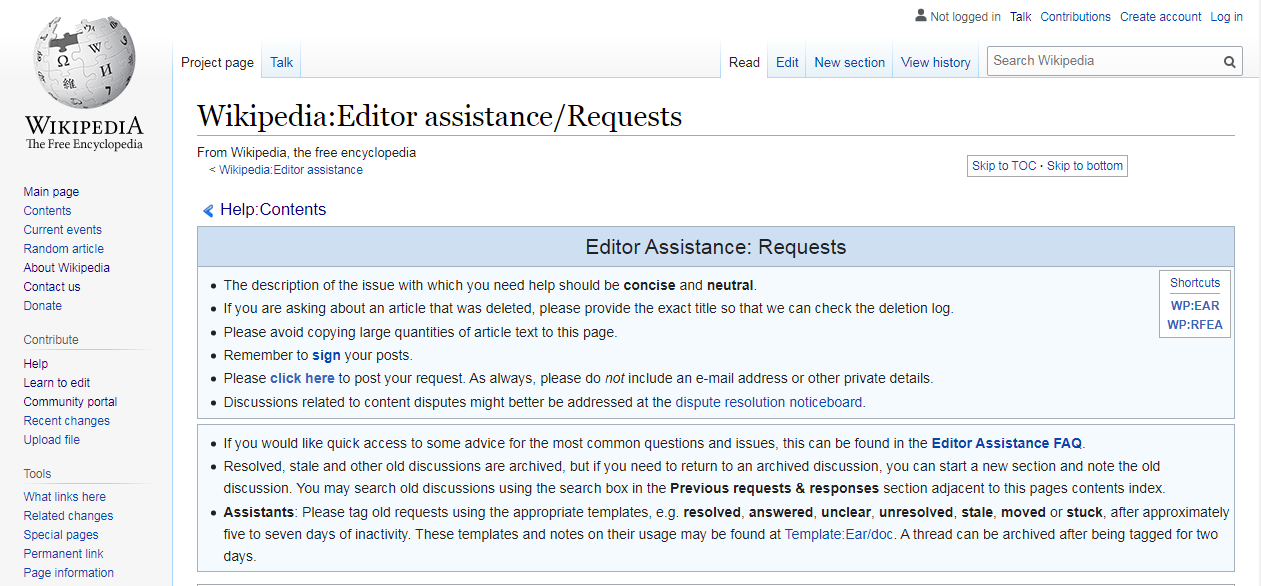 This could about why an article you recently posted was deleted. Check Editor Assistance FAQs to see if your question has already been answered.
If that doesn't help, go ahead and post your request.
If you feel your content dispute isn't appropriately addressed, the Dispute Resolution Noticeboard should be more helpful.
Wikipedia Teahouse
While you may refer to the Wikipedia Help Desk for editing related queries, the platform also has a dedicated page for new editors where they can post queries for editing assistance.
Before you proceed to ask a question, be sure to check out the tutorial for new editors or the Introduction to Contributing resource.
The Teahouse displays past questions from editors, the newest of which appear at the bottom.
Live Chat Help
If you wish to seek live help for queries other than factual questions (refer to Reference Desk for factual queries), live assistance is available at Wikipedia's IR chat room on Freenode.
However, this service is only available for using or editing the English Wikipedia. Once you add your question, keep the chat window open for a while because assistance is provided by volunteers who may take some time to respond.
Keep in mind that like in a forum, anything you ask can be seen other people other than those answering you. The live chat feature is not one-on-one or private.
You can connect to the English Wikipedia help channel by clicking here.
How to contact Wikipedia
Wikipedia's Contact Us page doesn't address every query.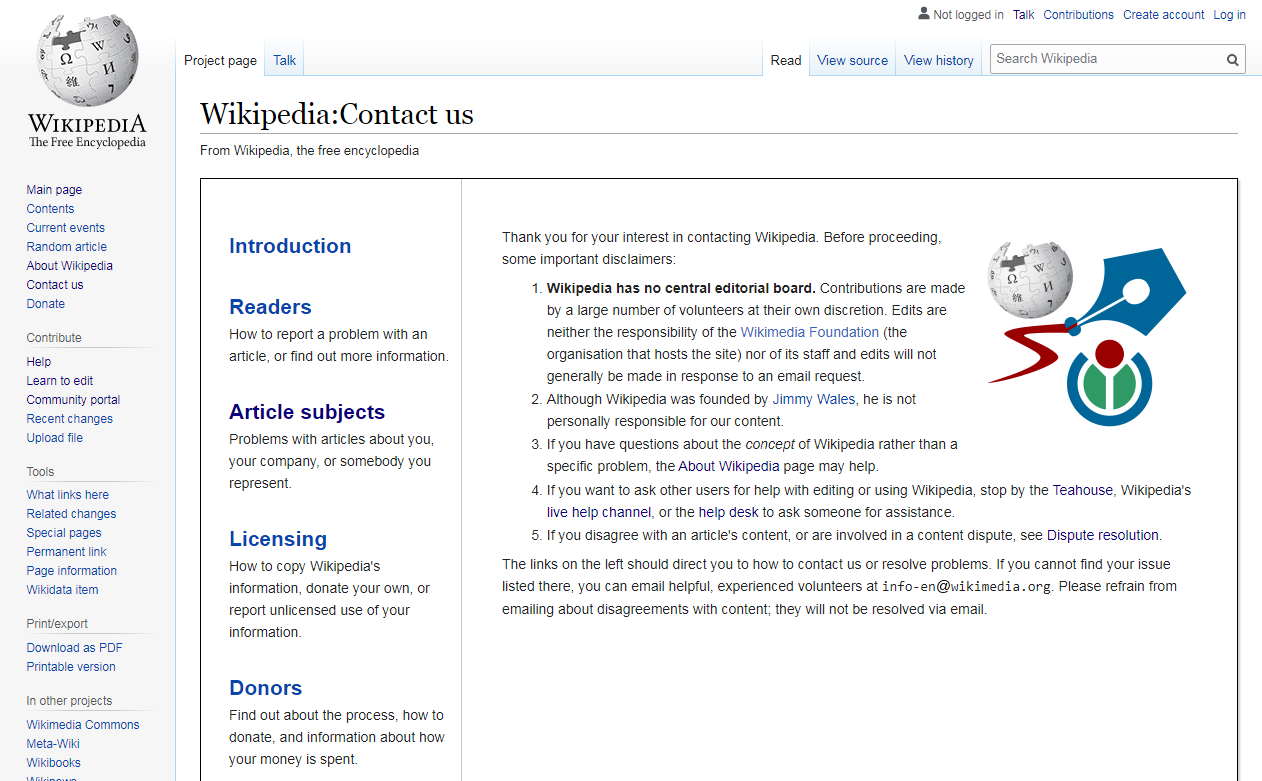 Readers
As a reader, if you find incorrect information on Wikipedia and don't wish to fix it yourself, you can leave a note on the article's talk page, email Wikipedia's volunteer response team at:
Or report a vandalism issue with an appropriate title and description of the issue:
Article Subjects
If you believe that an article about your organization is incorrect or incomplete, you can edit them yourself, leave a note on its talk page, leave a message at the Help Desk, or email Wikipedia volunteers at:
To upload a voice recording of yourself or a photo of your business, you can email to:
Licensing
To report a breach in copyright, email the issue at:
Donors
If you wish to donate to Wikipedia, you can do so here. Should you find any issues donating, email the problem at:
Press and Partnerships
Wikipedia's press department can be contacted at:
For proposals and business development opportunities at Wikipedia, you can email at:
Final Thoughts
Hence, there's no query that goes unaddressed at Wikipedia. Given that the platform is backed by a global community, you'll get assistance for any problem you encounter as a reader, editor, or any other stakeholder for the platform.
Depending on the nature of your problem, refer to the relevant pages discussed above to seek quick assistance.