WeWork is one of the leading office space and workspace solution providers.
It is an international company that caters to the workspace needs of thousands of entrepreneurial setups, small and medium-sized companies, as well as large multi-million dollar corporations around the world.
WeWork is known to provide flexible spaces and solutions that are tailored to meet the unique and individual needs of businesses across all industries.
The company is geared towards creating long-lasting relationships with clients around the globe, which is why it has an extremely efficient customer support program in place.

Scroll down to take a look at how you can connect with WeWork in Canada and worldwide.
How to Get in Touch with WeWork Customer Service
WeWork Customer Support and Care Services
WeWork excels at providing customer support and care services.
Regardless of your location, you can expect high-level customer care services at all times. Multiple communication channels are available to clients to connect with WeWork representatives.
You can choose the ones depending on your needs, requirements, and personal preferences.
Whether you want to learn more about WeWork services, search for the optimal office space for your business, or reach out to a representative, visit the Official Website of WeWork.
WeWork Response to COVID-19
WeWork prioritizes the health and safety of all clients, members, and employees.
Therefore, the company took quick and efficient measures in response to COVID-19. WeWork buildings are updated and health and safety standards have been enhanced across all spaces to ensure the provision of safe, healthy, and functional work spaces.
Some basic measures taken by WeWork in response to COVID-19 are:
Increased sanitization
Behavioral signage
Priority to personal space
You can learn more about WeWork Response to COVID-19 here.
Contact and Support Information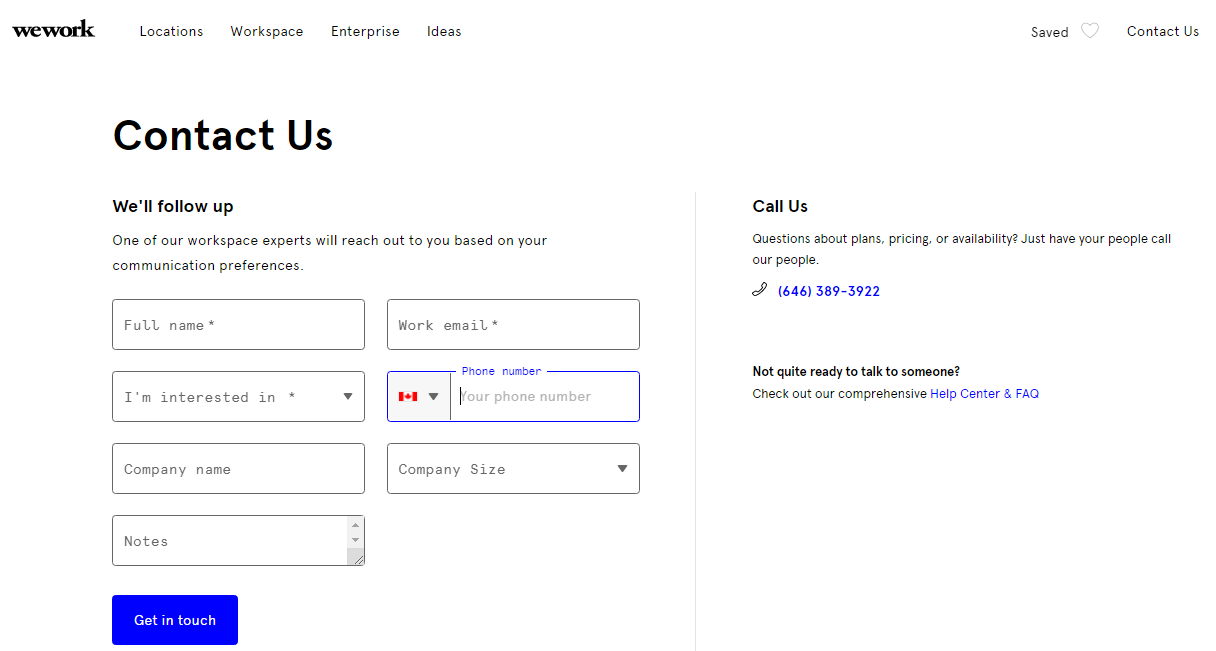 Scroll down to find to connect with WeWork.
WeWork Headquarters
WeWork headquarters are located in New York City.
You can visit the WeWork Headquarters at the following address.
WeWork HQ, 115 W 18th St.
New York, NY 10011
Call
Want to talk to a WeWork representative or get immediate assistance? Then connect with WeWork via call.
The company is always happy to address queries over the phone. If you have any questions regarding plans, pricing, or availability, dial the following number to talk to with a WeWork representative immediately:
Contact Form
Another way to get in touch with WeWork is to fill out the Contact Form.
You can specify the area in which you require assistance, such as finding a workspace, membership concerns, etc. You can also add any additional notes.
Based on your communication preferences, a workspace expert will reach out to you within 48 hours. You can submit the Contact Form by clicking here.
Request a Consultation
To request a consultation, you need to fill out the Request A Consultation Form. Enter your phone number, and an expert will contact you within 48 hours.
You can access the Request A Consultation Form from here.
Book a Tour
So, you've found the ideal workspace for your business? It's time you book a tour to check out the space for yourself.
While you can always opt for a Virtual Tour of the space, WeWork is experienced best in person. The Book Tour Forms are available at the respective building pages.
Find Office Spaces in Canada
WeWork provides excellent workspace options in some of the major cities across Canada.
You can find spaces of your choice in the following cities:
WeWork Global Locations
Whether you need access to workspace in Tokyo, require customized headquarters in New York, need shared office space in London, or need office space and workplace solutions anywhere around the world – WeWork can offer you the best solutions.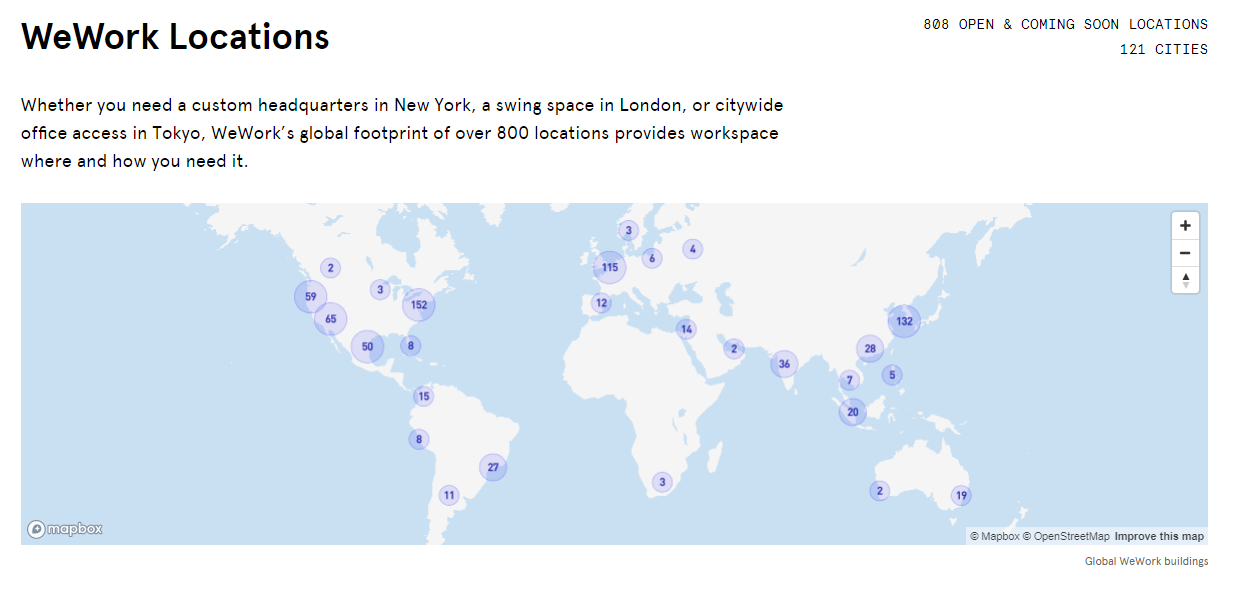 The company operates in 121 cities around the world and offers spaces in over 800 locations.
To check out WeWork Global Locations, click here.
FAQs Page
To facilitate its clients, WeWork offers an extensive FAQs Page on the website.
It covers several topics in detail and can help you find answers to your queries within minutes. If you need immediate assistance, it is advisable to check the FAQ section.
To access the FAQs section, click here.
It addresses queries and concerns regarding the following topics:
Membership
Billing
IT and Audiovisuals (WIFI, TV Screens, Printing, Phones)
Website and App (Service tore, Account manager, Emails and notifications)
WeWork Community Guidelines
Using the Member Network
Building (security, Facilities, Pantry, honesty market, Office)
Reserving Workspace on WeWork (Member expectations, Refunds)
Careers at WeWork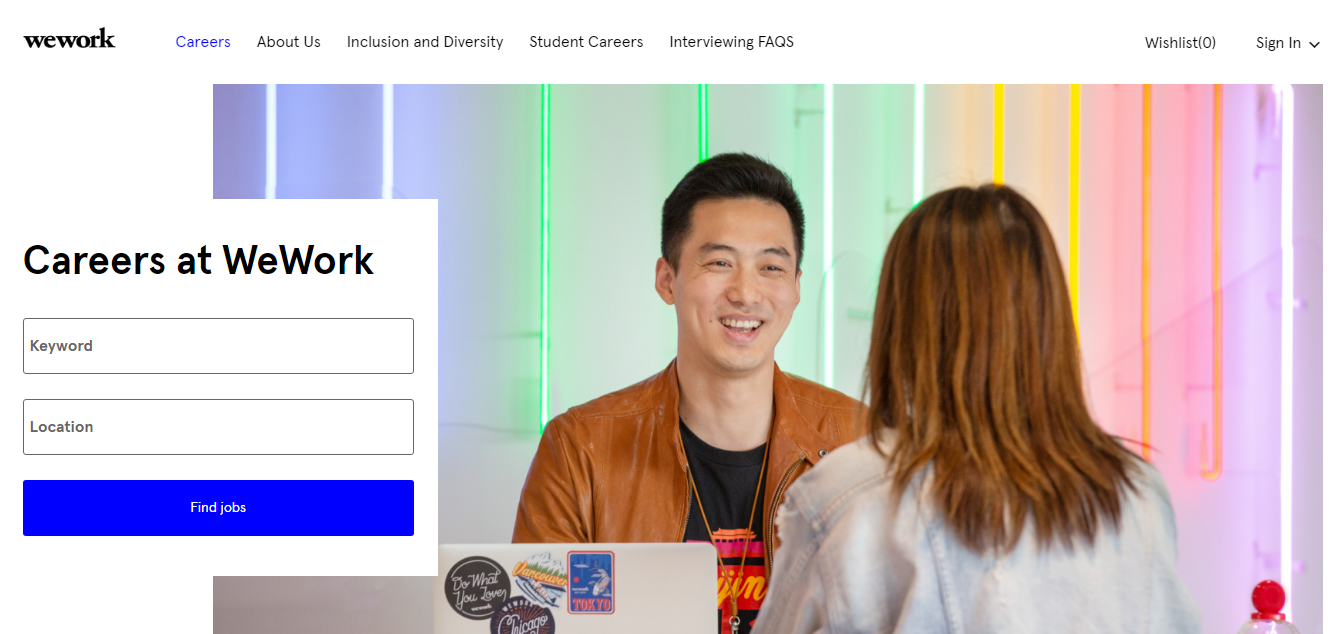 If you want to work with the leading office space and workspace solution provider in the world, then check out career opportunities at WeWork.
You can browse through multiple job categories, including Building Design, Building Development, Building Operations, Business Operations, Community Management, Education, Finance, Executive, and many more to find the perfect role for you.
You can also connect with WeWork via its Linkedln profile to learn about career opportunities.
WeWork Sitemap
WeWork's official website is simple to use and easy to navigate. Regardless, to facilitate its audience, WeWork has provided a detailed Sitemap that you can access to locate the information you require within seconds.
To view WeWork Sitemap, click here.
We Work Social Media Handles
You can connect with WeWork by following it on the following social media platforms.
The Bottom Line
WeWork has revolutionized the world of business by offering extraordinary office space and workspace solutions to thousands of clients worldwide.
Now that you know how to connect with WeWork, you can find the perfect workspace solution for your business. WeWork customer care and support representatives will assist you throughout the process!