Volkswagen has come a long way. Starting as a manufacturer of Spartan beetles in the 1960s, it now produces sedans, valuable SUVs, and sporty hatchbacks.
Founded in 1937 by the German government, the Volkswagen group is headquartered in Wolfsburg, Germany.
The group's core brand manages production facilities in 14 nations, where it manufactures vehicles for customers in more than 150 countries around the globe.
In 2015, Volkswagen surpassed Toyota Motor Corporation to claim the spot of the world's largest car manufacturer by volume.
With the introduction of its new brand design, Volkswagen has entered a new era of leading technology, quality, and innovation.
As its first model in the ID Product line, the ID.3, is an all-electric, zero-emissions car based on the Modular Electric Drive Toolkit (MEB). In May 2018, the group set aside $48 billion in car battery supplies and by 2022, it aims to set up 16 factories for electric cars.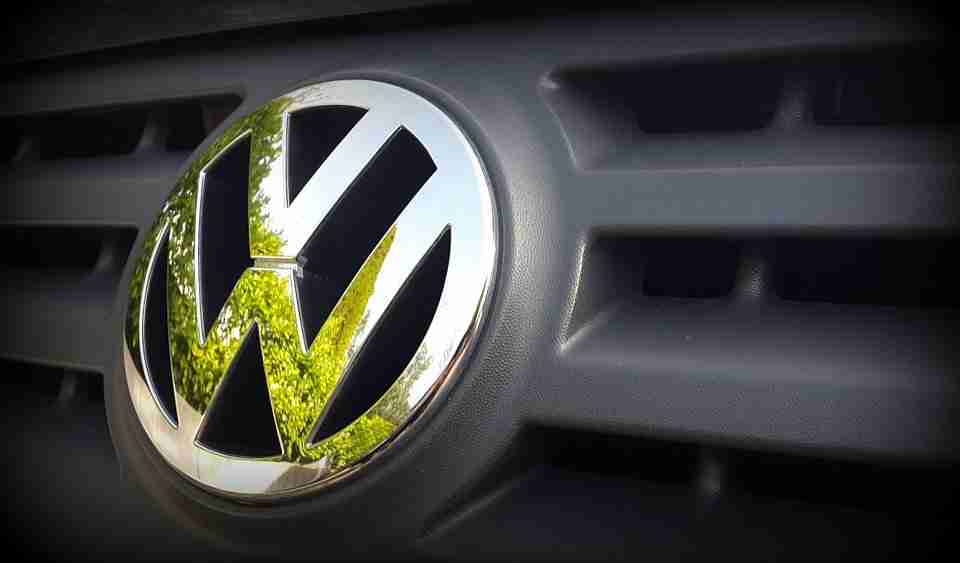 Now that you've gone through an overview of the Volkswagen brand, let's move on to examining the customer care services offered by the company.
How to Get in Touch with Volkswagen Customer Care Service
Getting in touch with Volkswagen's customer service team is easier than ever.
To make it remarkably convenient, the automobile giant offers a number of ways to get in touch with them. Let's take a look at each of them separately:
Website Contact Form
This is among the easiest ways to contact Volkswagen's customer service team.
Visit the 'Contact Us' page on Volkswagen Canada's official website. If it's convenient, fill in and submit the contact form on the page and a customer service agent will call you back shortly.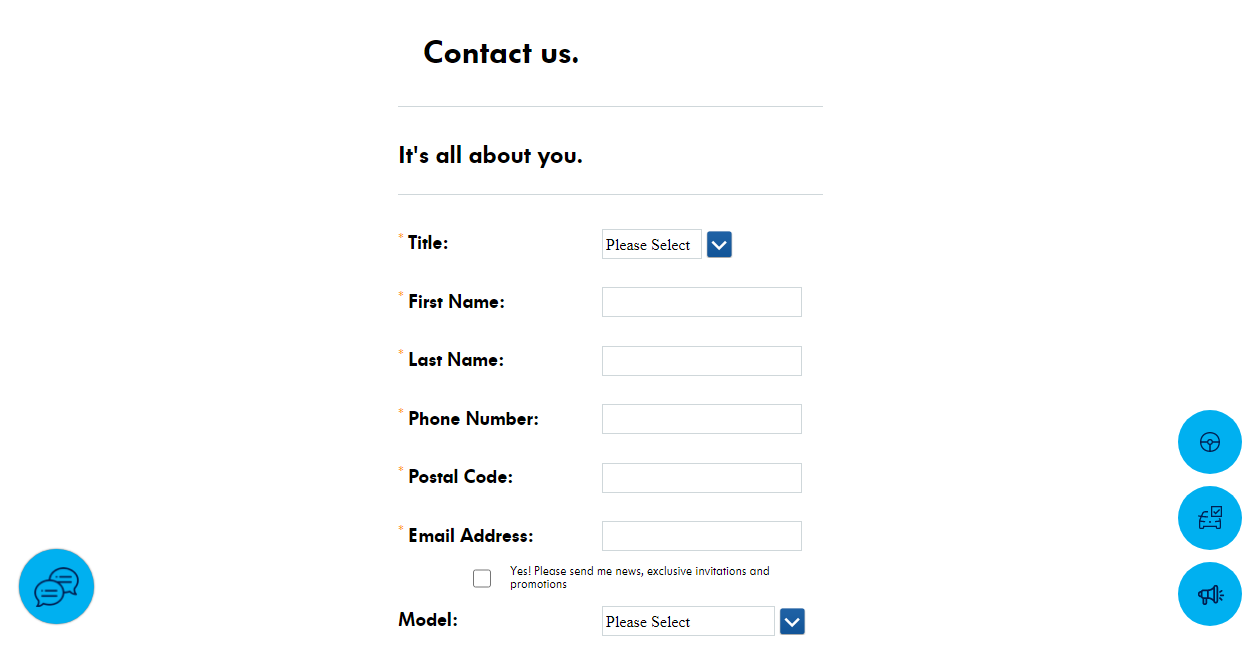 If you're already a customer of Volkswagen and the inquiry pertains to a Volkswagen vehicle you own, you can also enter the vehicle details in the relevant fields of the contact form.
This way, your inquiry should be directed to the right department and be addressed more efficiently.
Contact Information
If you feel you can't explain your query via a contact form or if that's inconvenient for you, you may want to talk to a Volkswagen customer service agent directly or write a comprehensive email to the company.
Here is contact information to get in touch with the customer service team directly:
You can call anytime between 8 am and 8 pm EST, from Monday to Friday.
In addition, you may even reach Volkswagen by mail. Following is the company's mailing address:
Volkswagen Customer CARE
3800 Hamlin Road
Auburn Hills, MI 48326-2829
Alternatively, you can follow and connect with Volkswagen Canada's customer team through the brand's following social media pages:
Volkswagen Roadside Assistance
If you're not already aware, Volkswagen offers roadside assistance 24 hours a day, 7 days a week. Whether you face a dead battery, run out of gas, or have a flat tire, Volkswagen's roadside assistance is always there to offer quick assistance.
When required, it will deploy its team that will take care of the vehicle and even tow it to a certified collision repair facility or an authorized Volkswagen dealer. Quite amazingly, the roadside assistance service is free of cost.
If you have any questions pertaining to Volkswagen's roadside assistance, take a look at this FAQs page that's specifically dedicated to the service.
You can request roadside assistance from Volkswagen any time, any day, by dialing:
For any complaints and queries about roadside assistance, you may even contact the company by mail. Use the following mailing address to send your queries:
VW 24-Hour Roadside Assistance
P.O. Box 9145
Medford, Massachusetts
02155
Finding a Volkswagen Dealer Near You
If you wish to find a Volkswagen dealer near you, you need not waste time filling the contact form or calling a customer service agent.
The Volkswagen Canada website offers an incredible dealer-finding tool that makes the process remarkably easy. Your search for nearby dealers and their locations by entering your city, province, postal code, or the exact name of a dealership.
The tool will immediately show all the Volkswagen dealers serving in your specified area, along with all available information about the dealer, such as the services they offer, their address, and contact information.
Requesting a Test Drive
If you're not sure whether Volkswagen is the right automotive brand for you, you can always book a test drive to personally get a feel of the Volkswagen driving experience.
No need to pay a visit to the dealer to book a test drive. Simply follow the 'Book a Test Drive' link on Volkswagen Canada's official website and you'll be able to submit your request with a few exciting steps.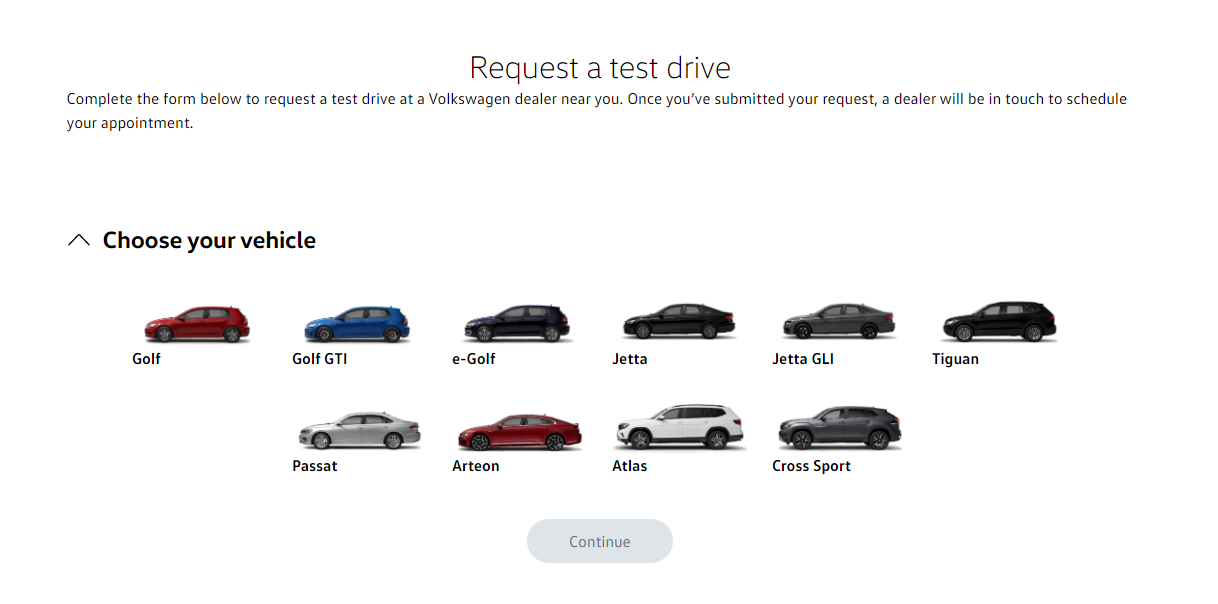 In the first step, you'll need to select the vehicle of your choice. Then, select a nearby dealer in the second step. In the third step, select the date and time for the test drive.
Finally, you'll need to enter your contact information before submitting the request.
Obtaining a Quote/ Booking an Appointment
Impressed by the test drive, you may want to obtain a quote for your dream Volkswagen vehicle. Again, obtaining a quote is as simple as booking a test drive. Click on the 'Request a Quote' link on Volkswagen Canada's official website.
All you need to do is choose your desired vehicle, select a dealer near you, and provide your contact information. Your chosen dealership will get in touch with you shortly.
However, if you already have a dealership in mind, you can even book an appointment directly with them. To do this, follow the 'Book an Appointment' link on Volkswagen's official website and enter the dealership name in the relevant field.
Once you've found your chosen dealership, you can schedule an appointment following five simple steps.
Closing Thoughts
By now, you should have developed a clear understanding of how to reach Volkswagen's customer service team.
In addition, you shouldn't have any problems seeking roadside assistance, finding a dealership near you, requesting a test drive, obtaining a quote, or booking an appointment. Volkswagen Canada has a dedicated tool or method for all these services.