Vessi Footwear Limited is a Canadian footwear brand.
It was founded in Vancouver by three friends. They got together to initially create a line of sneakers that could withstand the rain.
The company was established in 2017 and has been successfully conducting business since then.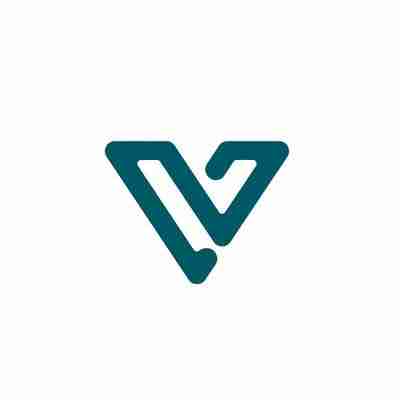 Vessi has a strong online presence.
The brand sells all its products online via an e-commerce website. They have earned their success through word of mouth marketing and exceptional customer service.
This blog will talk about how Vessi cares for its customers as well as the customer support services it provides.
How to get in touch with Vessi customer care service
About Vessi Footwear Limited
The unique thing about Vessi is that all its shoes are 100% waterproof and can survive the rain, snow, mud, and slush. They are made for extended use and can be worn all day in all kinds of weather. They protect socks from getting wet and even keep the feet sweat-free!
Vessi mostly makes closed sneakers for both men and women, and even though it has a limited collection, it has gained a lot of popularity very fast all over Canada.
Vessi Canada's Customer Support Services
To get in touch with Vessi, visit their website from your browser. The website is extremely user-friendly and very easy to navigate through.
There are three main ways in which you can get in touch with Vessi in case you have any queries, concerns, or just want to provide feedback.
Contact Vessi
Scroll down to the bottom of Vessi homepage.
You will come across a green section that has many quick links. Under the "Info" heading, you will find "Contact." You must click on it.
Your browser will redirect you to Vessi's Contact page, where you will find all the necessary information provided by the company.

Another way to reach the contact page is via the grey bar on top of the homepage.
Click on the FAQ drop-down menu and select "Contact" to be redirected to the webpage with contact details.
On the Contact page, you will find a chat and email option.
If you want to write to Vessi, you can email your message and comments on:
Consequently, you can also click on the box that says "Email" on the contact page. Vessi will then ask you a few questions, such as your name and email ID, before helping you out. You can even type in your comments and hit submit to send your message to the customer care team.
If you wish to chat with a customer service representative, click on the box that says "Chat" on the Contact page. The Chat option is only available from Monday to Friday between 9 AM and 5 PM PT.
If you prefer sending your message to Vessi via mail, you can send a letter with your query or feedback to the following address:
Vessi Head Office
196 W 6th Ave. Vancouver, B.C.
V5Y 1H7
Canada
Vessi Website FAQs
To make things easier for its customers, Vessi has included a FAQ section on its website.
You can access this section by scrolling down to the bottom of the homepage and clicking on FAQs under "Info," or you can select FAQ from the FAQ drop-down menu included in the gray scroll bar at the top of the homepage.
The FAQ webpage answers all the frequently asked questions by Vessi customers. Questions in the section are divided into the 7 following categories:
General
Payments
Shipping and Tracking
Product Information
The Weekend Collection
Sizing and Shoe Care
Returns and Exchanges
Suppose you want information about Vessi's accepted payment methods. Scroll down to the "Payments" section and click on "What type of payment methods do you accept?" A drop-down dialog box will open, which will contain the answer to your question.
The FAQ section has detailed answers to 61 different questions, so you are very likely to find the responses to all your queries here.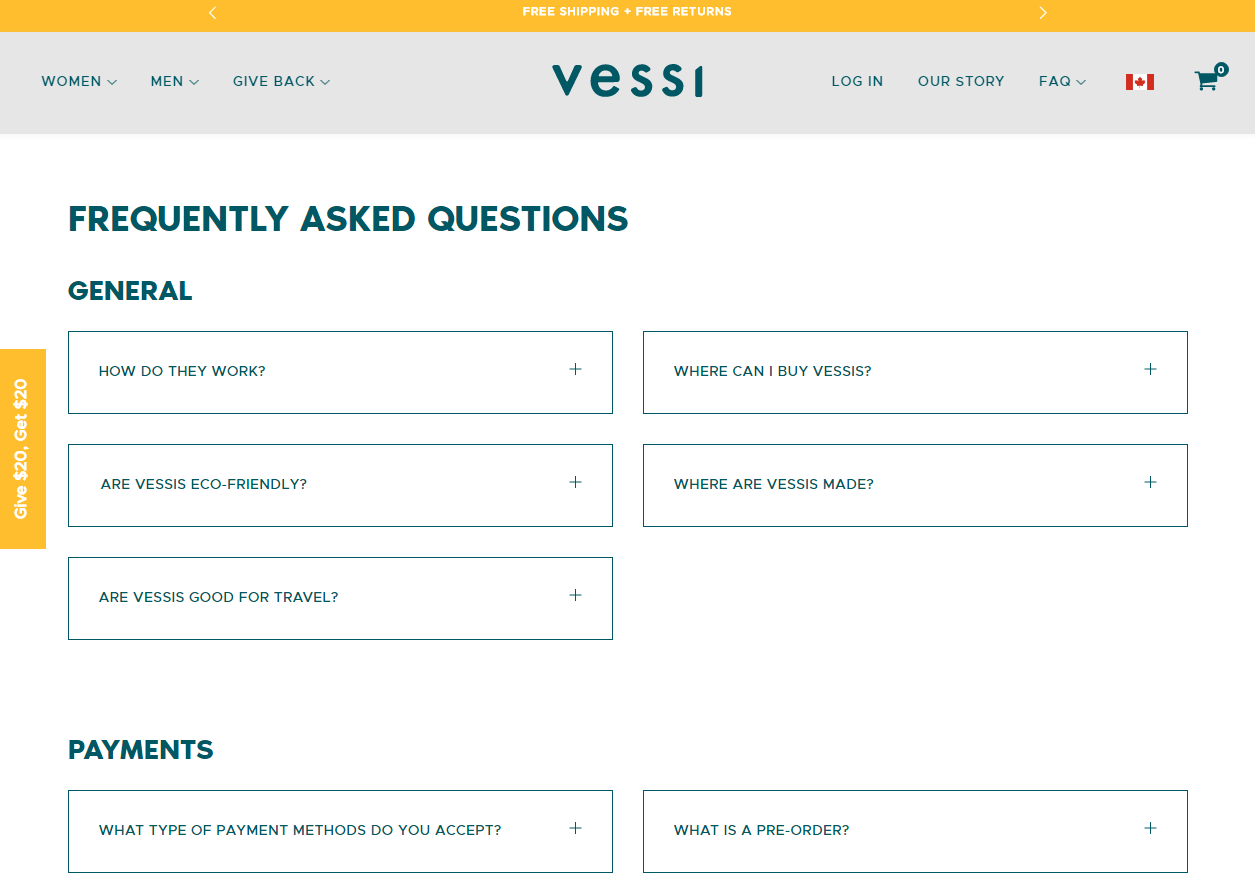 Subscribe to Vessi Newsletter
To gain insights about the company and receive updates regarding new launches, discounts, sales, and other such offers, you can subscribe to Vessi's newsletter.
Scroll to the green section at the bottom of the homepage. On the bottom right, you will see a "Newsletter" heading. Enter your email ID and press the submit option to receive correspondence from the company.
Vessi Gift Cards
The green section at the bottom of the homepage has a "Gift Cards" quick link under the heading of "Shop."
Click on the link so your browser can redirect you to the designated web page. You can purchase a $20, $50, $100, or $135 e-gift card from Vessi for your friends and family.
The website gives you the option to add it to your cart or send it directly to your special ones via email or Facebook Messenger.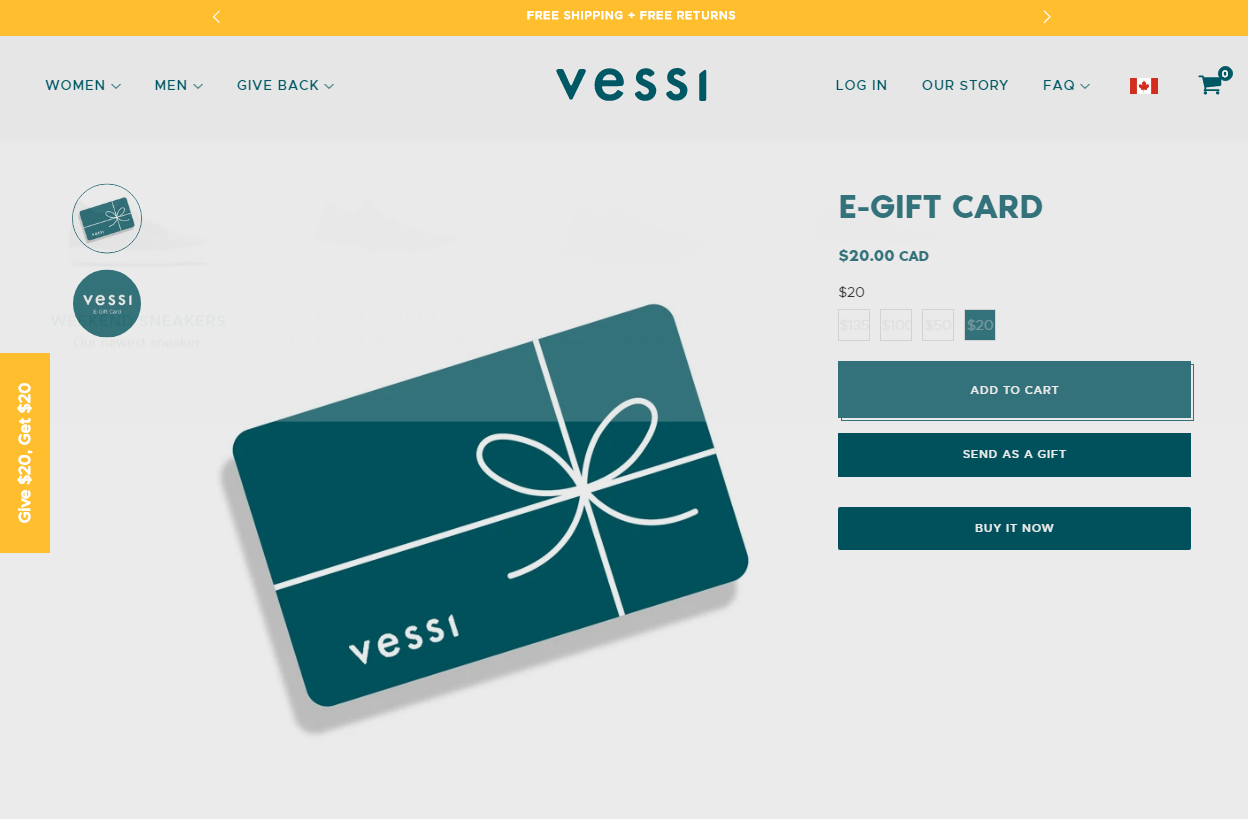 Stay Connected with Vessi!
Staying in touch with Vessi is super easy.
You can follow the brand on Instagram, Facebook, TikTok, YouTube, Twitter, and even Pinterest to stay updated with all their new launches, sales, and other exciting news.
Scroll down to the bottom of Vessi's homepage. Under the newsletter subscription section, you will find icons of social media accounts.
Clicking on these icons will redirect you to Vessi's social media platforms, where you can interact with the brand and others who love it!
Staying in touch with Vessi is not hard. They have made it very easy to connect with them. Just live chat with them or follow them on their social media pages to stay updated or address your concerns!