Venmo is an impressive platform that allows you to pay your friends seamlessly!
It was created with the intention that paying friends should be simple, connected, and delightful.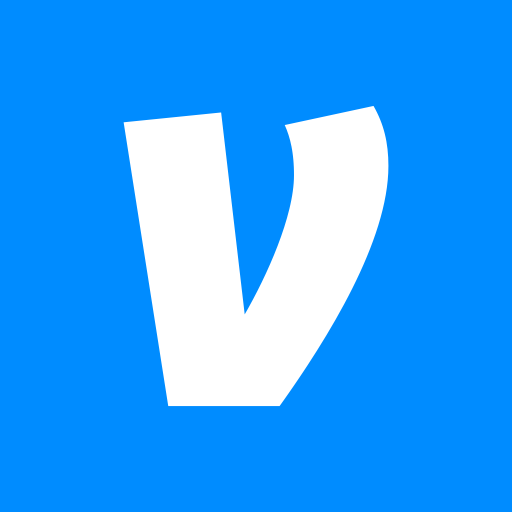 Venmo was founded in 2009 by two former college roommates who simply wanted a better and more efficient way to pay each other back.
It started as a simple SMS platform to send and receive money. Today, Venmo has evolved into a social payments app that allows people to pay each other back for rent, split bills, and even make purchases at approved merchants.
Venmo plans on moving forward and expanding its reach to brands and businesses and adding more merchants to its trusted list. It plans on making its clients' experience as enjoyable and seamless as possible.
The company is already striving to keep its clients happy by providing exceptional customer support services to them via its official website.
Let's take a look at what Venmo has to offer to its customers.
Venmo, How to Contact the Customer Service
Venmo Customer Support Services
Here are some ways in which Venmo delivers excellent customer support services.
Contact Venmo
Venmo has a helpful contact us webpage, which has three clear contact options for its customers – contact support, business & partnerships, and press.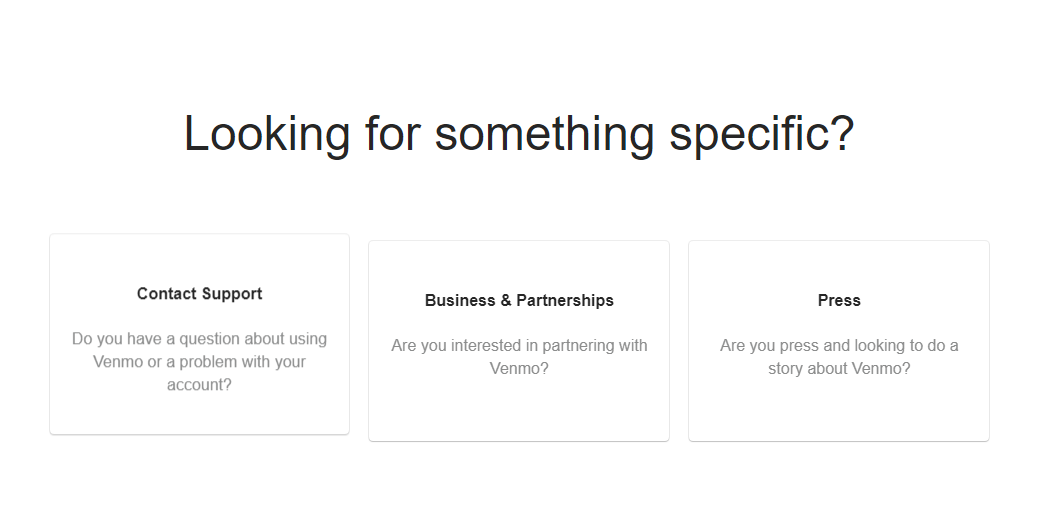 Contact Support
If you click on the contact support option, the website will direct you to a support and assistance form that you can fill out and send directly to the company's support team.
All you have to do is enter your name, phone number, e-mail address, subject, and your detailed query before pressing the submit tab. If you have any files that you'd like to attach to the message, then you can do that as well.
You can also search for any queries that you might have in the search bar on the page. Alternatively, you can chat with Venmo support representatives in its mobile app. The timings for the live chat are:
Monday to Friday: 7:00 am to 1:00 am EST
Saturday and Sunday: 9:00 am to 11:00 pm EST
If you have specific questions about the Venmo debit card, then you can e-mail your query at:
If you want help with your business profile from the support team, then you can e-mail them your query at:
General Business and Partnership Inquiries
If you click on the business & partnerships option, then the website will direct you to a webpage designated to it.
This webpage has solutions to various queries. If you have a specific partnership idea that you'd like us to explore with Venmo, then you can e-mail the company at:
If you're organizing a career fair, hackathon, or any other direct recruiting event, then reach out to Venmo at:
Alternatively, if you're interested in working at Venmo and are looking for a job opening, then visit venmo.com/jobs.
Press
If you click on the press option, the website will provide you with the press e-mail address for Venmo:
So, if you're a member of the press and want to cover a story on Venmo, then you can send the company an e-mail at this address to engage with them about your story.
Help Centre
Venmo also has a pretty comprehensive help and support webpage.
You can search for any query or concern that you might have about the services provided by Venmo in the search bar at the top of the page. The website will highlight the articles that answer your search query.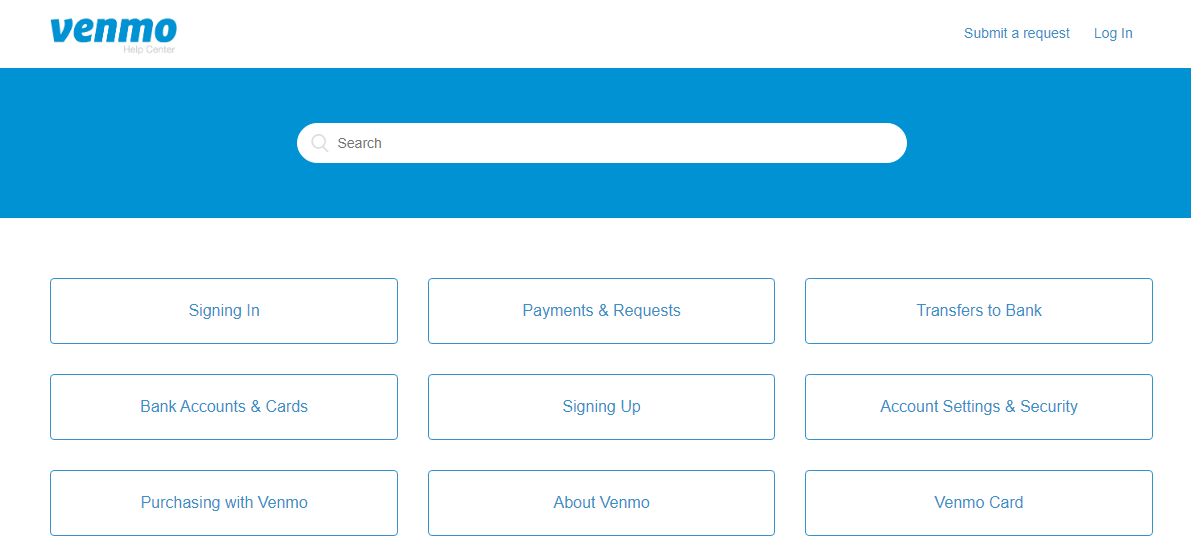 This webpage also has neat categories of help topics such as signing in, purchasing with Venmo, Venmo Card, Transfers to Bank, and more.
You can simply click on one category to get directed to a webpage dedicated to that category.
The webpages dedicated to each category have detailed topic areas that answer all of the various concerns and queries of Venmo customers. Each topic has a helpful article that comprehensively answers your query.
Moreover, the main help webpage also highlights all the promoted and frequently searched for articles that you can peruse to find what you're looking for.
Venmo Blog
Venmo also has a thoroughly detailed and helpful blog on its website.

You can either search for a blog that addresses a query or concern that you might have or you can simply scroll down and check out the various blog posts that the company has churned out.
All the posts are informative, helpful, and allow you to avail Venmo's services more effectively.
The main blog has blog posts dedicated to Venmo's services and how to use them, while the engineering blog is more tech geared. It has informative posts on coding, new software, etc.
Career at Venmo
If you're looking for a job at Venmo, then you need to check out the jobs and career webpage on its official website.
Venmo believes that its employees are its family, which means that the company works actively to create an inclusive, diverse, and welcoming workplace.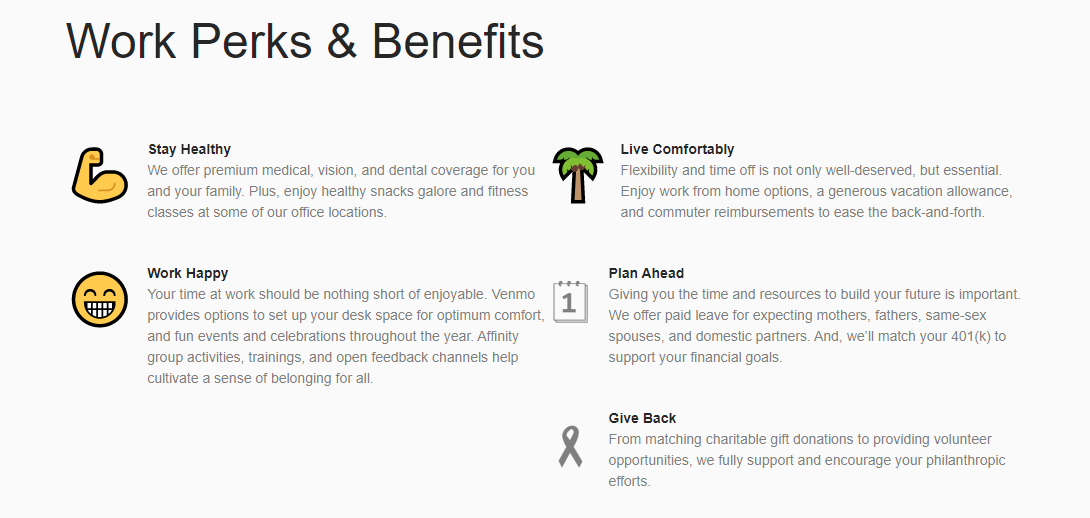 Venmo works hard to establish a work environment where everyone feels safe, encouraged, respected, and heard.
You can learn more about working at Venmo, such as the work benefits, the job openings, etc., on the aforementioned webpage.
Do check out the FAQs toward the bottom of the page as well as they will help you get an idea about what the interview process will be like and what to expect from Venmo.
The Bottom Line
When it comes to offering dedicated customer care and support, Venmo does plenty to keep its customers happy.
Whether you reach out to the company via e-mail, feedback forms, or live chat, Venmo will surely accommodate your queries and reply to you swiftly and professionally!