Under Armour is an all-inclusive sports and casual apparel and footwear brand with a radical and inspiring motto:"I Will". Under Armour was established on September 25, 1996, making it a recent sports brand. Kevin Plank, the CEO of Under Armour, began this business in the basement of his Grandmother's house. He eventually moved it to Baltimore, US.
Under Armour started off as a brand that sold T-shirts made of moisture-wicking synthetic fabric. The brand now sells a variety of casual and sportswear apparel and footwear products marketed for men, women, boys, and girls in numerous retail stores all over the world!
With such a massive reach, it is no revelation that they have competent and professional customer care and support system in place. Under Armour offers diverse customer support services that are designed to cater to all of its customers via its website.

So, let's review how you can contact or get in touch with Under Armour's customer support and care services.
Under Armour's Customer Support Services
Under Armour is quite thorough when it comes to its customer support services. Here are the various ways in which you can reach out to them.
Call Support
Under Armour is highly committed to helping its customers out as swiftly and professionally as possible. If you have any queries about Under Armour and its line of products, you can call them on their number 1-888-666-1182. Under Armour's Call Support Service is available on the following days and time:
From Monday to Saturday: 8 am to 8 pm Eastern Time (ET)
On Sundays: 11 am to 8 pm ET
If you want to place a bulk order that is less than 15 units, you can place a call to Under Armour's customer support team on the same number, and they will help you place your order.
Live Chat
Under Armour also has a live chat feature! Simply type in your query and press enter. You will get an instant response from Under Armour. You can access the Live Chat feature on the following days and time:
Monday to Saturday: 2 pm to 12 am and 12 am to 1:50 am Canadian Eastern Time (CET)
Sunday: 5 pm to 12 am and 12 am to 1:50 am CET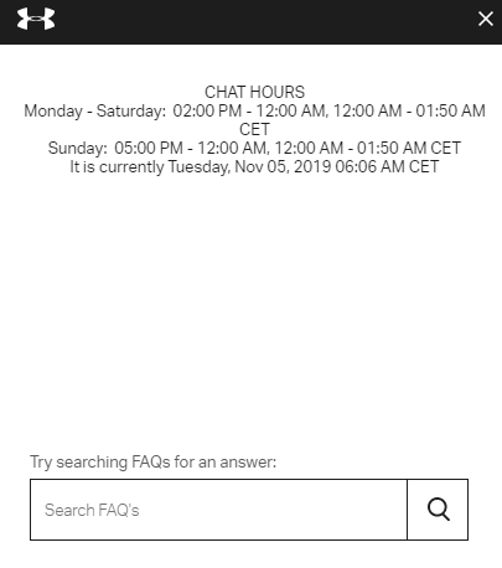 When you have an urgent query but the live chat feature is offline, the chat pop-up will give you the option to search for an answer to your query in the FAQs section.
Find a Store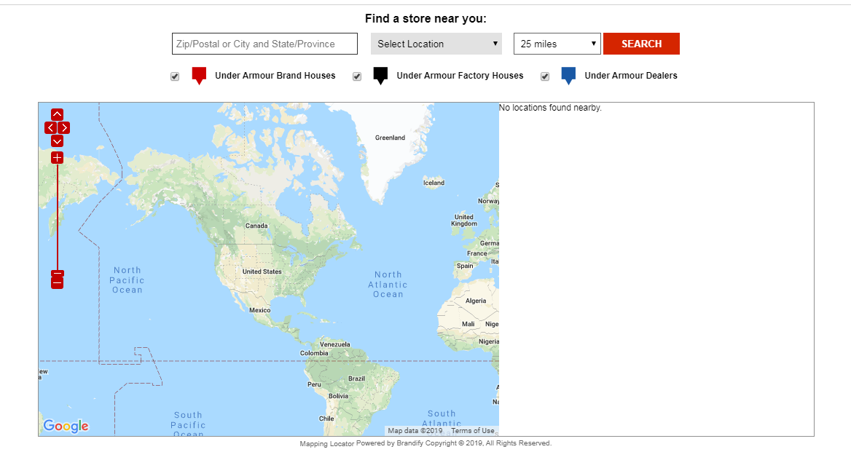 Under Armour also has an efficient "Find a Store" feature on its website. It is a convenient way for you to locate Under Armour's retail stores or factory outlets in your area. Simply enter the required information and wait for the stores in your locality to show up on the provided map. You can select your city and country and even the mile radius that you want covered by the map to locate a nearby store.
Social Media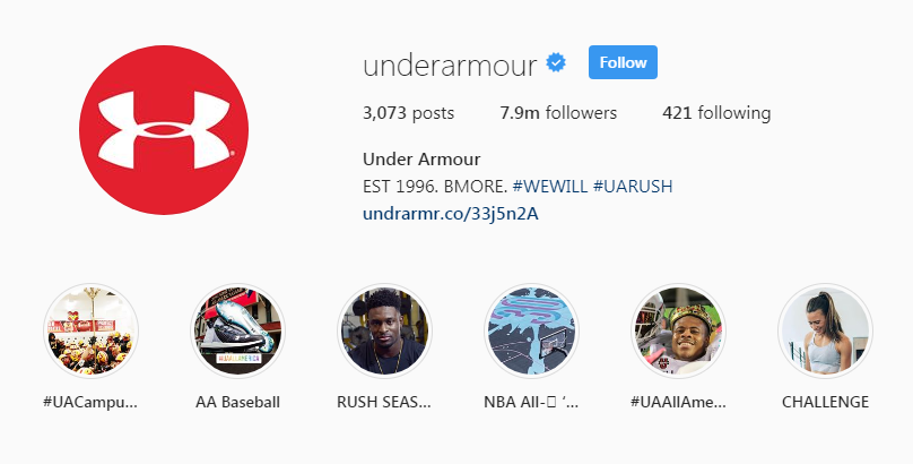 Under Armour has made expedient use of social media to cater to a large worldwide community o. You can reach out to them on Instagram, Facebook, and Twitter. You can reach out to Under Armour's customer care representatives and voice your queries on all of these platforms, and they will swiftly reply and cater to your needs.
Their Instagram page stands out from the rest as it has around 8 million global followers! You can easily shop for your favourite sports apparel and shoes on their Instagram page, and when you place the order, you will be redirected to their website. You can also view their Instagram stories to stay up to date with all of their latest products.
Help and FAQs

Under Armour Canada provides you with a detailed FAQs webpage that answers all of your Under Armour related questions. It caters to queries related to shipping and returns, tracking your order, and Under Armour sizes. This makes shopping and ordering from Under Armour a walk in the park!
The Under Armour Canada website also provides a comprehensive delivery and shipping webpage, which answers all of your FAQs related to shipping and has a detailed table detailing delivery times and arrival dates based on your city. The Under Armour website also has a returns policy page. You can check it out if you want to return a purchased item.
E-mail Service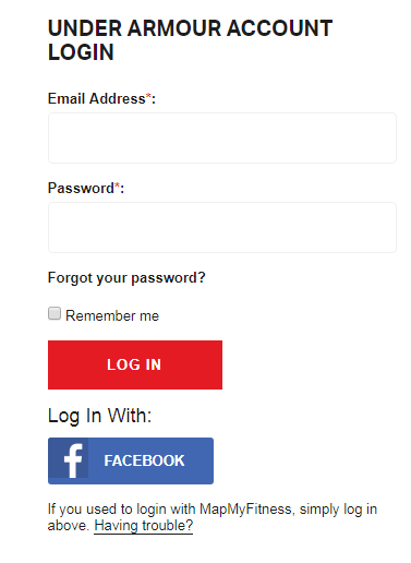 Under Armour provides you with an opportunity to create an account on their website or log in with your Facebook account to reap the following benefits:
You can check out faster after placing your order
You can access all apps linked with Under Armour – all MapMyFitness apps
You can easily track the orders you place with them
If you subscribe to their email list, you will get free shipping on your next order!
If you want to place a huge bulk order – over 15 units of the same color and style— then you can contact Under Armour at their email address contactcanada@underarmour.com. They will guide you on how you can place your bulk order.
Stay In Touch with Under Armour
Under Armour definitely ranks amongst the top sportswear brands. Under Armour's move toward sustainable and breathable sports and casual apparel has made it stand out as a brand that cares about you and your environment.
With expert advisors and representatives that are committed to providing exceptional customer support, Under Armour aspires to give its consumers the greatest experience. Whether you're using its support call number, live chat feature, social media handles, or E-mail, you can always look forward to efficient and timely customer care and support from Under Armour.