Toyota is one of Japan's most celebrated automobile manufacturers. Most people date the beginnings of this company to 1924 when Sakichi Toyoda developed the Model G Automatic Loom. It was Sakichi's son, Kiichiro Toyoda, who first founded the Toyoda Loom Works using his father's invention. This company began designing and manufacturing vehicles with this loom technology in the 1930s.
The company name was changed to "Toyota" in 1936 mainly to avoid being confused with "Toyoda," which literally means "rice paddies" in Japanese. Eventually, this company became what we now know of as the Toyota Motor Corporation. The three major divisions of Toyota's business today are Lexus, Toyota Racing Development (TRD), and the temporarily discontinued Scion. Toyota is now a truly global company that prides itself on being the world's leader in hybrid electric vehicle sales. Toyota is headquartered in the city of Toyota in the Aichi Prefecture of Japan.
Toyota customer support in Canada
If you are a Canadian with a Toyota vehicle, you might need to contact this company's Customer Care division at some point in the future. Toyota's Canadian Customer Service department can be contacted using this number (888) 869-6828. This department is open Mondays through Fridays from 8AM-6PM.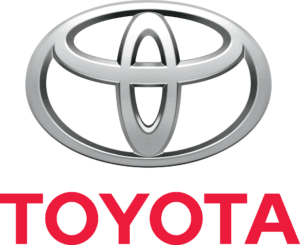 Are you carving even more information on Toyota? If so, take a look at some of these official websites.
Here's Toyota's Canadian "Contact Us" page. On the right hand side you'll find information on how to call or mail a letter to Toyota's Canadian division. You can also send an email to the company right from this webpage. If you feel like chatting with a Toyota dealer online, scroll down to the "Dealer Chat" icon and hit the button "Launch Dealer Chat."
This is Toyota's Canadian homepage. You can take a look at various vehicle models, find a dealer, or check out the latest Toyota deals by clicking on a few of these links.
Any question you want answered by Toyota can probably be found on this FAQ page. The questions are divided into groups such as "Vehicles," "Parts & Service," and "About Toyota."
The best place to watch some awesome Toyota videos is on this Toyota Canada YouTube page. There are various review videos, videos on accessories, and advertisements to take in on this wonderful YouTube page.
Everyone loves a great deal, right? Well, if you don't love a good deals, you can skip this link. If you like saving money, however, click on this URL. This is Toyota Canada's official "Special Offers and Promotions" page.
If you want to mail a handwritten note to Toyota's Canadian head office, take down this address:
Toyota Canada Inc. Head Office
1 Toyota Place
Toronto ON
M1H 1H9
Toyota has various websites specifically for Canadian residents. People on Facebook can click on this website to check out Toyota Canada's page. Twitter users can follow Toyota Canada's tweets on this website. If you've got a Google+ profile, you can check out Toyota Canada's page right here. Also, Toyota Canada has its own Instagram page located right here.