The word "Toshiba" is quite well-known due to its reputation for providing people with high-class technology, especially LCDs and laptops.
To make sure that its customers are satisfied with their products, Toshiba provides a platform from where they can seek assistance regarding any problem they encounter.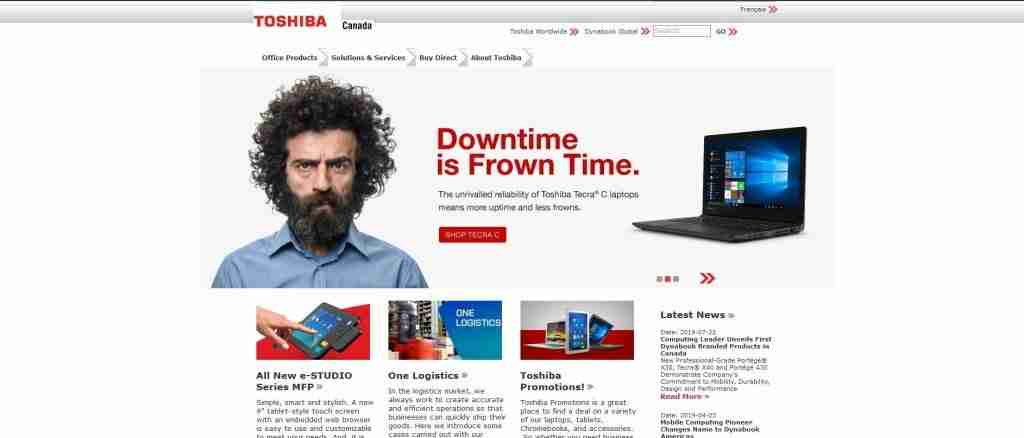 Here's a short guide on Toshiba's online services, which will help you figure out where to look for information and how to contact the company.
About Toshiba
Founded by Tanaka Hisashige, Toshiba Corporation's roots can be traced back to Tokyo Electronic works. Tanaka was known as "Japan's Thomas Edison" because he had a knack for coming up with unique technological innovations.

Initially, the company was known as Tokyo Shibaura Denki K.K., a name that was coined in after the merger of Tokyo Denki and Shibaura Seisaku-sho. However, the name was quite a mouthful and, therefore, was changed to Toshiba Corporation.
One of the many inventions that contributed to Toshiba's popularity was its 2010 innovation — the world's first 3D LCD TV which did not require glasses.

Toshiba's Customer Support Services
Toshiba's website is pretty user-friendly and easy to navigate. Their customer service support section can be found right on the homepage.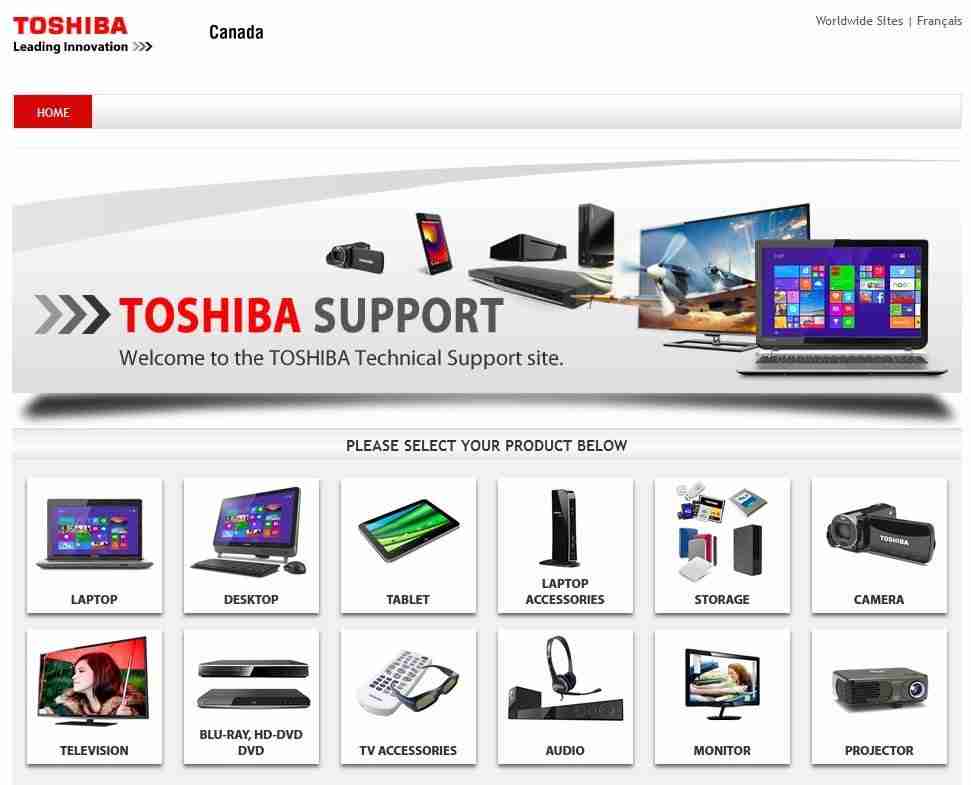 What makes their support services so helpful is the fact that they have divided the information according to the products they provide. Following are all the product categories:
Laptop
Desktop
Tablet
Storage
Camera
Television
DVD, BLU-RAY, HD-DVD
TV Accessories
Audio
Monitor
Projector
Each category provides separate information about the product, which include FAQs, drivers and software, how-to videos, troubleshooting assistance, product support, and more.
All this information makes it easier for customers to find out the exact information about a product.
Find Toshiba – Store Locator
The store locator service provided by Toshiba has a different way of providing visitors with the location of a nearby store. Instead of giving all the possible locations of Toshiba stores in the city, it allows customers to find a store that is offering the product they are looking for.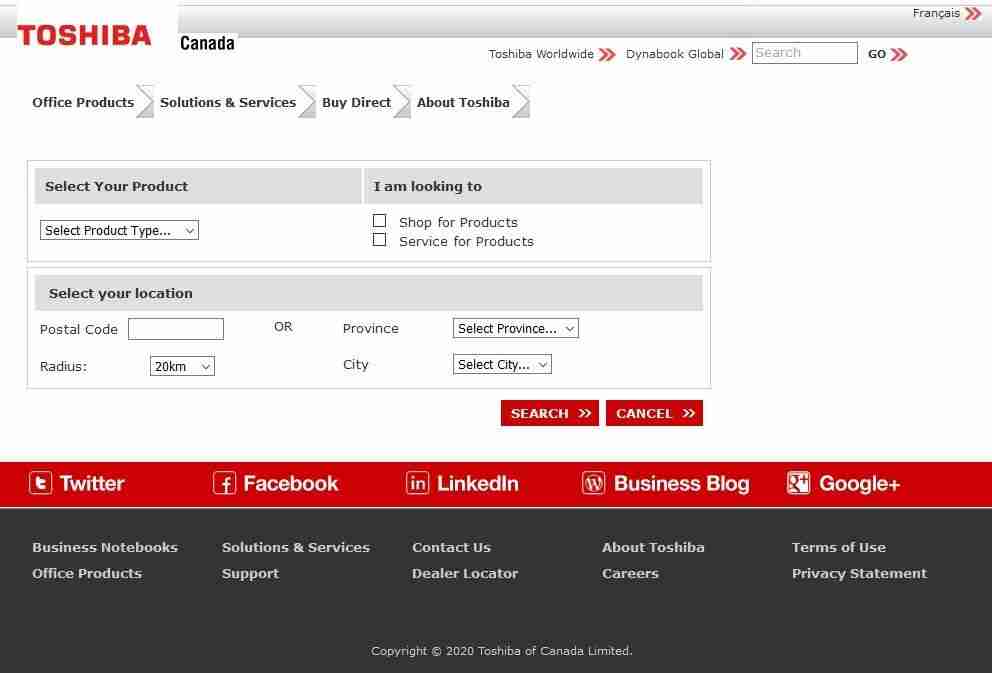 By selecting the product type and then providing your location details, the website will give you an address that will have the product you want.
Service Center Locator
Toshiba also provides its customers with the location of a service center. All you need to do is enter your product's serial number and the website will provide you with the address of a service center, where a professional will fix your laptop or any other Toshiba device.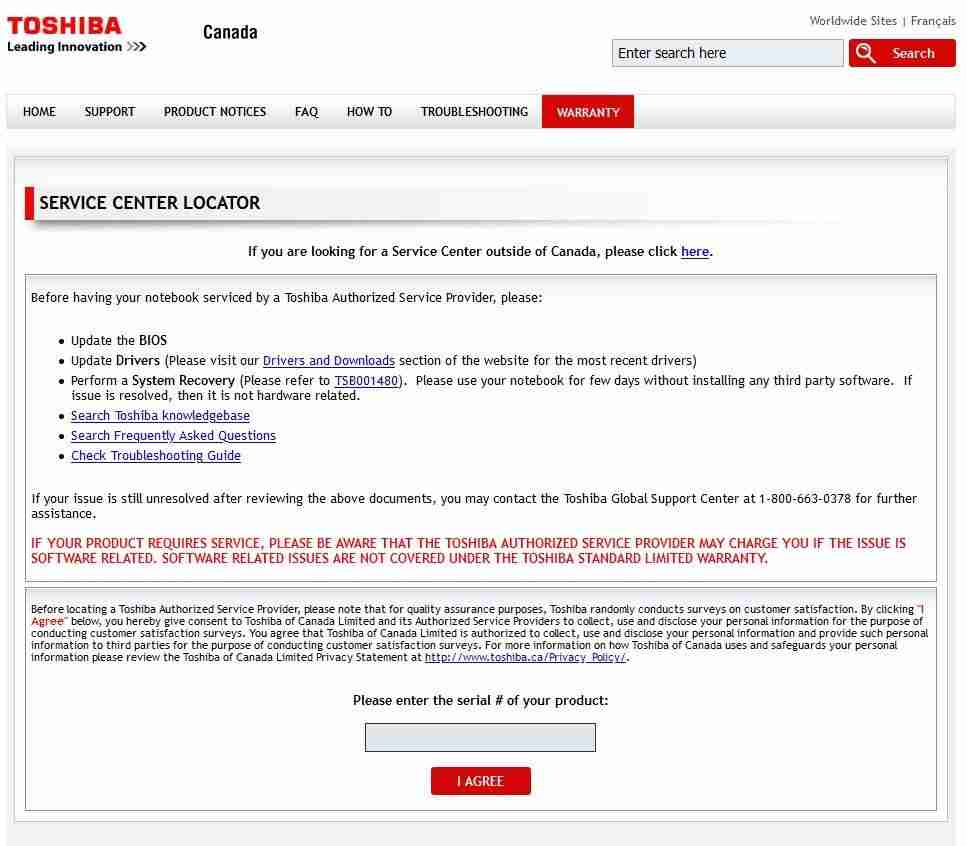 To save you the hassle of bringing your product to the store, the page offers a short guide on how to fix your device. If troubleshooting and downloading a driver does not fix your device, then you can bring it to the service center.
Call Support
Since Toshiba has a huge range of products, it provides its customers with multiple contact numbers to get in touch with a department. Their corporate headquarter is located in Markham and has a separate phone line.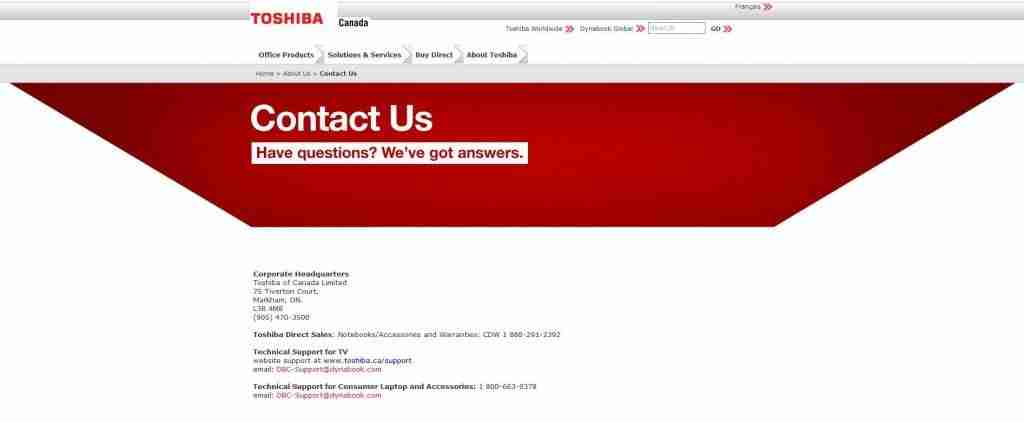 Corporate Headquarters Address: 75 Tiverton Court, Markham, ON. L3R 4M8
Phone Number: (905) 470-3500
Toshiba Direct Sales Contact
Warranties for Notebooks and Accessories:
Phone number: 1 888-291-2392
Technical Support for TV
Technical Support for Laptop and Accessories
Home Appliances and Toshiba Air Conditioner
Phone Numbers: 905-305-6368 or 1 855-238-5607
Live Chat
Toshiba does not offer a live chat option. However, if a customer has any general inquiries regarding a product, they can talk to a social media representative and ask for advice.
Social Media
Toshiba can be found on various social media platforms including Facebook, YouTube, Twitter, LinkedIn, and Google+. It has a high following on all pages. Through LinkedIn, people can contact Toshiba regarding business matters.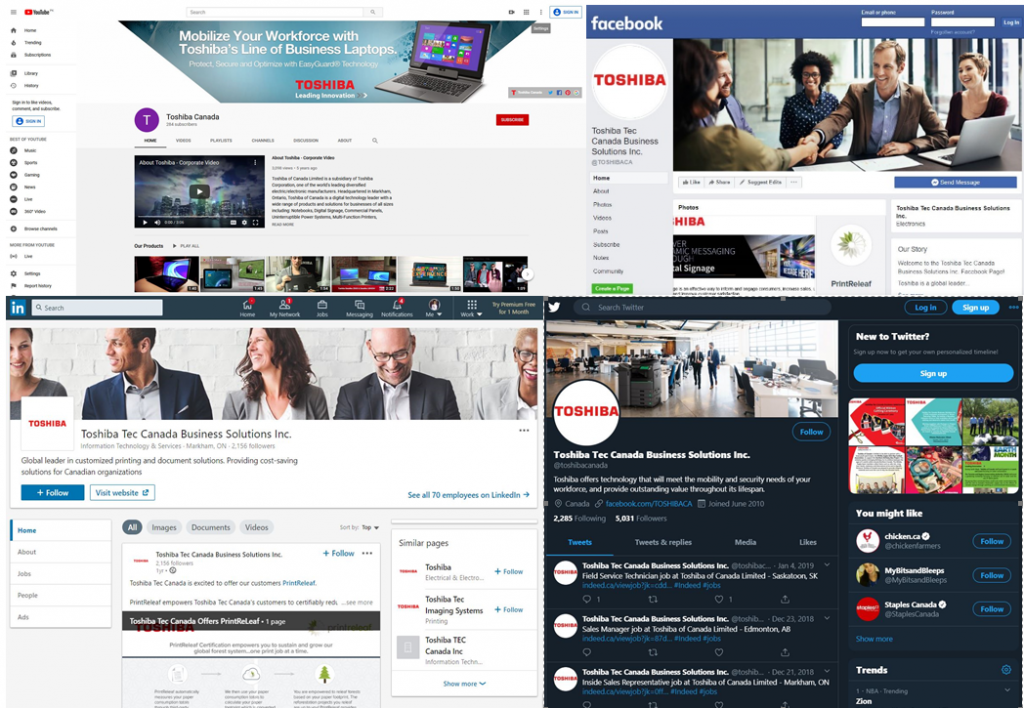 Through Facebook, Twitter and Google+, they can take part in competitions and get to know about any new products Toshiba is introducing whereas on YouTube, they can watch Toshiba's ad campaigns and tutorials about how to fix a device.
Help and FAQs
Toshiba has tried to answer every possible question regarding a product, a customer would have. There are more than 100 questions on the FAQ page and can be browsed by typing a specific question in the search bar.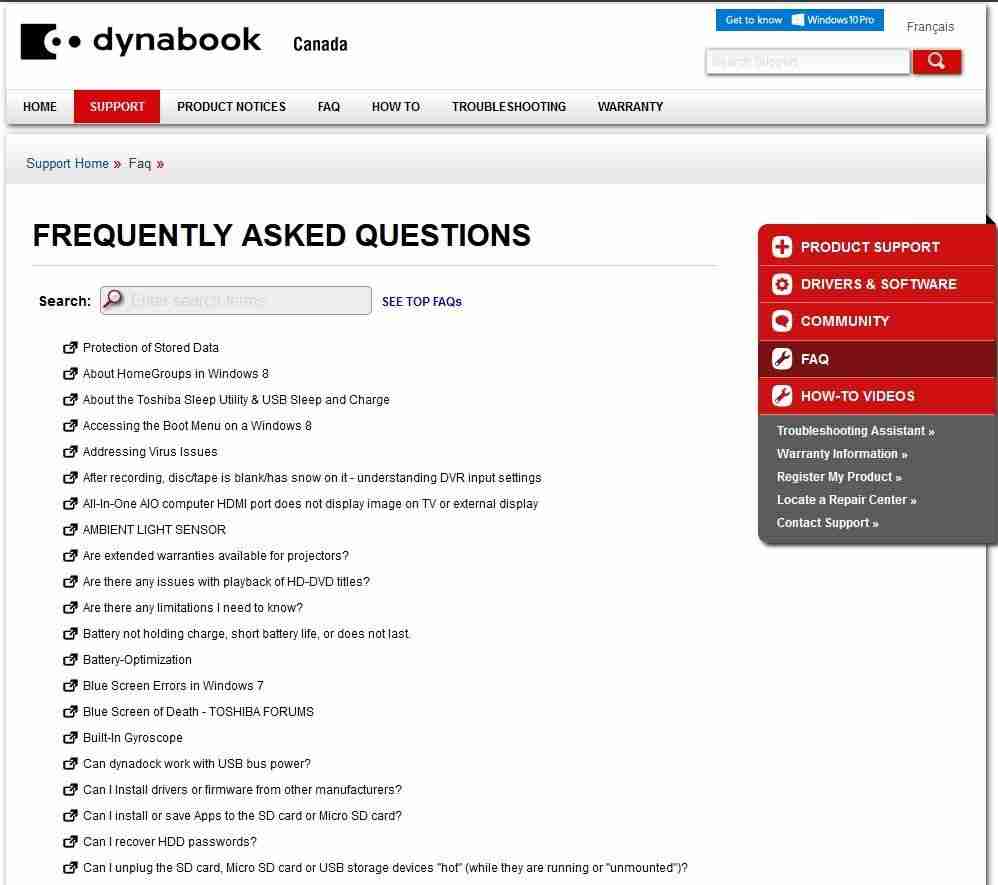 Each product has a different FAQ page but has the same questions and answers. The only category that offers completely different support options is audio products. It has its own FAQ page and a separate service center locator map.
E-mail Service
Unlike other websites that provide an email form for customers, Toshiba simply provides an email address: DBC-Support@dynabook.com. Customers can write their queries in detail and provide pictures of the product, so that a customer service representative can forward the email to the concerned department.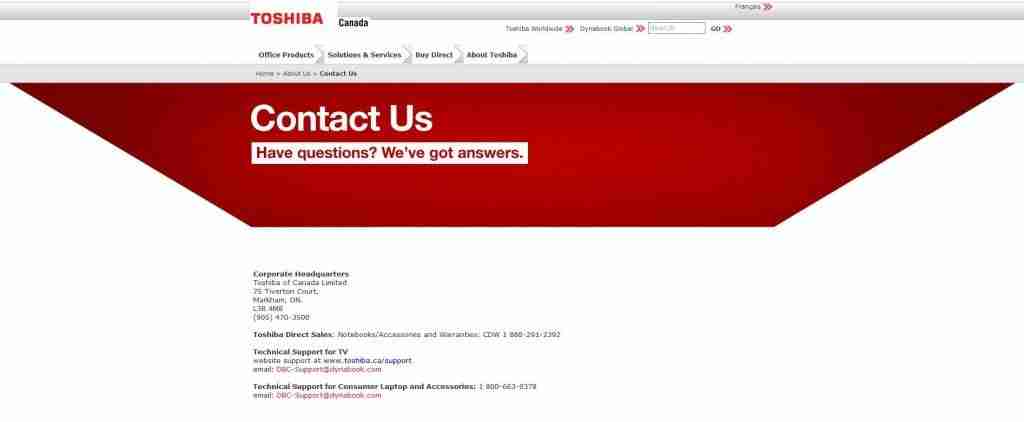 The email address is for all types of queries about any product. It is important to mention the product category in the subject line, to let the representative know what device you are inquiring about.
Business Notebooks
Toshiba has a different website for customers who like business notebooks. The brand has a separate website that can be accessed through Toshiba's official website. This website has its own about us section, support services, store locator map, etc.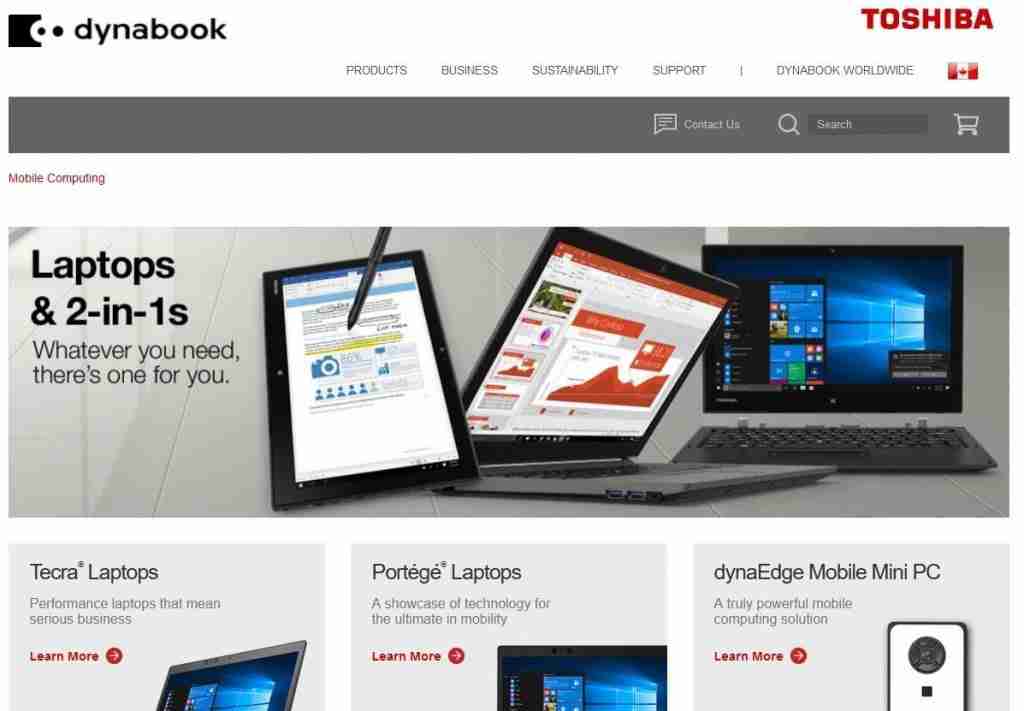 Moreover, it also provides businesses of all sizes with different types of laptops (Enterprise, Tecra®, and Portégé®) that have higher technology offering advanced performance than the ones they have for everyday customers.
Stay In Touch with Toshiba
Toshiba holds a worldwide reputation for leading innovation and the company claims that's how the way they do their business. The support services the company provides is proof that Toshiba cares for its customers and strives to provide them with any type of information they are looking for.
Since it is a tech company, Toshiba has centered its efforts on providing better and greater support services compared to its competitors. So, if you do have trouble with any of your Toshiba product, you will be easily able to find a solution online on their website and not go through the hassle of emailing them and waiting for a reply.