Tinder is an online dating service that works through mobile and web application. It launched in 2012, after which it quickly gained popularity. The majority of its users are based in US and Canada.
It is a location-based social search service, which allows users to find a 'match'. Once both the users swipe right, Tinder allows them to chat and share personal information with each other.


The app requires users to enter their personal information. Using that, the app shows potential matches. The information users need to input include name, age, pictures, and a short biography.
Tinder currently has more than 90 million members. It allows users to find their match within their local area. Tinder has a success rate of up to 90%. Tinder is also popular for their customer support and care services. There are a number of customer support tools that are offered on the Tinder app and website. Here's an overview of all the tools.
The Website
The Tinder website offers a wide range of support tools so that users can navigate through the webpage. Through the website, you can find out about their company, the legal prospects, the community, and their partners. It may be noted that the Tinder website is mobile-optimized; hence, all these support tools can be accessed through mobile phones too.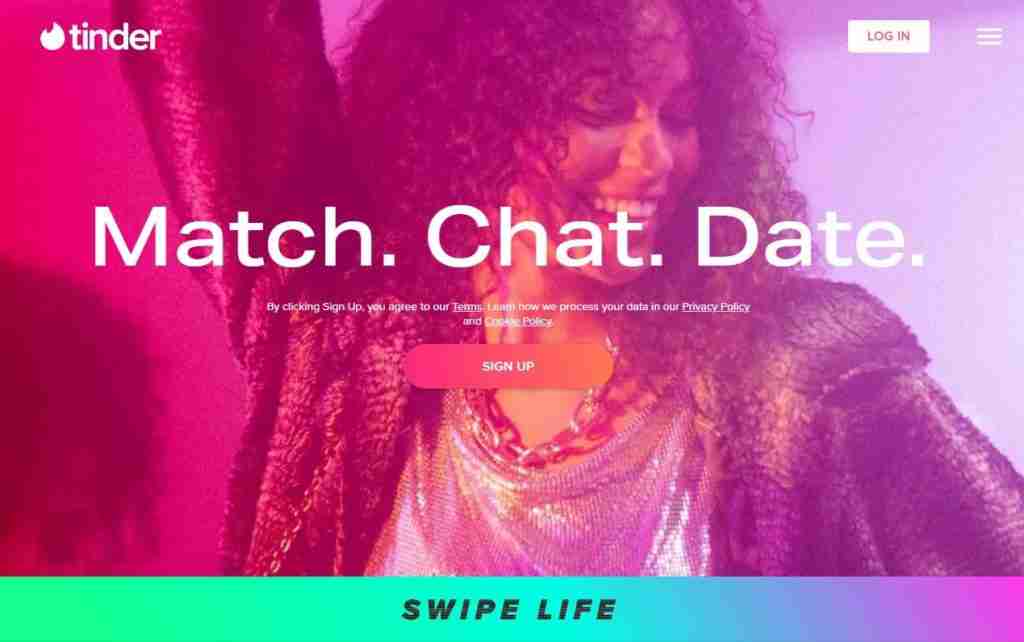 Support Tools
The self-support tools available on the website include a huge knowledge center where you can promptly search for answers to popularly asked questions. A knowledge center is a great idea for a company that has millions and millions of users as it's not possible to respond to each and every query. Most of the times, users have the same questions so a knowledge center makes it easier to respond.
Tinder ensures that their knowledge center is updated. The customer care representatives post answers to questions regularly so that the users can stay connected. The knowledge center consists of three main categories: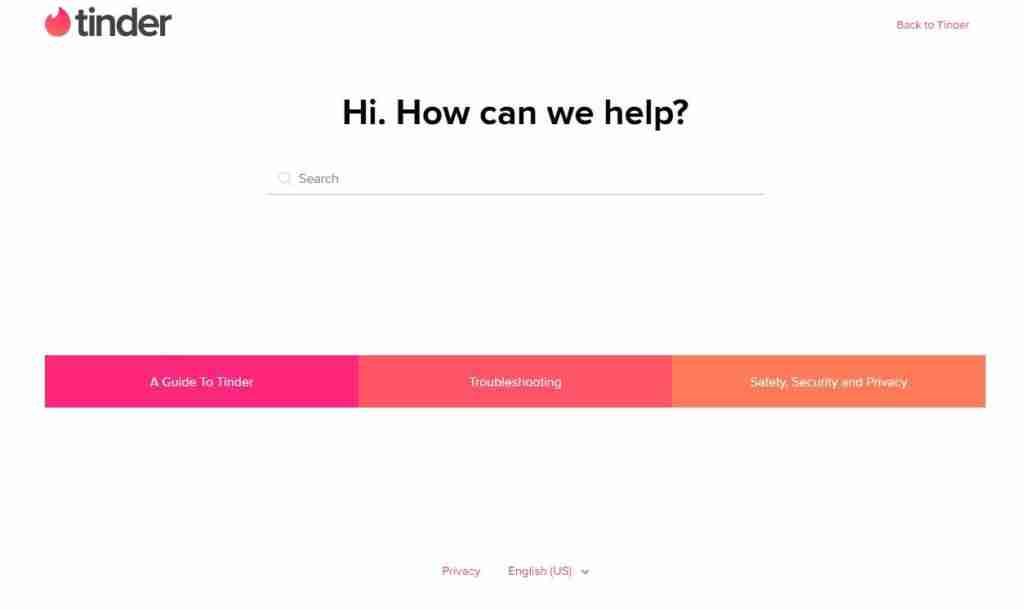 A Guide to Tinder
In this section, you will find how Tinder works, how you can make and manage your account, how the billing and payment works, and details about the Tinder app features. Tinder knowledge base covers all the relevant topics and frequently asked questions that you would want to know.
Troubleshooting
This section covers all issues related to troubleshooting. It includes questions related to troubles with login, billing, payments, settings, messaging, premium features, etc. The articles available are detailed and contain step-by-step guides into how you can troubleshoot problems.
Safety, Security, and Privacy
Since it is a dating app, users are often concerned about the safety and privacy of their personal information and pictures. This is why Tinder includes a Safety, Security, and Privacy section in their knowledge base. It includes topics related to safety concerns, incidents, privacy policy, and other community guidelines. Tinder ensures that the users feel safe while using their platform.
Contact Options
Tinder wants to make everything easy for its customers. If you don't find your required answers in the knowledge base, Tinder has direct communication options as well. You can contact or email them, or even go to their office by booking an appointment.
Tinder phone number
Tinder does not have a support phone number at the moment.
Submit a Request
You can submit a request, feedback, query, or question through their web portal through this link.
Partnerships
Tinder welcomes new people and ideas in their company. If you are interested in partnering with Tinder, you can send an email at partners@gotinder.com.
Press
For all press-related ventures such as articles or blogs, you can email Tinder at press@gotinder.com
Advertising
For advertising and sales related queries and ideas, you can email at adsales@gotinder.com
Tinder Stories
Tinder also loves and encourages users to share their stories and experiences with finding love. If you want to share your story, you can email them at TinderStories@gotinder.com
Mail
Tinder also gives out their provider address for all those who live within and outside the European Union. If you are living in Canada, the address is:

Match Group, LLC,
8750 North Central Expressway, Suite 1400
Dallas, TX 75231, USA
The Application
The Tinder app is a carefully crafted dating app with several basic and premium features. It has a side bar with up to 15 options, including support tools. The support tools available on the app are:
Feedback
The app allows users to submit their feedback then and there, making it easier for users to say what they want to while using the app. Tinder ensures all users give prompt responses so that their firsthand experiences are recorded. Tinder customer care representatives promptly respond to the feedback comments and reviews. Tinder always aims to improve itself and its services.
Rate the App
For Tinder, user feedback and reviews are everything. The app gives users the option to submit their ratings on the app store – for iOS and Android both.
Contact Tinder via Social Media
Tinder has a prominent social media presence where they interact and engage with users. They also bring together users through their social networking sites and keep them up-to-date with events and community building features. Here is how you can follow them on social media:
Tinder posts news, articles, blogs, and ive stories on all their social networking sites to keep the users updated. They are highly responsive to comments and shares. Its YouTube channel has interesting and fun videos for users to enjoy. Tinder also has an online community, where users can come together and share common interests.
Tinder does everything in its power to improve its customer services. If you want to contact Tinder, you can do so using any of the ways mentioned above.