TikTok is the place to be for entertaining yourself with short and creative videos from people across the globe. You can even try your hand at making people laugh by creating and sharing your own content.
In this article, we'll tell you more about what TikTok is and where you can read solutions to problems you may have faced using the app. Here's a look into the customer support services TikTok offers its users.
About TikTok
Before we delve into the customer support services TikTok offers, we feel it's best to give you a brief introduction on the platform itself. TikTok is a social media platform on which users create short and entertaining videos with other public users. The length of each video is between 5 to 15 seconds, but you can take the maximum limit up to 60 seconds if you string 4 separate videos together.
TikTok aims to give its users a medium through which they can creatively express themselves. A lot of the videos on the website are short comedic videos. This means that users have to set up their joke and deliver the punch line in a matter of seconds. This short form of creative expression allows people to consume a new form of entertainment media that is fun, fast, and fleeting (but in a good way).
TikTok has taken the internet by storm and has acquired more than one billion users in the 3 years that it has been around. It was first released in September 2016, and it was developed by ByteDance – a startup from Beijing, China. Now, TikTok has offices in some of the biggest cities in the world including New York, Los Angeles, Tokyo, London, Singapore, Berlin, Paris, Jakarta, Dubai, Mumbai, and Seoul.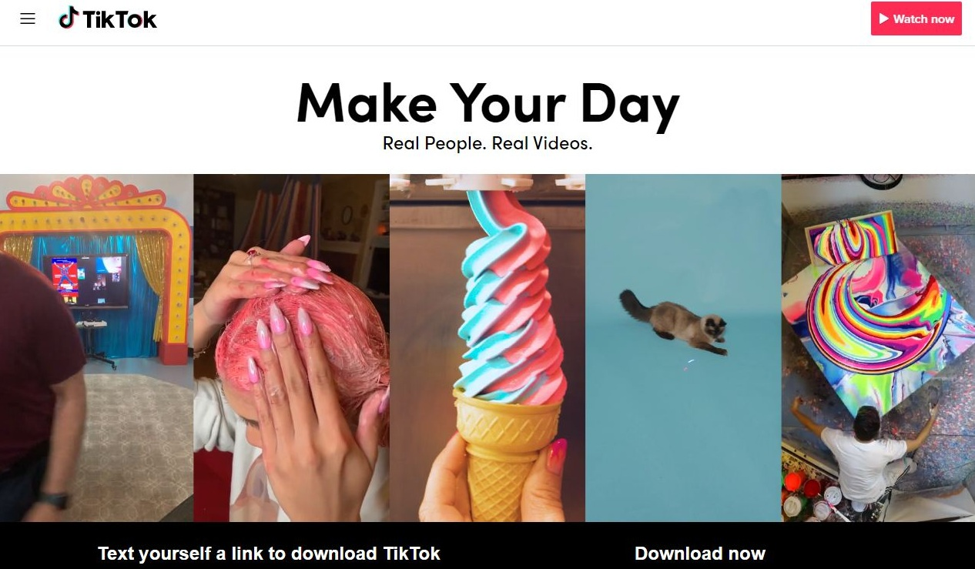 TikTok Customer Support Services
TikTok has two main pages that address issues that users may have. The menu on the main page has a support section in which there are 3 options: Help Center (also known as the Support Center), Safety Center, and Community Guidelines. The first two are dedicated pages but the latter is an article on the Support Center website.
These comprehensive customer support services pages help users understand the safety policies of TikTok, and they help users solve issues they may face while using the app.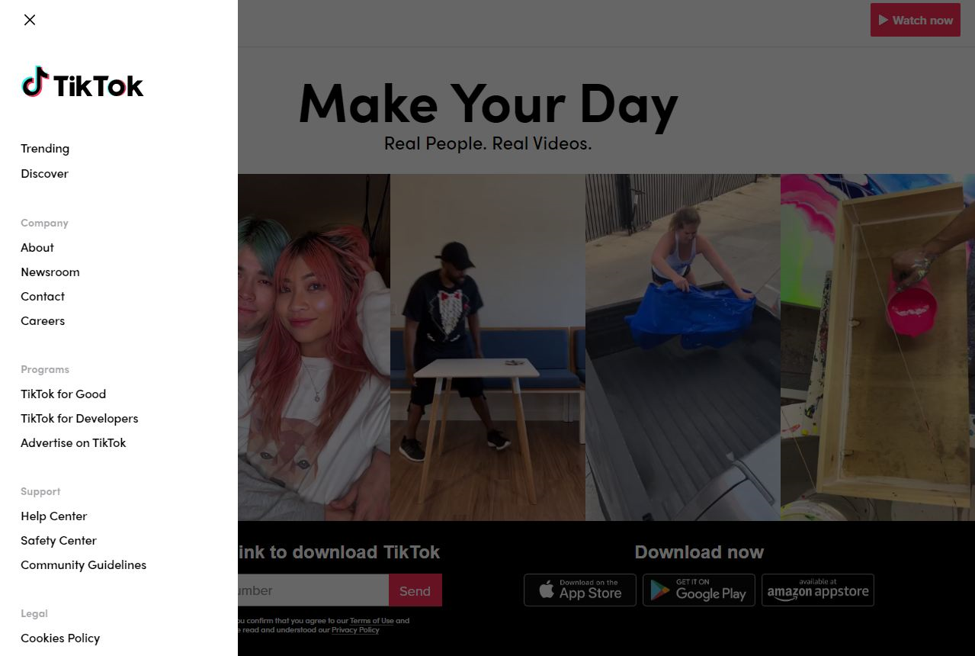 Help Center (Support Center)
TikTok has a dedicated support page in which you can search your query in the search bar in the center of the page. Just below that, they have a "Recent Updates" section in which new features are discussed and explained.
Below that, there are lists of articles on their support topics. These pages are categorized into 3 sections labeled "Using TikTok", "Privacy & Safety", and "My Account and Settings". This makes it easy for users to navigate through the website and find what they need to. Sometimes it's not enough to rely on just the search bar because finding the right keywords can be difficult. There are long lists of articles in each section, which means you can be sure that you'll find exactly what you're looking for on this website.
If you're having trouble finding the right problem you want to be addressed, you can view a page that discusses a similar issue and then look at the related articles. You are likely to find what you're looking for in that list of related articles. This way, you won't have to sift through the entire list of topics to find what you need.
In addition to this, the support page has a language setting, allowing you to view each page in various languages. You can read your instructions in English or French, considering that each page is offered in these two languages and more.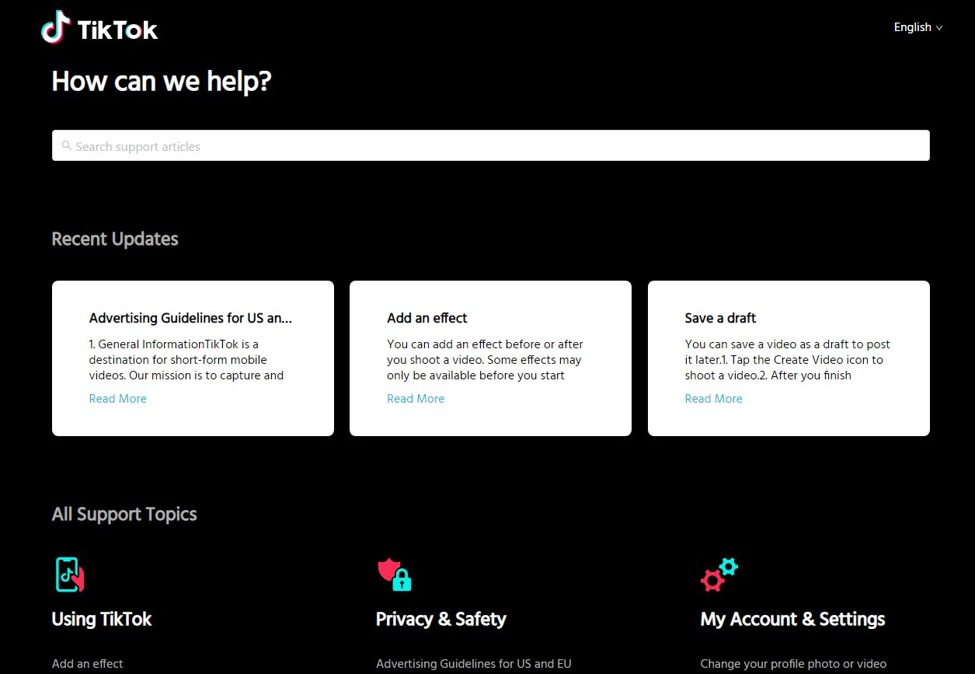 Safety Center
TikTok also has a webpage dedicated to the safety guidelines of its users called the "Safety Center". It has 4 main pages in which there are various articles in 2 of them. The 4 main pages are the Home Page, Community Guidelines, Tools, and Resources.
The Tools section addresses concerns you may have about your content, connections, or account. On the other hand, the Resources section has a total of 8 pages. This section addresses a range of topics including parental control, anti-bullying, and general online safety. Visit this page if you have concerns about your online safety as a user. There is no shortage of cyber-bullying, so it's good to know what options you have to counter it.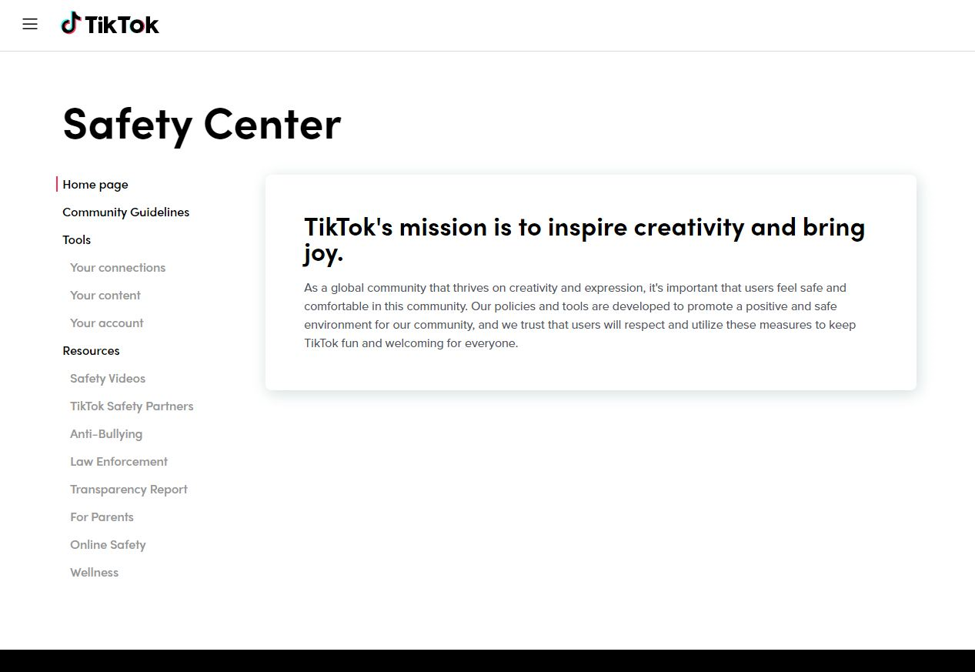 Community Guidelines
The Community Guidelines page is essentially an article on the Support Center website, but there are three ways to get to the page. If you're on the main page of TikTok, you'll find it as one of the three options in the support category. Second, you can access this page by visiting the Safety Center. One of the 4 main pages on that webpage will take you to the Community Guidelines page. Last, you can search for the page on the Support Center Website Directly.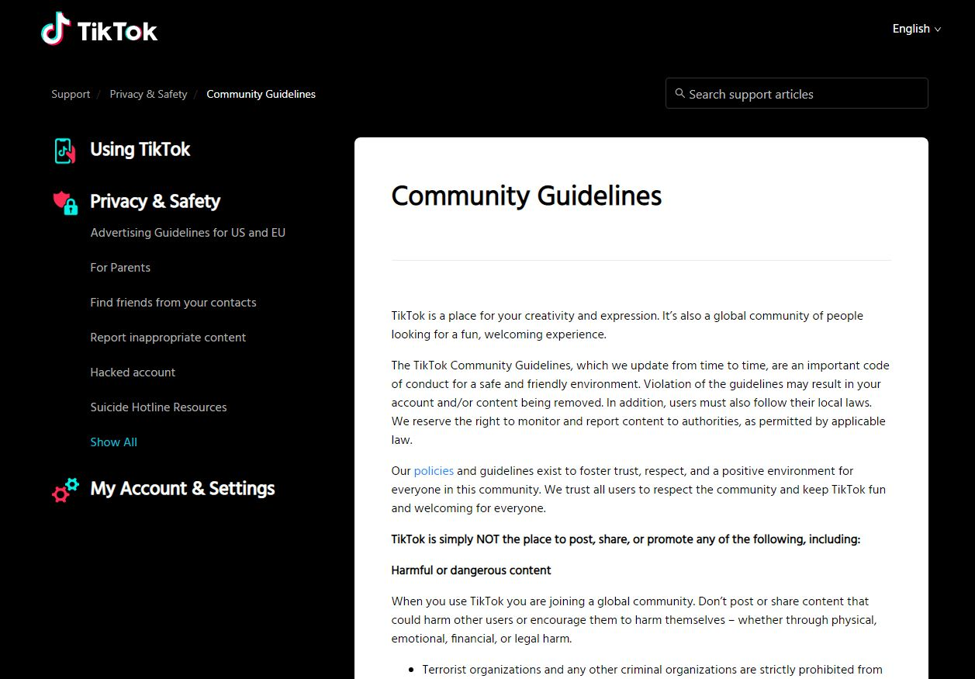 Social Media
You can find TikTok on other popular social media websites as well. Their channel on YouTube, and accounts on Facebook, Instagram, and Twitter share content regularly. This allows users the opportunity to engage with representatives from the app directly via message.
In addition to that, their presence on social media allows them to form a community of users. Users can comment on their posts and ask others questions they may have. The comments section isn't the best place to have meaningful discussions, but it can be helpful in some situations.