The Keg is a Canadian-owned steakhouse and bar founded by George Tidball in 1971. What began as a small restaurant in the Moodyville area in North Vancouver has now expanded its services across nine provinces and five states, amounting to over 160 locations in Canada and America.
Known for its wonderful service and mouth-watering steaks, ribs, chicken, and a variety of seafood, the Keg has become a household name in Canada. It has become a popular choice for hosting dinners, birthday parties, and other celebrations.
Other than offering dining and takeout services, The Keg Steakhouse has ventured into offering products ranging from dressings, seasonings, sauces, and other meat items.
How to Get in Touch with The Keg Steakhouse Customer Care Service
The Keg offers phenomenal customer support services online through its official website. It does this by helping customers navigate through six options on their homepage. These include:
Menu
Locations
Gift Cards
Takeout
Get a Table
Careers
Finding a Keg Steakhouse Near To You
Easy on the eyes, the first online support the website offers is through its restaurant locator. The interface allows customers to find a Keg steakhouse near them.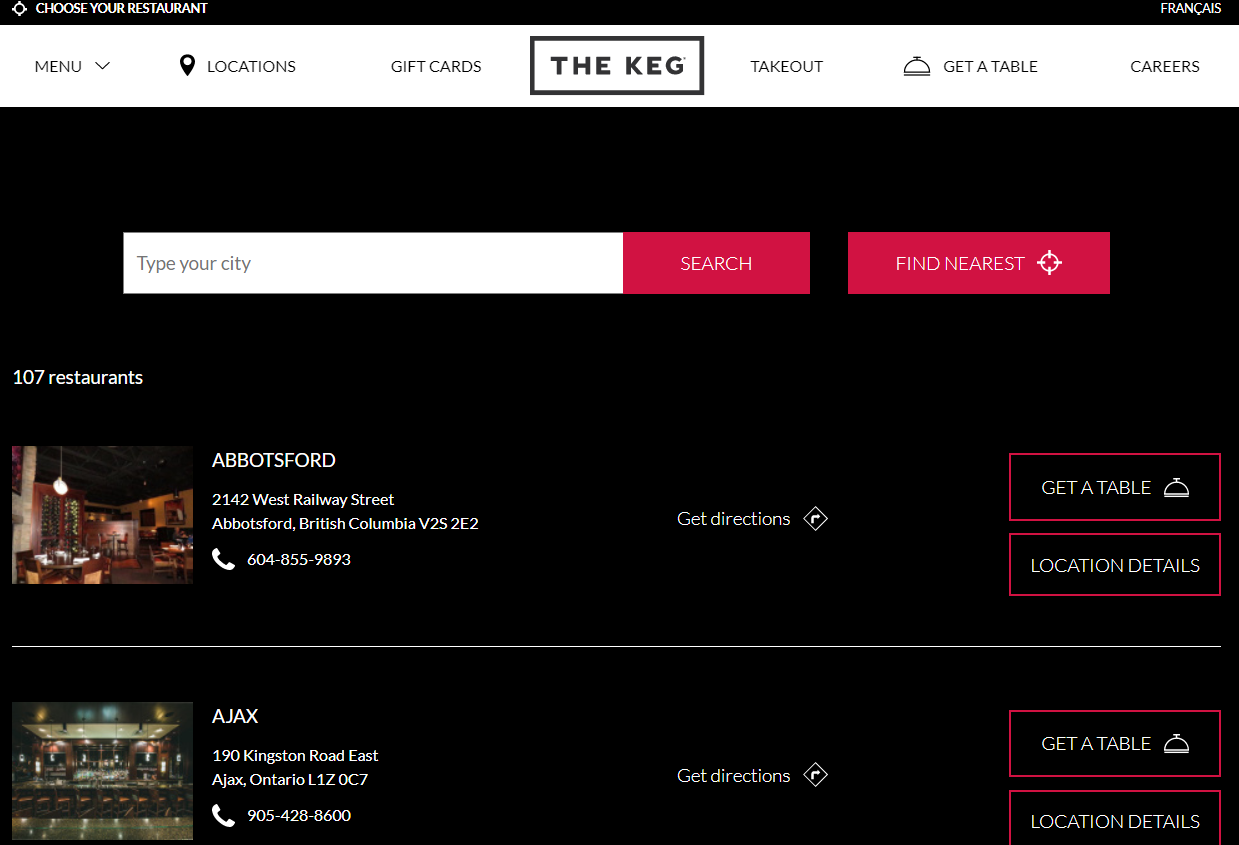 Since it has expanded to over 160 locations, customers can browse through locations nearest to them. Moreover, to make the process easy, each location has the branch's contact information including of an address and a telephone number.
Ordering Takeout
The Keg Steakhouse relies heavily on its website for takeout and in-house table bookings. The restaurant locator option becomes a lifesaver, especially for takeout orders. Smooth order placement is ensured as the website takes the customer to their nearest location.
Online payment options are available through credit, debit and gift cards. Furthermore, the pre-paying option is also available online for takeout orders.
Booking a Table
Booking a table can be a hassle; but not with Keg Steakhouse. With the option to call for a reservation, or get Google map directions on how to reach at the location, the online support of Keg Steakhouse website is smooth.
As soon as customers arrive on the homepage, there is an option for Get a Table. Similarly, there is an icon that pops up on the homepage that takes customers to 'Get a Table' page.
Contacting Keg Steakhouse
The Keg Steakhouse prides itself on supporting customers online through its website. So, all kinds of feedback, applications and even ways to contact directly are listed on the website.
Guest Feedback
Guest Feedback includes everything that a customer experienced, whether good or bad. The central idea behind feedback is to constantly improve and make the dining experience more enjoyable. An online form is available if there is any complaint, suggestion, or even appreciation that needs to reach the Keg Steakhouse management.
Gift Card Donation Application
Do you wish to gift someone an experience they will remember? Buy them a Keg Steakhouse gift card from their website. American and Canadian residents can make this purchase and pay through Visa, MasterCard and American Express.
Getting in Touch Directly
To get in touch directly with Keg Steakhouse's corporate office for Guest Relations, check for details below:
The Keg Corporate Office (Guest Relations)
10100 Shellbridge Way
Richmond, B.C. V6X 2W7
For HR, Marketing, and Food Services, check details below:
The Keg Eastern Office (HR, Marketing and Food Services)
560 King St. West, 2nd Floor
Toronto, ON M5V 0L5
Social Media Presence
For common complaints and general queries, The Keg Steakhouse has maintained a social media presence on all major platforms. From job postings to discount deals, menu updates, and limited and seasonal time offers, social media handles of the Keg Steakhouse are active and responsive with an increasing number of loyal customers and followers.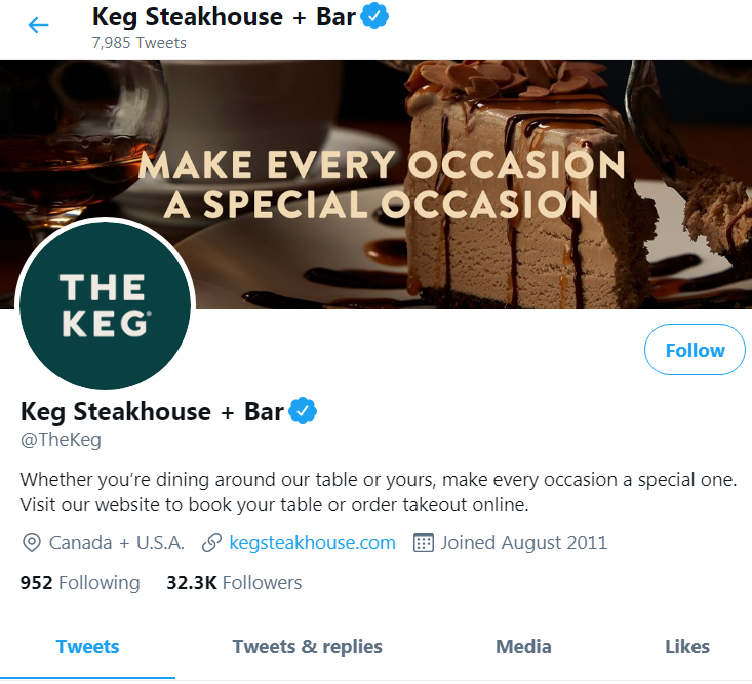 Careers
If you're looking for a work opportunity at The Keg Steakhouse, then you can browse the company's career webpage on their website. It asks to select a restaurant nearest to the customer's location to customize job opportunities and ultimately save time.
There are no specific job descriptions except that the Careers page has an online Apply Now form for potential candidates.
The career page also offers insight into the rewards and benefits Keg Steakhouse provides to its employees and management.
The Keg Spirit Foundation
Their official website also offers a way to engage in charity work supported by The Keg Spirit Foundation. So far, it has supported various local charities with Big Brothers Big Sisters (BBBS) as their greatest beneficiaries.
To apply for a grant, a Review Committee will need information stated on the website. All correspondence can be done through email at carolynt@kegrestaurant.com.
Or via mail on:
The Keg Spirit Foundation – Review Committee
Keg Restaurants Ltd.
10100 Shellbridge Way
Richmond, B.C. V6X 2W7
Newsletter Sign Up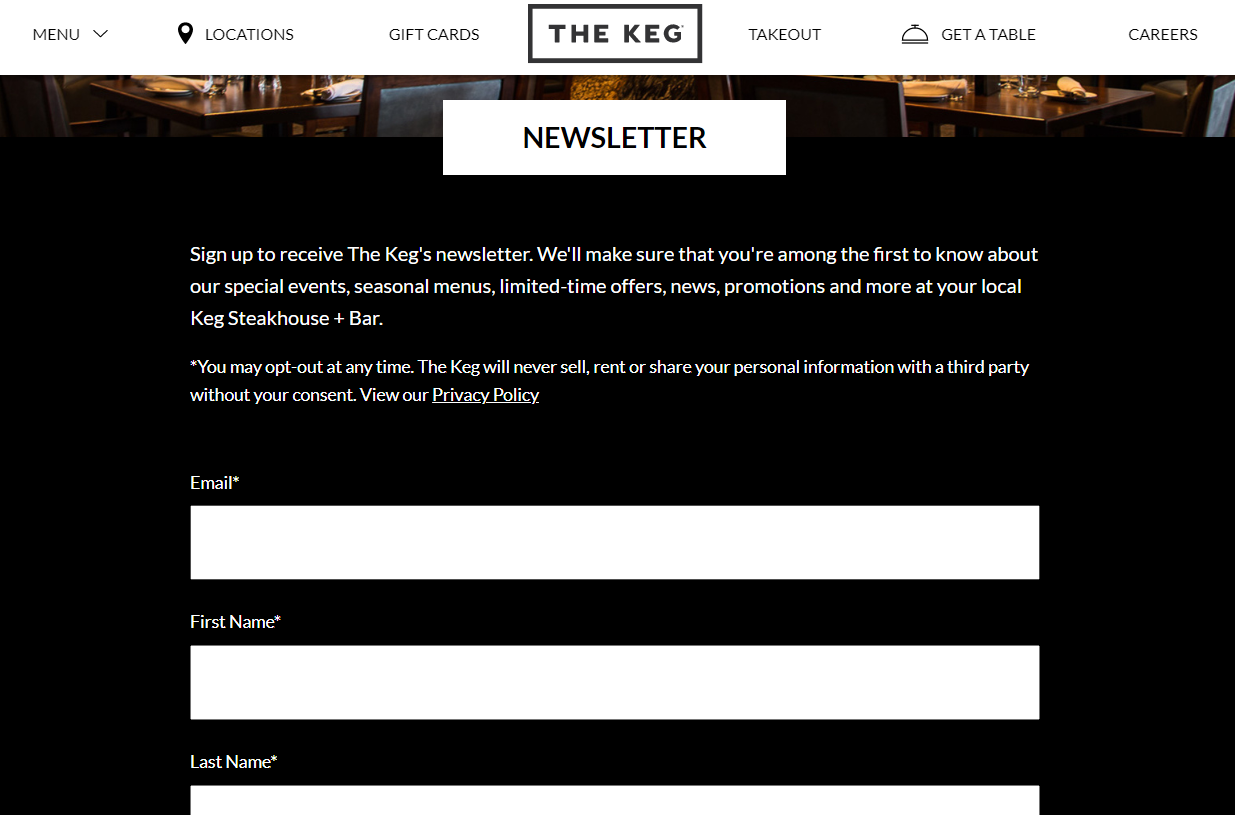 To keep up to date with the Keg Steakhouse's newest developments, including announcements, customers can avail the opportunity to subscribe to a newsletter that is delivered straight to their postal address. A short form has to be filled on their website to make use of this feature.
Bottom Line
The Keg Steakhouse prioritizes customer satisfaction along with creating a memorable fine-dining experience. With a diverse menu to choose from and coast-to-coast locations, it has made its place in many Canadian and American customers' hearts.
Getting in touch with them is also easy as their social media and website are responsive. Ensuring a constant feedback system helps maintain The Keg's popularity and secure customer loyalty for over 50 years.