Sunwing is a travel group founded in 2002 by Colin Hunter. Ever since its inception, it's been headquartered in Toronto.
Today, the group has grown quite big as it also runs an airline, a retail chain, three tour operators, destination management company, and a vacation club.
From a small and modest family business, it has grown to become Canada's #1 to the sun. They started their own airline operations in 2005. Now they have a fleet of 29 airplanes, all of which are Boeing 737s.
Sunwing Airlines flies to 74 different destinations located in Canada, the United States, Mexico, Belize, Caribbean Netherlands, Cuba, the Bahamas, Honduras, Dominican Republic, Costa Rica, Jamaica, Aruba, Sint Maarten, St. Vincent & the Grenadines, and Saint Lucia.
They are focused on providing a vast array of vacation options for each and every little step of the way from your home to your destination and back again. By using their services, you can depart from 34 different gateways all across Canada.
It's worth pointing out that Sunwing has won numerous prestigious awards, such as the Consumer Choice Award for the Toronto operations and the Consumer Choice Award for the best charter airline and vacation provider.
Now that you're familiar with the basics and accolades, let's get you well acquainted with the options and quality of the customer service they provide.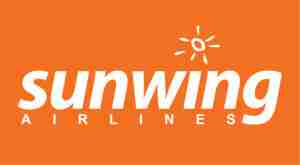 Contact Options
Once you reach Sunwing's official website, you'll be greeted by a plethora of orange color and contrasting photos of wondrous vacation locations.
You can browse all of it later; for now let's focus on finding the different contact options offered and various other convenient features that may come in handy.
Before you reach for your phone to dial the call center number, let's first remind you that sometimes the info you need can be found much easier and faster than talking to an operator.
Scroll down to the footer of the homepage, and down to the right you'll find "Contact Us" in the list of Useful Links. Once you click it, you'll be transferred to a new page.
The first two things you'll see are two buttons: "Contact Us" and "FAQs". Upon clicking the left button, you'll face an online form with a few simple fields for your info.
Before filling it in, you'll need to select whether you've ever traveled with Sunwing before, if you're on vacation right now, or if your vacation is completed.
There is also a checkbox for travel agents. Checking this opens up a whole new set of options for you to select or fill in.
Getting back to the FAQs button, once you click on it, you'll be transferred to a new page with a search box and several predefined topics such as General Inquiries, Booking Your Trip, Health Travel Advice, Make a Reservation, Additional Product, Getting Ready For Your Trip, At The Airport, Hotels, After You Land, and Share Your Experience.
This is a fairly comprehensive list of topics and questions covered, so make sure you check these first before opting to call the company.
If you still prefer contacting them by phone or paying them a visit in person, Sunwing Vacations is located at:
27 Fasken Drive,
Toronto, Ontario
M9W 1K6.
Their business hours are 8 AM till 12 AM ET Monday to Friday. On weekends, their business hours are till 8 PM. You can reach them at 1-877-SUNWING (786-9464).
Vacances Sunwing can be found at:
7785 Cote-de-Liesse Quest,
Montreal, Quebec
H4T 1G3.
You can use the same phone number as the one for Toronto, but keep in mind that they have different business hours: 8:30 AM to 10 PM Monday to Friday, 8 AM to 8 PM on Saturdays, and 8 AM to 4 PM on Sundays.
If you click on "Flight status and alerts," you'll be diverted to a page where you can track the flight status or create an alert which can be delivered to you by email or text message.
There is also an automated system with pre-recorded messages that delivers info about flight departures and arrivals. It can be reached at 1-877-978-6946.
If you need advice for your next vacation, you can reach the Sunwing Vacation store by dialling 905-842-4999.
They are located at 275 Hays Blvd in Oakville (Dundas and Trafalgar Rd, which is in the Walmart Oakville Plaza). They're open from 9 AM to 8 PM Monday to Friday, 10 AM to 6 PM on Saturdays, and 11 AM to 5 PM on Sundays.
There is also another very convenient option of downloading the official Sunwing app, available for both iOS and Android devices. This allows for free calls everywhere around the globe and keeps you in touch with your personal Sunwing vacation representative.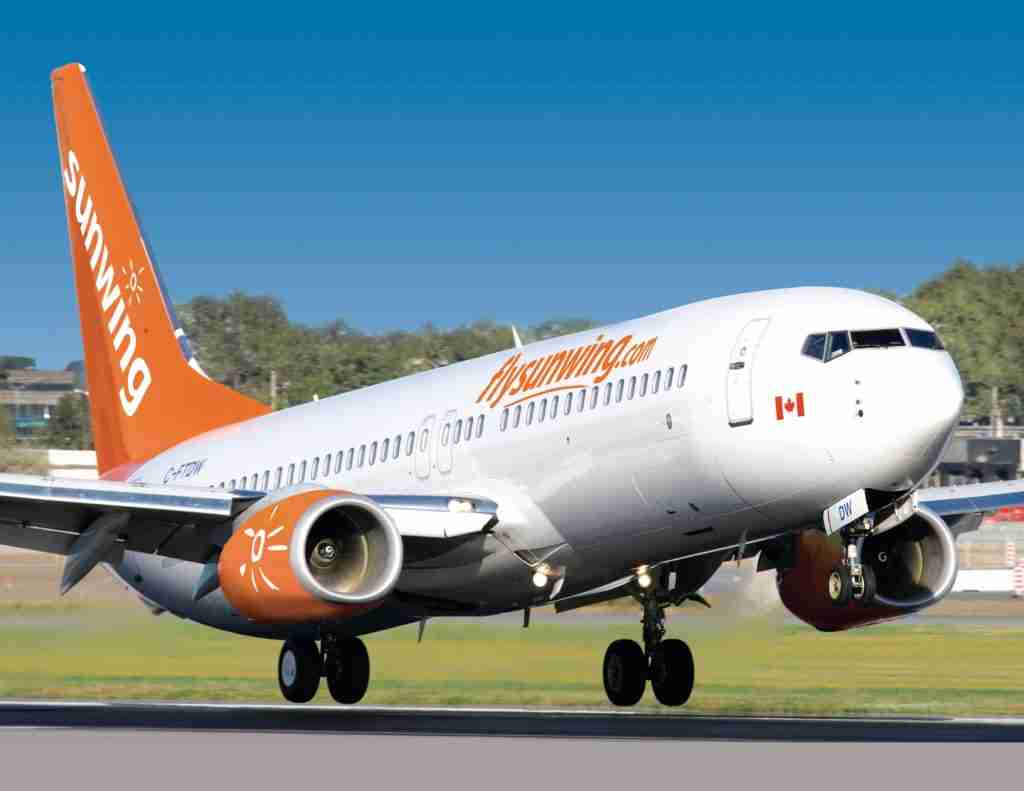 We strongly suggest you check the comprehensive list of terms and conditions, as it will save you a lot of time before contacting Sunwing and also answer a lot of questions you might have before booking a vacation.
A dedicated page for Sunwing Airlines makes it easy to find flights, vacation packages, hotels, cruises and rental cars within just a few clicks. Over there you can also find all the required info on Baggage Options, In-Flight Service, and Web Check-In. Besides that, you can select your seat by using the Advanced Seat Selection page.
Info on special assistance for unaccompanied minors, pets and service animals, mobility aids, traveling with a medical condition, and many more can be found here.
If you wish to check the prices for Sunwing Airlines' optional services, you can do so by visiting this page.
Taxes and fees for different gateways and different airports can be checked here.
Last but not least, you can check the Worry Free Plan for vacation cancellation and security options by visiting another dedicated page.
Social Media Channels
All you social media buffs out there will be delighted with the fact that you can reach Sunwing through their official Facebook and Twitter profiles. There is a large list of interesting videos on their official YouTube channel and you can also enjoy some fantastic photos on their Instagram profile.