Stripe is a tech company that specializes in building economic infrastructure for the internet.
Businesses of every size – from budding startups to huge conglomerates – use Stripe's software to accept payments and manage their business online.
The company is the world's fastest-advancing developer platform. It offers businesses the opportunity to build a better business via modern tools and tech.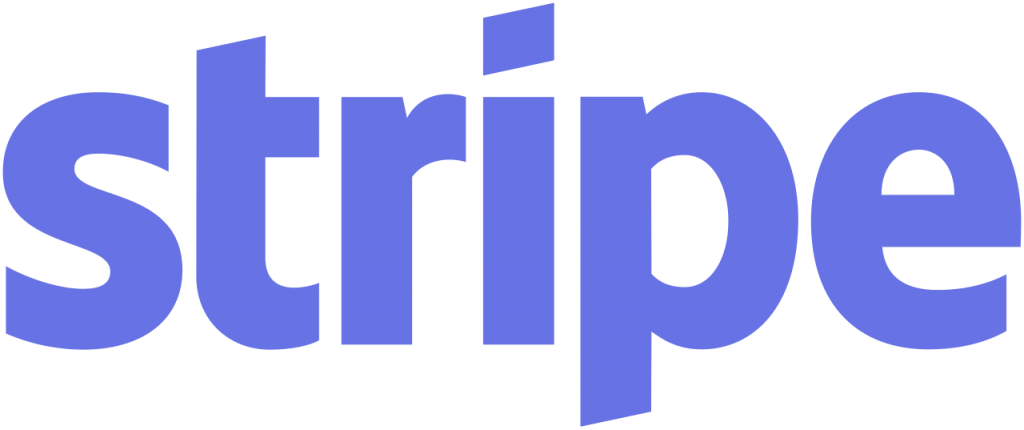 Stripe works with regulators, financial institutions, banks, payment networks, and consumer wallets so that businesses that use Stripe don't have to.
Millions of companies across the world use Stripe to start, run, and scale their businesses. With such a massive reach, Stripe does everything in its power to make sure that its clients are happy and content.
It does so by offering them professional, reliable, and consistent assistance and support via its official website.
So, without further ado, let's review what Stripe has to offer to its customers.
How to Get in Touch with Stripe Customer Support Service, the Ultimate Guide
Stripe Customer Support Services
Here are some ways in which Stripe delivers excellent customer support services.
COVID-19 Resources
Stripe wants to make sure that your business continues to thrive during these unprecedented times.
This is why, to combat the effects of COVID-19, Stripe is building various programs, products, and resources that you can use to adapt to the challenges of the ongoing pandemic.
You can check out the company's "COVID-19 Resources" webpage to stay up to date about everything that Stripe is offering to its users.
Help and Support
Stripe has a truly comprehensive support webpage for its users. If you have any concerns or queries, then you can simply enter them in the search bar on the webpage and the website will show you "help articles" that answer your query or address your concerns.

Moreover, you can browse through the popular help topics on the right-hand side of your screen. These topics include billing, connect, payments, account, disputes, and more.
You can also scroll down to see all the popular articles and find the one that addresses your query or concern.
You can also send your feedback about the page by simply clicking on the feedback bar underneath the topics bar, entering your feedback, and then pressing "send feedback".
Contact Support
Stripe also has a separate contact support webpage that highlights various ways in which you can contact the company's support team.
You can e-mail stripe your query, attach a file, and enter your e-mail address. The company will get back to you shortly.
This webpage also has information on what you need to do if you want to change your password and look up a Stripe charge.
It also helps you figure out the steps that you can take when you don't have your recovery code and are locked out of your account.
Contact Us
Stripe has a truly incredible contact us webpage, which has all the information that you need to contact the company. If you want to contact sales, then you can do so by clicking on the sales icon.
The website will direct you to a webpage with a sales form that you can fill out to get in touch with sales.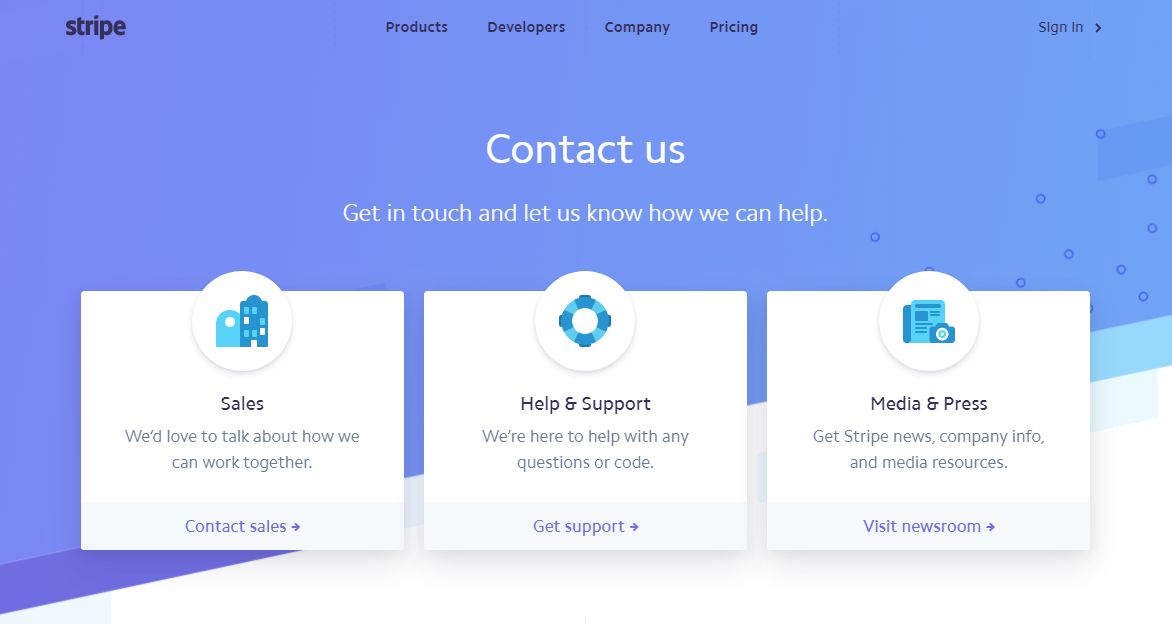 All you have to do is type in your full name, work e-mail, company website, country, payment volumes, and describe your needs, timeline, and project. Once you submit this form, the sales team at Stripe will get in touch with you soon.
If you have some technical questions, then you can join Stripe on IRC and chat live with the developers at the company on Freenode.
If you have some general queries or concerns, then you can reach out to Stripe via e-mail on
The Stripe representatives will get back to you as soon as possible.
Guides and Resources
If you want to learn about machine learning, global payments, building marketplaces, and scaling your team, then do check out Stripe's guides and resources webpage.
This webpage has comprehensive guides on all of these topics that you can learn a lot from.
Social Media
Stripe has a Twitter account that you can follow to stay up to date about all the latest Stripe products. You can also DM the company on Twitter to get in touch with its representatives.
If you want updates on Stripe's services, then you can follow the company's status account on Twitter.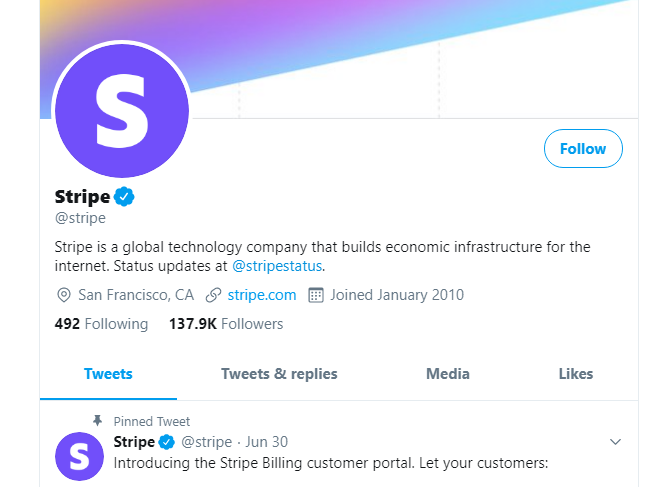 Stripe also has a Facebook page that you can follow to stay in touch with the company. It regularly posts content on this page and is pretty active in the comments section as well.
So, you can surely engage with Stripe by commenting on its posts and messaging the company via Facebook messenger.
Stripe also has a YouTube channel where the company posts regular videos about its products and services. It also posts collaborative videos with other companies. You can engage with Stripe by commenting in the comments section of the videos.
Site Map
Stripe has a comprehensive site map webpage on its website. This webpage has a detailed map of everything that the website has to offer you.
It has divided the website content into neat categories such as about, products, contact, etc. Each category has its particular options that you can access by simply clicking on them.
Stripe Newsroom
If you want to stay up to date about everything related to Stripe, then you can do so by accessing its newsroom.
This webpage on the company's website has all the latest news about Stripe's products and services.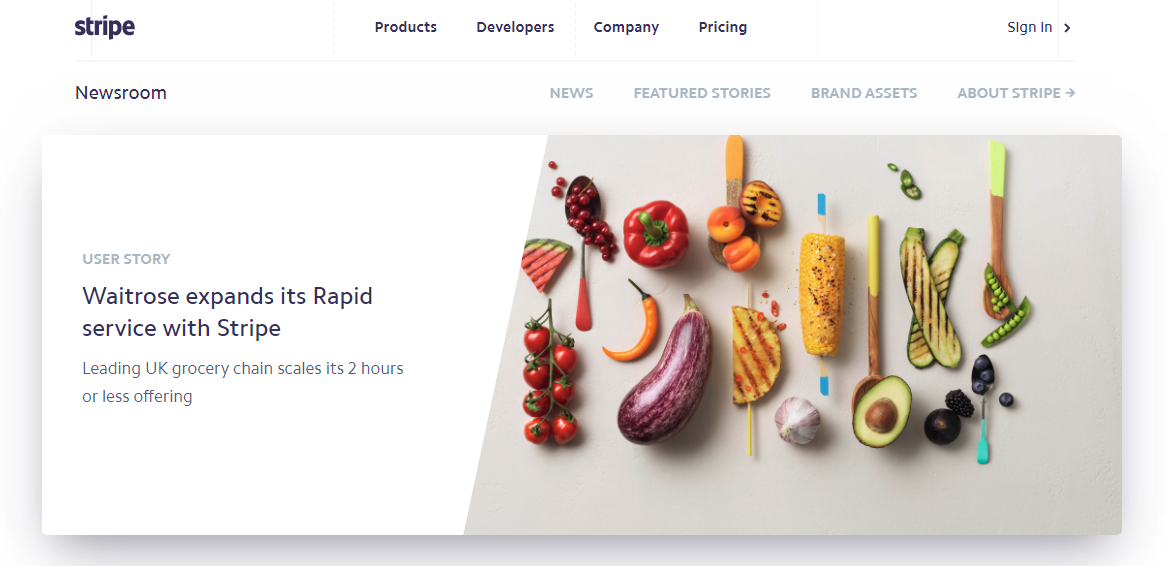 Moreover, you can reach out to Stripe media via its e-mail address:
The Bottom Line
When it comes to offering exceptional customer care and support, Stripe delivers every single time.
Whether you reach out to the company via its website, social media platforms, or e-mail, Stripe will always reply to you and cater to your queries or concerns as swiftly as possible!