Are you looking for the best label maker or thinking about a new laptop? Are you hoping to impress your clients with logo imprinted stationery and swag bags?
Do you want to become more organized and need supplies to help you achieve that goal?
Staples in Canada offers these wonderful solutions. Built for success since its inception, the company continuously evolves to meet the needs of the ever-changing industry. The company was founded in 1991 in Ontario and gradually grew to span across the country. Currently, Staples is spread across the nation with over 300 stores in the country.
From stationery and office supplies to innovative solutions for graphic design and printing services, the company supports entrepreneurship fantastically. For many Canadians, Staples in Canada is a one-stop solution for professional business development too.
If you are hoping to contact the company and make contact with competent customer representatives, our efforts will guide you. Get information on how and where to contact Staples in Canada without wasting any time. Staples has established a thorough customer support system which includes:
Website
Establish contact with Staples Canada's Customer Support Services directly through their website. Whether you wish to submit a query form, provide feedback or seek simple updates, visit their website to access the help center.
Besides this, learn about the latest products, press releases and more from their website. Additionally, the website is a hub for all relevant information on offers, promotions, and events.
To visit the official website of Staples in Canada, click here.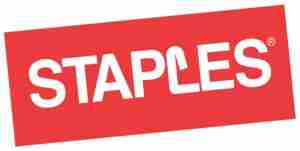 Live Chat Feature
Sick of waiting for hours when you want to file a complaint? Looking for something simpler and quicker than counting minutes on the phone?
Staples offers a live chat feature that provides ease to its customers. Receive prompt replies and enjoy a seamless customer support experience by clicking a button. The live chat option is visible throughout the website as a red 'Help' button on the bottom right of the screen.
You can receive information and get answers to all your queries or give feedback through this feature. You can also share ideas on how to make Staples better. Easy communication is now possible with the chat feature.
To avail this feature, simply click here.
Email and Electronic Communication
Waiting for hours on the line can be tiring. There are times when you just do not have the time but need to get your message across to Staples.
In such situations, take advantage of the customer care group email address. Drop in your problems, complaints, feedback and much more by emailing us. The skilled representatives will get back to you as soon as possible.
To make contact with the customer care group, simply send your email at the address: Customer_service@staples.ca
Customer Representative Contact Form
Do you have queries related to shipping or packages? Planning to cancel your order but unsure of whom to contact? Looking to submit a request to speak to customer representatives?
Staples offers all its customers great ease through a user-friendly and simple option. A contact form option lets you send your questions within minutes. Send a form to the customer help centre on the website and gain relevant information quickly.
State your issues, describe them in detail, and even support the request with relevant options. The online form allows you to address all your issues with the help of a customer representative. Once your form is submitted, you will be contacted by the customer care team.
To avail this option and submit a form, simply click here.
Call Option
Feel like returning a new purchase or exchanging it with something else? Curious about the latest refund or return policies? Interested in understanding how to track your orders?
Learn all this and more by getting in touch with a reliable customer support representative. Ready to answer all your toughest questions, the support team is available on the phone too.
The professional staff at Staples Canada is trained to provide you with complete and up to the minute details through a call. You may take any type of query and question to the team, which is available at your disposal for superior assistance.
To talk to a customer support team member, simply call on the number:
877-360-8500
Mailing
You can also contact by dropping a letter in the nearest post box.
A representative from the team will contact you with relevant assistance as soon as the letter is received. Given the limitations of traditional mail delivery system, slight patience is recommended.
However, you may send your queries to the following address:
6 Staples Avenue,
Richmond Hill,
Ontario,
L4B 4W3.
Social Media Pages
Staples Canada also updates its customers with the latest news through their social media accounts. Learn about the offers and promotions made specifically for Staples fans.
All information can be seen and scrolled through any time of the day through Staples' social media pages. Like, follow, share or post your queries and complaints.
Click below if you want to visit a specific social media page of Staples in Canada:
Other Customer Support Options
Latest News and Press Releases
Staples in Canada keeps its customers and global viewers up to date with the newest launches, offers, announcements and innovative solutions through press releases. All press releases are archived and easy to access for customers and more.
To view the latest press releases, visit here.
To view old and archived press releases, visit here.
As a customer, if you are interested in gaining further media information or queries relating to press releases, then Staples has a solution. Contact the helpline by dialing: 905-737-1147.
Newsletter
Receive up-to-the-minute information through the newsletter option. Members who are a part of the newsletter club are the first to receive timely and exclusive information. Learn about events, promotions, offers, deals and much more through the newsletter.
Simply submit your email and receive all promotions through it. To become a newsletter member, simply visit here.
Please note the option to apply for a newsletter is at the bottom left of the page.
In Person Feedback
Staples in Canada believes in improving itself and becoming better. Hence, Staples Canada encourages customer feedback. To offer feedback, you may speak to the store management team in person or on the phone.
To visit the nearest store and give feedback in person, find the closest store to you by clicking here.
Frequently Asked Questions
Staples Canada has compiled answers to the most frequently asked questions on its website. Topics related to delivery, order, tracking, refunds policy and more are covered in detail.
If you have any questions, visit this special section for concise responses. To visit the FAQs section, click here.