Do you wish to design fresh healthy menus? Then SPUD Canada is just the place for you!
Sustainable Produce Urban Delivery Inc has been operating since the late 90s. But it's the new-age healthy diet route that's led to the instant surge in its popularity.
The company is known as the pioneer of Western Canada's interest in fresh local products. It works diligently to create a platform where Canadian farmers and grocers get proper coverage.
The company plans to supply fresh organic food to every household in the country. They've taken upon great measures and health checklist to bring high-quality products to your doorstep. This dedication and commitment to the cause have resulted in a green revolution for Canada.
The company currently operates in Vancouver, Victoria, Calgary and Edmonton. It also has several sister companies like Food-X, Blush Lane and Be Fresh. These ventures help expand their mission further.
Do you want to contact SPUDCanada? This article gives you an overview of all the customer service helplines available to you. It'll teach you how to send them an email, follow them on twitter and call them up for an inquiry. With all this information, you'll find it pretty easy to get in touch with this online grocery store.
One of the biggest plus points about SPUD Canada is its smooth and segregated customer service. This makes connecting to the company super easy.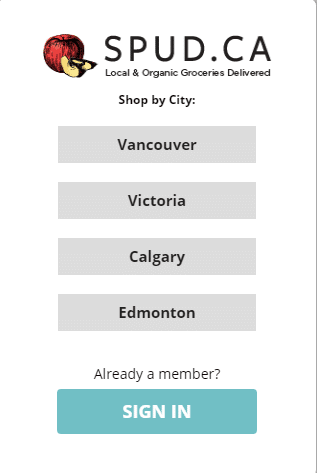 Calling SPUD's Customer Service
Do you want to get in touch with SPUD ASAP?
There are loads of reasons why you'd wish to talk to customer support. From arranging deliveries, asking for ingredients to becoming their supplier―sometimes humane contact is necessary. That's because a website can't really answer all those burning questions. SPUD understands your needs and delivers it by opening up landlines at each of its regional headquarters.
Here's the phone number for each region:
Vancouver: 604-215-7783
Edmonton:1-866-857-7783
Calgary: 1-866-857-7783
Victoria: 250-383-7969
Themultiple landlines allow you to connect with the right customer service provider on the first call. This prevents hang ups and delays during emergencies.
Connecting via Email
Do you want to pitch in a new idea? Or maybe contact them regarding an on-going issue?
Then contacting the team via email is the best option. The format is suitable for lengthy detailed inquiries about anything related to SPUD. You may also attach media files and documents to elaborate the issue if it's necessary.
The customer service providers will then get back to you in a matter of a few days. The response time varies depending on the situation.
Here's an overview of their email addresses:
Vancouver: vancouver@spud.ca
Edmonton:edmonton@spud.ca
Calgary: calgary@spud.ca
Victoria: vanisland@spud.ca
Similar to the phone numbers, SPUD has city-specific email accounts. This filtration is an efficient way to deal with issues regarding each region. It also optimizes the follow-up process.
FAQs and Operations

Do you want to know how SPUD operates?
They give you a brief overview on their official website's How It Works page. The seamless three-step process gives you an idea on what you must do after you sign up. However, visual aids don't always answer all our questions. Do they?
That's why the company has also put a detailed FAQ page. After you land on the page, you'll see a proper list of frequently asked questionsready for you.
The self-help guide features:
General FAQs
Delivery Issues
Delivery Bins and Boxes
Express Orders
Basically, a speedy skim of this list will let you know everything about the company and its operations. And if you still need more details. Then you can always send in your query with the help of all the contact information shared in this post.
Being Social: SPUD Canada's Social Media Channels
What's SPUD up to?
Find the answer to your question with the help of its social media accounts. SPUD's social media strategy is simple. It's all about giving you the latest scoop on the new ventures and fresh food campaigns
They also keep an eye out for customers who have a complaint. So feel free to share your story and send in queries in the comment section. Or you can send them a direct message anytime you want. Someone from SPUD's customer support will drop a line within a day or two.
You can connect with SPUD on:
Bonus: SPUD has set up a separate Instagram page for residents of Calgary and Edmonton.
Other Customer Service Options
Location Specific
Does SPUD deliver near you?
SPUD Canada is presently operating in four of the main regions of the country. And if your location falls in those zones, then they'll probably be there. To make matters easier for its client's, the company's whole website is location-specific.
What does that mean? It means that a little ask box will pop up on your screen every time visit the official website. It'll ask your location and then direct you to the website created for your region. This nifty allows you to 'shop by the city'.
Then you can head over to the Delivery Area Page to check out if the grocers deliver there. Once you land on the page, you can search for your location with the help of the map. Or use the search bar for the map by typing in your address.
Stay Updated
Need to stay in the loop?
SPUD Canada is always coming up with some innovative way to take over the organic food movement. That's why their newsletters are super interesting to read. Then there are all those deals, discounts and sales that one doesn't want to miss out on. Basically, your email subscriptions are the best way to get the 411 on all things SPUD.
Let's Sum It Up…
On the whole, SPUD Canada provides an exceptional customer service due to its filtered strategy. This ensures that the residents of each region get through to them without any issues. Plus, by covering all social and general modes of communication― they've taken customer support to the next level.