Launched in 2011, Snapchat revolutionized the way users shared content with their friends. The platform allowed users to share 20 second video bites or "snaps" that only last for 24 hours. The collection of snaps compiles a story that people in their list can view.
Based on helping people improve people to people photo sharing, the platform became a success to the point that Facebook and Instagram copied the platform's unique feature. However, there's no denying that Snapchat introduced the viewer-first perspective to social media and made a mobile first approach.
Snapchat has also tapped into the VR and augmented reality area with their interactive stickers, filters and other features. The popularity of the platform is evident in the fact that the site has over 187 million active users daily.
Snapchat's Customer Support Services
Over time, Snapchat has developed customer support services that focus on helping new and old users understand the platform completely. The new features that it adds can get complicated. Luckily, Snapchat has a detailed customer support system in place.
In fact, the Snapchat community was designed to help users who are facing problems with their Snapchat accounts or other areas. Their main focus has always been on enhancing the average user experience. This fact is apparent to see in overall quality of their customer support services.
So, if you need help reaching Snapchat's customer support services you'll see that they have all the answers available for you. To help you out, we're going to take a closer look at how you can get in touch with Snapchat easily.

Search for Your Issue
Going to the Snapchat website will show you that there's a dedicated section for Support. You will find it in the Community heading on their website. This will help you learn about your issues as well as join Snapchat's community and understand the various rules and regulations that they impose. By taking a look at their community guidelines, you can also understand how to use the app properly within the given guidelines.
You can also find the issue to your problem easily with the help of their dedicated search bar. This is located at the top of their Snap Support Page. All you have to do is type your issue and Snapchat will offer you relevant results. If you're looking for a quick fix to your problem, it's a good idea to search for it here.
Pick From the Popular Topics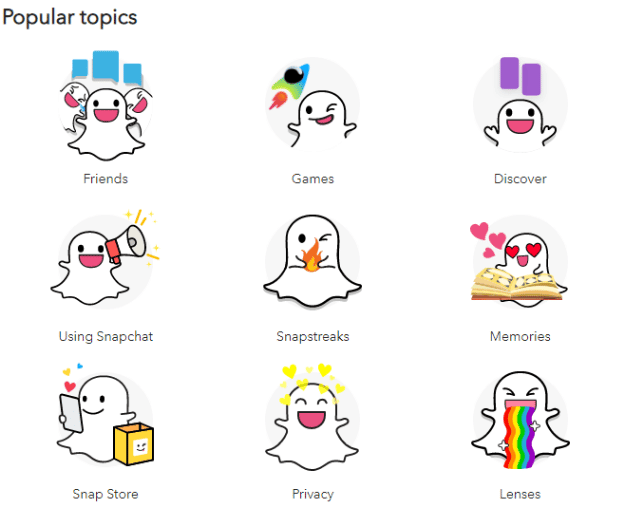 If you already know what area you are having an issue with, you can take a look at their Popular Topics menu. This menu offers solutions relating to various areas of Snapchat including:
You can learn about everything you need when you click on them. If you still need more information, then it's time to head over to their FAQ section.
A Very Detailed FAQ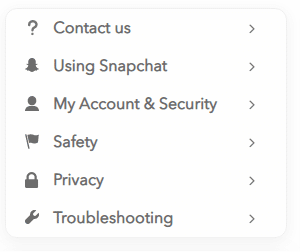 The Snapchat FAQ section is housed in their Support page as well. In this case, you get to pick from a small menu. This menu gives you access to a dedicated page that helps you learn more about the problem that you are facing. It's simple to use and extremely extensive and detailed.
The following are the different areas that you can learn about on the Snapchat FAQ page:
Contact Us – Got a question that needs to be answered urgently? Get in touch with Snapchat here.
Using Snapchat – Get a small overview of all of Snapchat's services and features here.
My Account & Security –Account and security give you a closer look at all the problems you could have and what you can do.
Safety – Worried about certain areas of your Snapchat account? Find out more about it here.
Privacy – Snapchat takes your privacy seriously and if there are any concerns, this is the area where you can learn more.
Troubleshooting – Facing issues with the Snapchat app? Find the solution to your problems here.
File a Contact Complaint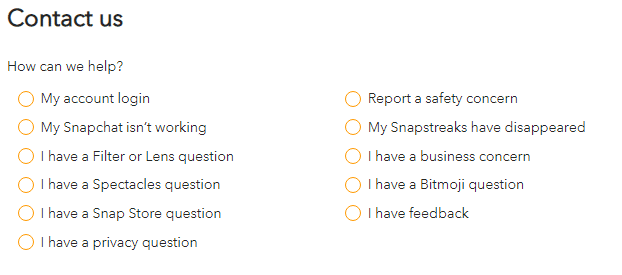 Do you really need to get in touch from a representative of Snapchat? You can file an online complaint in the Contact us Section. Snapchat's customer support services are completely automated and you can expect to get a response within 24 hours.
You can either go to the site and contact them or use their in-app reporting system to flag the issue and get a response from the team.
Can I Call Snapchat's Customer Support Services?
Unfortunately, Snapchat does not have a dedicated phone line. This means that you can only reach them online through a complaint form. There is no phone number available for Snapchat's customer support services.
Follow Snapchat on Social Media
If you need help faster, you can also get in touch with Snapchat by following them on Twitter. Their Twitter is dedicated to their customer support services and they're known to respond quickly. So, if you're not having any luck through their website, just send them a Tweet.