Shopify Incorporation is a multinational e-commerce public limited company listed on the Toronto Stock Exchange.
It was founded in 2004 when three peers attempted to open an online store for snowboarding equipment, called "Snowdevil" and were dissatisfied with the existing e-commerce products on the market.
As a result of this, in June 2006, they launched Shopify. The company is headquartered in Ottawa, Ontario, Canada.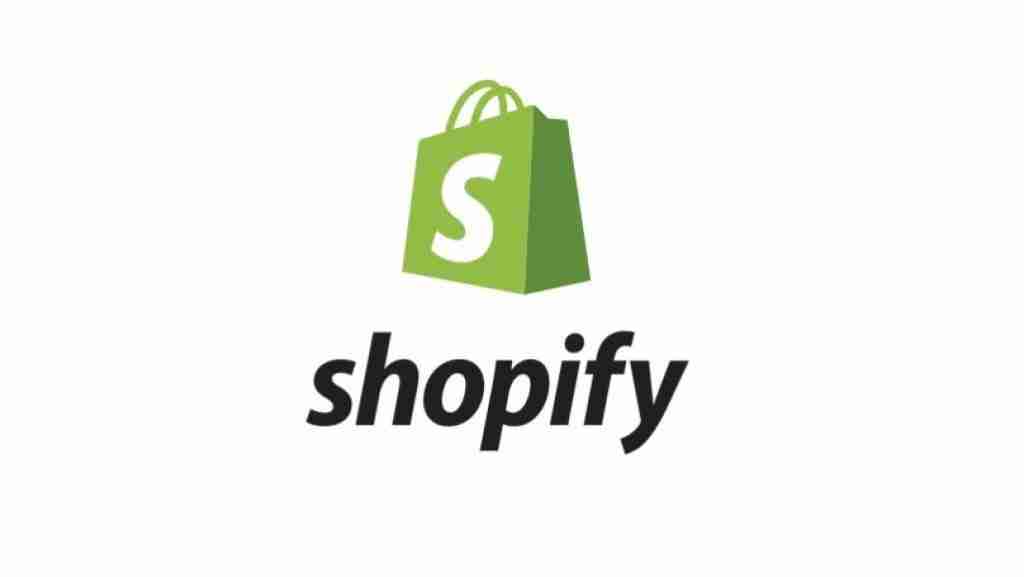 Shopify's mission is: "Making commerce better for everyone. We help people achieve independence by making it easier to start, run, and grow a business. We believe the future of commerce has more voices, not fewer, so we're reducing the barriers to business ownership to make commerce better for everyone."
Shopify had 5 employees when it first began. Today, it has around 5,000 employees across the globe and around 1,000,000 businesses are powered by the company.
Businesses on Shopify contributed $319 billion in economic activity all around the world from 2016 up until 2019.
Shopify offers various activities to sellers who use the platform like marketing, payments and shipping and customer engagement tools to make processes easier, especially for small businesses.
In 2010, Shopify also launched its first mobile application on the Apple App Store.
Shopify released its enterprise solution called "Shopify Plus" in February 2014 for large e-commerce businesses with access to added features and support.
How to Get in Touch with Shopify Customer Support
Shopify's Award-Winning Customer Support
Shopify claims to have 'award-winning' customer support services that are open 24/7 to help customers get support before, during and after their Shopify trial.
To get faster support from Shopify, you need to create a Shopify account. Shopify also offers support for customers who shop from any Shopify-powered business.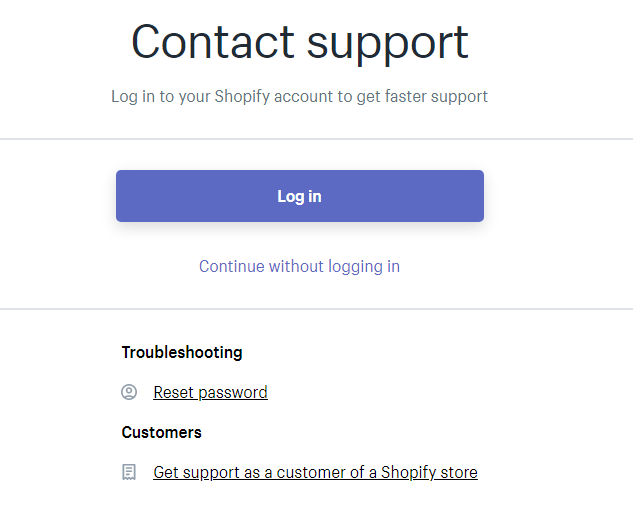 If you want to get support from Shopify without creating an account, you can also do so by clicking 'continue without logging in.' It redirects you to a page that has a search bar where you can ask about a topic or look for a resource.
Shopify also provides a Help Center service, where one can search for the information they require amongst the various resources that the company provides.

Customer Support During Covid-19
The current Covid-19 pandemic has proven to be tough for many companies as they are struggling to maintain high levels of customer satisfaction.
Shopify has been committed to providing the best customer service even during the unsettling times of this pandemic.
It has developed a Covid-19 discussion forum that allows anyone to get in touch with small business owners and provide community support.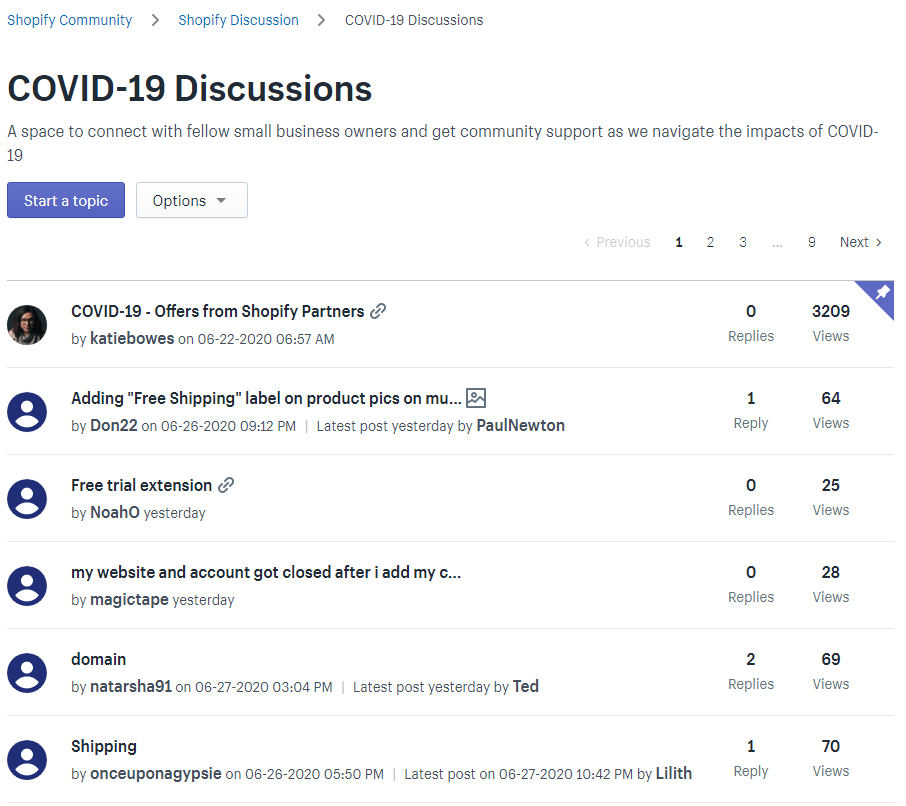 On the Shopify homepage, there is a pop-up bar at the top that redirects users to a webpage dedicated solely to Covid-19 and how the company is addressing its impact.
It includes World News about the pandemic, most recent updates and advice for independent businesses where they can get the answers they are looking for by simply providing their email.
Shopify Community – Discussion Forum
A community that is built by a brand gives a sense of belonging to its customers and helps in increasing customer loyalty and satisfaction.
Shopify has a 'Shopify Community' with around 680,000 members. These include retailers, business owners, their customers and other parties.
This forum provides discussion on various topics and gives a chance to business owners to interact with their customers.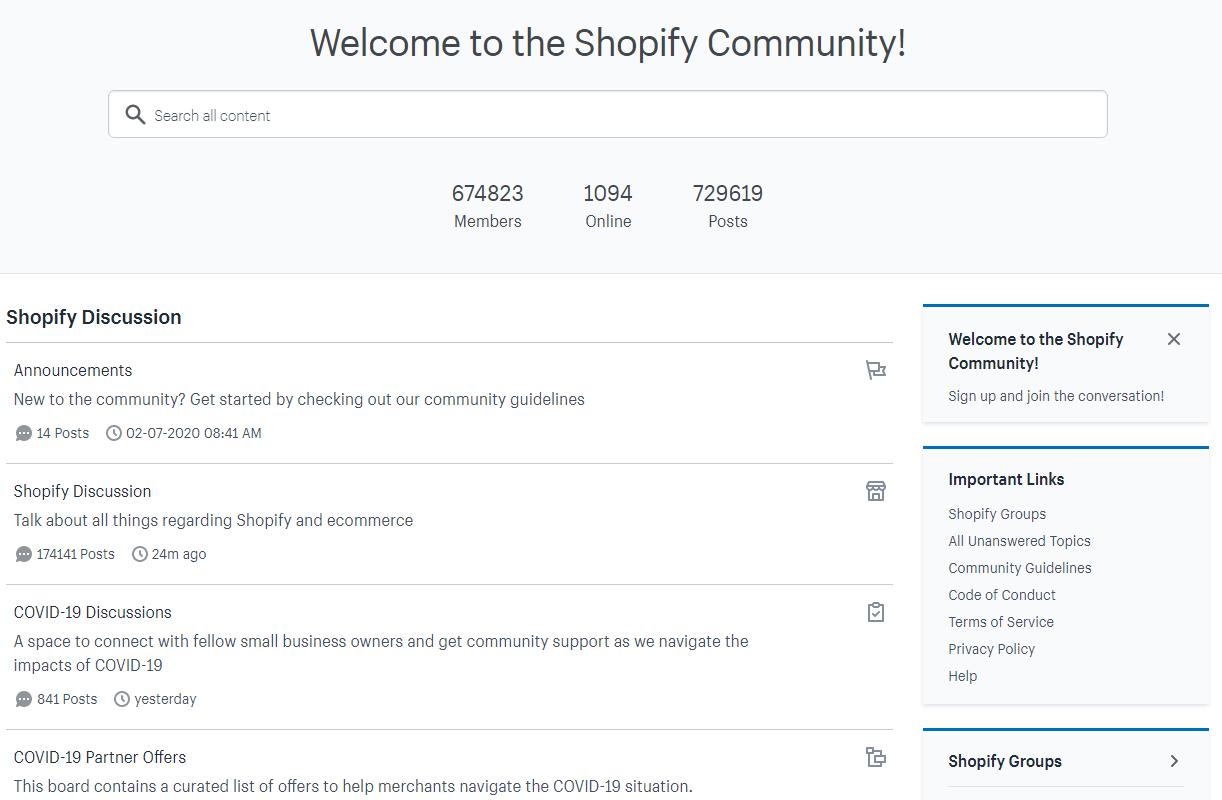 Subscription
Shopify also provides an option for its customers to subscribe to the company to get various updates, newsletters, handpicked advice, free tools and insights from the market.
All one needs to do is provide an email address. This technique is called Email Marketing and is greatly popular amongst brands that aim to provide exceptional customer services.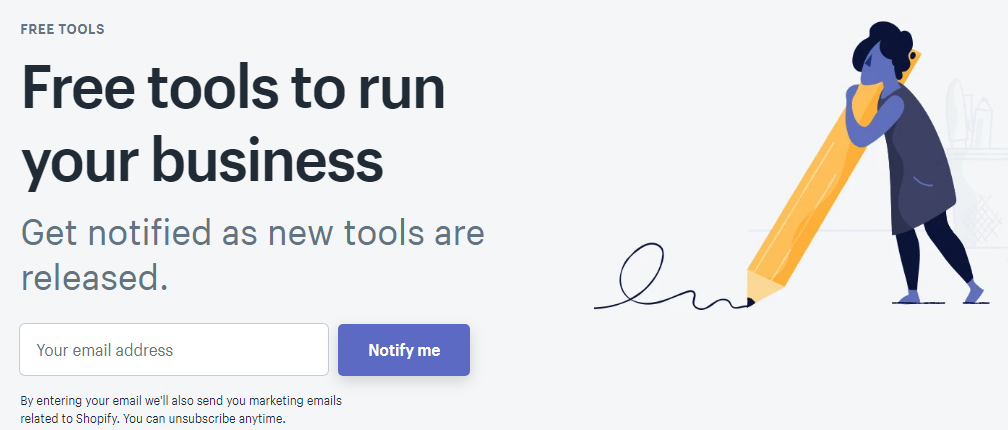 Social Media Support
Shopify has an extensive social media following and provides a platform for business owners and customers to reach out to the company and interact with each other.
Shopify aims to create an interactive environment for all the stakeholders using different social media platforms like Facebook, Twitter, Instagram, Youtube, LinkedIn and Pinterest.
All links to Shopify's social media pages are given at the bottom of the webpage on the website in the form of icons containing the social media platform's logo.
Shopify Changelog
Shopify Changelog shows the latest updates by the brand. Users are provided the option to choose a category with the help of a filter and the search shows updates only for the selected topic.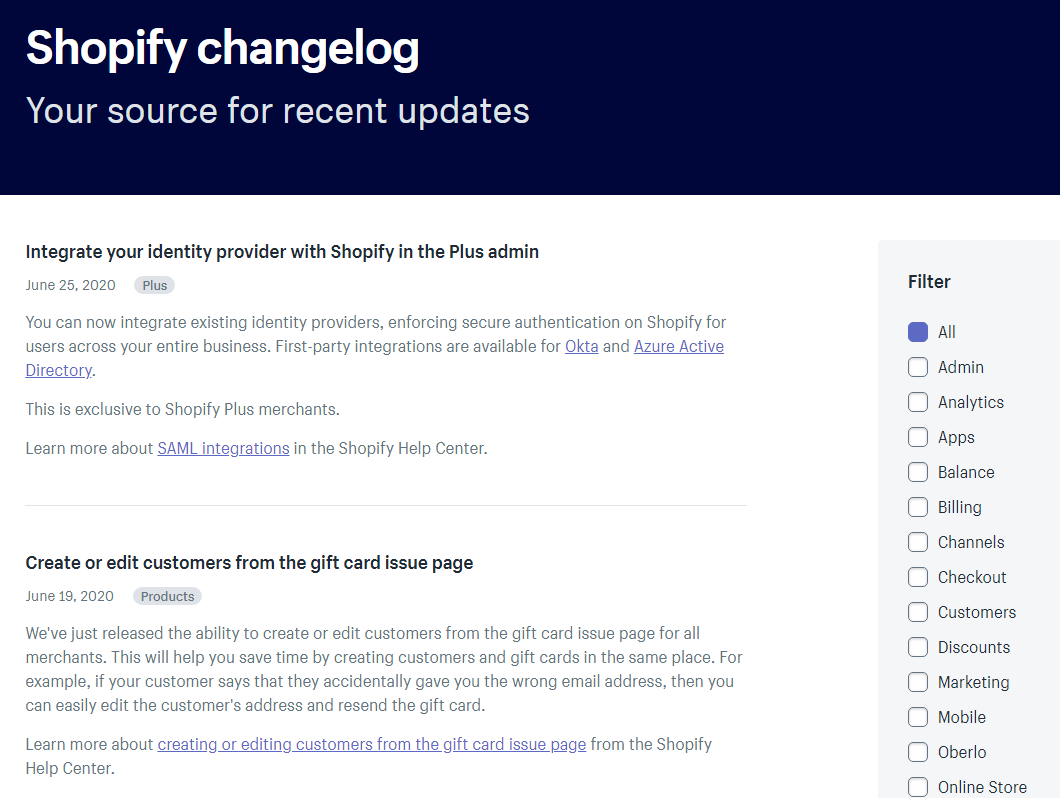 Signing Up for Shopify
Signing up for Shopify has never been easier.
There are numerous ways to avail the brand's services and sign up. With social media, it has become simpler than ever to get the information required before you dive into business with Shopify.
Everything you are looking for is available on Shopify's website and can be accessed anytime.
Whether you send them a message, sign up for their subscription, or contact them via social media, you can expect a prompt reply from Shopify.