When you think Sharp, the very first thing that comes to mind would be a pocket calculator or similar appliance. After all, Sharp has been making excellent electronic appliances and related products since their very inception.
Sharp Electronics Corporation aims to create products that support a healthy balance between work and home time. Keeping this aim in mind, Sharp has ever been at the forefront of using unique and innovative technology to contribute to the culture and the welfare of people all over the world.
The company was founded 1912 and its first product was a first of its kind sharp mechanical pencil that took the world by storm. In fact, the name of the company as well as its trademark are directly derived from this product.
Getting in Touch with Sharp Customer Support and Services
Sharp has a very good support system in place, and they place a lot of emphasis on value addition over all other considerations in order to keep their customers happy. This can be seen in the way they have designed their customer support system.  
There are a lot of resources to choose from when you want to get in touch with them. Apart from that, they also offer plenty of information such as manuals, drivers, software, and more on the various Sharp models.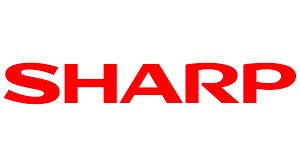 Sharp believes in an 'all services under one room' concept. This translates into maximum convenience as you can easily find everything in one place. You can search for a specific product or can go through the section to fix any problems you might be facing with your Sharp products. The navigation is fairly straightforward, and you will be able find whatever it is that you are looking for right on the homepage.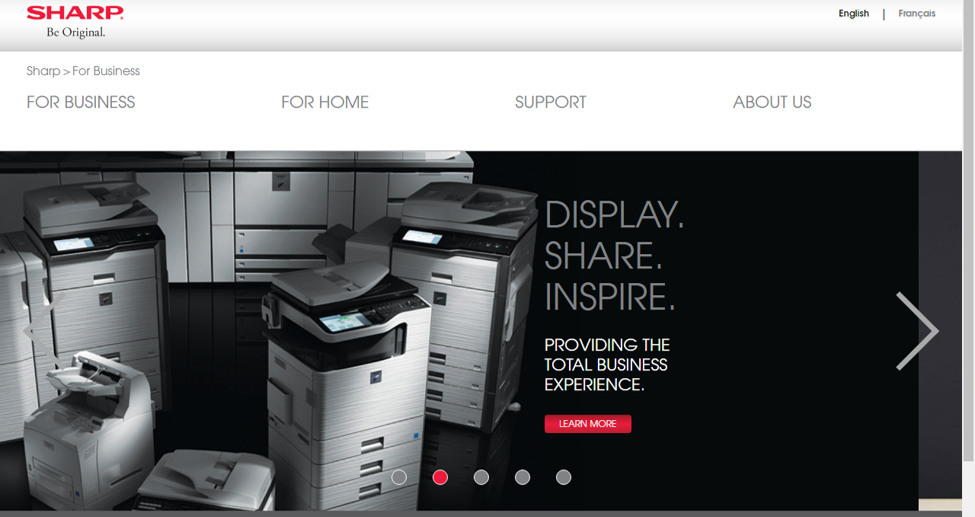 Product Downloads Feature
This is a very handy feature that gives you instant access to all of their new and old product information. For example, if you want the operating manual for an older model electronic calculator or printer, you  will be able to download it right here.  
Since Sharp is an ecofriendly company, they want to minimize their carbon footprint as much as possible. Keeping this goal in mind, they have an entire segment dedicated to the recycling of their toners and other products.  
If you have any questions about how their extensive recycling program works, you can simply contact them at this phone number 1-800-56-SHARP.
Sharp's Business to Business Customer Support Portal
Sharp has created an entirely separate portal for the support of their business to business (B2B) customers. This can that can be accessed via a login ID and password here.  
If you are a business customer and you want to bulk order Sharp office products, you can simply sign up by filling the required forms to avail great discounts and personalized service!
Sharp store locator
Sharp's official website does not have an e-commerce portal. You can check their many products but in order to order what you want, you will have to head over to the where to buy products section.
Sharp has a very extensive network of authorized retailers and resellers that are available all over Canada. In fact, so vast is this network that they did not even list their many outlets on their website!
However, this certainly does not mean that you can't figure out where to buy their amazing products. In fact, there is a whole section dedicated to find the closest outlet near you.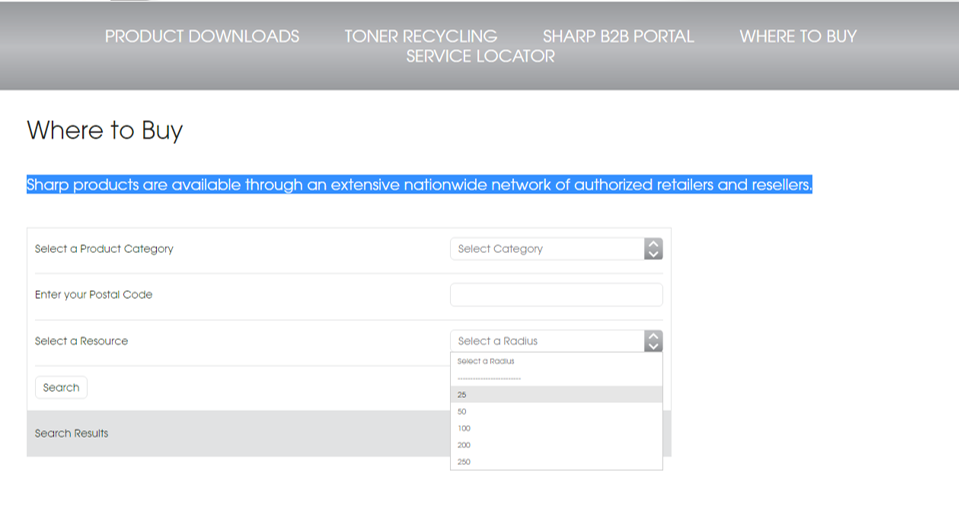 As you can see here, once you select your desired product, it will guide you to the nearest store location down to the last 50 meters.
Sharp also has a similar form for their service center locations. This way, you won't have to worry about taking or sending your Sharp appliance very far for repairs or replacement. That is true convenience right there!
How to Get in Touch with Sharp
The Contact Us section is divided into email and phone subsections. Clicking on it will enable you to get in touch with the company via three different ways:
Call support
When you need answers urgently, there is no better way to communicate than to call up the relevant person directly.
Sharp has streamlined its contact services by creating separate sections for its business clients and its home customers.
The B2B client's division has its own dedicated lines:
The  Service and Consumables line caters to all product related enquiries: 1-866-437-4277
If you want to get in touch with their management you can contact them on their main line: (905) 890-2100
They even have a toll-free number for added convenience: (800) 567-4277
This does not mean that they are ignoring their home customer market since they also have dedicated phone lines for them. 
The toll free number for home appliance related questions is: (877) 278-6709 and the mainline number is (905) 568-7140.
Connecting Via Email
If you prefer to simply write down your problems you can send an email to their service inquiries address sharpdirect@sharpsec.com
Sharp is open for business from 8:30 a.m. till 5:00 p.m. EST and they maintain a Monday to Friday work week
Social Media Presence
The site has a separate section dedicated to their social media presence:
YouTube
Their YouTube channel has multiple channels, playlists, and videos to impart education and information to their audience.
LinkedIn
Their LinkedIn profile has plenty of details regarding the number of their employees and job openings.
According to their profile, their main head office is located at
335 Britannia Road East
Mississauga, Ontario
L4Z 1W9
Their corporate office, instead, is located at
2471 Rue St. Patrick
Montreal, Ontario
H3K 1B3
The Linkedin page contains information about all of their current employees, and it is regularly updated every few days.
Twitter
Their Twitter profile is quite recent, and it has only a few dozen followers. They post an average of three times a week and most of their posts are related to their current brand activation events.
Conclusion
If you want state of the art electronic appliances and unmatched customer support services, you are in luck because you don't need to look for anything other than Sharp!