One of the world's biggest omni-retail stores – Sephora is known for offering its customers an unrivaled beauty shopping experience. With over 2,600 stores in more than 30 countries worldwide, the retail giant inspires everyone to feel beautiful. Their all-inclusive motto, "We Belong to Something Beautiful" perfectly captures their unbiased, experiential retail that has stood the test of time.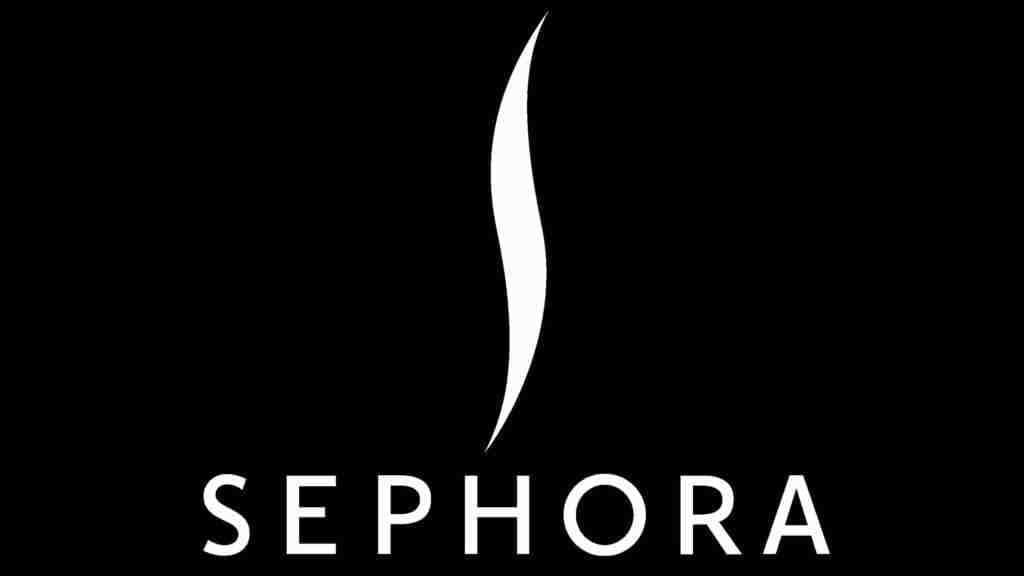 Owned by the world's leading luxury goods group –LVMH Moët Hennessy Louis Vuitton – Sephora was founded in 1970 by Dominique Mandonnaud. While France is its place of origin, Sephora has grown to become a world-class retail store for high-end classics, emerging favorites, and trusted indie brands. Keeping up the entrepreneurial spirit, it has launched its own treasure trove of beauty goodies under the name of Sephora collection.
Sephora set its foothold in the US market in 1999 and has grown to be a prestigious beauty site – both as a store and online. Some of the best-known beauty bloggers, make-up experts, and fashion gurus have been sponsored by Sephora. Giving talented individuals a chance to launch their beauty lines and interact with a rich community, Sephora is more than just a retail store. It is a one-stop destination for beauty lovers to be inspired, find answers to their questions, and mingle with brilliantly talented beauty experts.
With a number of awards and accolades under its belt, Sephora has remained America's Best Employer in 2018 and 2019. Recognized by Forbes, as innovative, fashion-forward, and socially conscious, Sephora is a powerful emblem of inclusive beauty and the importance of social impact.
Sephora's Customer Support Services
With a motto that hinges on the power of "WE", there's no question that Sephora has one of the best customer care services. Stepping beyond the physical boundaries of a retail store, it offers its dedicated customers a "Beauty Insider Community" and strong customer support. The team believes that customer care starts by making people feel like they belong and what they feel matters.
One of the World's Largest Beauty Forums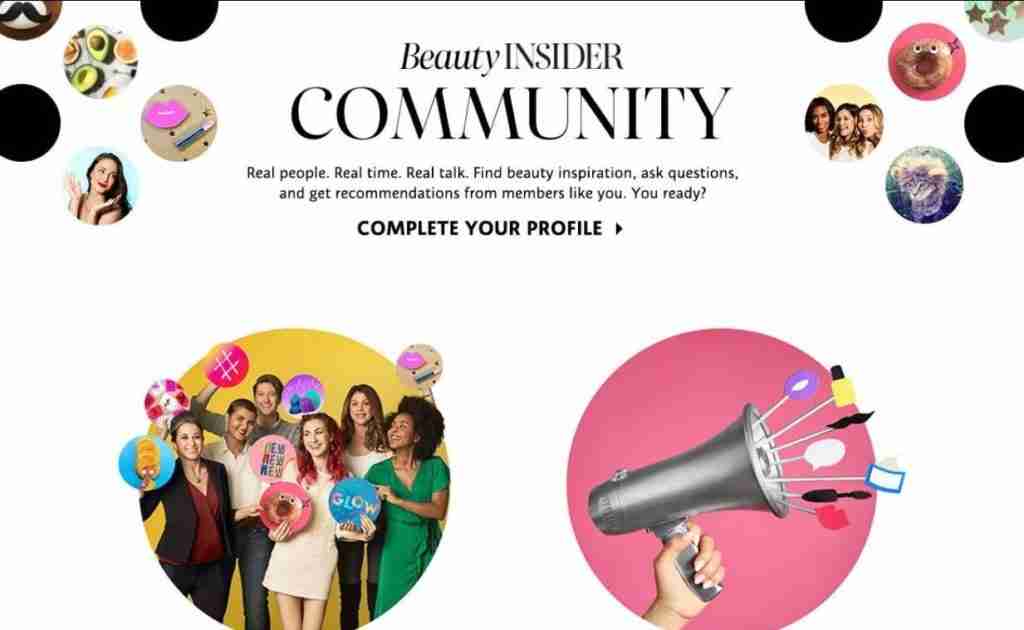 The "Beauty Insider Community" is a global beauty forum that invites fashionable tastemakers, bloggers, entrepreneurs, and all beauty lovers to feel inspired and engage in meaningful discussions. Anyone with a question, concern, or query can bring it up on this forum that instantly connects them to prestigious beauty experts, fashion gurus, and bloggers on the scene.
It's a vibrant, artsy, and thriving community that invites people from all parts of the world to connect, engage, and unite for their love of beauty. All your questions related to make-up and skincare will be answered immediately.
You can follow topics you love, connect with like-minded beauty lovers, keep up with the latest scoops, and chat with high-end brands. They also have an exclusive portal that lets you in on all the coolest events happening in your area. With a few simple steps on their website, you can complete your profile and become a part of this thriving coterie.
Find a Sephora
Find a Sephora is a quick and easy feature on their website to find the nearest store in your area. By using Google Satellite, the map can easily detect your area and instantly connect you to brand launches and free services by Sephora. The website also displays a complete "store list" in North America with accurate maps to help you reach your destination without any problem.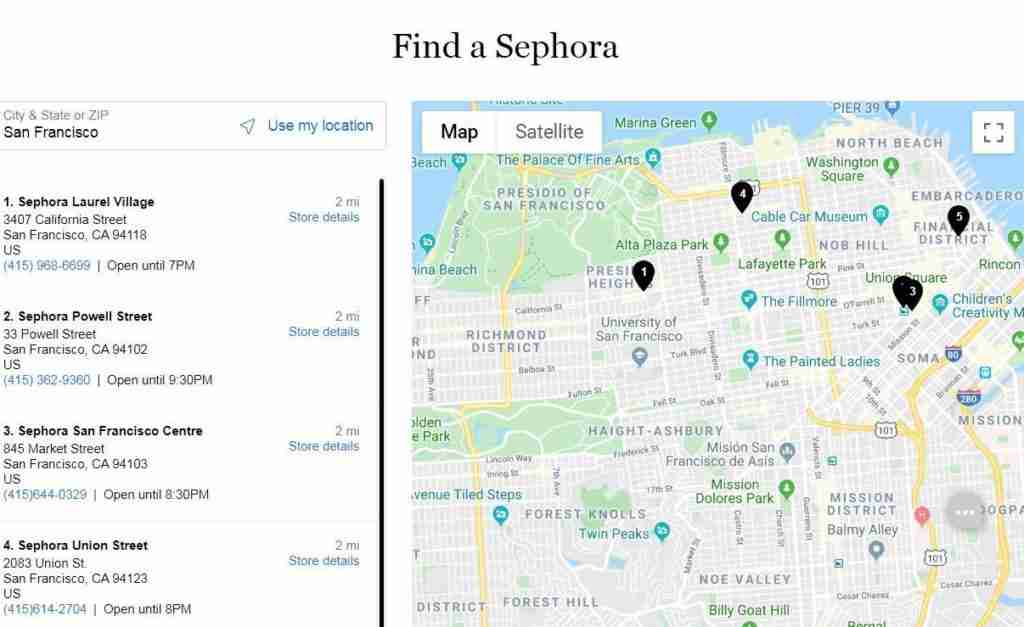 Live Chat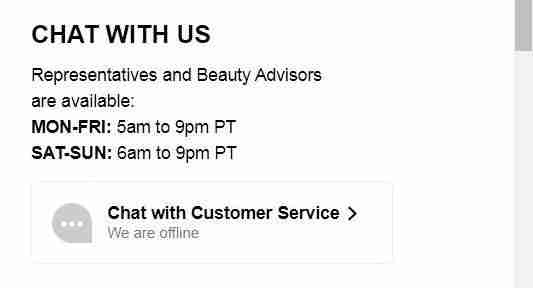 Sephora has a live chat feature that allows you to consult beauty advisors and the store's local representatives. You can set an appointment with your preferred beauty guru and ask all your questions. The local representatives reply to all concerns and also give out make-up tips.
Their chat timings are Mon-Fri from 5 am-9 pm PT and 6 am-9 pm on Sat-Sun. As long as you're chatting at the designated time, you will always find a representative for your concerns and queries.
Call Support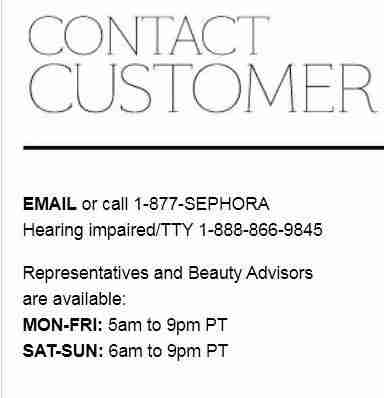 Sephora is committed to prompt call support. You can contact them on their nation-wide number: 1-877-SEPHORA. While this is their standard hotline, the website provides a helpline for each store in North America. Quick on call, the helpline makes it incredibly easy to talk to a local representative or beauty advisor for your query. The timings are the same as for the live chat feature.
E-mail Service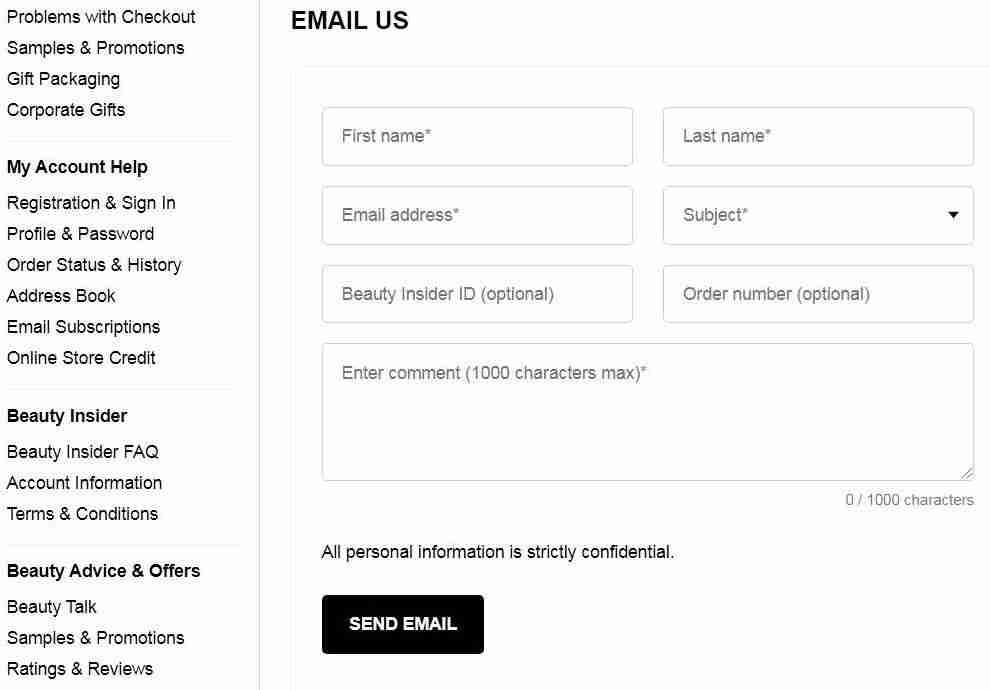 Customers who feel more comfortable dropping an E-mail can benefit from their "E-mail Us" portal. The page asks for your full name, beauty insider ID, E-mail, and subject of concern. You can then ask them all your questions and press send. It takes around 12-24 hours for a representative to get back to you.
Social Media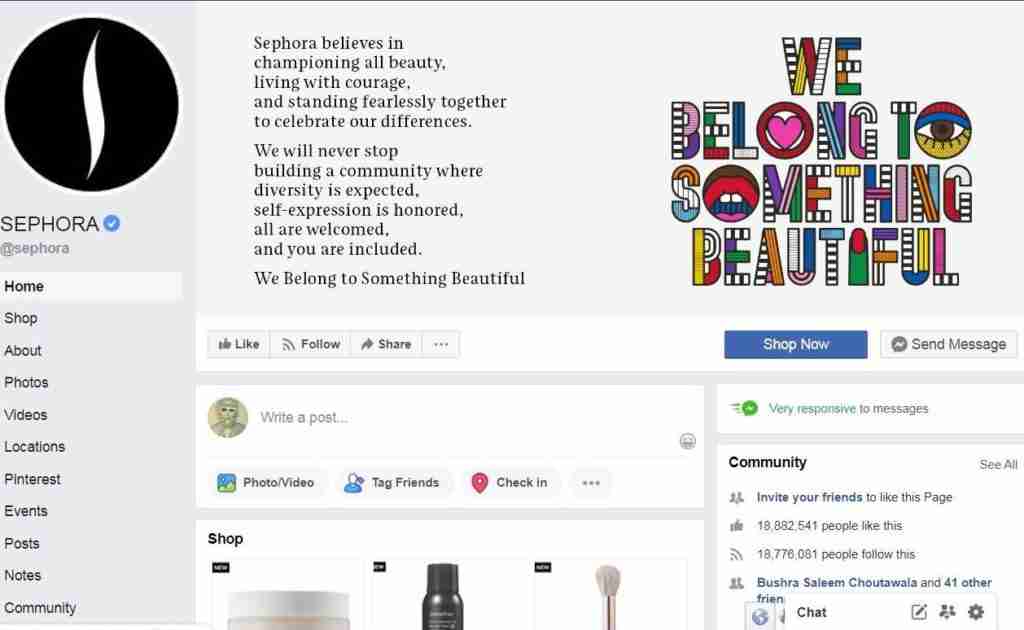 Sephora has managed to nurture such a huge community through its social media pages. You can find them on Twitter, YouTube, Pinterest, Instagram, and Facebook.
Their Instagram community stands out for the newest scoop on high-end brands, skin-care favorites, and make-up launches. Their YouTube channel is home to some of the most diverse beauty bloggers who engage in passionate beauty discussions. Your concern can be voiced easily on any of these platforms, and a beauty advisor will get back to you in no time.
Help and FAQs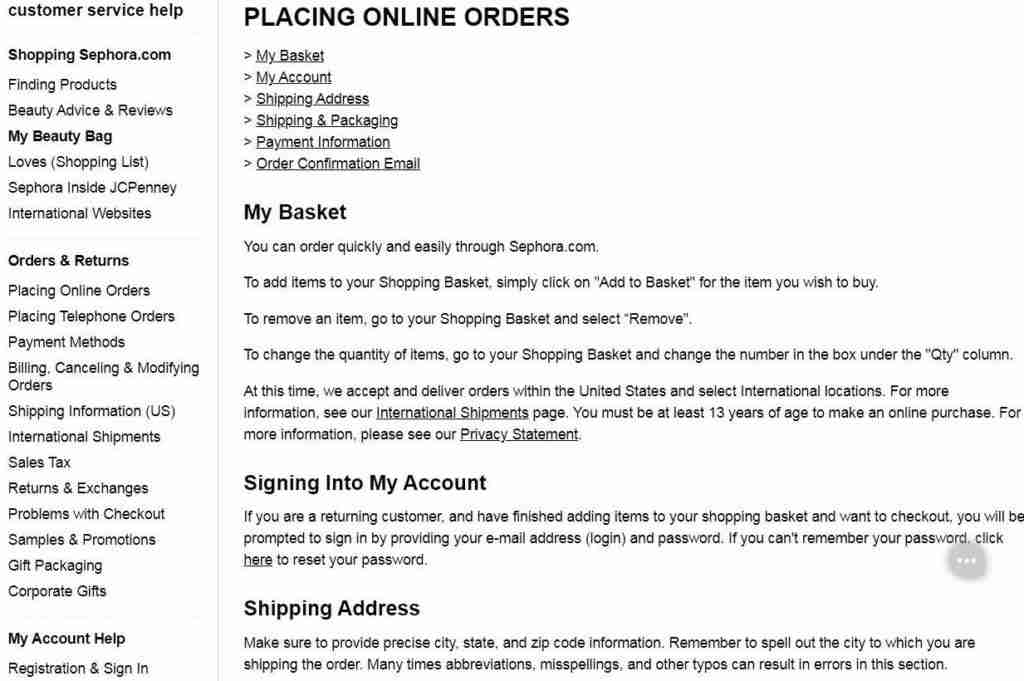 Lastly, Sephora also offers a detailed page where it helps out users with FAQs on how to place orders, tracking shipments, payments, and making an online account. You can easily find step-by-step guide that familiarizes you with the way the online store works. This makes shopping for beauty products a total breeze!
Stay In Touch with Sephora
Sephora's powerful and positive presence is a part of all our lives. With professional advisors and representatives that are committed to excellent customer support, Sephora is your one-stop solution for all things beautiful. Whether you're using their social media handles, E-mail, or hotline, you can always expect prompt support.