Save-On-Foods is a chain of family-owned supermarkets that operates in Western Canada.
Headquartered in Langley, the chain has around 177 stores across British Columbia, Alberta, Manitoba, Yukon Territory, and Saskatchewan.
Save-On-Foods has a strong e-commerce presence and a website that is solely dedicated to serving customers in the best way possible. In this blog, we will look at the customer care services that Save-On-Foods provides all across Canada.
How to Get in Touch with Save on Foods Customer Support Service
About Save-On-Foods
Founded in 1982 in British Columbia, the chain of supermarkets is owned by the Jim Pattison Group. It carries both standard and private label brands at all its outlets.
Many stores also have Starbucks Coffee kiosks, juice bars, pharmacies, and also provide nutrition and health tours. The company had more than 20,000 employees as of 2019.
Save-On-Foods Customer Care Support Services
Save-On-Foods provides support services to all its customers across Canada. There are multiple ways to reach out to the company if you have any questions and concerns or want to share general feedback.
Contact Save-On-Foods
If you want to contact Save-On-Foods, you must visit their website. Please scroll down to the bottom of their homepage.
On the bottom right, you will see a "Contact Us" quick link.
When you click on the "Contact Us" link, you will be redirected to the Save-On-Foods' "Contact Us" page.
Save-On-Foods believes in going the extra mile for their customers. They are available for you if you have any questions or want to provide feedback.
Simply contact them to speak to a customer service representative:
Their helpline is available from Monday to Thursday between 6 am and 8 pm PST, Fridays from 6 am to 6 pm PST, and on Saturdays, Sundays, and holidays from 8 am to 6 pm PST.
Additionally, you can also reach out to Save-On-Foods via email by filling a short form given on their contact page. Just provide your name, telephone, email address, city, and store along with your message and press submit to send your query or feedback across!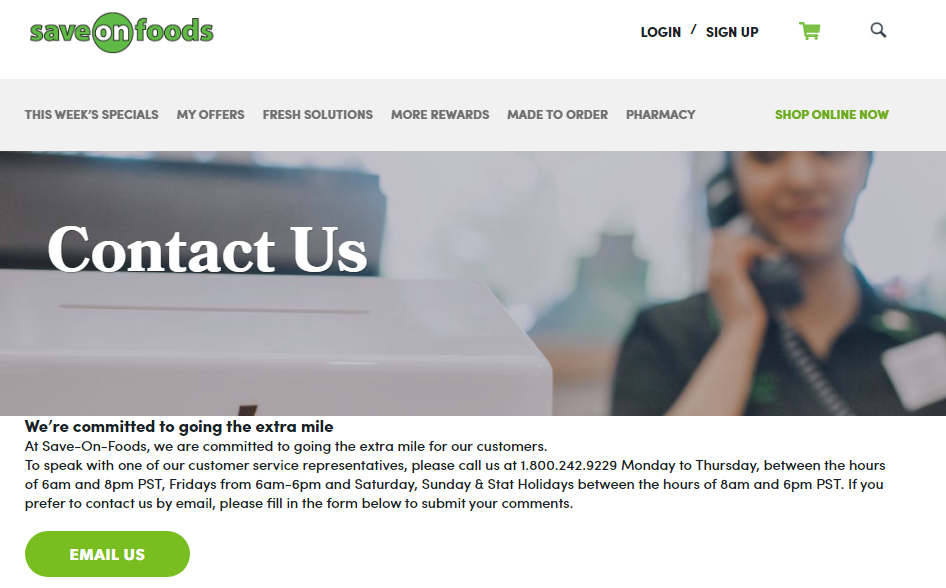 If you wish to stick to more traditional ways, you are also welcome to send your message in the mail to Save-On-Foods headquarters in Langley, Canada.
Mail your letter to the following address:
P.O Box 7200
Vancouver, BC
V6B4E4
Or send it directly to any of the following two addresses:
Save-On-Foods
19855-92A Avenue
Langley, BC
V1M 3B6
Park & Tilford
#600 – 333 Brooksbank Avenue
North Vancouver, CAN
V7J3S8
Save-On-Foods Gift Cards
Save-On-Foods has a Gift Card Program for all its customers. You can send a gift card to friends and family, use them to raise funds for local communities, or gift them to your employees and colleagues for appreciation.
To apply for a Save-On-Foods gift card or to order a new one, click on the Gift Card Program quick link at the bottom of the homepage.
It will redirect you to the page designated to the Gift Card Program. Click on "Application Form" or "Order Form," depending on your requirement, and fill in your details to be a part of the program!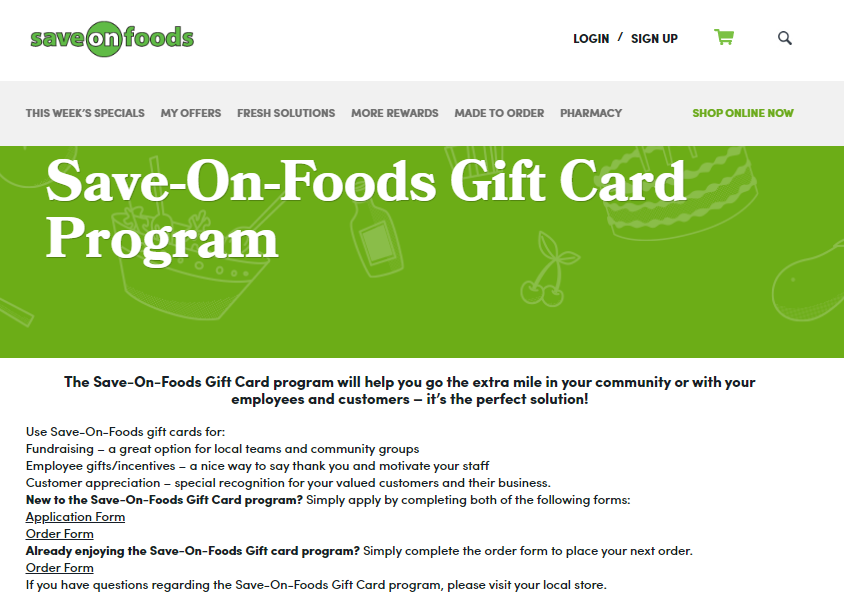 You can also check your Gift Card Balance by clicking on the quick link and entering your 16-digit card number in the dialog box after you are redirected.
Save-On-Foods Social Media Accounts
Save-On-Foods is also on Facebook, Twitter, and Pinterest!
Click on the quick links at the bottom of the homepage and get redirected to Save-On-Foods' social media accounts. You can send your queries and feedback to Save-On-Foods via their social media accounts and even leave reviews for their community!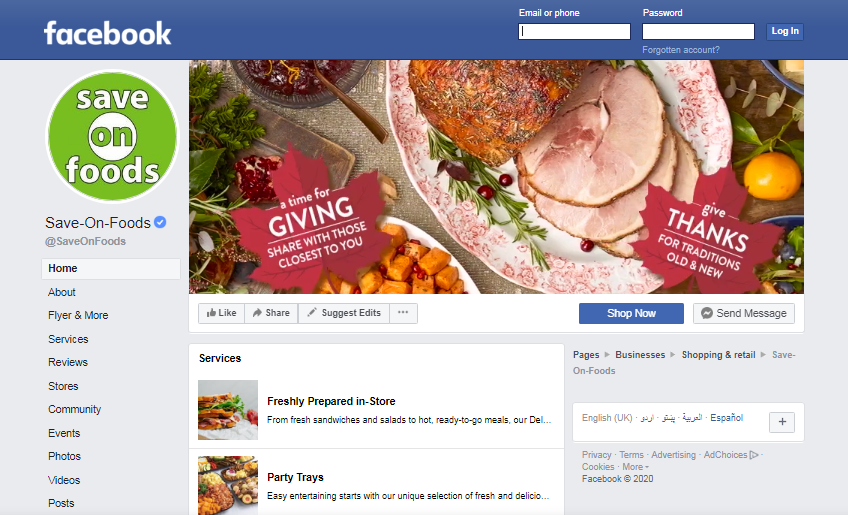 Signing-Up
Save-On-Foods also offers a membership service.
All you need to do is sign up on their website by filling out a form with all your details. Once you become a Save-On-Foods member, you will receive exclusive deals and discount offers on your email address and be the first to get news from the company! Scroll down to the bottom of the homepage and click on "Signup for an Account" to become a member today.
Save-On-Foods Store Finder
Save-On-Foods has further made its customers' lives easier by adding a Store Finder on its website. Now you can easily find the nearest Save-On-Foods store in your area!
Click on "Change Store" written in the green bar on top of the homepage. Then click on "Find a Store."
Select your province and city or enter a postal code to find a Save-On-Foods store around you. Once you make your selections, all stores near you will be displayed along with their addresses and telephone and fax numbers.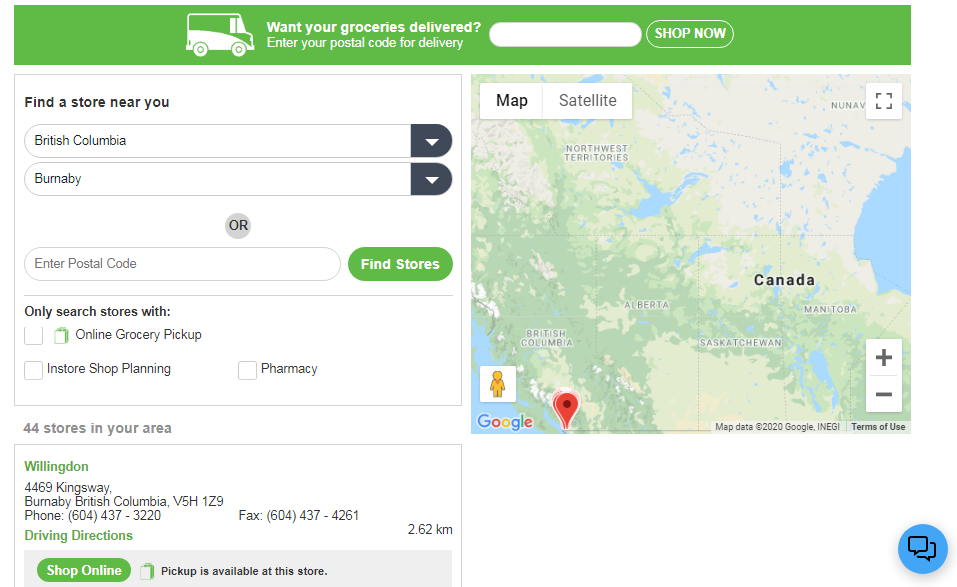 The "Find a Store" page also provides you an option to live chat with a support bot. Click on the blue chat icon at the bottom of the Store Finder page and ask any questions that you have!
Stay In Touch With Save-On-Foods!
Save-On-Foods has a very comprehensive website that you can surf through to find out all about their business and make purchases.
Avail exceptional customer service today by reaching out to the customer service team at Save-On-Foods or by contacting your nearest branch for more information.