SanDisk is one of Western Digital's (WD) most well-known brands with regard to flash memory products such as memory cards and drive readers, not to mention USB drives and solid-state drives. The brand was formally incorporated into WD back in 2016.
As of now, SanDisk's parent company WD is widely considered to be the fourth-largest manufacturer of both flash memory drives and related technology in the world.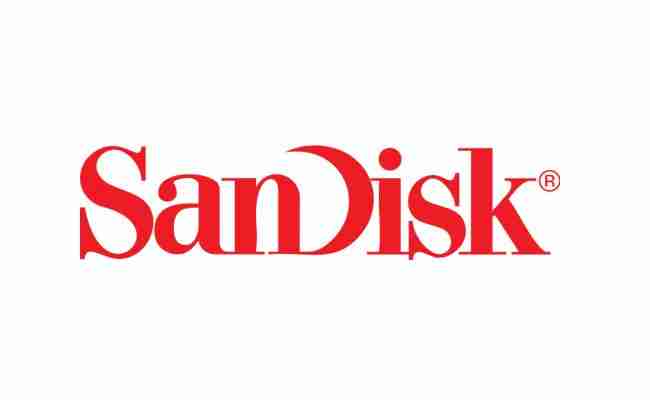 Since SanDisk is part of the Western Digital store, it is also sold under the WD banner and on the main SW website's flagship store.
The main website has the language option on the usual upper right-hand corner of the site. You can check it out on the basis of the various regions where SanDisk products are available. A total of 51 countries and their corresponding regions are available on the main website along with their respective languages.
SanDisk's Main Support Page
The support icon is prominently displayed right on top of the site and it is also divided into multiple sections where each section contains its own FAQ lists. The support page is also sub-divided on the basis of individual products.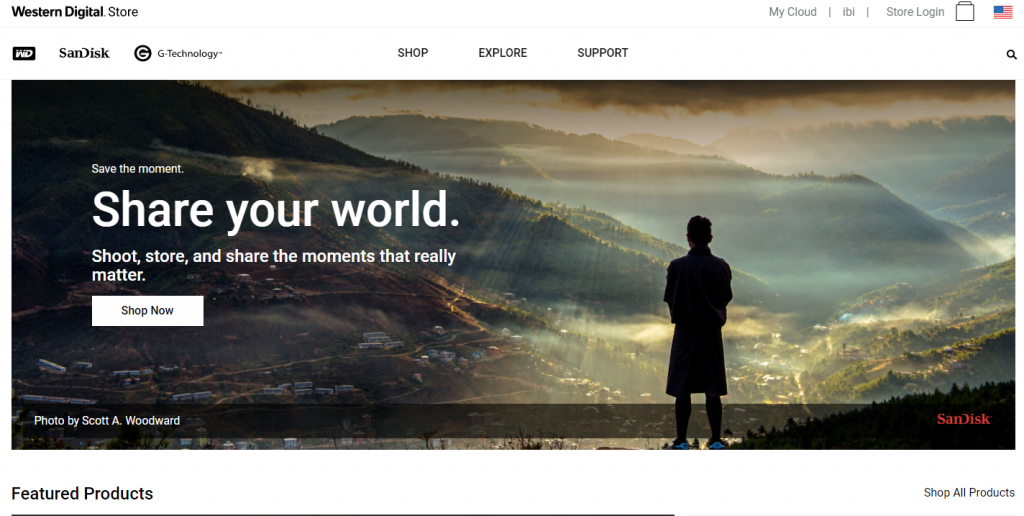 The right side of the main support page has multiple options that include the following:
Ask a Question Section
This section will lead you to a form where you will have to submit your name and contact information and the nature and scope of your query. The good people at SanDisk will get back to you as soon as they can. This section also has a document attachment option as well, in case you want to send pictures of the exact issue that you are facing.
Live Chat Option
The live chat is available only from Monday to Friday: 08:00 AM to 06:45 PM Pacific Standard Time (PST).
This option does not work on Saturdays and Sundays.
Product Registration Page
As the term implies you can easily register your SanDisk products on this page by logging into your SanDisk Account. If you don't have an account already, you can make one here.
You will have an option to click on the SanDisk free newsletter that will be sent to your mailbox. You can either accept the offer by ticking on the relevant box or not, depending on your personal preferences. This won't have any effect on the registration process.
Request a Replacement
In case, your product is under warranty and it is not working properly, you can submit an online Warranty Replacement Request (WRR) here. However, filling the form will not expressly guarantee an automatic replacement as per the terms and conditions of the Return Merchandise Authorization (RMA) policy.
Before applying for a product replacement you should read the SanDisk warranty page in detail in order to find out if your SanDisk product is covered by the warranty. You can also look for further information on the detailed SanDisk warranty replacement process here.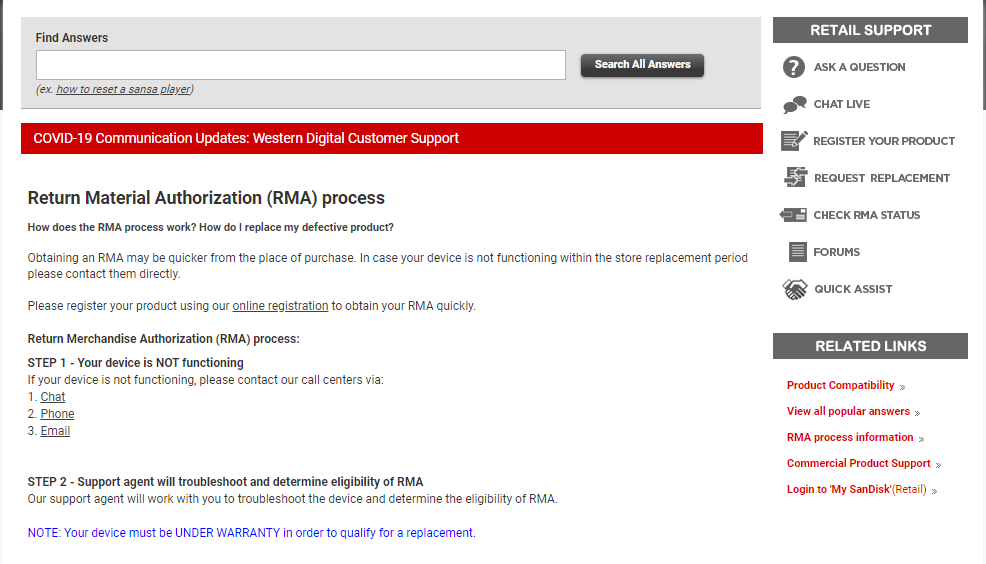 How You Can Check the Status of Your Return Materials Authorization (RMA)
Once your RMA status has been approved you will receive an email in this regard. Alternatively, you can check your RMA status by entering the number allocated to you.
Here it is pertinent to note that SanDisk will not bear any responsibility for any sort of content or data that may be present in the device that you might have returned to the company.
In case, you have any further data recovery related questions, you should check out the SSD as well as the flash drive and memory card data recovery FAQs prior to submitting your Return Merchandise Authorization (RMA) request. You should also check the product code located on your SanDisk device.
Once you have the product code you should take a few clear pictures of both the front and the back of the device along with the readable serial number and/or product code.
You should also show valid proof of purchase via a scanned or photo receipt of the purchase. In case, it is an online purchase you should take a screenshot of the receipt.
Finally, you should also check and see if your country is part of the regional support network by typing in your country name under the relevant field.
SanDisk forums
SanDisk has its very own forum section that is directly linked to the website. Here you can find all kinds of relevant information by experts in the field. Just leave a question or query and sooner or later someone will get back to you. Be sure to check in every few days to see if your question has been answered as yet.
Alternately, you can also go through the various subsections on the forum in case someone has already answered your question beforehand. In either case, it is a great way to find valuable information from first-hand users of SanDisk products.
The Quick Assist Section
The quick assist section will give you instant access to the most common issues that you might face when you install your SanDisk device. All of the products in this section such as SSD, cards, readers, portable USB devices and other products have their own FAQ sections based on their respective product models.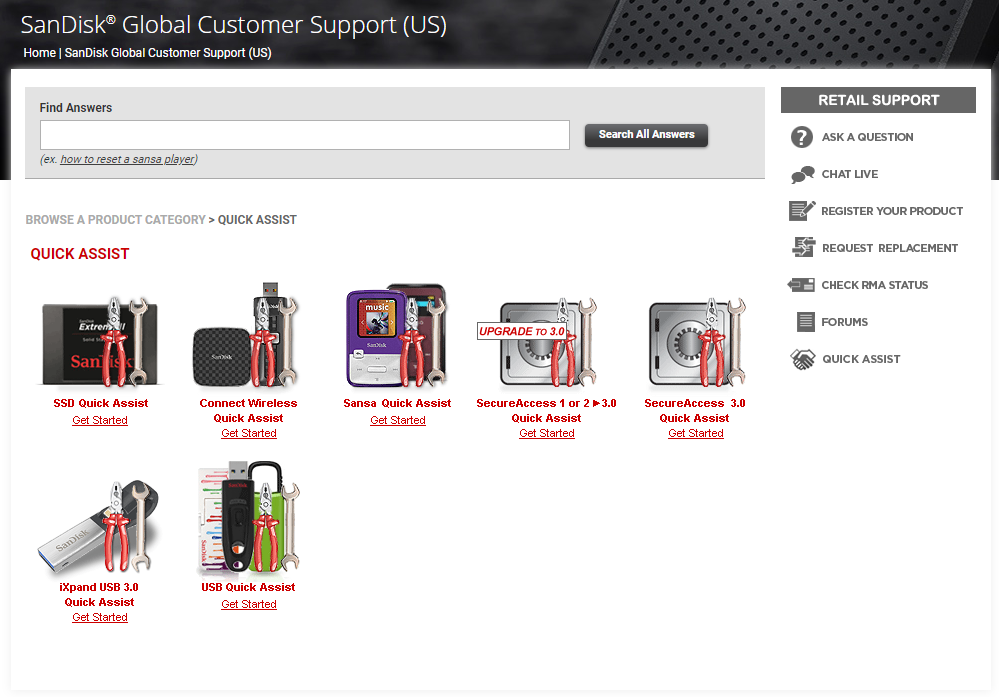 SanDisk on Social Media
Facebook
SanDisk's Facebook page is their most active social media presence and it is constantly updated with new deals and sales. It offers links to new products as well as their specs.
There is plenty of video content on the site with regard to how SanDisk products are helping to make this world a better place. There is a message section on the main FB page where you can type in your queries and they will reply within 24 hours at most.
Twitter
Their Twitter feed is regularly updated at least a few times a day. The Twitter account is a showcase for their most cutting edge products and hottest sales. They regularly answer any queries they get via their Twitter account and refer them to their main website.
Instagram
Their Instagram feeds include all kinds of sales and new product launches. They post an average of four times a week and update their stories on a weekly basis as well.