Is RYU Canada ready to expand? One certainly wishes that it does. For now, they're still focused on America.
Respect Your Universe is an urban apparel store for sportswear. The company was launched in 2008. After which it made substantial business. But its new CEO, Marcello Leone has definitely amped up the company's profile.
Since 2014, the company has transformed itself as a cornerstone for athletic wear. The designs are now focused on engineering designs that are stylish, comfortable and easy to move in.
Unsurprisingly, the brand is being touted as the ideal uniform for fitness enthusiasts.
Do you want to contact RYU Canada? This article highlights all the communication lines open for one-on-one contact and more.
Calling RYU Customer Support
Hello, RYU Customer Support! How can we help?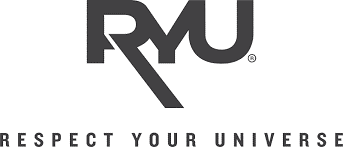 From misplaced orders, press inquiries to general questions―the crew at RYU are ready to assist you. The company knows that a simple FAQ can't always be the answer to all your problems. Neither can it assure worried customers who didn't receive their order.
That's why they've set up a special hotline for their Canadian and international clients. They've also opened up lines at the Vancouver headquarters for affiliates and partners. In this way, someone from the team can help you whenever you call.
Here's how you can reach them:
Canada: 1.888.818.3971
Headquarters: 604-235-2880
International: (604) 428.6778
When can you call? The customer service hours are from 9 am to 5 pm Pacific Standard Time. If for some reason, you're unable to reach them. They'll do their best to follow up on those missed calls within 24 hours.
Connecting via Email
Do you wish to attach some files with your query? Are you planning to approach them for a partnership?
From cold calling, customer queries to general issues― reaching the team via email is the doable method. The email format can accommodate those lengthy correspondences and media attachments. It also offers you an assurance that your complaints have been registered in a record.
RYU Canada has set up two email addresses for their prospect senders. One is used as a customer helpline. While the other one is strictly used for press and media messages. This segregation allows the team to streamline their work properly. It also speeds up the follow-up duration.
Here's an overview of their email addresses:
Customer Support: hello@ryu.com
Press Inquiries: press@ryu.com
How soon will you hear from them? The customer support providers try their best to answer your emails on the same day. But there isn't a fixed response time here.
You might get the reply in a matter of hours. Or you may have to wait for a few days.
Rest assured, your emails will get a response. The team also promises to find the best possible solution to all your RYU related problems.
Bonus: RYU Canada has store-specific email addresses too. You can learn more about that under the information on 'Location Specific' features.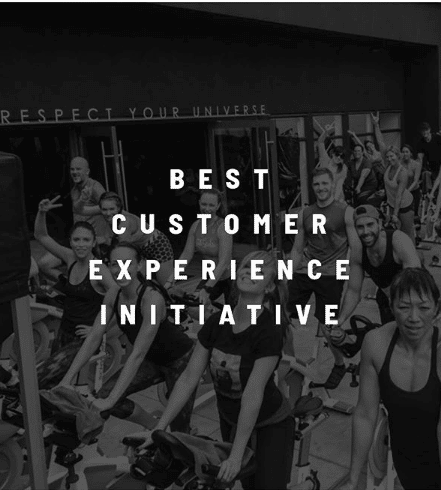 FAQs and Tracked Orders
How exactly does this apparel store operate? What's the returns and exchange policies?
Questions like these mostly fall under the frequently asked category. That's why RYU Canada has created a helpful guide that answers them all.
All you've got to do is go to the official website and click the FAQ option. You'll then be directed to the main help page. Once you land there, you'll notice that the content is divided into separate sections. This allows you to easily access the relevant information.
RYU's FAQ sections include:
Generally, a quick skim of this list is enough for a customer. However, if that doesn't help then RYU's customer service is always happy to help.
Bonus: RYU's official website has a special feature that lets you track your order from the website.
Being Social: RYU Canada's Social Media Channels
What's new at RYU? What are they up to?
RYU is one of the many brands that work for many social causes. You'll see that their social media feed is partly promotional and partly informative. So you can get all the latest updates on their new clothing lines, stores and health awareness campaigns here.
Apart from that, the social media managers moonlight as customer support too. You can approach them with all your questions regarding the company, products and more. You're bound to get a reply within a few hours or the very next day.
You can connect with RYU on:
Pro Tip: Use the direct messaging option for a quick detailed response.
Other Customer Service Options
Location Specific
Is there an RYU store near you?
Maybe! The RYU is a fairly small franchise. That's why they've currently got only six brick and mortar stores in Canada.  Four of their flagship stores are located in British Columbia and the rest are based in Ontario. You can find their address from the website's store locator.
Once you land there, click on the RYU store nearest you. The website will then direct you on the store's official contact page.
For instance, this is an overview of what the page for Queen Street, Toronto looks like: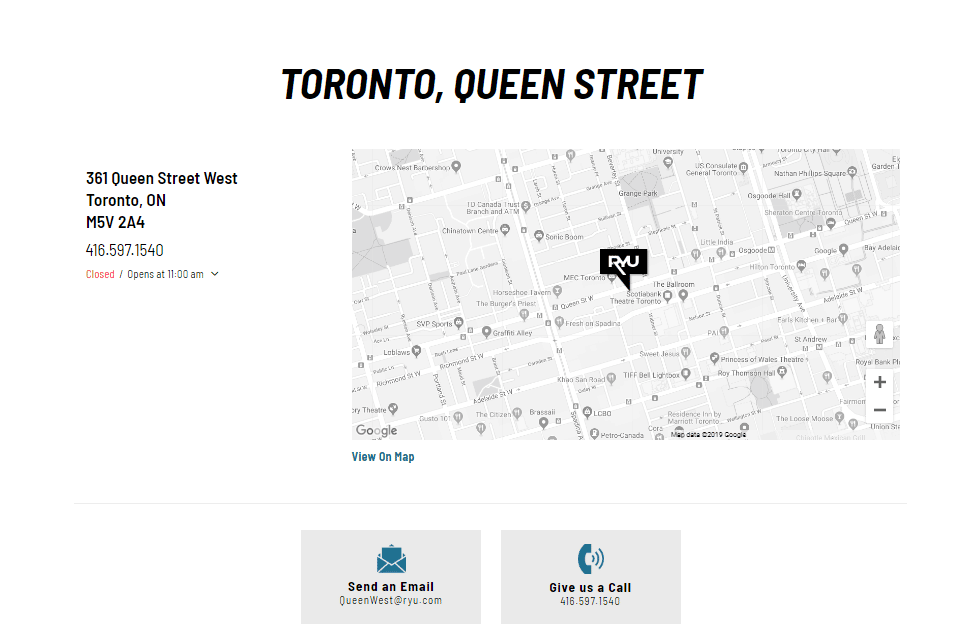 Here you'll find:
A proper map of the store's location
Its status (open/close)
Contact details
Scroll down a bit further and a tab for events will crop up
Overall, it's this is a pretty helpful way to guide their customers to the right store.
Wrap Up
In short, RYU Canada's customer service features are well-planned and helpful. The filtration of their store details is a great way to optimize customer service engagement. All of this indicates that the company truly respect their customers and values their time. Therefore, the rest of Canada can't wait for them to expand.