Roblox is an incredibly popular online video game platform and game creation system that enables users to enjoy a wide variety of games as well as create their own. Users can enjoy virtual worlds of different genres. Whether it's a Sci-Fi story, traditional racing, or a role-playing simulation, Roblox has plenty to offer to avid gamers.
Roblox received nearly 100 million active users on a monthly basis in 2019 and the number is expected to grow in the coming years. Users can produce their own games and universes at the Roblox Studio. They can also sell and buy virtual games; thus, Roblox is a highly engaging game platform.

Roblox has a massive following and a record breaking number of audiences turned up at the 6th Annual Bloxy Awards. Roblox is one of the few companies that enjoy a passionate and highly active community. With a fierce mission statement to "bring the world together through play", Roblox aims to spark imagination and creativity in its users and empower them to materialize what they envision.
When it comes to customer support, Roblox always strives to facilitate its users in different ways. Whether you have an issue to report, need step-by-step instructions on how to create your game, or need help at the Avatar shop, Roblox offers its users the ultimate customer support.

Whether you're an avid Roblox user or are planning to join the network, you can always find an assistant to help you with any questions, queries, or complaints. So, without further ado, let's get into the many ways Roblox offers customer support to its community.
How to get in touch with the Roblox support team:
Roblox support
Roblox has an elaborate Contact page that addresses questions on how to set up your Roblox account, parental safety while playing and creating video games, and billing procedures. Let's go through each of the options individually!
Contact Us Page
The Contact Us page welcomes users who have questions, queries, or concerns. As you scroll down, you'll be able to see separate boxes with a question or title of the issue. For example, if you want to learn how to play on Roblox, you may click the first box that will lead you to a list of instructions to help you install, create, and play Roblox games.
Here, the website teaches you how to send messages to other players, tutorials on how to build a game world, and how to make your own avatar and use camera controls.
Managing Your Account
Creating an account is the first step you need to accomplish to become a community member. Roblox offers a detailed page on how users can manage, recover, and create a new account. If your account has been hacked, for example, Roblox discusses possible solutions like resetting your password and removing browser extensions to get your account back.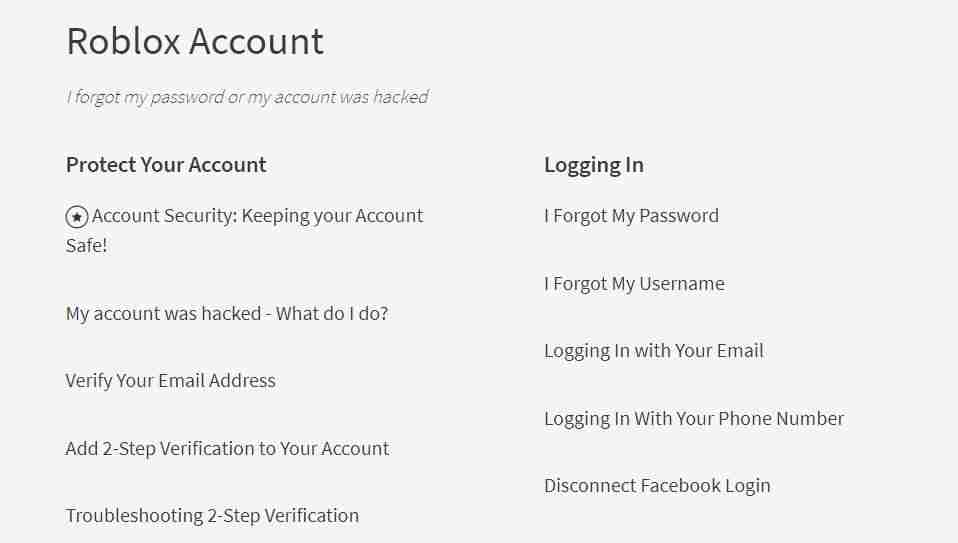 Upon scrolling further, you can also find a series of FAQs that provide guidelines on how to change your E-mail address, PIN, and password.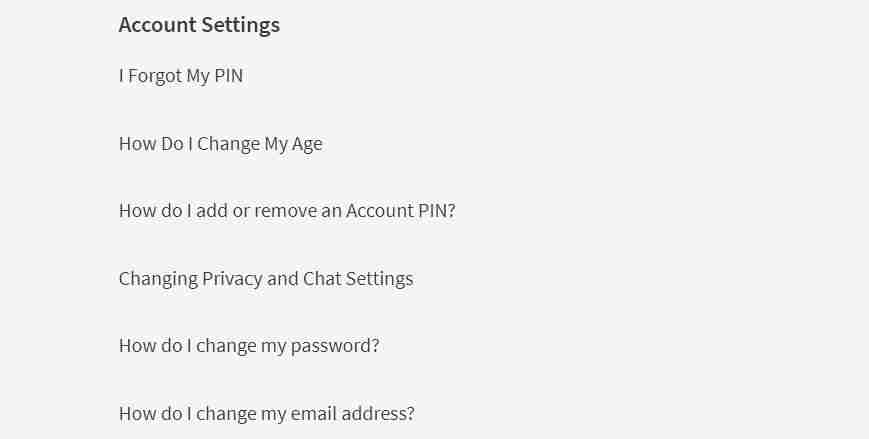 If you want to reset your password or E-mail, the customer support page discusses a series of steps to verify your personal information and get a new password. In short, the section "Manage Your Account" comprehensively deals with all the possible queries and issues that users can face while creating and playing a Roblox game.
Parental Control
If you're a parent whose child is a passionate Roblox, you might want to take practice a few precautions when it comes to personal safety and security. Roblox understands this crucial concern that most parents have and offers a detailed Parental guide that teaches parents how to exercise control over their child's activity. You can find all the information here.
Write to Roblox support team
Roblox also encourages its users to write feedback or discuss an issue directly with their team. You need to fill in your name, E-mail address, and the details of the issue. Hit send once you're done and a representative will get back to you within 24 hours.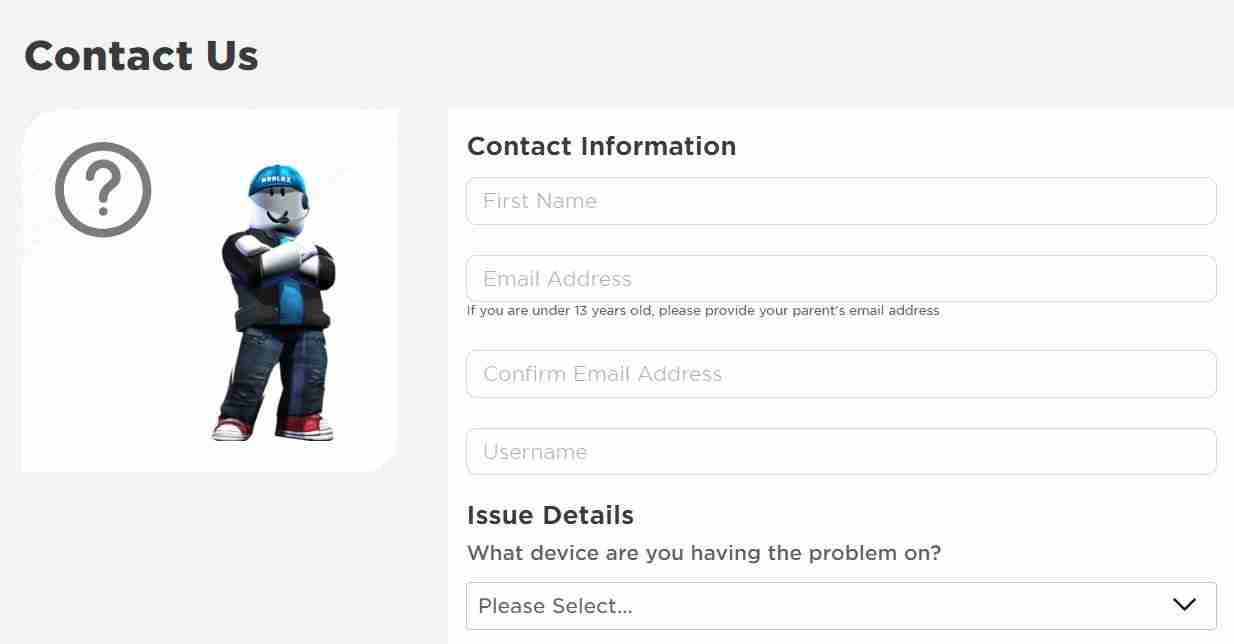 Whether you need technical support, have a safety concern, or need to settle a billing concern, you can always write to them on the page above for prompt assistance.
Resolving Technical Issues
Whether you're playing Roblox on your Xbox, mobile phone, or computer, this is the section to check out for any technical issues. If your Roblox account is down or too slow or you're facing an issue with the Roblox studio, you can click on the relevant question and find a quick solution.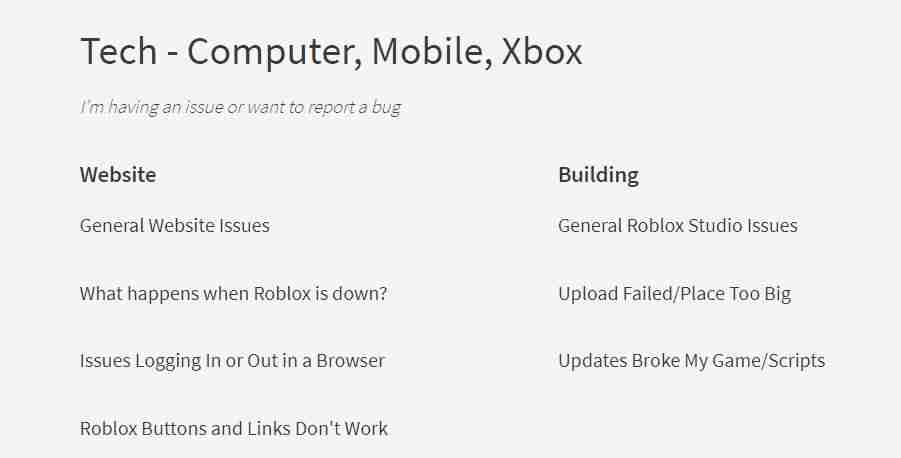 Remember, don't waste your time looking for your issue. If you can't find it, it's best to write to the team to get your problem solved as soon as possible.
Roblox FAQ Section
If you can't find your question on the "Contact Us" page, head to the FAQ section. Here, Roblox offers answers on general questions like Roblox costs, a guide on how the chat system works, and how parents can keep their children safe while using Roblox.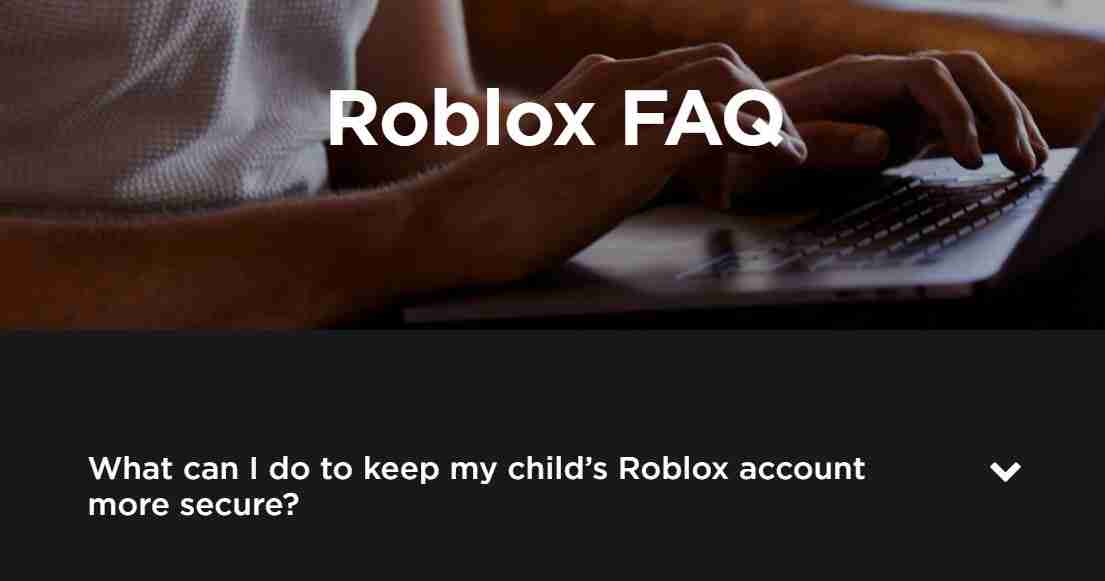 The section also discusses different ways of parental controls and security concerns. So, Whether you're curious about how secure Roblox is or want to seek knowledge about the game platform, the FAQ section is a good place to start.
Social Media
Roblox has a well-known social media presence. If you want to get in touch with the team, you can seek them through their Facebook, Instagram, LinkedIn, and Twitter account. Roblox's social media team keeps users updated with the latest addition of games, Bloxy awards, and potential jobs for interested candidates. Join their social media handles to keep a close eye on what Roblox has to offer next!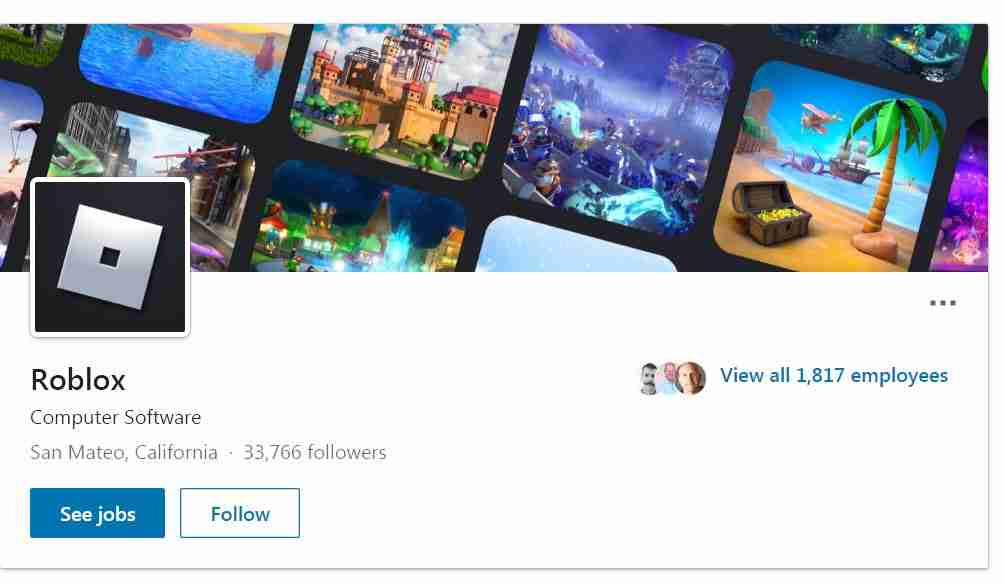 In Conclusion
Roblox is a global gaming network. It doesn't matter what corner of the world you live in, whether it's North America or Europe, Roblox offers a user-friendly, quick, and easy guide for its users. For any questions, queries, or concerns, use the guide above, write to the team, or get in touch with them on their social media profile!