Which brand offers the best fitness shoe is still an ongoing war. There are several prestigious names in the market that are always fighting for the limelight.
One such brand is Reebok. This footwear and apparel company is a subsidiary of the world's most popular sporting goods brand, Adidas.

About Reebok
Reebok itself is a global brand that has a fitness heritage from when it was found in 1958. The brand was acquired by Adidas in 2005. Its mission is simple and to the point: "To be the best fitness brand in the world," which is definitely not easy.
What makes Reebok so special is that it changed the fitness movement by reintroducing headbands and spandex. One thing that this brand does not shy away from is individuality. In fact, most of its campaigns are geared towards celebrating this trait.
Its tagline "I Am What I Am" promotes people to be their true selves.
Sure, the styles are a little outdated and it's not the 80s anymore, but Reebok dares to be great in a world of sameness. Reebok has come a long way, from offering traditional sportswear to fitness wear.
Its logo — the Delta, with its three sides, represents transformation and change and the challenge an individual embraces, despite their social and mental changes, to commit to the gym.
Another one of Reebok's campaign "Be More Human" celebrates strong women, who have brought positive changes in the world. Reebok's target market is known as the Game Changers. The company calls them the people who are driven by their desire to become the absolute best in every way!
The key categories of shoes that Reebok offers are Reebok Running, Reebok Training and Reebok Classics. There are two other sub-categories that are quite popular. These include CrossFit (based on the fitness regimen Greg Glassman) and Combat UFC.
Reebok's Customer Support Services
The customer support services offered by Reebok are beyond exemplary. They offer all the information one needs about a brand — its store locations, products, rules and regulations, delivery, etc. Just like its products, the online platform offers answers to every question a customer could think of.
Find a Reebok – Store Locator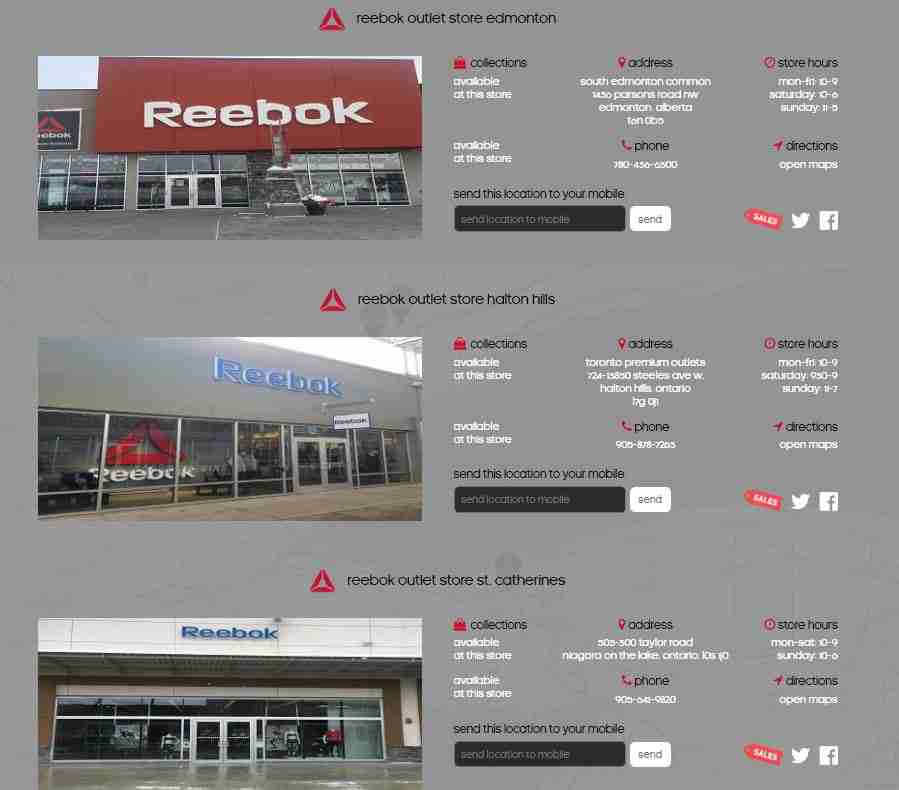 If you are looking for a Reebok store in Canada, then you can find the "Store Locator" tab at the bottom of the website under the Company Info section. Currently, there are 15 stores in Canada. Following are a couple of stores' addresses, phone numbers and their working hours:
Vaughn
Vaughan Mills Shopping Center, 345-1 Bass Pro Drive, Vaughan, Ontario, L4K 5W4
Mon – Sat: 10 A.M. – 9 P.M.
Sunday: 11 A.M. – 7 P.M.
Bromont
Carrefour Champêtre Bromont, 60 Rue de la Rive Droite, Bromont, Québec, J2L 0A3
Mon – Wed: 10 A.M. – 6 P.M.
Thu – Fri: 10 A.M. – 9 P.M.
Sat – Sun: 10 A.M. – 5 P.M.
Tsawwassen
5000 Canoe Pass Way, Unit #606, Tsawwassen, BC, V4M 0B3
Mon – Sat: 10 A.M. – 9 P.M.
Sunday: 10 A.M. – 7 P.M.
You can find the rest here.
Call Support
If you have any queries, you can talk to a customer service representative by calling on Reebok's toll-free number. On the left hand corner of the website, you will see a tab that says "Help". After clicking the tab, you will be directed to another page.
Here, you will spot another tab that says "Need Help?" When you move your cursor on the tab, it will expand and show three options, one of which is "Contact Us".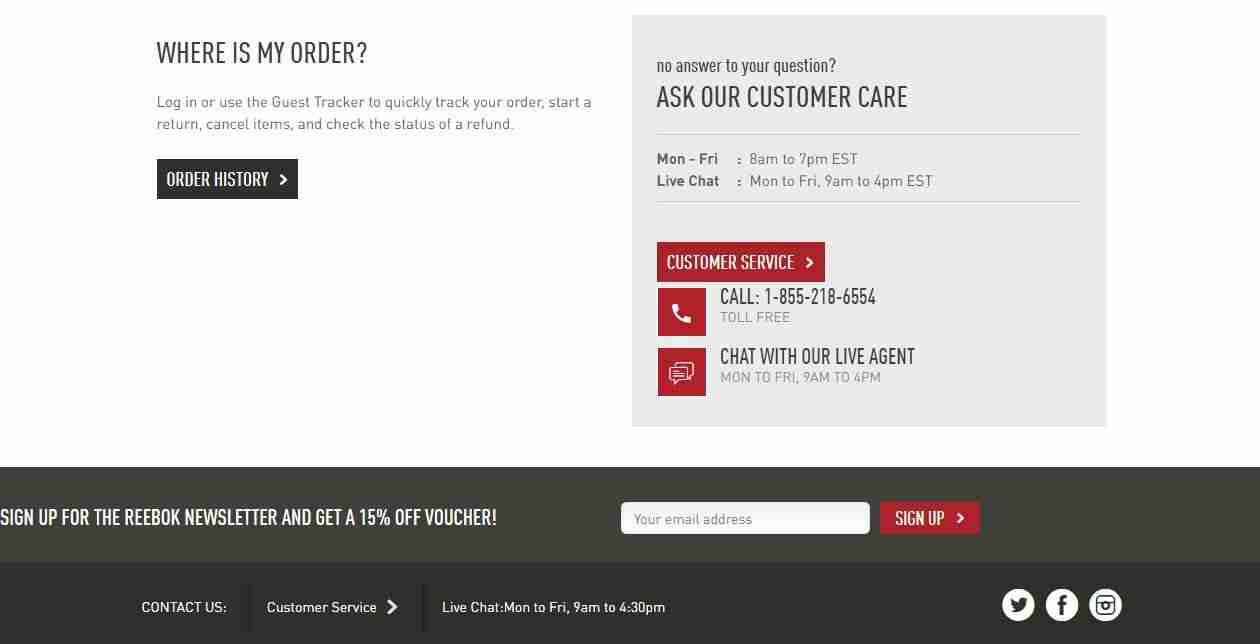 Following is the call support information in detail:
Toll-Free Number: 1-855-218-6554
Monday – Friday: 8 A.M. to 7 P.M. EST
Support Topics
One of the best things that Reebok offers to its customers is "Support Topics". These topics are geared towards answering any question a customer might have regarding a purchase. Following topics are covered under this section:
Loyalty Programs and Newsletter
Company Information
Delivery
Ordering and Payments
Products
Promotions and Vouchers
Returns and Refunds
Size Charts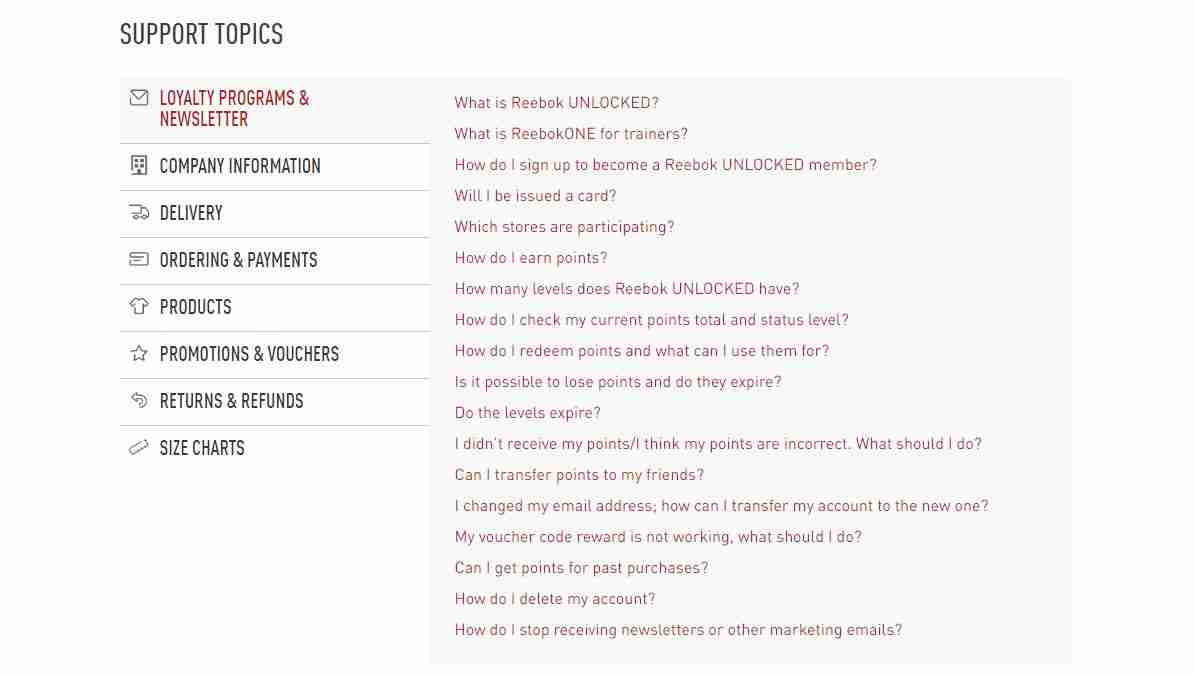 E-mail Service
To make it easy for customers to reach the customer service representatives anytime, the company has also provided an email address. If the FAQs section or the "Support Topics" do not answer your questions, then you can email them your queries.
By clicking on the "Need Help" tab, you will be directed to their e-mail service. You don't need to copy-paste the e-mail address. Simply click on the address and you will be directed to the message window of Microsoft Outlook. For online customers, the e-mailing hours are from Monday to Friday 9 A.M. – 4:30 P.M. EST. Queries are answered within 24 hours.

Social Media
In the "Need Help" section, you will find three social media icons at the bottom of the page — Facebook, Twitter and Instagram. Reebok has 33.2K followers on Twitter, 10,026,366 likes on Facebook and 36.1k followers on Instagram.
You can check out these social media pages for the latest product announcements and any other promotion content. These are the official pages of Reebok and open to all queries.
Help and FAQs
The "Need Help" tab also directs you to the FAQs page. Apart from the standard questions about products, the refund and exchange policy, deliveries, tracking orders, etc., you can also find answers to promotions and vouchers.
The "Help" section is pretty extensive, and you can click on each question to find an in-depth answer. This is one of the best things that Reebok's customer support services offer. If you still don't find the answer you are looking for, then you can proceed to the next option.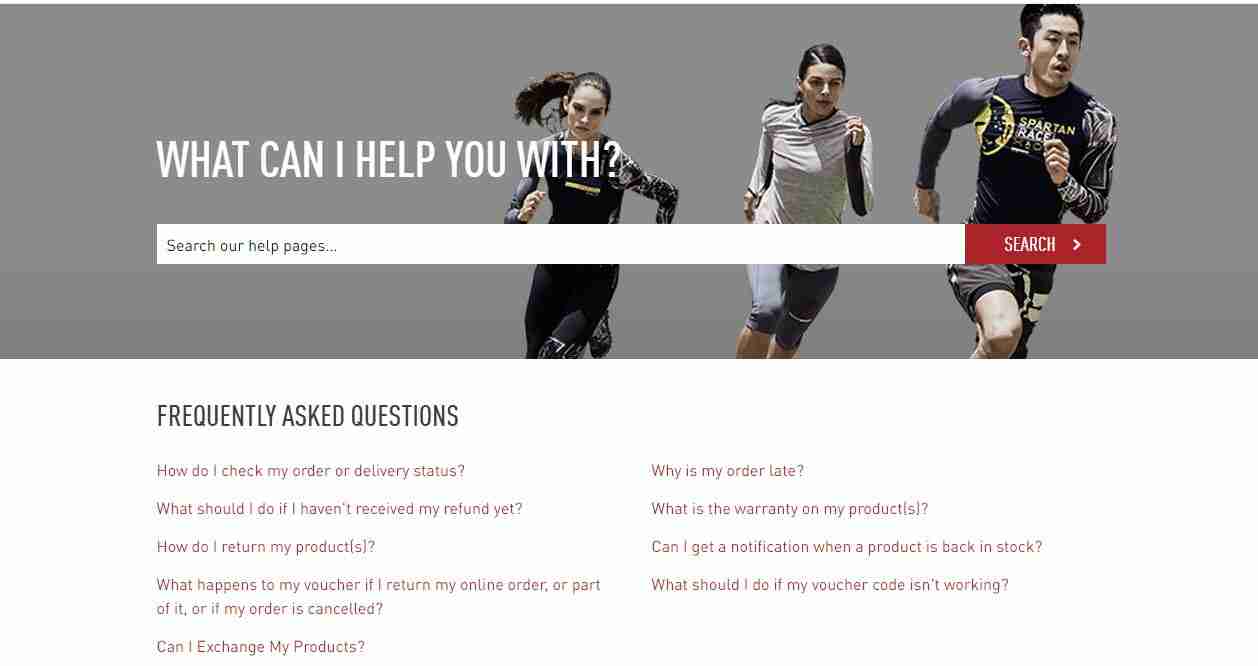 Live Chat
If you need to ask a quick question before putting a product in your basket, then pop into the Live Chat window to talk to a customer service representative.
The Live Chat feature is available Monday to Friday, 9 A.M. to 4 P.M. EST
Stay In Touch with Reebok
Reebok has a strong following and community. The company likes to rewards its loyal customers through different "Loyalty Programs" that offer perks such as free shipping and returns, special gifts and more.
A new addition that Reebok will be making to its Loyalty Program is "Training on Demand". To earn this perk, you will have to reach a particular point mark. So, stay tuned to know more about your favorite sports brand and if you have any questions, don't hesitate to call them.