Rakuten is a cash-back website that offers you a percentage of your cash back when you shop from online retail stores. It was formerly known as Ebates when it was established in 1998 in Menlo Park, CA, US.
In September 2014, Ebates was purchased by Rakuten, Inc., and the name was officially changed in 2019. However, the Canadian website of Rakuten was launched in 2012 and is still popularly known as Ebates.

Rakuten has a whole host of online retail stores – more than 750 stores! It provides vouchers, gift cards, cash-backs, and deals for a large variety of stores. It provides deals or cash-back on books, movies, sports, home, pets, clothing, beauty, hardware, etc.
The website has over 5 million members; with such a huge reach in Canada, it is no surprise that they have an efficient customer support and care system in place. Rakuten offers varied customer support services, all of which are designed to cater to its customer's varied needs.

So, let's review what Rakuten's customer support and care offers to its consumers.
Rakuten's Customer Support Services
Rakuten is quite comprehensive when it comes to its customer support services. Here are the various ways in which you can reach out to them.
Rakuten Express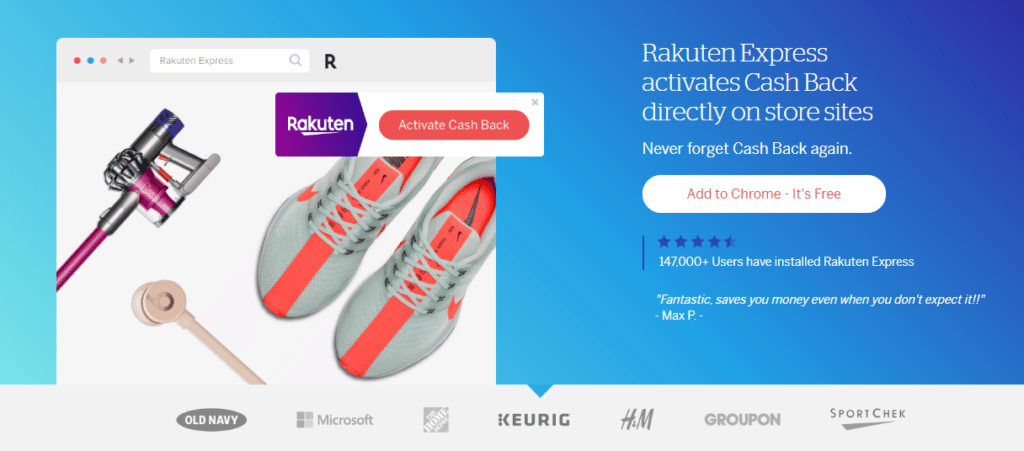 Rakuten Canada also offers you various benefits in the form of their Rakuten Express service. It's a browser extension that will do all the work for you once it is downloaded! Here are some of the benefits of Rakuten Express:
It saves your time – you get automatic cash-back notifications
It's free and quick to install!
It helps you to earn more with regular reminders of cash-back opportunities on your favourite stores
Weekly bonus cash-back offers are simply a click away
It saves your search history – you can find, view and avail your favourite cash-back deals in a few seconds
To find out everything there is to know about Rakuten Express, you can visit their website.
Customer Query Form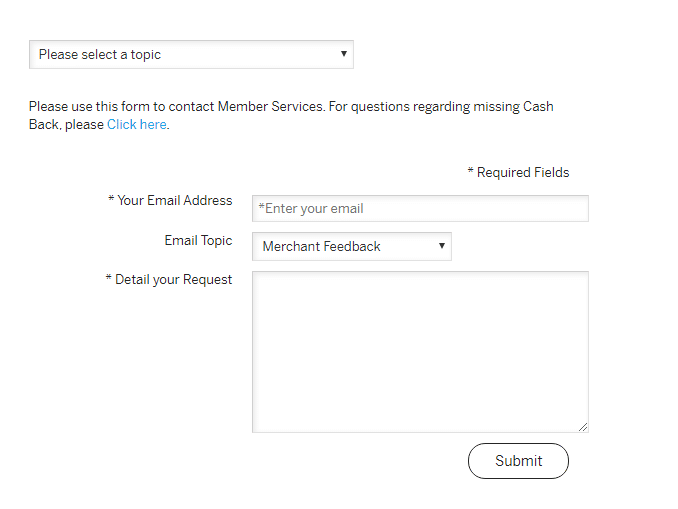 Rakuten offers you the chance to send in your cash-back, email, and password related problems straight to their professional representatives. You simply have to fill out a form on its website, mentioning your email address, your topic, and your query. It will hardly take two minutes of your time and after submitting it, Rakuten Canada's Member Services will get back to you as soon as possible!
E-mail Service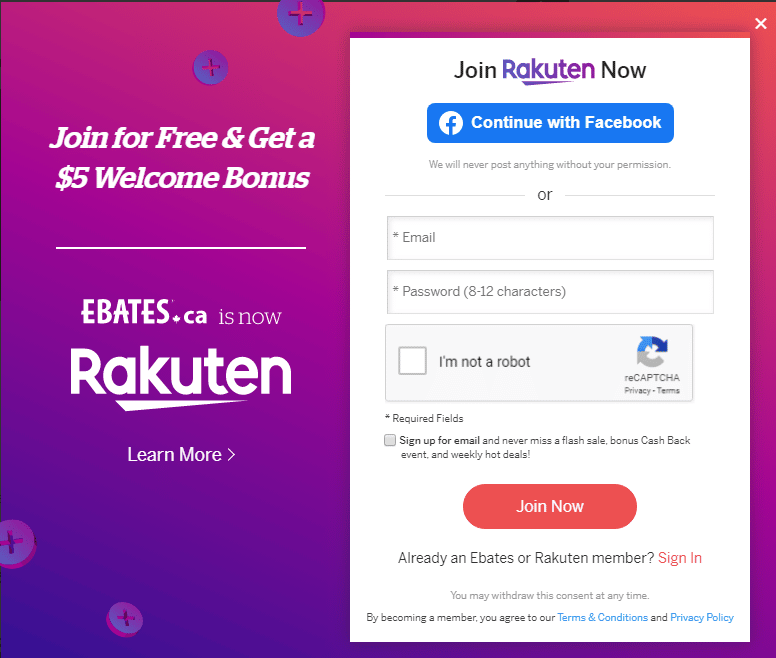 A sign up pop-up appears every time you visit Rakuten Canada's website. If you sign up, you will get a $5 welcome bonus! You can also sign up using your Facebook account. Once you sign up you will get emails by Rakuten, detailing all of their fresh cash-back deals.
Help and FAQs
Rakuten Canada provides you with a comprehensive FAQs webpage that answers all of your cash-back payment related questions along with other questions about Rakuten Canada. It caters to queries, such as from how and when you can receive your cash-back to how long it takes for the payment to process. This makes becoming a Rakuten Canada member an absolutely enjoyable affair!
The Rakuten Canada website has a comprehensive Terms and Conditions webpage as well. It is where you will find answers to your website and operations related queries. As for any troubleshooting queries you might have, Rakuten Canada has a Troubleshooting webpage especially designed to cater to all such queries.
Rakuten App

You can also download the Rakuten App on your smartphone to keep track of your purchases and your cash-back balance. The app helps you get quick and easy access to your balance. It also helps you keep track of your incoming payments!
Social Media

Rakuten has made efficient use of social media to cater to a large global community of Rakuten members. You can reach out to Rakuten Canada on Facebook, Instagram, and Twitter. You can reach out to Rakuten representatives and voice your concerns on all of these platforms, and they will promptly respond and cater to your needs.
Its Facebook page stands out from the rest as that is where Rakuten regularly posts its exclusive deals, discounts and cash-back opportunities that you can avail. You can frequent their Facebook page to stay up to date with all the latest deals.
Rakuten YouTube and Pinterest

Rakuten Canada also has an active and engaging YouTube Channel. You can subscribe to its channel to see the latest videos on how to get cash-back payments. There are also some really fun videos on lifestyle choices. You can interact with the Rakuten team in the comments section of the videos.
Rakuten Canada also has a Pinterest account that you can access to become a part of its growing Pinterest community. Here you can find various pins revolving around lifestyle choices – fashion, home decor, food, travel and vacation, beauty products.
The Savvy Shopper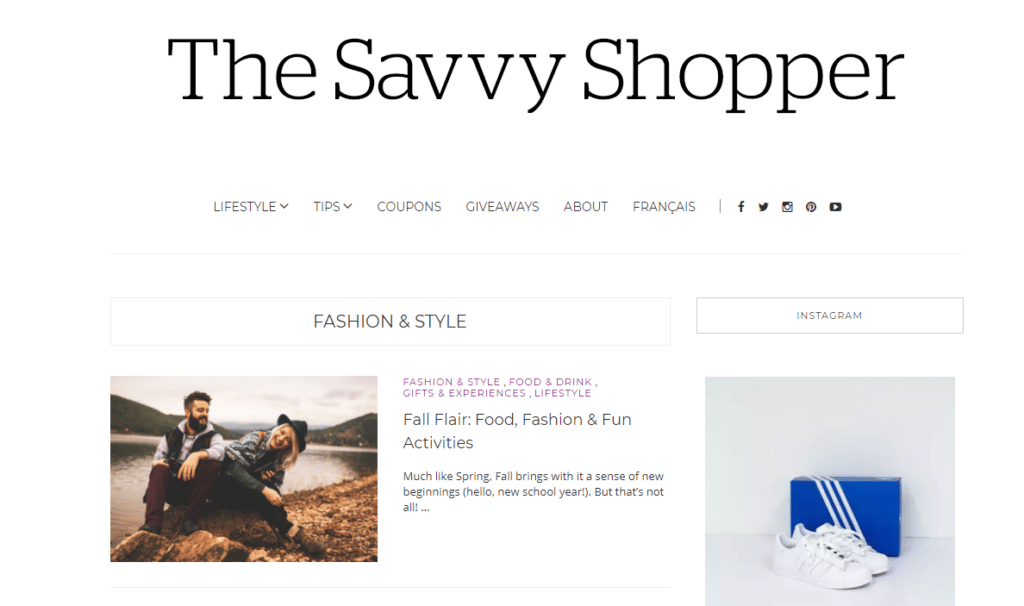 Rakuten Canada also has an active and engaging blog, "The Savvy Shopper." Here you can find blogs on everything lifestyle-related – food, beauty, fashion, home, travel, tech, etc. You can also find various tips revolving around life hacks. A lot of the blogs are based on tips that you can use to get the best deals on Black Friday and Cyber Monday sales!
Privacy Policy
Rakuten Canada has a separate webpage designated to their Privacy Policy. You can find every bit of information there is to find on their privacy policy on this webpage. If you have any questions or concerns related to this policy, you can voice them via email or mail.
To contact Rakuten Canada by email, simply send out an email at privacy@ebates.com, detailing all of your queries and concerns. To contact Rakuten via mail, simply mail your concerns and questions at this mailing address:
800 Concar Drive,
Suite 175,
San Mateo,
CA 94402,
Attn: Rakuten Rewards Legal
Stay In Touch with Rakuten
We all love discounts and deals on our favourite stores. Rakuten caters to all your discount, gift vouchers, and cash-back needs. It keeps adding more and more stores to its impressively tall list of online retail stores. With professional advisors and representatives that are committed to excellent customer support, Rakuten Canada aims to provide its members with the best experience. Whether you're reaching out to them through social media pages or E-mail, you can always expect a swift and efficient reply from Rakuten.