QVC is an American flagship shopping channel and free-to-air television network that specializes in televised home shopping. It's a widely popular platform that has millions of customers across the world.
QVC is owned by Qurate Retail Group. The company offers a highly unique and engaging shopping experience.
QVC strives to delight and surprise its customers by going above and beyond to produce products that will enliven their lives. The company tries to connect with its customers via exceptional customer service and authentic customer feedback stories.
QVC does all this via its official website.
Contact QVC
QVC provides you the opportunity to connect with its customer service via call.
If you have any queries, concerns, or suggestions about QVC products and services, then you can reach out to the company at this number:
You can also avail the company's live chat feature. All you have to do is enter your name, email, phone number, and question. A QVC customer representative will get back to you with a comprehensive reply right away.
QVC Outlet Stores
QVC has two outlet stores, one in Frazer, PA, and the other one is in Lancaster, PA.
Let's take a look at both in detail:
QVC Outlet Store in Frazer, PA
This store has all the latest QVC products such as apparel, jewelry, home decor, and more. Here's everything you need to know about this outlet store:
245 Lancaster Ave.
Malvern, PA,
19355
Shopper Information Line: 866-302-4633
Fax: 610-993-8045
Phone Number: 610-889-3872
Business Hours: Monday to Saturday, 10am to 6pm ET (Closed on Sunday)
When visiting the store, make sure to stay 6 feet away from other customers and wear your mask at all times.
QVC Outlet Store inLancaster, PA
This outlet store has a wide array of QVC products including all of your favorites, such as home décor, accessories, and apparel. Here's everything you need to know about this QVC outlet:
Rockvale Square
35 South Willowdale Drive (Routes 30 & 896)
Lancaster, PA
17602
Shopper Information Line: 866-302-4633
Fax: 717-399-5397
Phone Number: 717-399-5390
Business Hours: Tuesday to Sunday, 11am to 6pm ET (Closed on Monday)
When visiting the store, make sure to stay 6 feet away from other customers and wear your mask at all times.
Customer Service and FAQs
QVC has a comprehensive customer service webpage, which you can use to find the help that you need from the company. You can enter your query or keyword in the search bar and the website will generate help articles and FAQs based on your search.

This webpage also has various quick access icons, such as:
My Account
Order Status
Make a Return
Schedule a Return Pickup
This webpage also has everything that you need to know about QVC's Qcard such as Qcard FAQs and "make a payment".
If you want to learn more about it, then you can do so by calling on this number:
The company will direct your call to Synchrony Bank so that you can learn everything about the card.
You can also stay in touch with QVC and get regular updates about upcoming events and special offers by signing up to receive QVC's promotional email.
Stay Connected with QVC on Social Media
QVC understands the value of staying connected with its customers. This is why the company is quite active on numerous social media platforms, such as:
You can follow QVC on its social media handles to stay up to date about its latest products and special offers.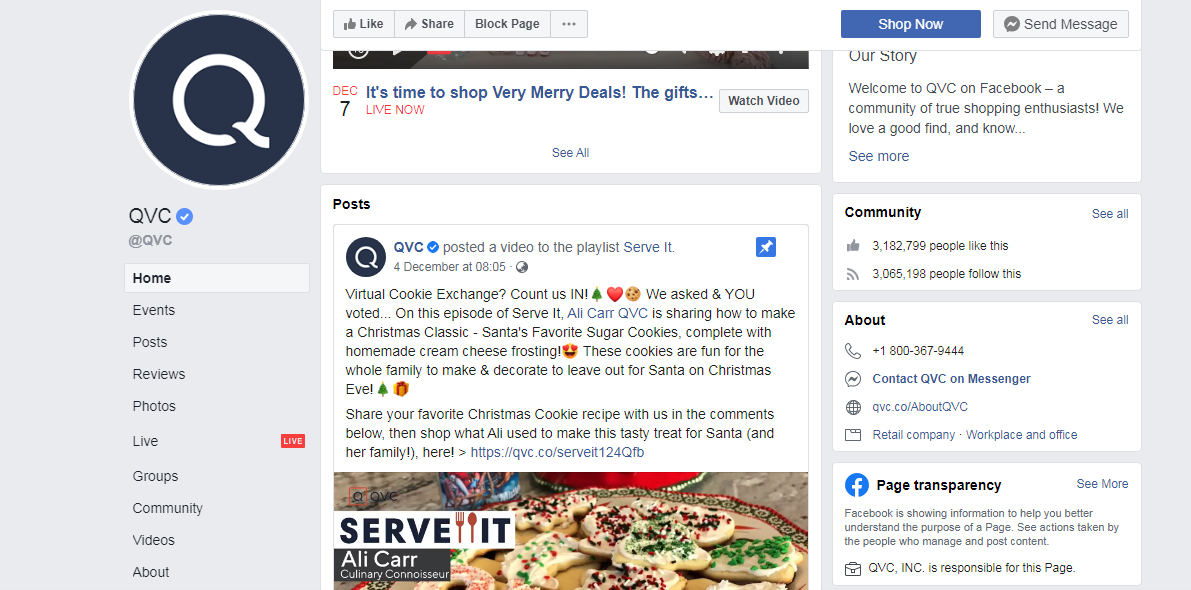 The company makes sure to post content as regularly as possible on these platforms. It also interacts with its social media community regularly. You can also reach out to its customer service representatives by messaging them directly on Twitter and Instagram. You can also use Facebook Messenger to connect with them.
If you don't want to miss out on the products that QVC offers to its customers, then make sure to follow the company on Pinterest. It regularly pins posts of its new products and special deals on its Pinterest board. QVC also has a happening and fun YouTube channel, where the company posts creative, interactive, and helpful videos frequently.
QVC Blogs and Forums
If you're looking to gain some insight into trendy topics, such as beauty, fashion, food, gardening, electronics, wellness, sports, travel, holiday, etc., then join QVC's growing community.
You can head to QVC's "blogs and forums" webpage and take a look at the posts on the company's blog and its community forum. You can discuss various topics with the QVC community and also browse through different blog posts.
Learn from QVC's Hosts
If you're looking to make a fashion statement, then learn from the best of the best. Take a look into the chosen closet of QVC's hosts and select the products that they would like to see in their closet! You can browse through the closet selection of all of QVC's hosts to find your own style. You can select your shoes, dresses, pants, shirts, and even accessories.
Download QVC's Apps
QVC also provides you the opportunity to download its apps to catch up on your missed shows and discover new ones! You can also shop at QVC via its app. Here are some platforms that you can download the QVC app from:
The Bottom Line
QVC always tries its best to keep its customers satisfied. The company uses its official website, social media platforms, blog, and outlet stores to stay connected with the wants and needs of its customers.
Regardless of how you reach out to QVC, it will make sure to solve your queries and concerns as quickly and effectively as possible!