Purple is a popular name in the mattress manufacturing world. They provide exceptional mattresses and other bedroom products at affordable rates to ensure a peaceful and comfortable sleep experience for children, adults, and even pets!
The company was founded by two brothers, Tony and Terry Pearce in 2015 in Lehi, Utah, U.S. This comfort technology company specializes in the direct-to-consumer sale of mattresses, pillows, cushions, and platform bases.
One of the attributes that help Purple stand out from the crowd is its genuine desire to solve people's sleep problems. This is why their customer service has always been top-notch.
They have a well-knit team of highly knowledgeable and experienced customer service representatives who are always at your service to help you improve your sleep experience.
Purple encourages its customers to share their feedback, suggestions, and complaints with the customer support team so that they can continue to improve as a company. No matter what questions or concerns you have, you can expect them to address your issues at the earliest.
How to Get in Touch with Purple Customer Care Services
Timings
Customer Care Hours: Monday to Friday: 7:00 AM to 7:00 PM MT; Saturday and Sunday: 8:30 AM to 5:00 PM MT
Sales Department Hours: 6:00 AM to 10:00 PM MT daily
Purple's Stores
To find the nearest Purple store, simply head over to this page and enter your address or zip code.
A list of the nearest stores will be provided to you.
Visit Them in Person
You can either visit the nearest Purple store or go to the following address.
Purple Headquarters Showroom:
4100 North Chapel Ridge Rd,
SUITE 100,
Lehi, UT, 84043, US
Monday to Saturday: 11:00 AM – 7:00 PM MT
Sun: Closed
Purple's Helpline
Have any questions regarding Purple's mattresses, cushions, pillows, or any other product?
You can get in touch with a Purple's customer service representative by dialing:
To get in touch with the sales department, dial:
Email Address
You can send in your inquiries to Purple's customer service team at the following email addresses.
For General Inquiries: info@purple.com
For Press Inquiries: press@purple.com
For Influencer Inquiries: head over to this page if you're an influencer who would like to join the Purple Ambassador Program.
For Affiliate Program Inquiries: want to join Purple's limited affiliate program?
Apply on the website or send an email to affiliate@purple.com if you have any queries.
For Partnership Inquiries: partner@purple.com
For Retail Inquiries: click here to learn everything you need to know to become an authorized Purple retailer.
Purple's Social Media Presence
Purple boasts a strong digital presence, considering that more and more customers are inclining towards online shopping. They don't only have accounts on all the popular social media channels but they also make it a point to interact and engage with their customers actively.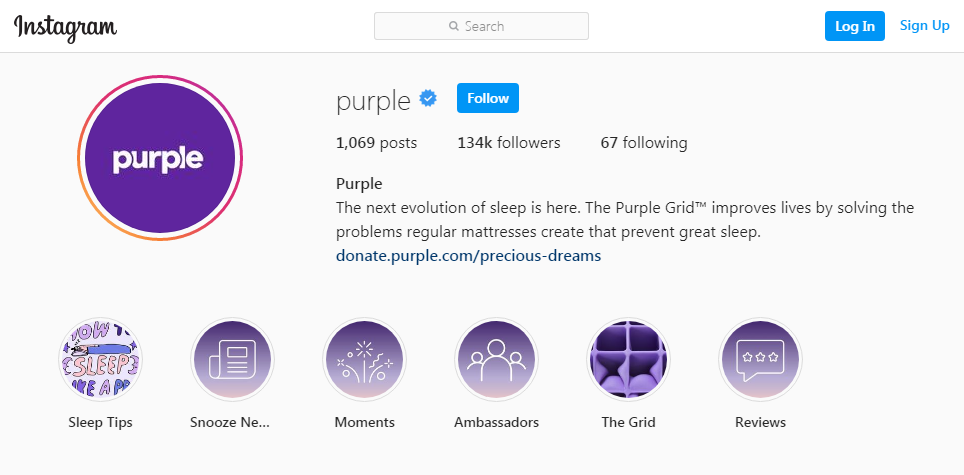 You can check out their social media pages to stay updated about their latest products. You can also browse through customer reviews and valuable sleep tips.
In case you have any queries, you can always send a message or comment on any of their posts on your favourite social media platforms.
Here's a list of the official social media accounts of Purple.
Frequently Asked Questions
To view all FAQs and find the answer to your query, click here.
Mattress Size Guide
At Purple, there is a wide range of mattress sizes for you to choose from. Not sure which dimensions are perfect for you and your family?
Don't worry!
Purple offers a comprehensive mattress size guide to help you make a well-informed decision. You can access the guide here.
Mattress Types
How do you know which type of mattress is right for you?
With Purple, you don't have to play the guessing game!
They have prepared an informative guide for customers that contains all the information you need regarding different mattress types. This is to ensure that you are fully satisfied with the product after your purchase.
Warranty Information
Purple strives to provide its customers with superior quality products with maximum durability and comfort. They aim to offer the most comfortable sleep experience by using high-grade materials and reliable manufacturing practices.
As per the Purple® Bed Limited Warranty, if any mattress you receive is defective due to workmanship error or faulty materials, you can get it repaired or replaced. You can learn more about Purple's warranty here.
Returns and Exchanges
Purple allows its customers to return their mattress within 100 days of delivery, the minimum trial period being 21 days. In case you are not satisfied with the product, you can simply get in touch with a customer service representative by calling:
The expert will confirm your eligibility before facilitating the return process. You will receive a full refund given that the mattress is clean and undamaged.
Similarly, customers get 100 days to exchange a product at Purple. Only one exchange is allowed. You must first try the product for at least 21 days and if you still don't like it, you can get it exchanged within 100 days.
Return Department Hours: Monday to Friday 8:00 AM to 4:30 PM MT
Final Words
Purple offers a wide variety of mattresses to suit the needs of a massive customer base. They have earned a reputation for delivering top-quality mattresses and bedroom products complemented with cordial customer service. For them, customers' satisfaction and comfort are the topmost priorities.
The customer support team at Purple is highly professional and experienced. They share a common goal: to ensure they address customers' concerns before, during, and after their shopping experience in the most efficient way possible.