Puffy Mattress takes pride in manufacturing Canada's most comfortable mattress. They have a full range of bedroom products that can step up the comfort and aesthetics game of any space. All products are 100% handcrafted in Canada.
The Puffy Mattress you know of today came into being after four years of sleep system research and development, foam formulations, and trials. It is now the proud provider of the perfect sleep system for Canadians, especially those with back pain.
What makes Puffy mattresses unique is that they never compromise on their customer's safety and comfort. To ensure that all their products are top-quality, they say no to using chemical compounds in the formation of foams.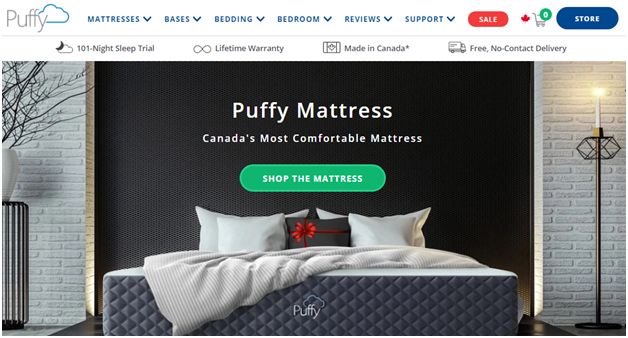 It is safe to say that Puffy foams are made without ozone depleters, formaldehyde, lead, mercury, or any other heavy metal, phthalates, TDCPP, PBDEs, or TCEP
The secret of Puffy Mattress' success goes beyond just delivering immaculate mattresses and other bedroom products. They aim to set the highest customer satisfaction standards by offering uncompromised customer care services.
They have a team of polite, professional, and highly knowledgeable customer support specialists who are always at your service to help you with your orders or mattress choice.
How to Get in Touch with Puffy Mattress Customer Care Services
Puffy Mattress Customer Care Services
Puffy Mattress is known for its exemplary customer service. You can get in touch with their customer support team in multiple ways. Please see below.
Puffy Mattress' Helpline
Need help choosing the perfect Puffy product for your individual needs? Have any questions regarding your order?
You can get in touch with a customer support member at Puffy Mattress by dialing:
Monday to Friday: 6:30 AM – 8:00 PM PST and Saturday and Sunday: 8:00 AM – 5:00 PM PST
Email Address
You can send in your emails to Puffy Mattress at the following address:
Online Support
The customer service professionals at Puffy Mattress make sure they are at the top of their game when answering your queries and listening to your concerns.
You can find an online chat option at the bottom right of their official website that allows you to get in touch with a staff member at the earliest.
Puffy Mattress' Social Media Presence
Puffy Mattress also has an excellent reputation in the digital world. They have made a point to stay active and engage with their existing and potential customers on all top social media platforms.
Their customer support team actively replies to comments and messages, ensuring that everyone feels heard and connected. You can also get to know about any new products and ongoing sales on their social media pages.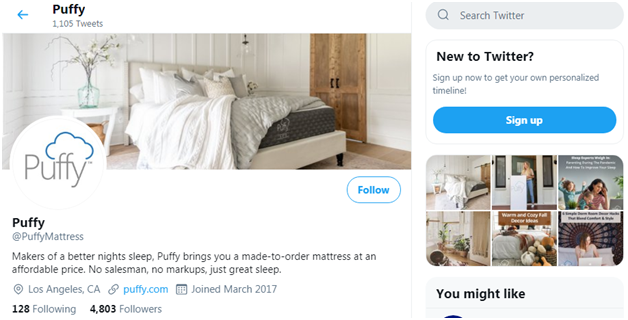 Here's a list of the official social media accounts of the company.
Convenient Payment Options
Puffy Mattress wants your shopping experience to be smooth, pleasant, and hassle-free.
This is why they offer a range of convenient payment options for you to choose from. You can pay through VISA, Master Card, PayPal, Discover, Splitit and American Express
Rest assured that all of these payment methods are 100% secure.
Puffy Mattress Payment Plans
Puffy Mattress allows its customers to split their payments with Slpitit. You can choose a mattress payment plan with no interest, no application, no credit check, and no late fees.
It is evident that your convenience is the topmost priority of Canada's top mattress company!
With Splitit, you can use your credit card and split the cost of your mattress into small amounts. You can make small repayments over up to 12 months! Learn more about this option here.
Frequently Asked Questions
To view all FAQs and find the answer to your query, click here.
Puffy Store
You can browse through the entire collection of Puffy Mattress here. You can view all the products in one window or explore each category separately. The categories include mattresses, bedding, bases, and bedroom.
Compare Mattress
The Compare Mattress option allows you to get an idea of how the Puffy Mattress differs from the Puffy Lux Mattress in terms of size, firmness, comfort, and price. You will get a comparative review of the basic specifications and advanced features offered by both mattresses.
Puffy Guarantee
Want to enjoy deep, peaceful sleep every night?
Puffy Mattress has got you covered!
They guarantee that you won't find the kind of comfort Puffy mattress gives anywhere else. If you don't agree, you can return the product and get 100% money back.
The company is confident in its sleep system so much so that they have a complimentary 101-Night Sleep Trial policy. It means you can buy and use their mattress without worrying about wasting your money because you can easily get a refund if you aren't fully satisfied with the product.
The Puffy mattress will be donated to a charity, so it's a win-win!
Summing it Up
Puffy Mattress is a top choice for Canadians when it comes to buying mattresses and bedroom products. Boasting a unique, carefully-curated sleep system, the company has been providing its customers with the most comfortable foams and mattresses.
Apart from their uncompromised quality, they are known for cordial customer care services. There are a variety of ways you can get in touch with their team to drop in your suggestions, feedback, and complaints or ask any questions that you may have regarding their products, shipping, or returns.
These include calling on their helpline, sending an email, commenting on their social media posts, sending a message on social media channels, and chatting with a representative online.