Polysleep was born out of the innate understanding that every person deserves quality sleep. That's the heart of this company that sells premium-quality sleep products such as mattresses, pillows, foundations, and toppers.
Polysleep stands for equality and diversity across the board and uses it to create products that Canadians can benefit from.
The company believes in advancing the Canadian economy and works with local partner stores to close the gap between traditional and online retail. Polysleep believes in offering its customers high-quality products that are made in their own country.
Polysleep believes in taking its customers' feedback into account and constantly developing and evolving its products to fit their needs.
This is why the company also makes sure to help their customers in whatever capacity possible via its official Canadian website.
How to Contact Polysleep Customer Support Services
Polysleep Customer support Services
Polysleep is devoted to offering its customers the best support possible. Here are some ways in which the company tries to be there for its customers:
Contact Polysleep
Polysleep offers you the opportunity to get in touch with its responsive customer support team via its Contact Us webpage.

You can call the company at the following number to discuss your queries and concerns, from Monday to Friday 9 am to 5 pm EST:
You can also mail your concern or query to the company at this address:
5151 de la Savane,
Montreal, Quebec
H4P 1V1
Canada
If you want a more convenient option, then you can reach out to Polysleep by sending them an e-mail at support@polysleep.com.
The company promises to get back to its customers within 24 to 48 hours. You can also chat online with Polysleep from Monday to Friday, 9 am to 5 pm EST.
Find a Store
Polysleep also has a helpful "Find a Store" webpage, which you can use to find the Polysleep store that's closest to your location.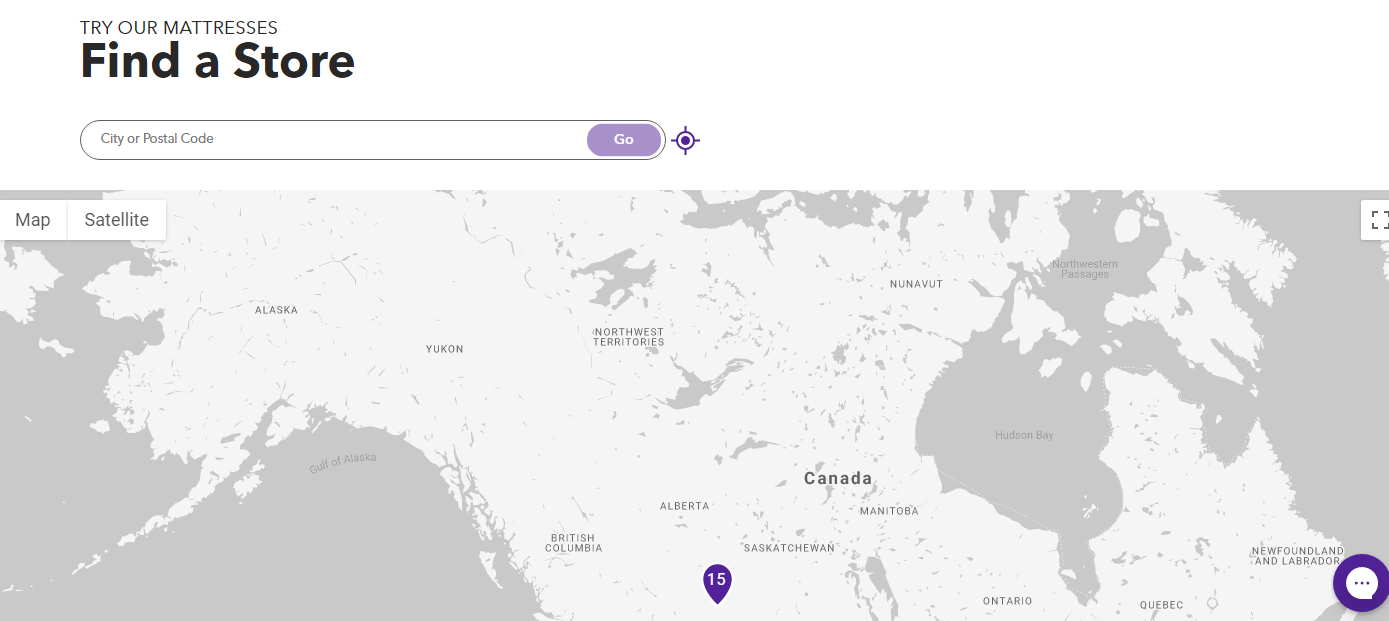 All you have to do is enter your postal code or city and the website will highlight all the stores that are nearest to your location. You can then click on the one closest to you to find out all the details of that store such as its opening hours, address, directions, and more.
If you're looking for Polysleep mattresses in your province, then you can also check out the "find your mattress store" webpage. You can simply select your province and then choose your city from the drop-down menu to access the Polysleep store that's in your city.
FAQs
Polysleep realizes that you will naturally have numerous questions about its products and the company itself. It does its best to answer all of these frequently asked questions on its FAQs webpage.
This webpage has FAQ categories, such as popular questions, about Polysleep, the Polysleep mattress, the origin mattress, orders and shipping, and more. Each category has numerous questions that you can access by simply clicking on the downward arrow icon next to your chosen category.
Polysleep's Social Media Platforms
Polysleep is pretty active on various social media platforms as well, such as: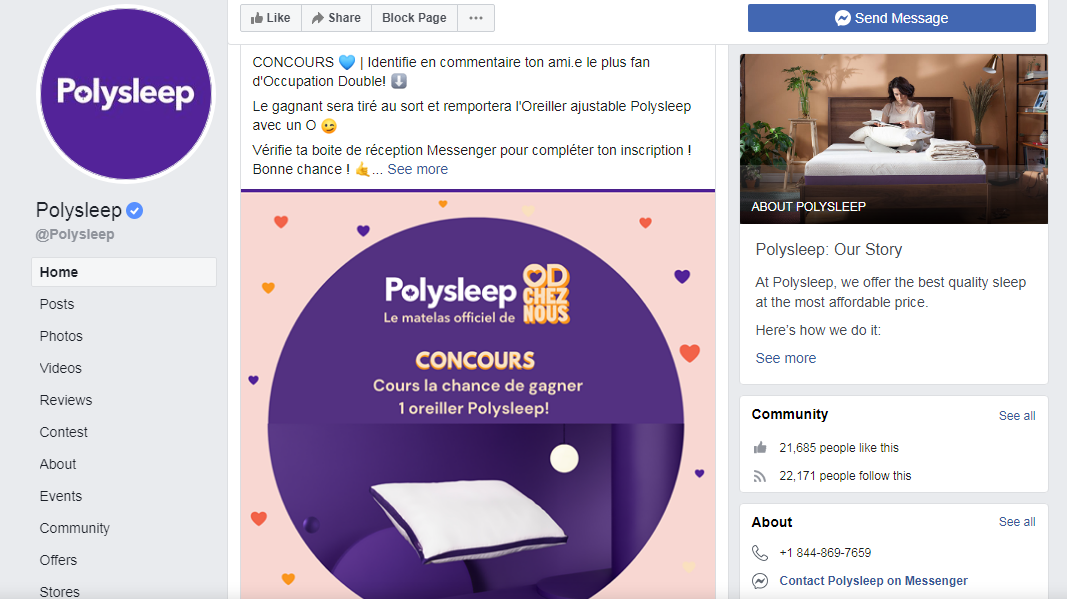 You can follow the company on these platforms to stay updated about its new inventions, deals, discounts, and product launches.
You can also reach out to Polysleep's customer representatives on these platforms by messaging them or commenting on the company's posts, images, videos, and tweets.
The company also has a LinkedIn account that you can follow to look for job opportunities at Polysleep. You can also follow the company and keep up to date with its products via Pinterest. You can browse through the pins and check out all the sleep-related products that the company offers.
Polysleep Warranty
If you want to learn anything about Polysleep's warranties for its products, then head on to its warranty webpage.
This webpage covers all the warranties that the company currently offers to its customers. It has helpful information about what each warranty covers, does not cover, its exchange policy, governing law, disclaimer, etc.
Polysleep Blog
Polysleep also provides you with a wonderful opportunity to acquaint yourself with the science of sleep by reading it's fun and informative blog posts.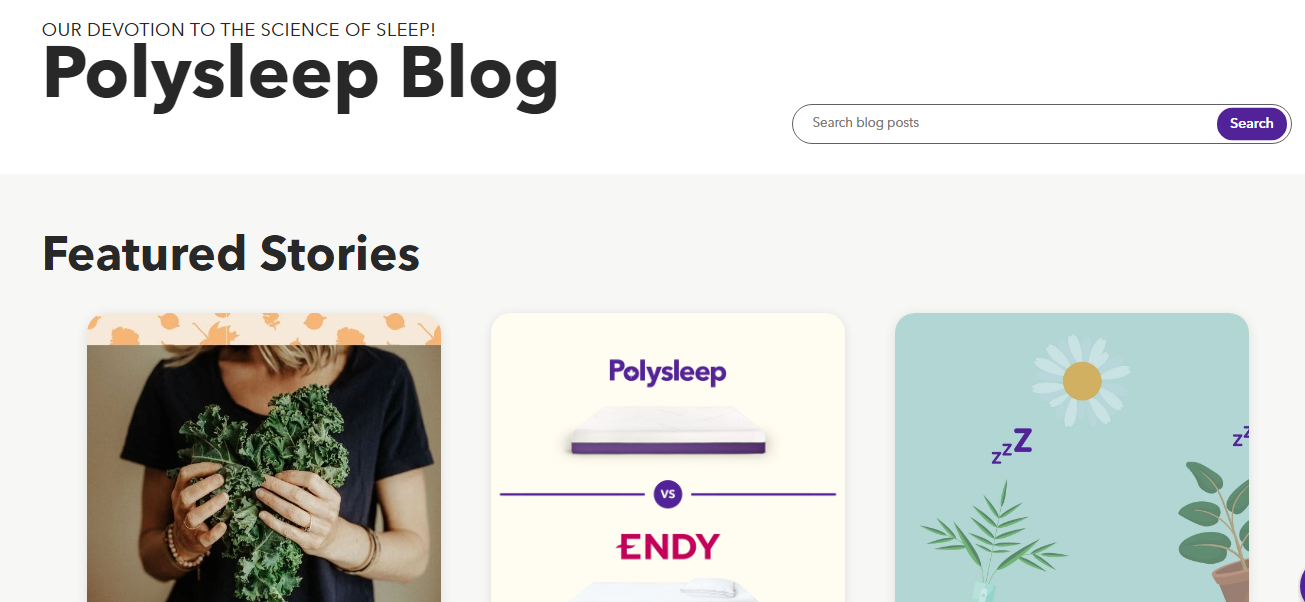 You can take a look at the featured stories and also scroll down to browse through all the other stories. To narrow down your search, you can access the filter bar and filter your stories based on three categories – bed, mattress, and sleep.
Wholesale Discounts
The company also provides helpful wholesale discounts for businesses, such as Boutiques, furniture stores, hotels, and Airbnb.
All you have to do is sign up or log in to Polysleep's official Canadian website and send Polysleep an e-mail about becoming a wholesaler at support@polysleep.com. The company will get back to you shortly.
Refer a Friend
Polysleep gives you the amazing opportunity to refer a friend to buy the company's mattress. Each converted referral will earn you $25! All you have to do is share your name and e-mail address to get started.
If you're interested in becoming a Polysleep affiliate, then you can do so by filling out a simple form on its website.
The Bottom Line
Polysleep always prioritizes the needs and wants of its customers and tailors their products accordingly. This priority also helps the company provide top-notch customer care services to all of its Canadian customers.
Whether it's via the company's official website or its various social media handles, Polysleep encourages its customers to reach out whenever the need arises. You can also e-mail or call the company's customer services representatives who will surely answer your concerns and queries right away.