Raise your hands if you think that there is no party like a pizza party!
From corporate meal plans, a school party, house parties to single servings―Pizza Pizza is ready to serve you from all across Canada.
The pizza place has come a long way since its inception in 1967, and they continue to grow steadily with every franchise. They have over 750 restaurants located in Ontario, Toronto, Prince Edwards Island, and other provinces in the country.
Over these years, the company has transformed from a traditional eatery to a tech-savvy restaurant. This, however, didn't change their mission to deliver high-quality food made 'especially for you'. It's why they leave no stone unturned when it comes to staying in touch with their customers.
How can you contact Pizza Pizza Canada?
This article covers multiple ways to get in touch with your favorite pizza franchise. Knowing these details will ensure that the customer support service from Pizza Pizza is merely a click away from you.
Let's begin:  
Going Live with Pizza Pizza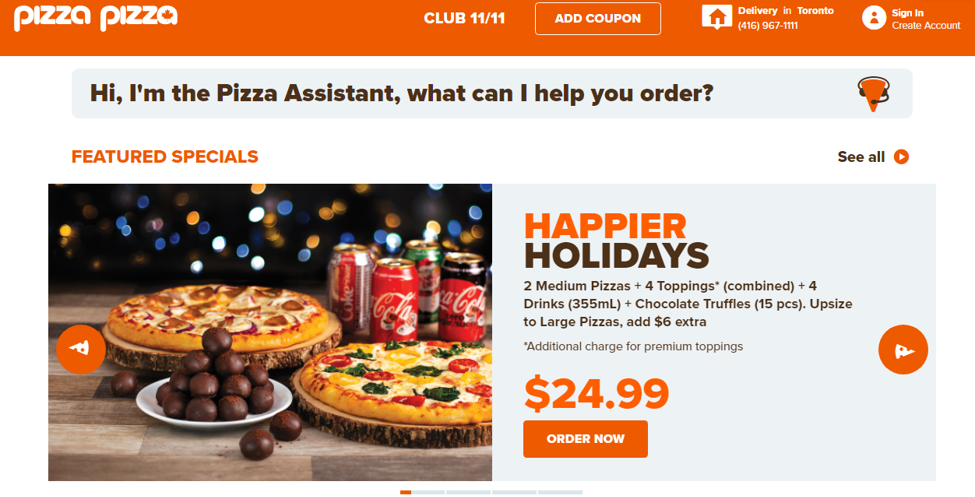 Are you looking for speedy services?
Then look no further than Pizza Pizza app (or virtual assistant). The company takes online delivery to the next level through this format. It's because their live chat operator responds quickly, and is ready to suggest delicious options if you're confused. They've also included a 'pizza builder' that lets you customize your pizza size, flavour, and toppings. You can also place your order from pre-made deals if you want.
Other great features include:
A 'remember me' option that lets you place favourite orders with just one click
A voice recognition feature for faster service
Multiple channels for payment
Easy-to-navigate store locator
An option to track your orders
Special contact number for emergencies
& lots of other convenient features
The best part is that you can access your account through the app and website. This makes ordering a from Pizza Pizza simpler, faster, and better than any other pizza outlet.
Calling Customer Support
Do you want to order food the traditional way?
No worries! Pizza Pizza has opened multiple phone lines for hungry customers. All you've got to do is to dial their toll-free number to place your order. The operator will then direct your request to the nearest Pizza Pizza outlet.
Here's a list of their province-based phone numbers:
British Columbia: 1-866-310-1111
Manitoba: 1-866-310-1111
Northern Ontario: 1-866-310-1111
Nova Scotia: 1-866-310-1111
Ontario: 310-1111 (no area code required)
Prince Edward Island: 1-866-310-1111
Quebec: 1-866-310-1111
Saskatchewan: 1-866-310-1111
Besides this, the company has a designated hotline for corporate contacts (416-967-1010). It ensures that their networking doesn't slow down during the busy lunch hour. How great is that?
Connecting via Email
Do you prefer corresponding with restaurants through email?
Then don't hesitate to get in touch with Pizza Pizza Canada via email. They'd be happy to address your queries and complaints in this format. Plus, sending emails makes it easier to share screenshots and images to support your negative reviews.
There are two ways to get in touch with them on email:
The dual accounts ensure that they can streamline their work according to the situation. You should, however, add a relevant subject line and straightforward introductory paragraph. These details will make it easier for the team to process your request on time.
Bonus Feedback Option:
Got a few minutes to spare? You can fill up the official feedback survey to share your experience after each visit/delivery.
Being Social: Pizza Pizza's Social Media Channels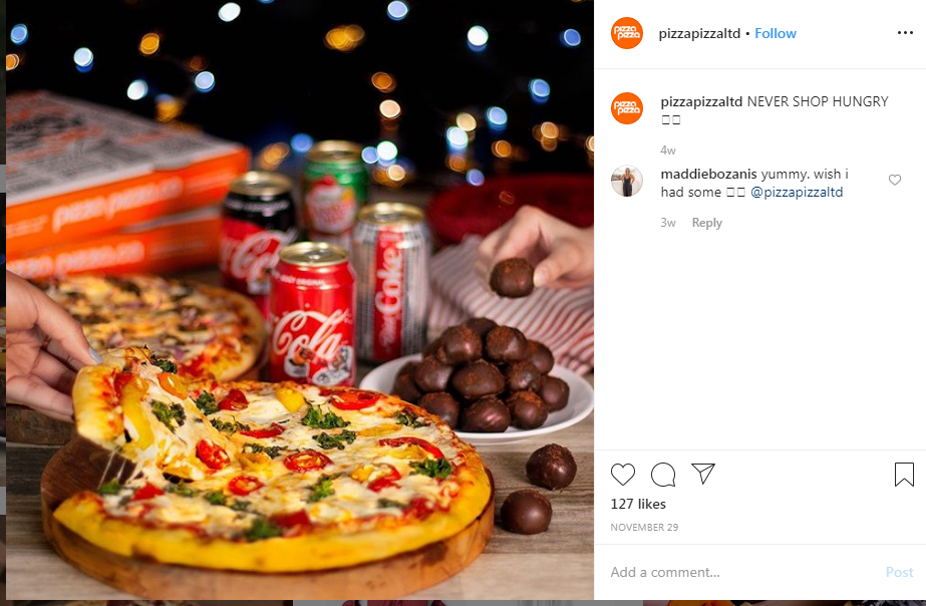 Want to stay updated on all discounts and special offers?
Then you should start following Pizza Pizza on social media. Their accounts are a mix of announcements, memes, offers, and discounts. It'll always keep you in the loop when something new is happening at your local franchise. 
You can find Pizza Pizza on:
Nonetheless, these social media spaces aren't just for hot takes and news. The company is happy to assist their customers who need their help. You can contact them via direct messaging or hit them up in the comment section. Then expect someone from their team to respond within the next 24 hours.
Store Locator
Does Pizza Pizza deliver near your place? Is there a local franchise you could visit?
The company answers your location-based questions on its official website. They've got a restaurant locator that optimizes your search for the nearest eating spot. All you've got to do is enter your city, province or postal code. Then press search and get the directions to the closet pizza place.
The restaurant locator also provides you with work timings. This makes it easier for you to know when to contact them to place your order.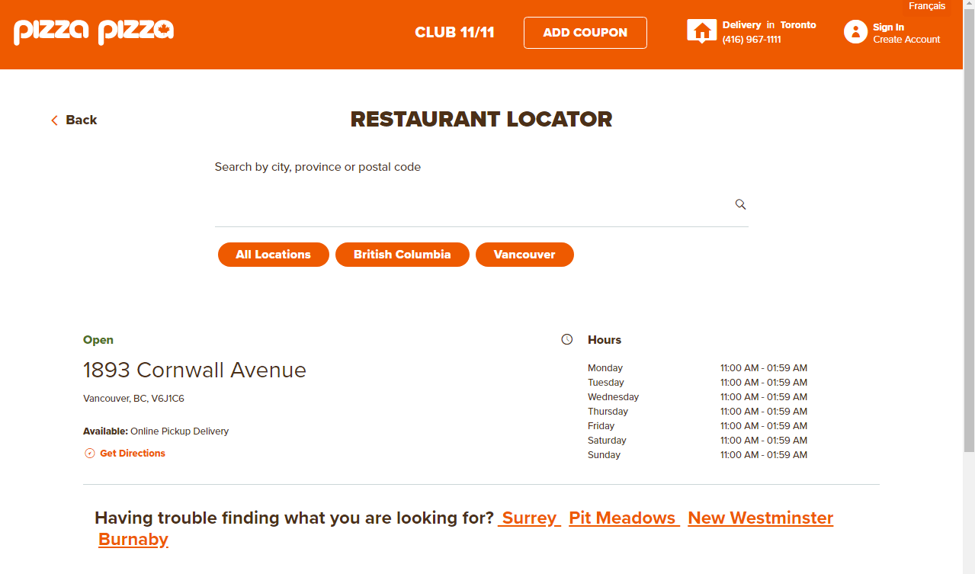 Frequently Asked Questions
Whether you have food allergies, or are on a strict diet―Pizza Pizza answers common food-related questions on their FAQ page. The website shares details about their quality assurance process, nutritional value, and suppliers. Additionally, they have listed frequently asked questions about their menu.
This includes questions like:
Do you use gluten-free food?
Do you serve vegan pizza?
Which brand of cheese are you using?
Do you use peanuts/peanut oil?
The company has tried its best to clarify basic inquiries made about their food. If you're looking for something specific, then you should contact them through other means. The company will surely respond within a few hours or in the next two business days depending on your query.
Let's Sum It Up…
On the whole, Pizza Pizza Canada has created a multichannel customer support service. You can contact them online and offline as per your needs. They've also hired a cooperative customer support team that strives to resolve issues in real-time. Plus, the French customer service option ensures that it caters to a broader network of customers.
All these aspects allow them to score good points when it comes to accommodating the needs of their Canadian customers. So feel free to order from Pizza Pizza whenever you crave a scrumptious slice of pizza.