Headquartered in Pasay, Philippines, Philippines Airlines is the flag carrier of the country that was founded in 1941. Apart from 31 destinations within the Philippines, the airline serves 54 overseas destinations, covering East Asia, Southeast Asia, Middle East, North America, Europe, and Oceania.
Philippines Airlines is very accommodating when it comes to customer service. Whether you're looking for flight information, booking, flight statuses, notifications, or any other information, Philippines Airlines demonstrates a strong commitment to delivering high-quality customer services. Let's explore the different ways in which it does that:
Flight Search
If you're a prospective traveler, Philippines Airlines offers you an efficient online "Flight Search" platform that allows you to look up for available flight options and book them in advance.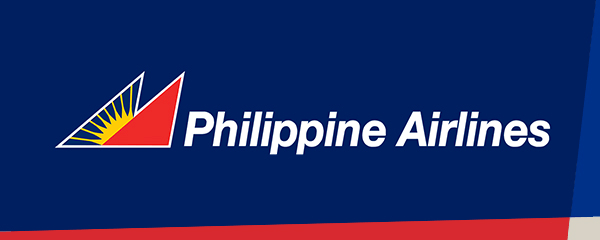 It carries all the necessary fields, including the origin and destination locations, dates for travel, number of passengers, desired cabin class, and whether the searches should include the one-way, round trip, or multi-city traveling options.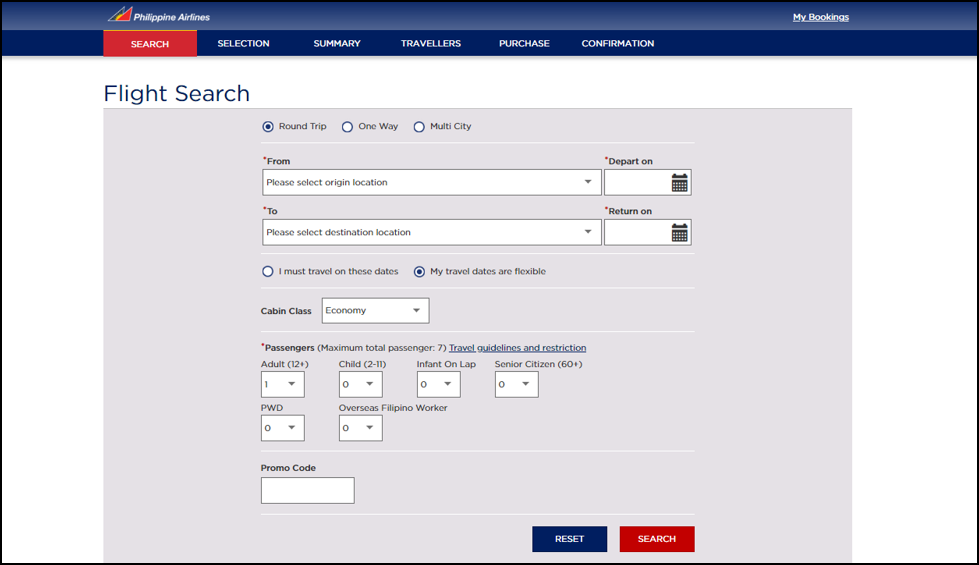 If you have a promo code, you can claim a discount by entering it in the relevant field. Once you've entered the information, click on the "search" button to see all the related searches.
Flight Status Tool
While Philippine Airlines assures you get to your destination in a timely, safe, and delightful manner, airport operations and other external factors can affect its flight operations at any time. Hence, it is recommended that you keep checking the flight status for any airlines you travel with.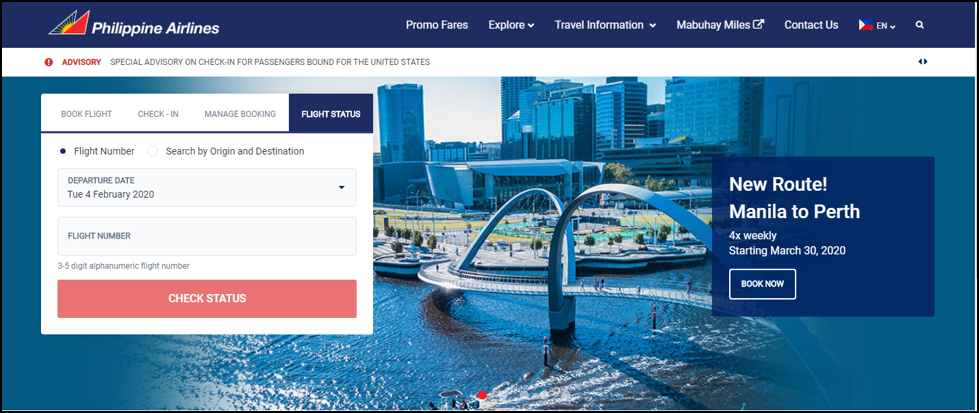 Philippine Airlines provides two convenient ways to check your flight:
Follow the "Flight Status" link to access an online tool that allows you to inquire about the flight status by entering the specific flight number.
Call on PAL hotline for Canada and opt for Arrival and Departure information if you're calling on the day of the flight. Flight information is also available 2 days before and after your scheduled flight. Hence, you can call within that time range to speak to a Customer Service Agent, but be sure to have your flight number with you for quick service.
The PAL Hotline for Canada is 1-800-I-FLY-PAL/1-800-435-9725
Flight Notifications
There are instances where flights are subject to delays, cancellations, and diversions due to poor weather, operational issues, and other issues beyond the airline's control. To keep you updated on the changes in flight dates and times resulting from unforeseen factors, Philippine Airlines sends you Flight Notifications right on your email inbox.
However, to benefit from the service, you need to call on the PAL hotline for Canada and share your contact information. You will have to do this only once, and Philippines Airlines will notify you of any changes for all future flights.
Travel Information
The all-inclusive tab of "Travel information" on PAL's website takes you through every important piece of information you need for traveling purposes.

As seen in the screenshot above, it lists information in a step-by-step manner, starting from what you need to do before you fly. Then it moves on to what you need to know about the airport. Next comes what to expect on-flight, followed by other important stuff such as baggage information, discounts, and more.
Global Reservation Hotline
Besides the online booking option, you may simply contact Philippine Airlines' global reservation hotline to book flights. You can also use this hotline to make changes to your existing reservations such as rescheduling, rerouting and requesting refunds. You can call on either of the two offices stated below depending on your location in Canada:
Toronto: (905) 405 9944, (905) 405 8774
Vancouver: (604) 276 6015, (604) 276 6016
Promo Fares
With Philippine Airlines, you can expect promotions for traveling at particular times such as the New Year. Anyone looking to view available promotions can click on the "Promo Fares" tab on the airline's website.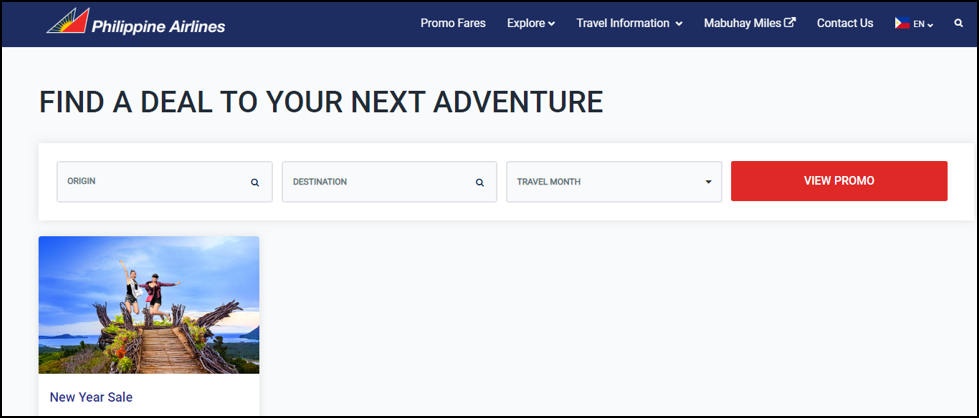 You'll be redirected to a page where you can enter your origin, destination, and travel month to search for available deals.
Exploring Popular Destinations
You certainly deserve a holiday after working all year long. Philippine Airlines goes the extra mile to include valuable information on their website on most popular tourist destinations around the world.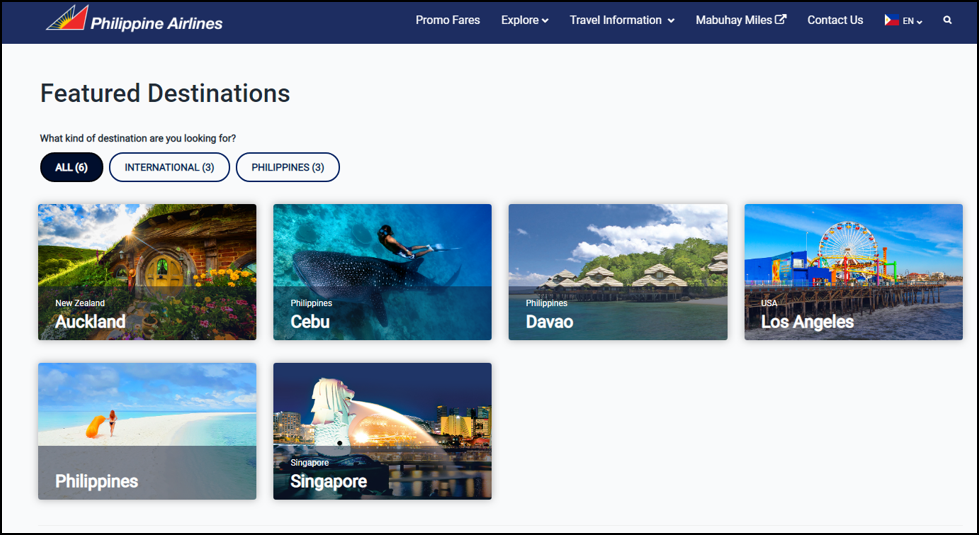 All you need to do is click on the "Explore" tab and choose your preferred location from the available list. Not only will you be able to discover the top sights of the country but also learn about the updated travel requirements for each location.
Mabuhay Miles
You must have heard about airline miles but did you ever think about availing them? Information on airline miles can be the most difficult thing to find on airline websites. This isn't true for Philippine Airlines though. When you click on the "Mabuhay Miles" tab on the PAL website, it redirects you to a separate easy-to-navigate platform that lets you know everything you need to know about airline miles.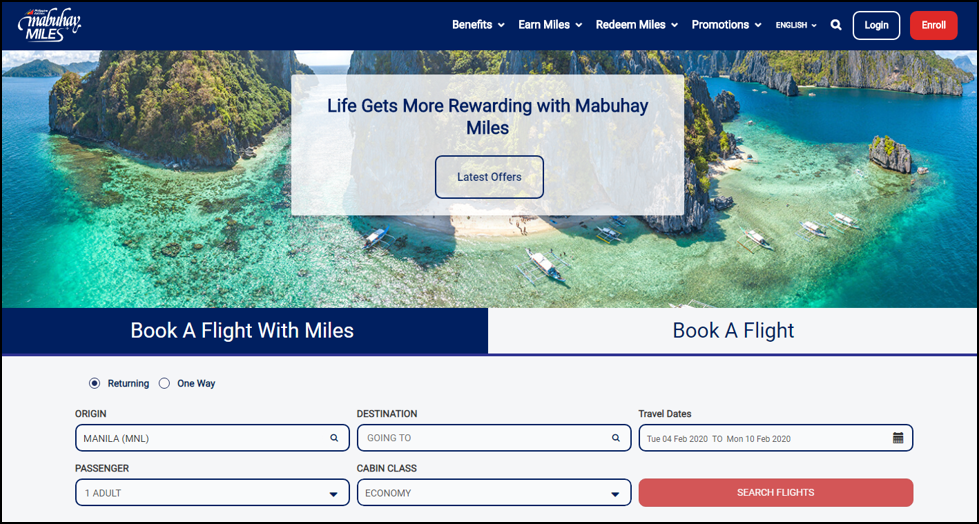 Over the platform, you can find out how you can earn miles, what you get with Mabuhay miles, the procedure to redeem miles, etc.
Closing Thoughts
To sum up everything, Philippine Airlines hasn't compromised on customer support services in any area. As soon as you start dealing with the airline company, life suddenly appears to become more rewarding, especially with the additional resources the company offers. To experience it yourself, book your next flight with Philippines Airlines. You can share your feedback by following the Customer Feedback link.