Hearing the word PepsiCo, the first thing that comes to our mind is the cold and delicious drink Pepsi that has been winning the hearts of people all over the world for decades.
However, PepsiCo offers so much more. We have been happily crunching on chips like Lays, Doritos, Cheetos and Críspy Minis without knowing that these snacks are also provided by PepsiCo.
How to contact PepsiCo Canada, the ultimate guide:

About PepsiCo
PepsiCo is an American multinational beverage, food and snack corporation. The company came into existence in 1965 after its merger with Frito-Lay Inc. This partnership is recognized as a "marriage made in heaven". After a couple of years, PepsiCo added a few more brands like Gatorade, Tropicana, and Quaker Oats to its portfolio. PepsiCo is the second largest beverage and food company in the world.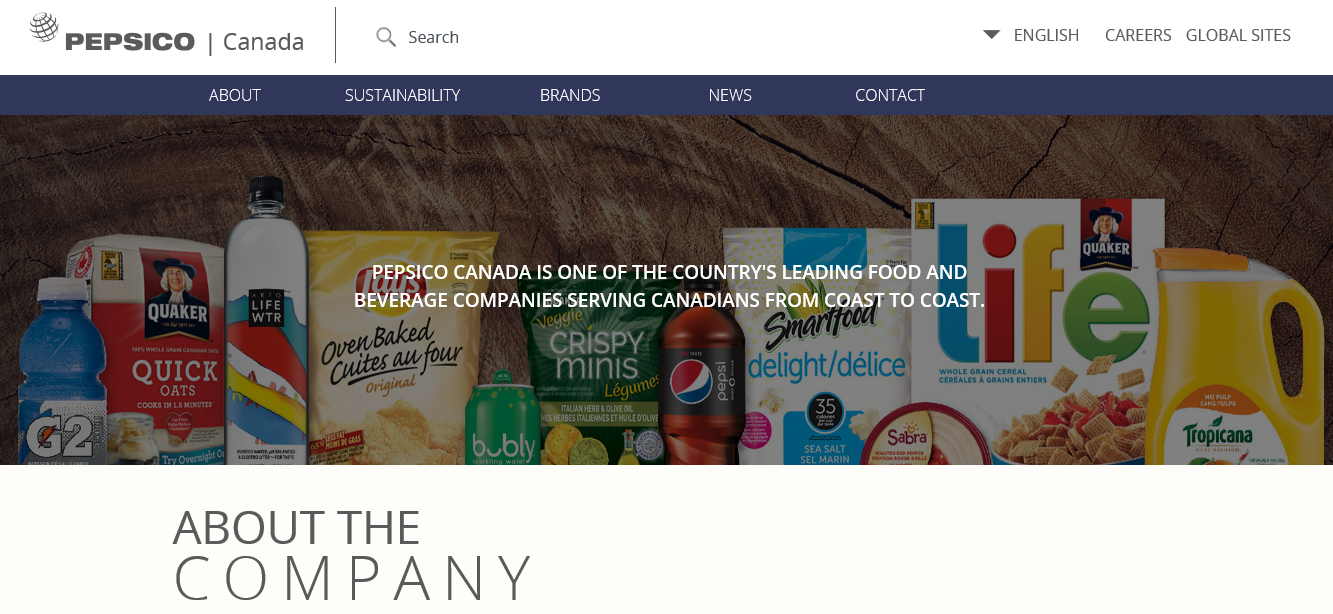 To keep up with its large consumer base, the company provides customer support services and information about the products it offers on its website. Here's every support service that the PepsiCo's website offers.
PepsiCo's Customer Support Services
PepsiCo is the parent company and you can find all its brands on its website. The customer relations tab offers its customers insight into PepsiCo's brands, which include Pepsi, Frito Lay, Quaker, Tropicana,Gatorade, Doritos and more.
A few other options that can be found under customer support services are "Careers" and "Sponsorships and Donations". While the former option provides you with a link to become a part of PepsiCo, the latter option simply provides information about the types of donations the company accepts.
To help customers navigate this website better, we have tried our best to provide all the support information PepsiCo offers below.
Find PepsiCo – Store Locator
PepsiCo's website does not offer a store location for its branch. The store locator option is available for its products only. To find information about a particular product, customers can visit the product information page, where they will be provided with a list of all the brands PepsiCo houses.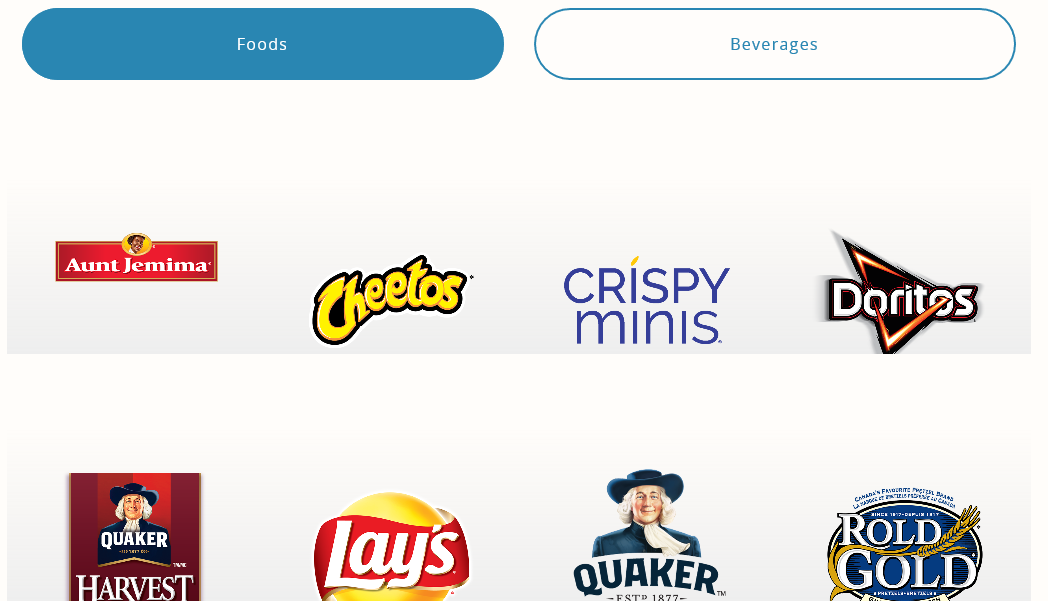 By clicking on a brand, a short description will be provided, along with a link to its website. Here, customers can find a store where their desired product will be available.
Call Support
As mentioned earlier, PepsiCo's official website is purely for providing customers and businesses with information about their brands. In order to contact PepsiCo regarding a brand, you need to visit the said brand's website or navigate your way to the FAQs page.
To get in touch with a customer representative, you can dial: 1-800-433-2652
Timings: 9:00 A.M. – 5:00 P.M. EST (Monday to Friday)
Media Contact
If you belong to a media agency, then you can find PepsiCo's contact information on the media resources page.
You can email a member of PepsiCo's media team at pepsicocanada.media@pepsico.com or if you are on a deadline and need to contact a media representative immediately, then you can call them on the following numbers:
PepsiCo Foods Canada (Quaker and Frito Lay) – 289-374-5000
PepsiCo Beverages Canada (Gatorade, Pepsi, and Tropicana) – 905-212-7377
Contact Hours: 10:00 A.M. – 5:30 P.M. EST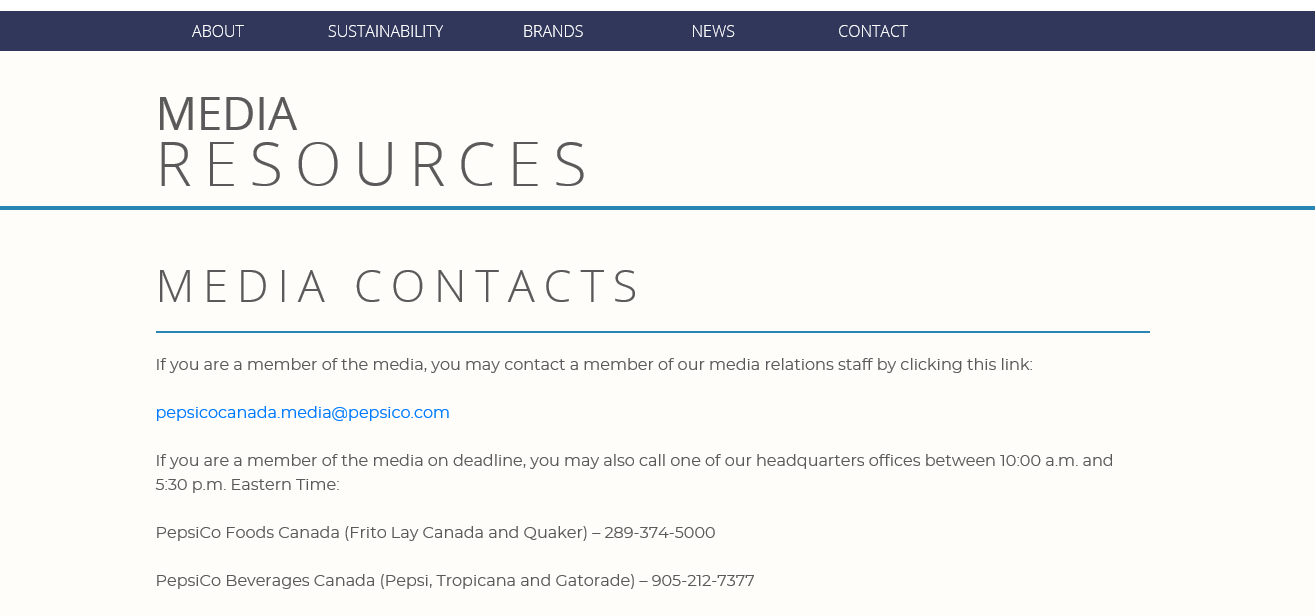 Social Media
PepsiCo is available on pretty much every social media platform, but the major ones include Facebook, YouTube, Instagram and Twitter. There's no live chat option on PepsiCo's website but you can talk to a customer service representative through their Facebook page.
Signup for Offers
To get information about any new products PepsiCo is introducing, you can sign up for their newsletter. This option can be found in the FAQs section, on the right hand corner of the page. Through this newsletter, you will also receive offers and discounts on products, and will be the first one to get notified about any sales.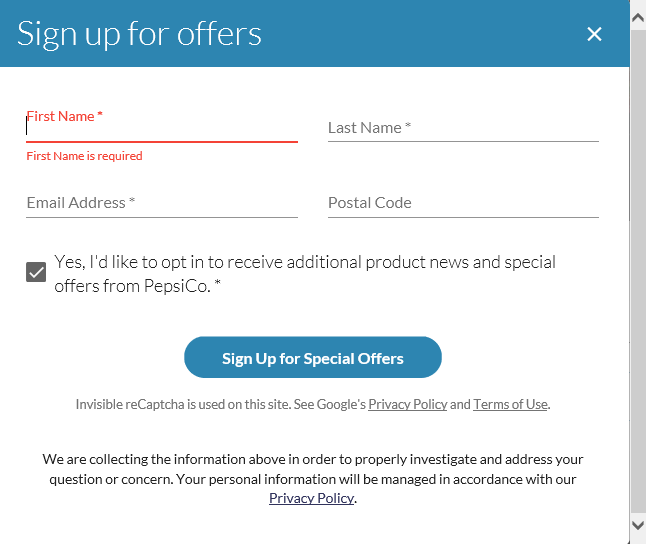 Help and FAQs
The help and FAQs page provided by PepsiCo is pretty amazing. It offers unlimited information about all its products – how they are made, the distribution process, shelving and more. If you have a question, simply click on the "Submit Question" tab and you will be given a list of regularly researched questions that people usually ask. Once you click a question, you will be directed to the FAQs page.

For instance, if a customer asks, "Does PepsiCo use pesticides?" then the search results will provide various questions and their answers regarding the query. You can also filter the results and find exactly what you are looking for. You can also ask questions about a specific product.
If you do not find the question you are looking for, then you can contact PepsiCo or email them.
Contact Number: 1-800-433-2652
Timings: 9:00 A.M. – 5:00 P.M. EST (Monday to Friday)
E-mail support
The email service form can be found in the FAQs section. The page provides five query options so that you can send your email to the concerned department.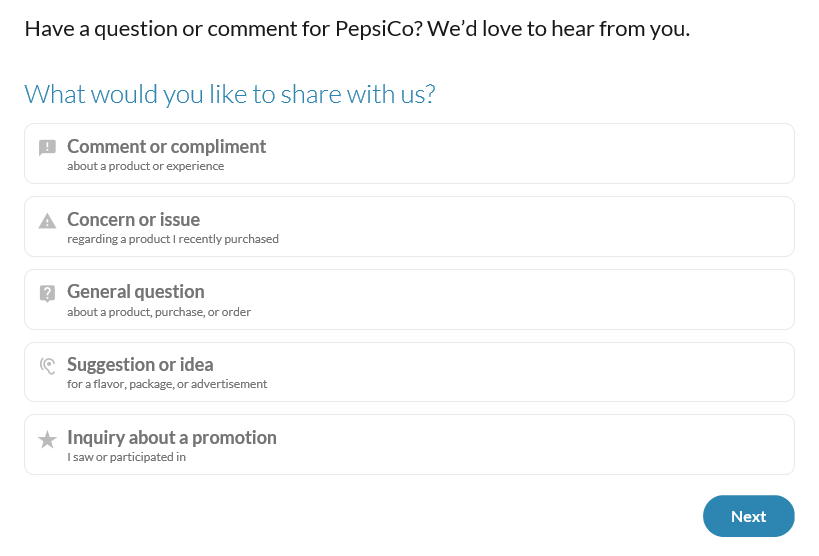 The email form is pretty extensive and requires you to fill in detailed information so that PepsiCo can answer your question as accurately as possible. Following options are available in the email form:
Compliments and comments regarding a product
Issues or concerns
General questions about products, your order, etc.
Suggestions for advertisements or packaging
Inquiry about promotions
Stay In Touch with PepsiCo
PepsiCo is a pretty huge parent brand and therefore, needs to maintain its image so that customers are happy with their products. This is why the company is always on the lookout for making its products in a more sustainable way. To show its customers how they operate, they also provide their yearly sustainability reports, which are available online on their website.
Despite having a pretty simple website, PepsiCo provides every kind of information a customer might seek about its brands. So, don't forget to sign up for the newsletter to remain in touch with PepsiCo.