Guangdong OPPO Mobile Telecommunications Corp., Ltd., also known as OPPO, is a mobile communications and consumer Electronics Company based in China.
The company's headquarters are based in Guangdong. OPPO is just a branch of a massive corporation known as BBK Electronics. This company also heads other brands such as Realme, Vivo and OnePlus.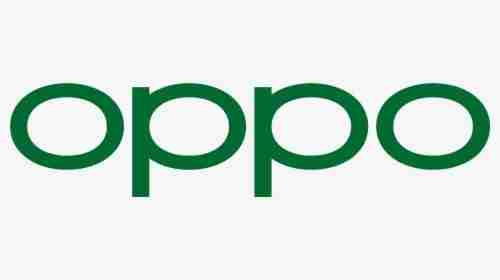 The most crucial product lines of OPPO include electronic gadgets including Blu-ray players and smartphones.
How to Get in Touch with OPPO Customer Service
About OPPO
OPPO is one of the leading brands in the mobile communications world. It produces various smart devices and is highly innovative. The company registered itself in China in 2001.
However, it wasn't until 2004 that it started expanding its horizons by spreading its operations throughout the globe. In 2016, OPPO was declared as China's largest smartphone manufacturer.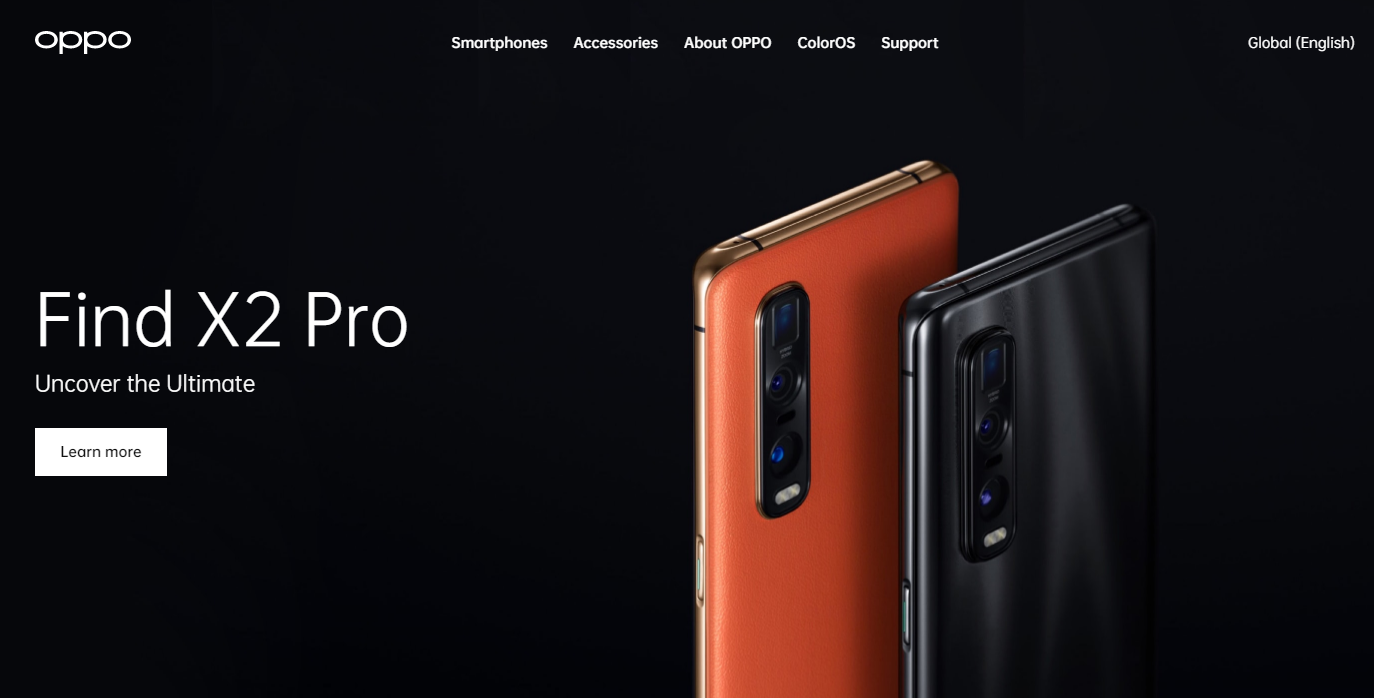 It was selling its smartphones in over 200,000 retail outlets. The year 2019 proved to be a great year for the brand. Not only was it declared as the top smartphone brand in China, but it also ranked number 5 worldwide.
Considering the stellar reputation of the brand, it is safe to assume that OPPO provides a great customer support service to its audience.
OPPO Customer Support Services
Website
The OPPO website should be your go-to option if you are looking to know more about their products and brand. Moreover, it is also the best and most efficient platform to reach out to their customer service department. You can log on to their website here.
On the webpage, you will find the 'Support' option too. By clicking on the support option, you will be directed to another page that includes a search bar right in front of you. You can search for answers to any queries you may have regarding OPPO and its various product offerings here.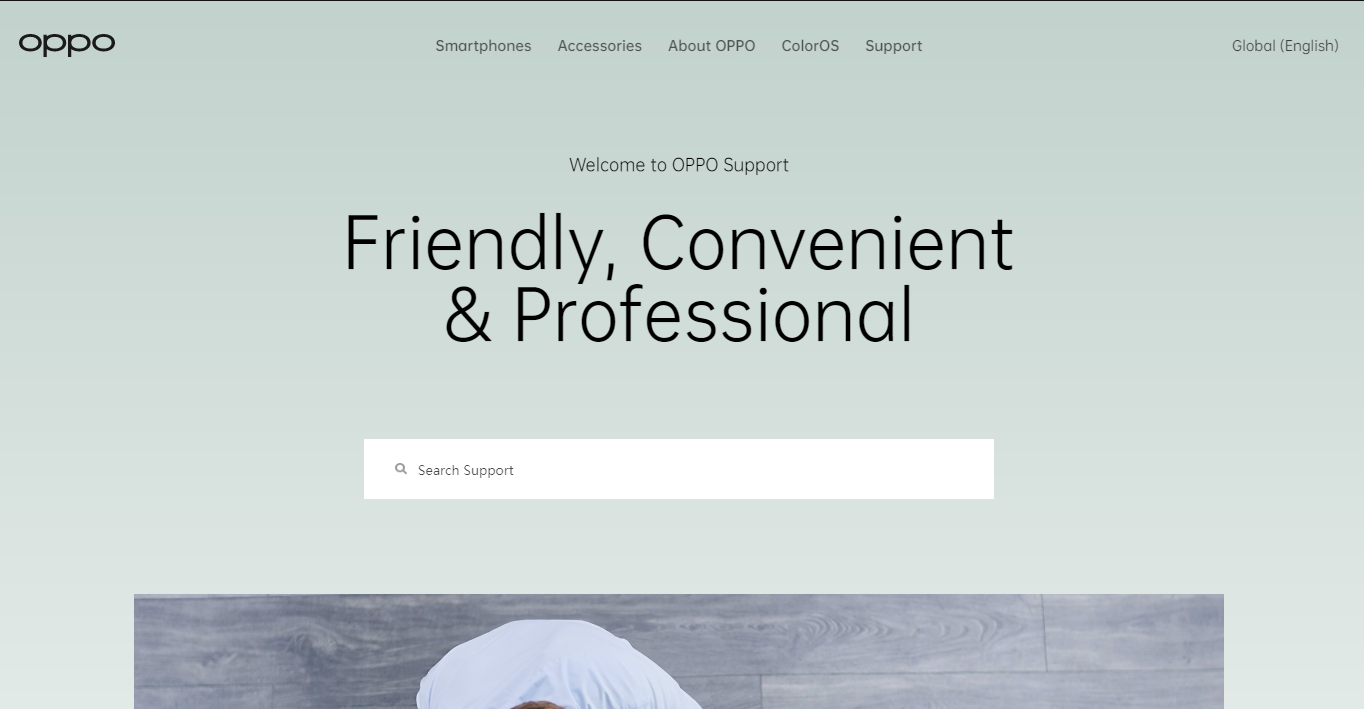 As you scroll down on the same webpage, you will find other pages that you can access to learn more about the brand. Some of these pages include, Convenient Services, FAQs, Contact Us, Product Support, etc.
About Oppo
OPPO is a rather interesting brand with a clear motto, 'Technology as an art form.' If this piques your interest and you are looking to learn more about the company, then you should visit the 'About OPPO' page. This option is listed right at the bottom of the page.
If you want to know more about the history of the brand, you can click on the 'Our Story' option listed under 'About OPPO' or click here.
By clicking on this, you will be redirected to another page that offers detailed information about the company's history and objectives.
If you want to know about OPPO's campaigns and events and new innovations, you can visit the Campaign and Technology page. To stay updated with the latest news, you can visit the Newsroom.
Support Options
Lastly, if you are seeking customer support, then you can check out the entire list of support options mentioned right beside the 'About OPPO' section. You can select any of the options from this list if you have questions.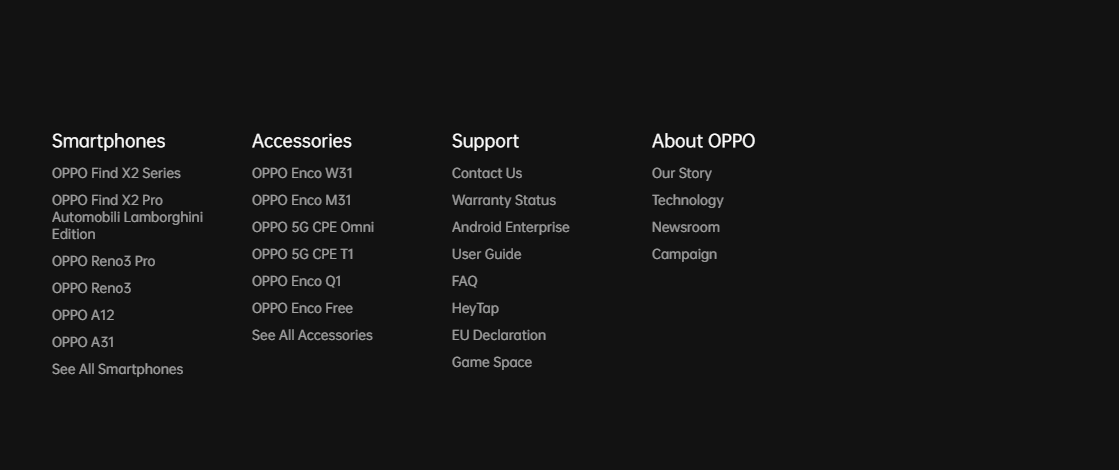 Contact Oppo
There are various ways to contact OPPO. The first option is to send an email. If you have questions about the product, simply email them at:
After emailing them, you can sit back and expect a prompt and satisfactory reply from a representative.
You can also send an email to their PR department by typing in the following email address:
You also have two other social media options to connect with the brand. So, you can click on their Facebook or Twitter link to access their social media platforms.
Warranty Status Check
Another support option that you can immediately avail is their 'warranty status check option.' OPPO ensures that you don't have to go through much hassle to find out about the warranty of your device.
You can simply just enter the IMEI number and verification code to check your phone's warranty.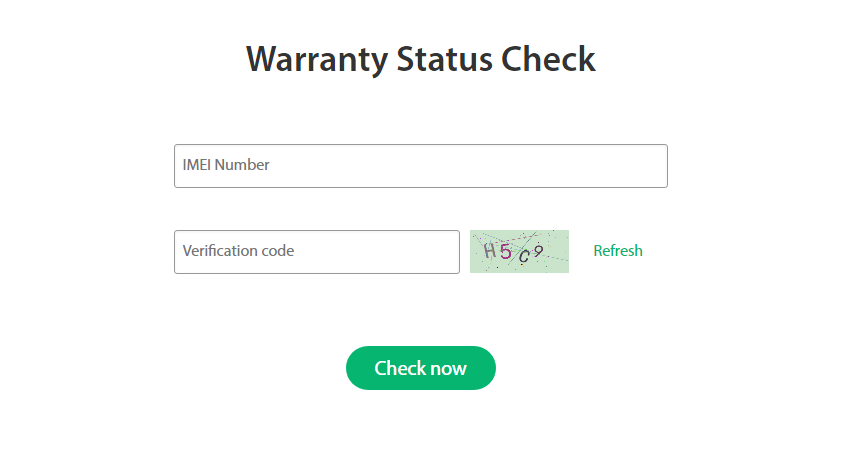 FAQs Page
OPPO also has a FAQs page that you can visit to find answers to your queries. Instead of reaching out to their customer service representative, just visit the FAQs page.
OPPO Social Media Pages
OPPO has maintained its presence on various social networking sites, including Facebook, Instagram, Twitter, and YouTube.
By scrolling to the bottom of the main webpage, you will find different social media icons on a black panel. You can click on any of the icons and you will be redirected to the respective social media page.
With a community of nearly 185,000 individuals, OPPO's Facebook Page is updated with the latest news. If you're looking for regular updates on its products and offerings, follow their Facebook page here.
The Instagram page of OPPO has over 3 million followers. You can follow their Instagram page here to know more about the company's products.
With almost 700,000 followers, OPPO remains quite active on Twitter. You can follow its Twitter handle by clicking here.
You can also subscribe to OPPO's YouTube channel for some great videos on their new technology.
The Bottom Line
OPPO offers stellar customer support services to its audience. If you have any concerns and queries, you can email them or visit their FAQs page. If you want to know more about the company, you can visit the website or OPPO's social media pages.