Old Navy is a quintessential clothing and accessories company that is owned by the multinational conglomerate Gap Inc. The brand takes its name from a bar located in Paris, named Old Navy Café.
The brand sells a large variety of casual and semi-casual clothing items as well as a multitude of accessories and shoes. Their varied products cater to all men, women, children, teenagers, and toddlers.

They even sell maternity wear to pregnant moms in both their online and retail stores sprawled across the world. With such a massive reach and innumerable customers, it is no surprise that Old Navy has a competent and utmost professional customer support and care system in place. Old Navy Canada prides itself on offering diverse customer support services to all of its customers via its website.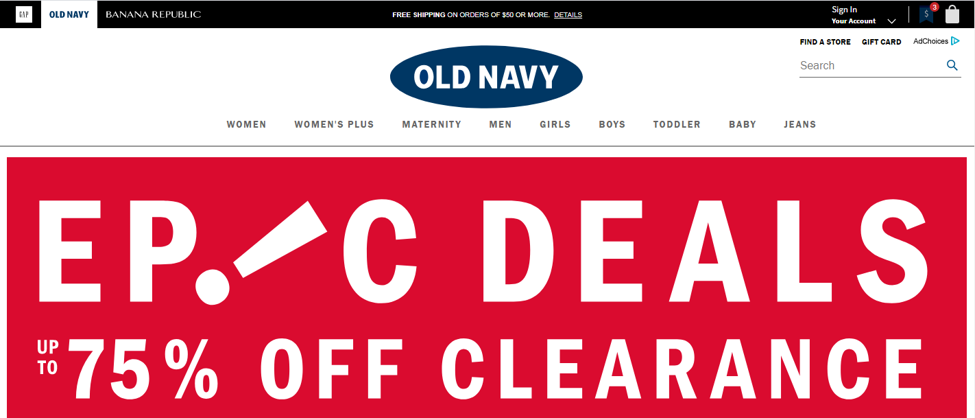 So, without further ado, let's review how you can get in touch with Old Navy's customer support and care services.
Old Navy's Customer Support Services
Here are the various ways in which you can reach out to Old Navy's customer support representatives and avail of the various customer care services they are offering.
Find a Store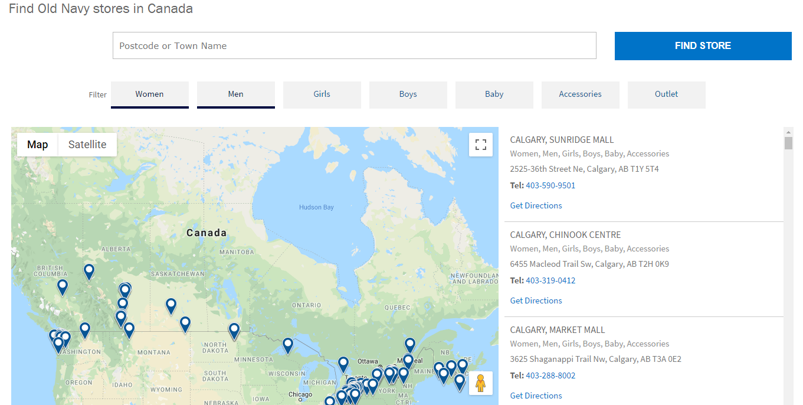 Old Navy also has this wonderful "Find a Store" feature on its website. It is a convenient way for you to locate all the Old Navy's stores that are near your area. You simply need to enter your area's postcode or your town's name and wait for the stores in your locality to show up on the provided map.
You can even put in various filters to further narrow down your search radius and find the store that meets your exact needs. The store locator will show all the stores near your area, their addresses, phone numbers, and directions to reach the stores.
Call, E-mail, and Mail Support
Old Navy is highly devoted to helping out its consumers as speedily and professionally as possible. They make sure to stay on top of their customer service game via their call and e-mail services that you can find on their "contact us" page.
So, if you have any concerns or queries about Old Navy and its line of products, you can reach out to them on their toll-free number 1-800-653-6289. Furthermore, Old Navy has catered to its hearing-impaired customer base by adding a relay service for them. If you want to avail it, simply dial 711.
To reach out to Old Navy's customer service via e-mail, you can e-mail them on custserv@oldnavy.ca. Their customer service representatives will answer your concerns and queries as soon as possible. Moreover, if you want to take the traditional route and correspond with Old Navy via mail, you can do so at their mail address:
Old Navy Canada Customer Service,
9500 McLaughlin, Road North,
Brampton, ON, L6X 0B8,
Canada.
Gift Cards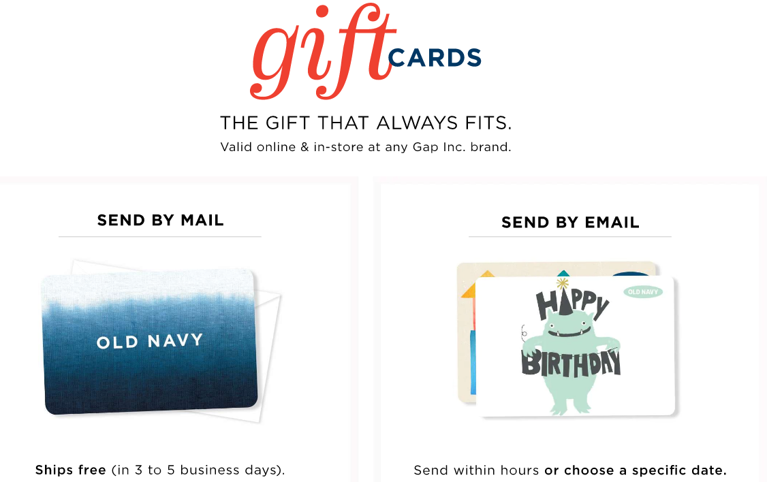 Old Navy also offers its loyal customers the opportunity to send Old Navy gift cards to their friends and family. You can also send an Old Navy gift card to your loved one's address as a birthday gift. Plus, you won't even have to pay for their shipping.
These cards fall in the range of $5 to $100 and they don't ever expire. You can redeem these cards online on Old Navy Canada's website or in their retail stores across Canada. You can check out further details regarding these Gift Cards by Old Navy on its website.
Customer Service

Old Navy Canada provides you with comprehensive links to all of your concerns and queries in its customer service section. It has different query categories – including shipping, returns, ordering, etc. –neatly laid out.
All you have to do is click on your specific query and it will redirect you to a webpage that will have comprehensive answers for all your questions. It will also thoroughly guide you on Old Navy's policies and modus operandi related to that category.
E-mail Subscription Benefit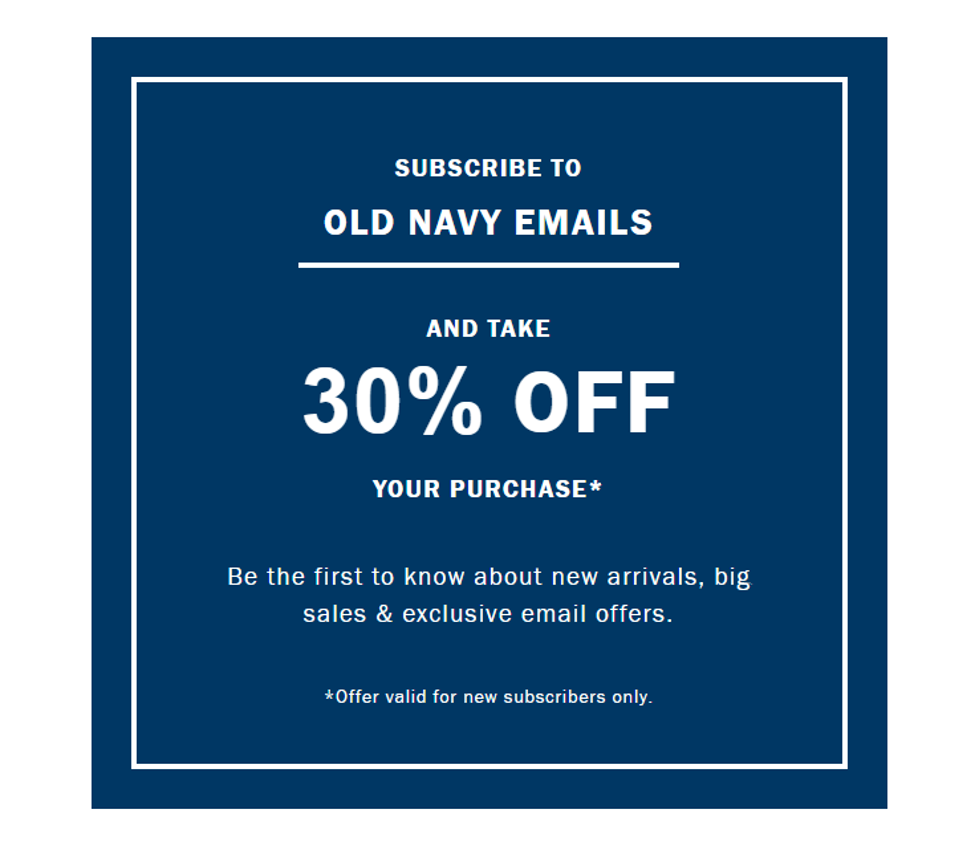 Old Navy Canada provides you with an opportunity to get 30% off your purchase at their stores! To avail this massive discount, you simply have to subscribe to Old Navy's e-mails. They have a separate webpage designated for customers interested in availing this subscription offer.
You simply need to enter your e-mail address, your preferred language, and the apparel categories – men, women, babies, etc. – that you are interested in. Once Old Navy has these details, it will send you personalized e-mails that will pique your interest. Furthermore, you can also enter your date of birth to receive a special gift from Old Navy on your special day.
Create an Account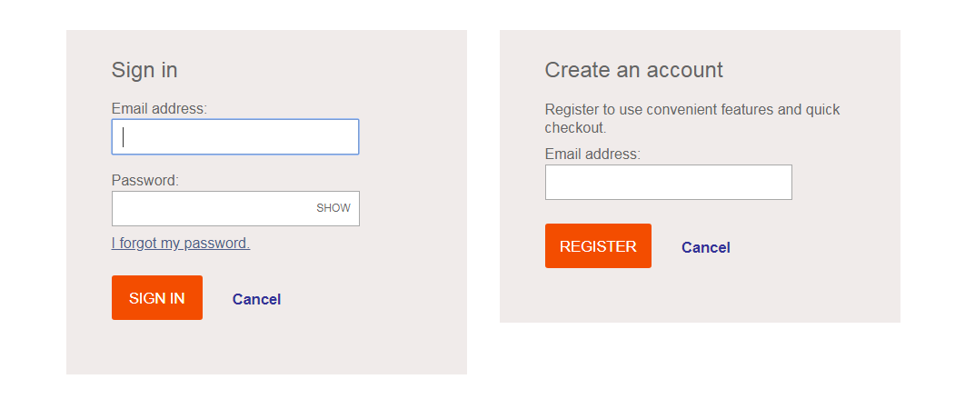 Old Navy offers you the opportunity to create an account on its website to have the perfect online shopping experience. If you choose to create an account on Old Navy Canada's website, you can avail the following services:
You can effectively checkout much faster
You can track your order and view its status
You can review the details of your past orders
You can also save your frequently used addresses
You can get all the latest updates on new arrivals and sales
Stay In Touch with Old Navy
Old Navy is definitely a well-recognized and reliable clothing brand out there. It has a wide range of clothing options available for women, men, girls, boys, toddlers, and even expecting moms!
Old Navy's move toward becoming a brand that caters to its hearing-impaired customers is a move in the right direction. It also shows just how dedicated this company is in its efforts to provide excellent customer care services to its customers.
Old Navy aspires to give its consumers the greatest experience on a regular basis. Whether you're using its support call number or e-mail address or availing its discounts and gift cards, you can always look forward to professional and timely customer care, support, and services from Old Navy.