For anyone who is a fan of hiking, camping, and anything to do with the outdoors they have probably heard of the North Face.
It is an acclaimed American outdoor recreation company that produces clothing, footwear, gear, and equipment designed for outdoor use.
The company was created in 1966 and since then has been aspiring to supply every explorer, adventurer, and athlete with the best quality of products.
The company aims to inspire its customers to begin a global movement of adventure and exploration through the help of its clothing and gear. It has also pushed the boundaries of athletic wear by making it not just functional but fashionable and trendy as well.
Although the North Face was founded in the United States, it is extensively popular in Canada and has a myriad of stores across the country. Not only that, but it also has hundreds of stores globally and only seems to be growing in popularity and size.
In this guide, we will take a deep dive into the customer care services provided by North Face.
Because the company contains more and more recognition, it functions predominantly through its official website, especially during COVID-19 when all the stores and malls have been shut down.
How to Get in Touch with The North Face Customer Care Services
There are various ways you can contact the customer care staff at North Face. Keep reading to find out what they are.
North Face Website
One of the main ways that customers can get in touch with North Face, or know about the latest sales and all of their products, is through their official website.
When you visit it, you will notice that it is extremely easy to navigate and has all the information you are likely to look for. Let's take a closer look at everything that the official North Face website offers.
The categories displayed on their homepage when you visit it are:
Not only that, but the official website also features the latest addition to North Face's collection that you can grab. Currently, it is advertising the newest footwear technology, Vectiv.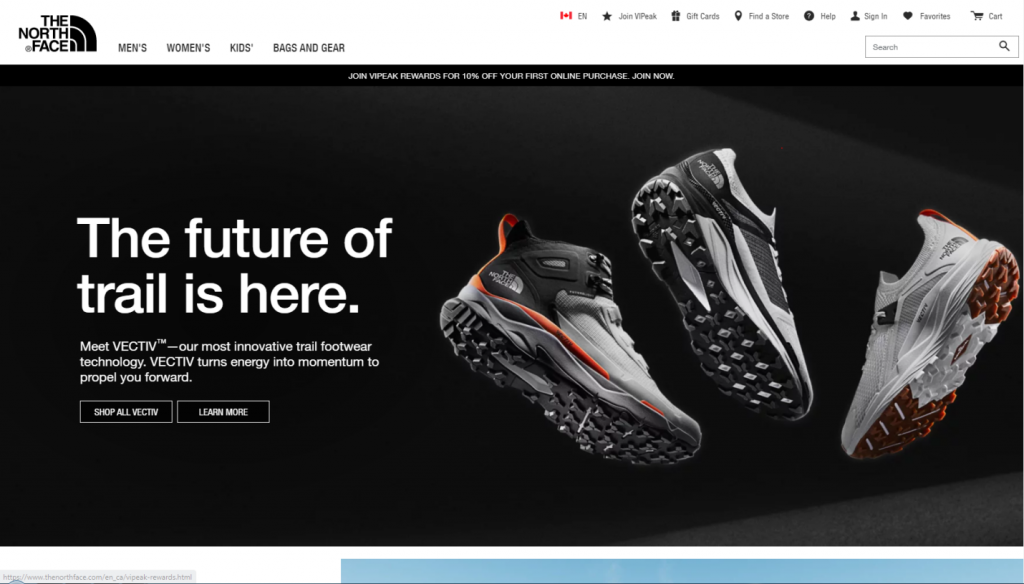 Contacting North Face
If you wish to contact the customer staff directly, North Face makes it quite easy. All you need to do is scroll down to the bottom of the homepage and click on the 'Contact Us' tab.
The page will then redirect to all the ways you can get in touch with them.
Form
If you have any questions about warranties and returns, you can simply fill out the form on their contact us page and add all the details about your order and personal information.
Online Chat
If you require assistance, feel free to send them a message via their online chat portal. You can find it on their website by signing up and logging in.
You can message them from Monday to Friday: 8:30am – 5:00pm EST, and on Saturday: 9:30am – 5:00pm EST
Call Center Hours
Do you want to speak to a customer service staff directly? The North Face page gives you all the details about calling their office in Canada. This is the quickest way to get in touch with North Face if you are in a hurry.
From Monday to Friday: 8:30am – 5:00pm EST
Social Media
For a brand as big as North Face, they have to continually update their customers about the newest additions to their collections, sales, discounts, and other news pertaining to their company.
For that reason, they are quite active on their social media handles, where you can also drop in a message or comment on their posts; they are likely to get in touch with you at their latest convenience.
Here are all the social media handles you can find them on:
Email Subscription
The North Face frequently has sales and continues to update all its gear and clothing collections. If you want to stay updated with any of their news, you can easily subscribe to them to receive regular emails from North Face.
To do this, you will need to scroll down on their homepage, add your email address, and agree to their privacy and terms of use.
Finding a Nearby North Face Store
Planning to visit a North Face store but don't know where the nearest one to you is? Well, don't worry because their official website also has a helpful Store Locator section which tells you where you can find the nearest North Face outlet or retail store in Canada.
You can access this tab by scrolling all the way down to the bottom of their homepage and clicking on the store locater tab.
When you click on the tab, all you need to do is add your postal code, city, or province. Then the website will show you everything about the nearest North Face store, including what the store carries, hours it is open, exact location on the map, and their contact number.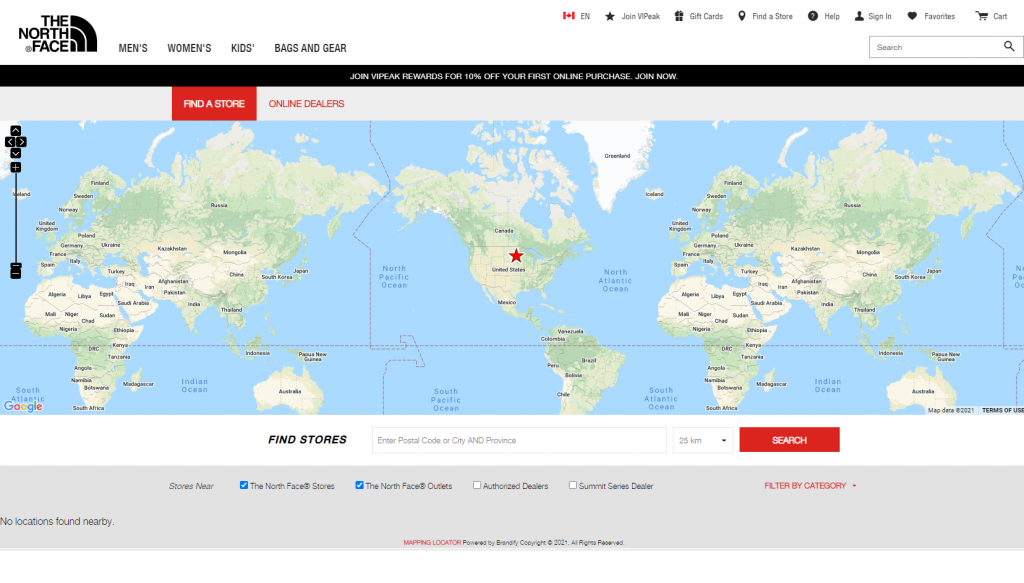 Parting Thoughts
Whether it is hiking, camping, climbing, or simply going out for a walk, North Face is the go-to place for all sorts of clothing, footwear, equipment, gear, and more.
Not only does it provide quality products that are guaranteed to last you for years, but it also provides excellent customer assistance to anyone who needs it.
There are various ways you can get in touch with the customer service staff at North Face, as we have highlighted previously. The best way to get assistance from them is through calling them, and they are likely to respond on time through telephone.