Shoes are an essential part of your attire, and if you want the perfect pair for yourself, you might need to inquire about it first.
That's why Native Shoes has an efficient and helpful customer support team to assist you with any queries or complaints.
Whether you're an existing customer or hoping to become one and have some questions in your mind, keep reading to check out all the ways you can reach Native's customer support services.
How to get in touch with Native customer service
About Native
Founded more than a decade ago, Native believes and promotes the philosophy of living lightly through their shoes.
It works on simple principles of innovation, sustainability and originality for every shoe that they produce.
They promote lightness, tiny activism, and environmentally friendly choices to be kinder to the climate.
Native Customer Support
Whether you love the products or strongly believe in the brand's message, Native is a great company to stand by and support. But, if there's anything that you don't quite understand about them, you can always go ahead and ask.
They provide various options to contact them on their website, and we're going to list them all down below.
Their Contact Us page also has a lot of information neatly organized under various topics that you can browse first. If you are still interested in reaching out to them, stay tuned.
Use the Chat Feature
As soon as you open their website, right away, you have the option of chatting with a Native customer support representative. If you have to find out something urgently and don't have time to bother looking around for a phone number or email address, you can directly use this chat function for your query.
The chat option comes as a bright blue button at the bottom left corner of the screen. When you click on it, it first lets you search your query and figure out the answer yourself through some popular topics.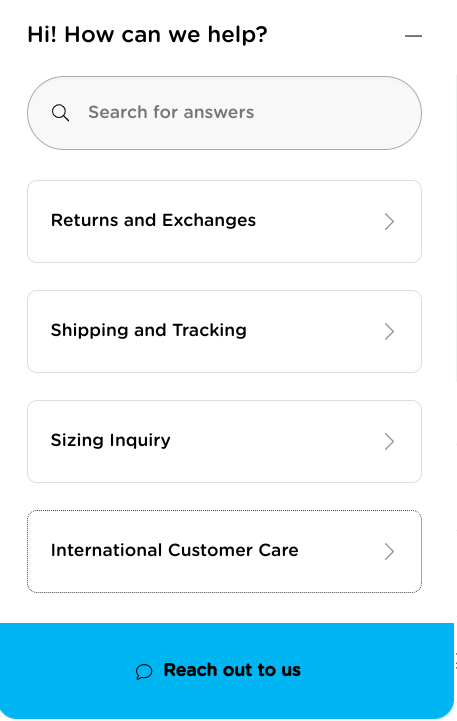 If you don't find the answer you're looking for even there, then you can click on the 'Reach Out to Us' button to start a chat with someone from their customer support team.
The chat feature is available from Monday to Friday, 10 AM to 5 PM PST.
Call the Customer Support Team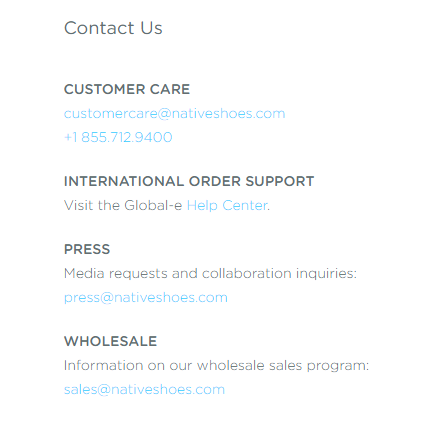 Sometimes, when you're not sure about the problem itself, it's hard to find its solution yourself or even explain it over chat. At those times, your best option is to call a Native representative and talk to them directly to explain your situation or complaint or inquiry.
That way, even the representative can ask any follow-up questions then and there and provide a solution as soon as possible. You can call someone from the customer support team at the following number:
Monday to Thursday, 7 AM to 5 PM PST
Alternatively, if you happen to have a query or complaint outside of those hours but need to report it right away, you can also leave a voicemail at the given number, and someone will get back to you shortly.
Drop an Email
Inquiring over a call can be hard. Sometimes, there's so much information that you can't keep track of all of it and forget some points which you remember as soon as you put the phone down.
Furthermore, on call, you can't show documents or receipts.
Therefore, Native provides an email address as well. You can send your query or complaint and attach any files you need to with the email. Once they answer you back, you will have all the information and correspondence saved as well in your email.
Here's where you can email them:
Track Your Order
Waiting for your order to arrive is one of the hardest parts of shopping online. You might be tempted to call a Native representative right away and ask exactly when your order will be shipped to you.
But you don't have to do that. You can track your order yourself from Native's Order Tracking page. Log in to your Native account to see more details about your order and other products.
Alternatively, if you don't want to log in or don't have an account, you can check the order status directly as well.
Locate the Nearest Native Store
Some matters are better dealt with in person, for instance, figuring out the best shoe size for your foot type. If you have a similar query that you'd like to discuss in person, you can visit the nearest Native store. Use their Store Finder to find one near you right away.
Get in Touch with Their Media Team
If you have any media-related inquiries or collaboration requests, you can email them separately on a specific address so that your inquiry reaches the right department. This way, they can process your request as soon as possible too. For such queries, email Native at this address:
Ask About Their Wholesale Sales Program
If you happen to be interested in their wholesale sales program, you can email them separately for this as well. For such queries, drop an email at this address:
Join Native
If you're calling to inquire about any job opportunities, you can visit Native's Careers page directly and browse through the open positions available.
Connect Over Social Media
Native is also available on several social media platforms where you can follow their latest launches, new products, and other announcements. While they are not meant for customer support services, you can write your query in the comments and get a reply from a representative.
You can connect with them on Facebook, Twitter, Instagram, and Pinterest.
And that is it! All the ways in which you can contact Native. So, now if you have a query, complaint or some general feedback, don't hesitate to get in touch with them.