Founded in 1980, MUJI was originally a Japan-based retail store. 'MUJI' is a Japanese word that translates to 'no-brand quality goods.' The company offers a wide variety of economical options that are termed as 'simple' or 'nature-oriented' to its customers. This reputable brand now caters to the Canadian market by offering them a variety of good quality products, including household goods, apparel and food.
There are over 700 MUJI stores around the globe. Each of these stores has more than 7,000 items that range from household items to clothing and food. With a stable and highly innovative manufacturing process, MUJI introduced products that are remarkably unique and affordable in the market. Its products stand out from other over-decorated products that currently prevail in the market because they are simple, cheap and made of high quality material.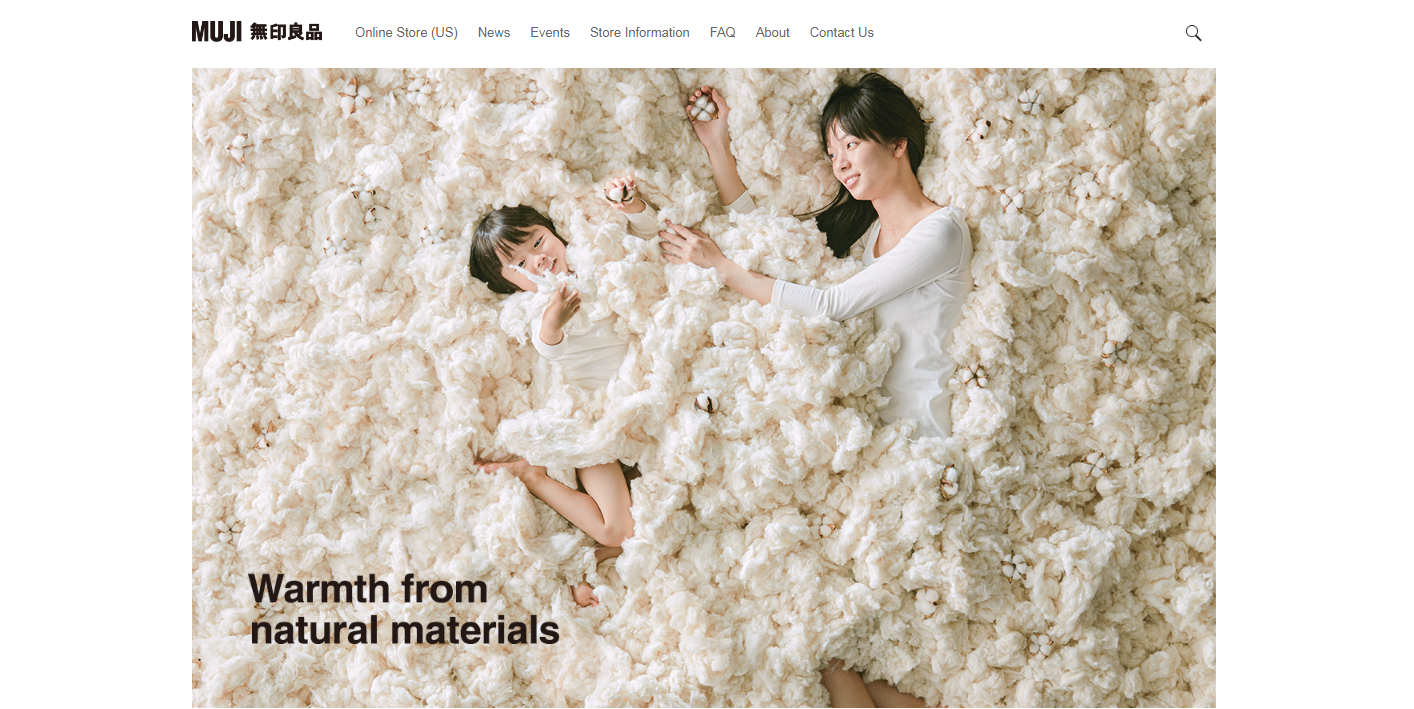 MUJI's products have received phenomenal appreciation from all around the world. MUJI focuses on customer satisfaction and experience and therefore, has a unique manufacturing process as well as an exceptional customer support service.
Since most customers are mainly concerned with their online rendezvous, they demand constant updates on their online parcels. Well, MUJI caters to their concerns by offering an impeccable and delightful customer support service.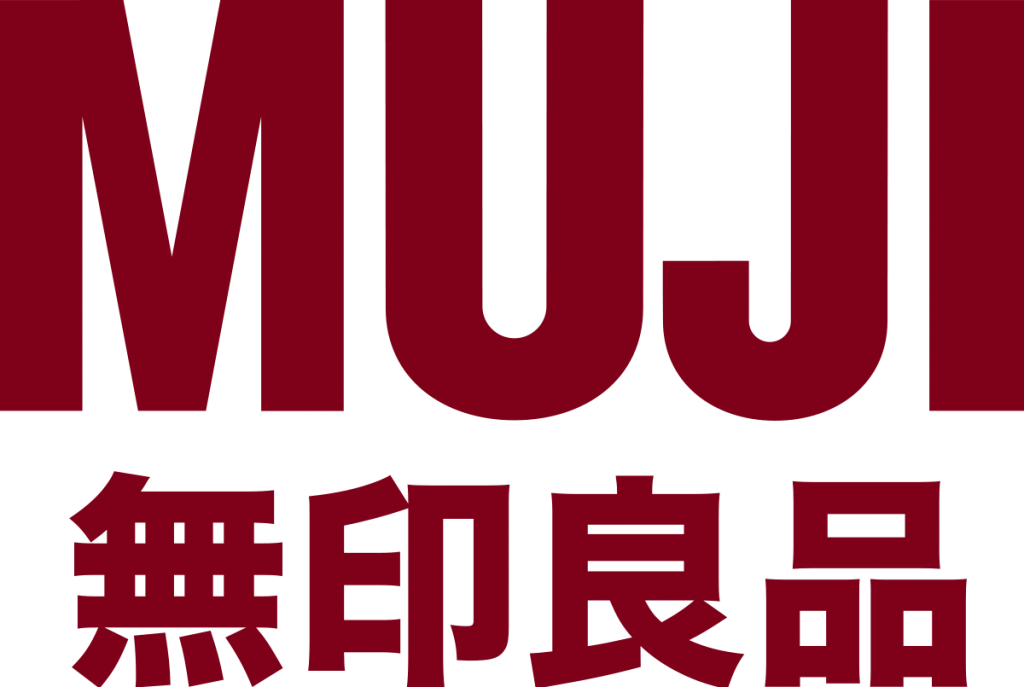 To know more about MUJI's customer support services, read ahead.
How to get in touch with Muji Canada:
Website
The MUJI website is the place to visit if you want to know more about the company and what it offers. On the website, you can find answers related to your questions regarding your package, shipping, pricing, etc. You can also find a form through which you can contact their representatives. Much like its manufacturing process, its customer service is extremely proficient and replies as soon as possible.
Help and FAQs
At the top-right corner of the main MUJI Canada webpage, you will come across the FAQs page option. Clicking on that option will redirect you to the FAQs page. Once you land on the FAQs page, you will come across a bunch of questions that are generally asked about MUJI's products, its return and exchange policy, order placement, home delivery, gift cards, online stores in Canada and the PR and Marketing Department.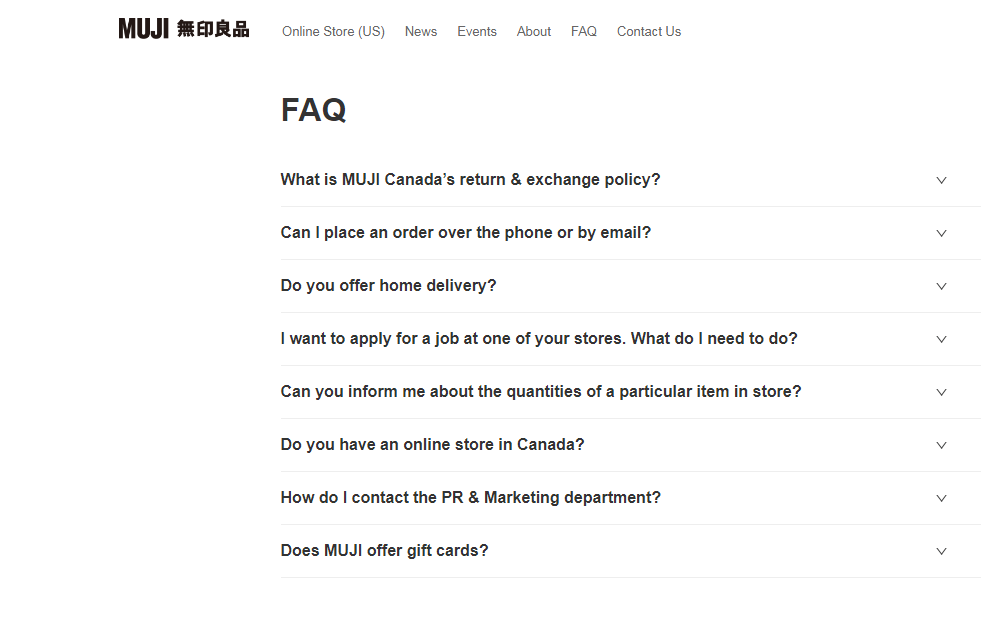 The FAQs section of the MUJI website is extremely comprehensive and accounts for all the generic questions that customers ask. MUJI Canada offers an ample amount of customer support service options. If you don't find a particular option that you're looking for, you can always proceed onto the next one.
Contact Support
The MUJI customer support page doesn't have a direct option through which you can call or email them. However, they provide a better option – they contact you themselves. You can easily spot the 'Contact us' option located on the top-right side of their main page.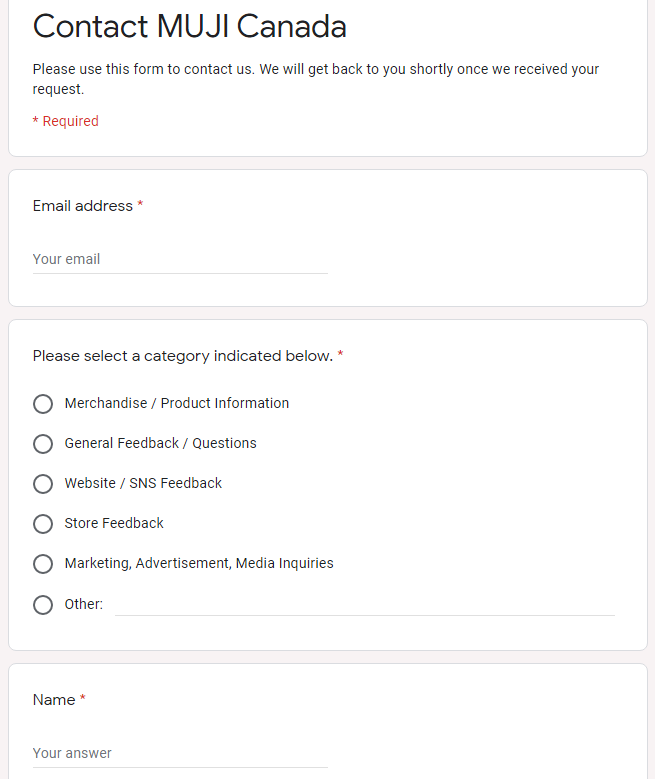 By clicking on the option, you will be redirected to another webpage – the 'Contact MUJI Canada' page. A form will appear before you which you'll have to fill with the required information.
The contact form asks for your email address, name and phone number. You will also find a list of options regarding your main concern for contacting their customer service department. You can select the most suitable option for your situation from the provided list.
For any queries or problems that you are facing, you can just fill out this form. Make sure to enter all your contact details correctly so that a MUJI service representative can reach out to you easily. Once you're done with the form, a MUJI representative will address all your concerns promptly.
Contact Muji on social media
MUJI maintains its presence on various social media networking sites, including Facebook, Instagram, Twitter and LinkedIn. Even though its social media handles aren't mentioned on the website, they are just one Google search away.
You can click on its Twitter, Instagram, LinkedIn or even Facebook and follow them.
Its social media pages remain very active, with information about new products being posted every day. You can also easily contact them on their social media handles if you incur any issues or problems.
With over 42 thousand followers, the MUJI Canada Instagram page is constantly updated with aesthetically pleasing images and products. Its Instagram page has almost 1,400 posts. If you want to remain updated with MUJI's various products, then you should definitely follow their Instagram page.
With a community of over 24 thousand individuals, the MUJI Canada Facebook page is a must-follow! The MUJI Canada Facebook page is constantly updated. Make sure that you become a part of MUJI's Facebook community if you want to stay up-to-date with its products, deals and sales!
Like any other company, MUJI maintains its presence on the most valued corporate website—LinkedIn. If you want to be updated regarding their financial aspects, job openings, etc., then you should follow their LinkedIn account and grow their community further!
Stay In Touch with MUJI
MUJI has a great following on most of its social media accounts. Even though the website doesn't have an extensive number of contact options, the ones that it offers are extremely efficient and more than satisfactory for its customers. So if you have any reservations, just drop MUJI a message or go through its FAQs and social media pages. We are sure you will find a solution to your problems!